Policing
Berkeley Police Chief Jen Louis secures top cop spot
For many, the police chief vote this week brought a sigh of relief. For others, it felt like a betrayal.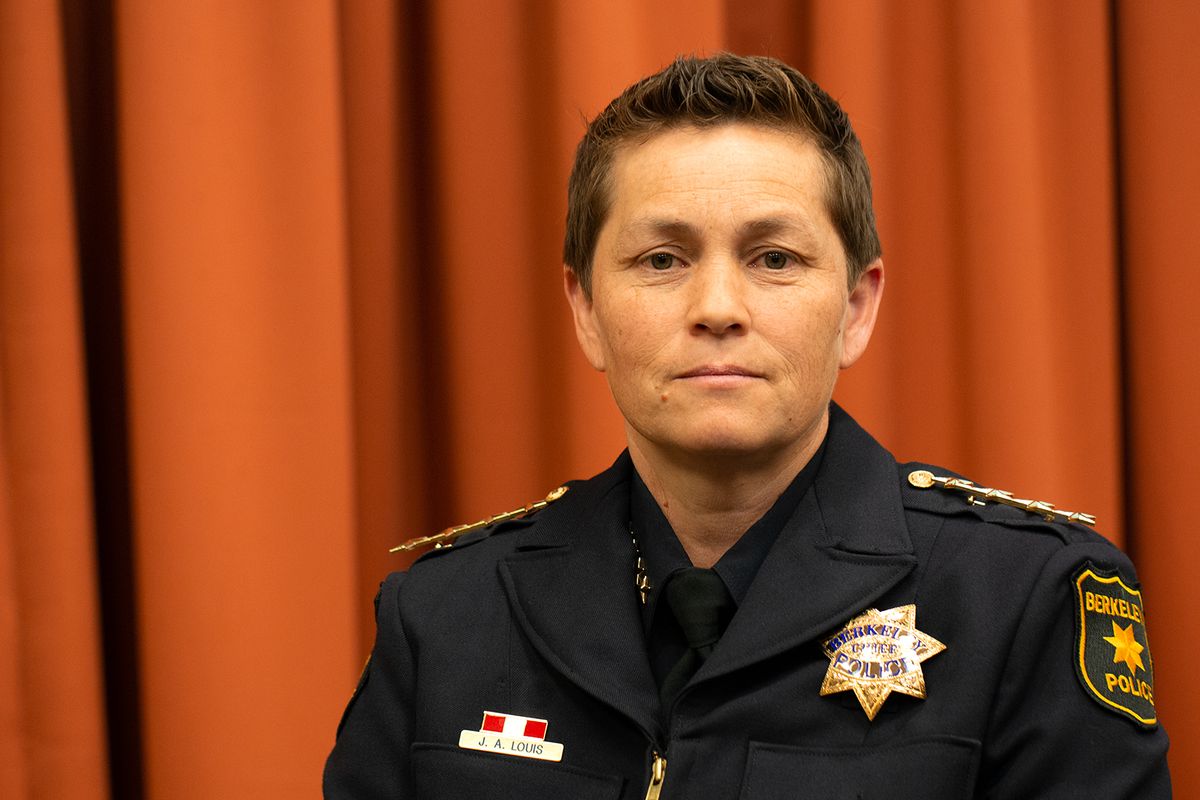 On Tuesday night, the Berkeley City Council voted to confirm Jen Louis as the Berkeley police chief — making her the city's first female police chief as well as the first Asian American and the first openly gay person to lead the department.
Louis, a 23-year veteran of the Berkeley Police Department, had been interim chief for more than two years.
"Even though her interim role has gone well beyond what is considered standard and reasonable to expect of an employee, she has remained committed to fulfilling her role of being a results-oriented leader," said City Manager Dee Williams-Ridley.
Council members too expressed confidence in Louis and praised her for her responsiveness and work to increase transparency, particularly around department data.
"We need a strong and capable chief," said Councilman Mark Humbert. "We have that in Chief Louis."
Chief vote was derailed last year by scandal
Louis was selected for the top cop job following a national recruitment effort that began amid the coronavirus pandemic.
By Tuesday night, she had won the full support of the police union along with substantial backing from the city's business community as well as Cal parents who have become more vocal in city politics since the fall.
But dozens of people — chief among them the city's most avid police reform activists along with students and other community members — also came out and called in to the City Council meeting to oppose the vote, citing a broken process and broken promises.
Louis had been poised to accept the police chief confirmation in November without much fanfare.
But the process screeched to a halt that month when a disgruntled Berkeley cop who had been fired leaked damning texts from his unit that have been decried as racist and anti-homeless, creating the biggest scandal BPD had faced in more than a decade.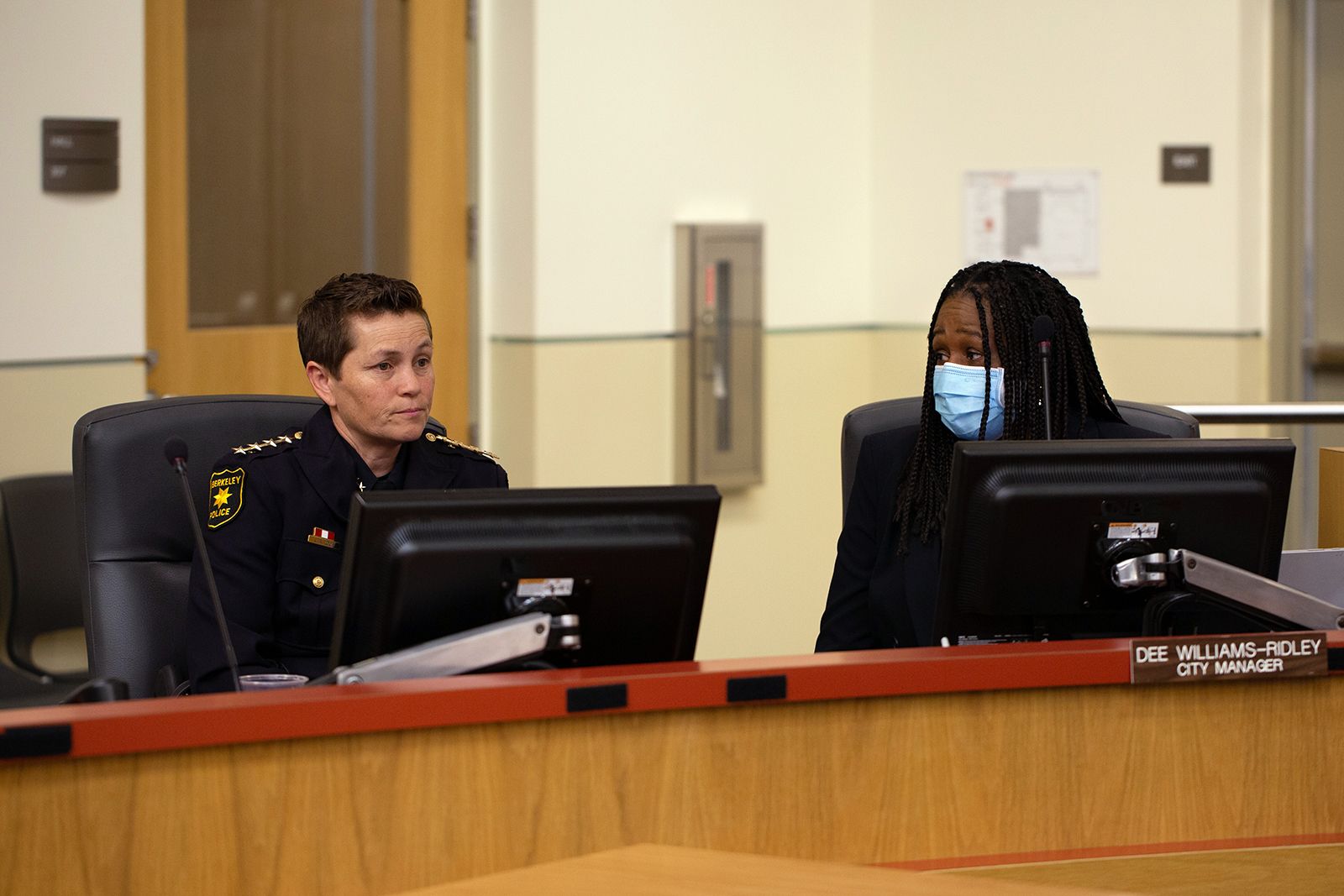 The former officer claimed the unit — a proactive task force created in 2019 in response to pressing public safety concerns from merchants at the time — had arrest quotas and followed "questionable legal tactics".
While officers familiar with the unit have disputed those allegations, the fallout from even the specter of those claims is still being felt in Berkeley.
In the months that followed the leak, Louis took another hit when the LA Times surfaced the story of a misconduct investigation involving sexual harassment allegations against her in 2017.
But it was the task force allegations that overshadowed much of Tuesday night's discussion.
It ultimately split the police chief vote, with seven council members who said yes to Louis and two — Kate Harrison and Ben Bartlett — who abstained from the final vote.
City manager calls further delays "unnecessary"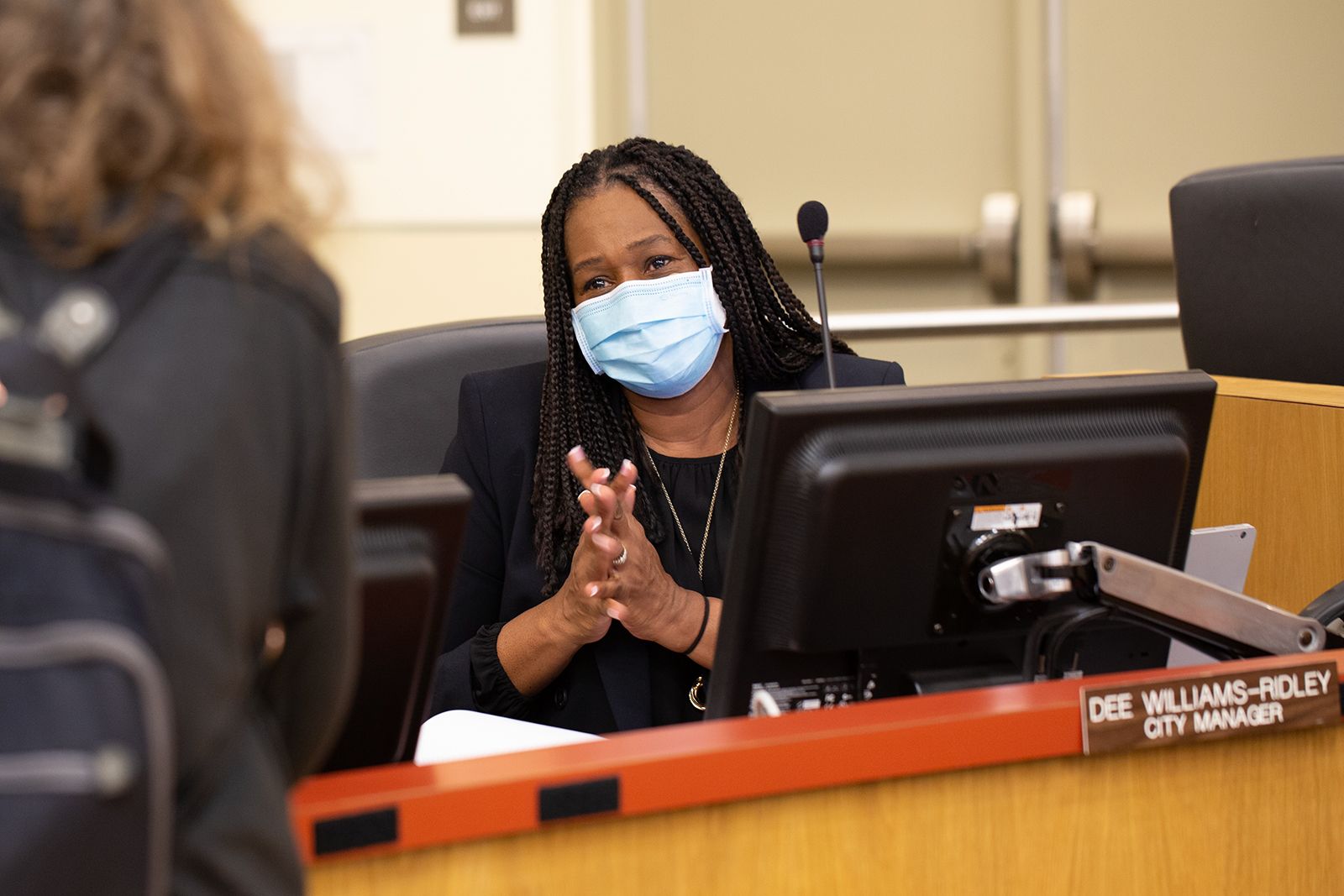 Perhaps the biggest sticking point cited by many of the critics Tuesday night was that City Manager Dee Williams-Ridley had promised in the fall that the police chief vote would not happen until the investigation into the text scandal was done.
Williams-Ridley tackled the "why now" question head-on in her remarks to start the evening.
For one, she said, Louis supervised an entirely different division of BPD — unrelated to patrol operations — during the time of the alleged task force conduct: Louis "had no command authority over the unit in question whatsoever."
Williams-Ridley said that, while the investigation was not complete, she had received "sufficient information," as a result of five months of investigative work, to make a final decision.
"It is unnecessary to delay this appointment any longer," she told the City Council.
Williams-Ridley also cited guidance from the state about interim appointments, which she said should be limited to a period of months not years, as well as comments from the police union, which says officers have already quit in recent years "due to the instability" caused by Louis' interim status.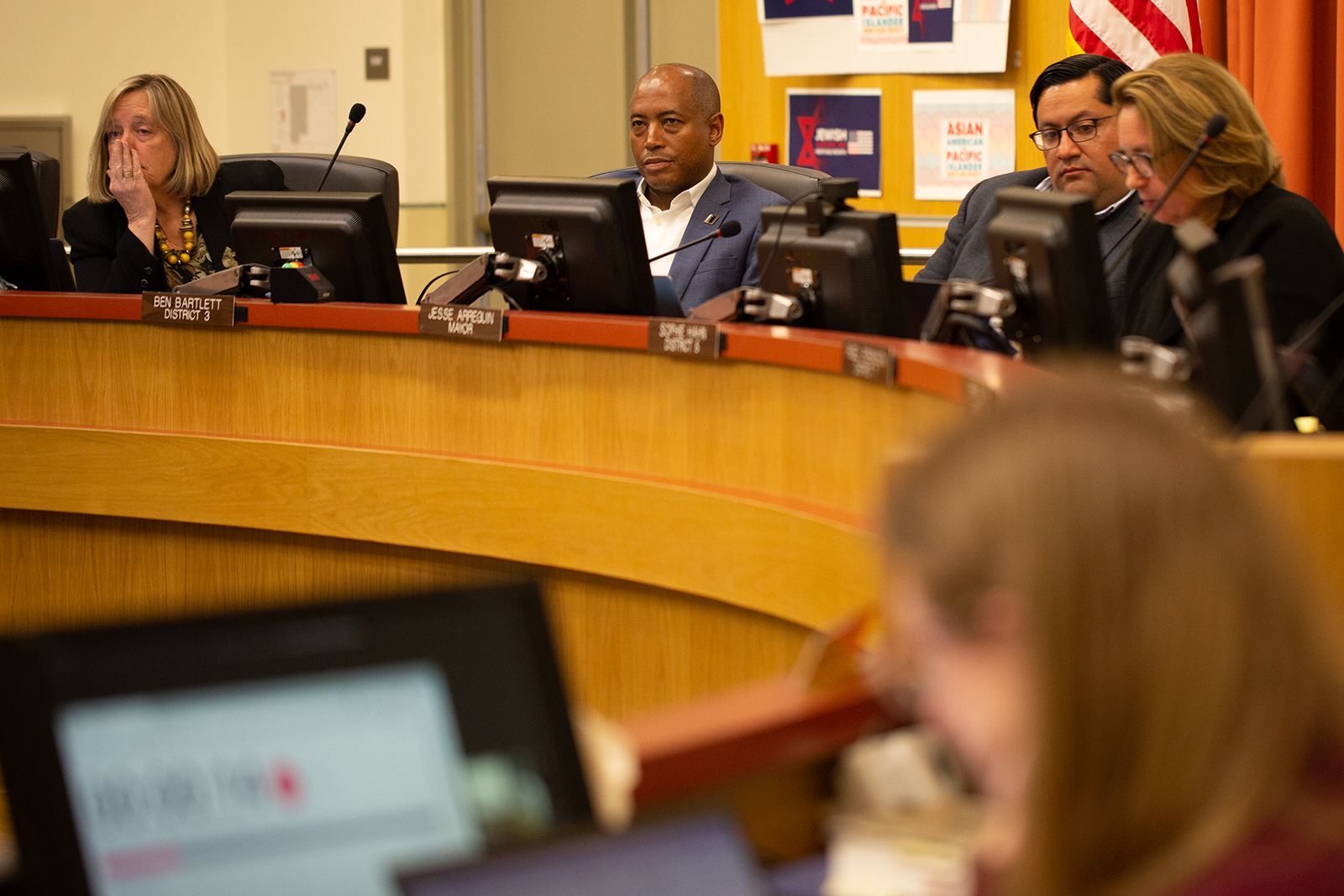 Early on in the discussion, Councilwoman Kate Harrison lobbied hard to persuade her colleagues to postpone the police chief decision until July when the city's investigation into the text scandal is slated to conclude.
Harrison said Louis had "done a good job on so many things" but was also responsible for scandals that arose on her watch.
And she said it was the city manager who had created the time pressure by waiting 20 months to bring forward the police chief appointment last fall.
But, while she had the moral support of most of the public members in the board room, Harrison fell one vote shy of the support she needed to have her way on the dais.
Councilman Ben Bartlett, who is Black, spoke forcefully about how the racist BPD texts had shaken his faith in the department and said he was not sure Louis would be able to fix BPD's staffing woes, which reflect a national problem.
He said he didn't see the need to take action Tuesday night.
"I fail to see the emergency nature of this arbitrary deadline," Bartlett said.
For some, a betrayal; for others, a sigh of relief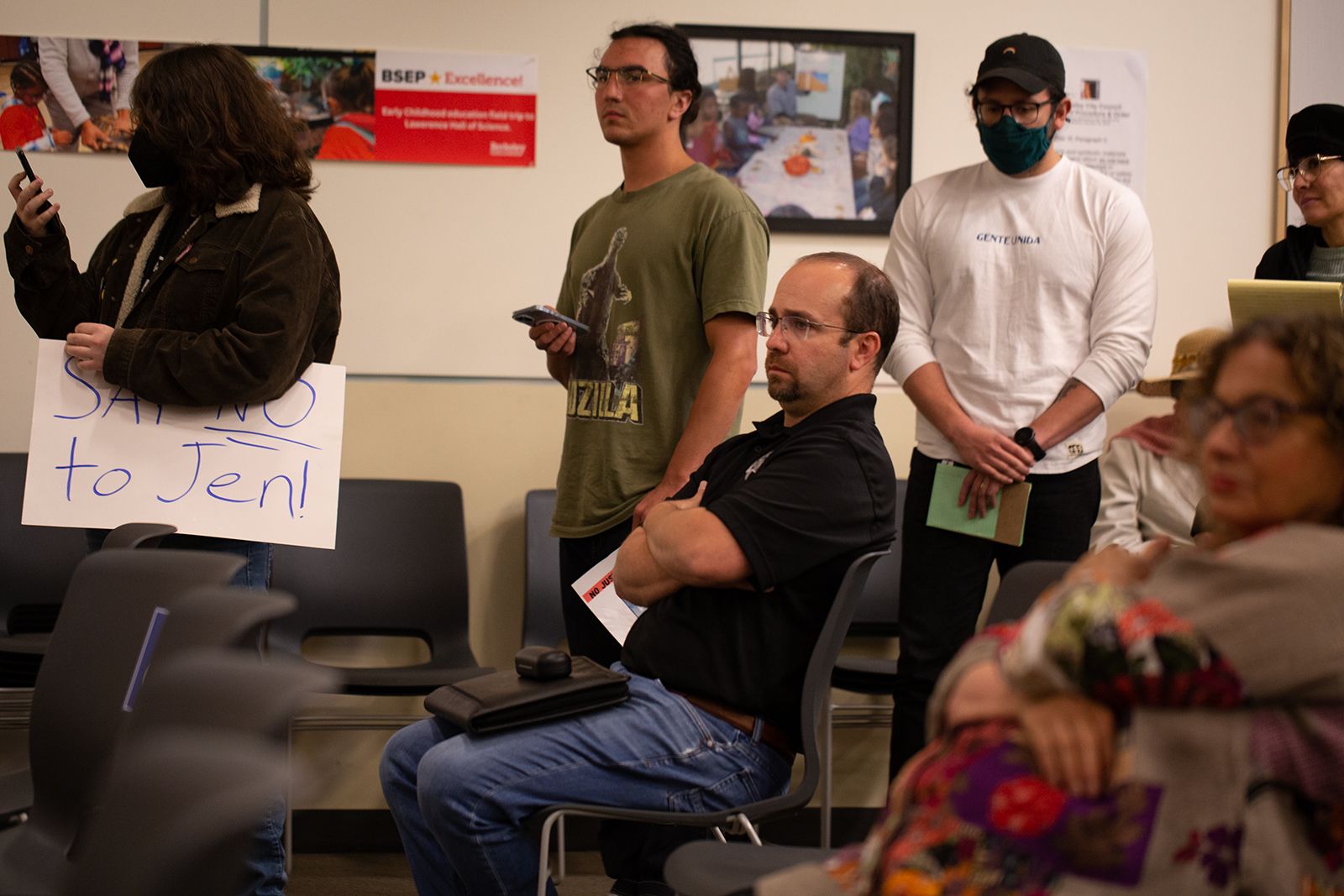 Most of the community attendees in the board room were unmoved by the city manager's statement. They said the vote had to wait.
"Go through the process, otherwise there's always going to be questions in the back of people's minds," longtime activist Russell Bates said during public comment.
The comment period lasted two hours, with dozens of people attending the meeting in person and dozens more attending virtually on Zoom.
Critics said they were not convinced that Louis bore no responsibility for the text scandal and pointed to continuing racial disparities in Berkeley arrest data.
Rivka Polatnick told officials that neither Jen Louis nor the city manager had done enough to reduce the disparities or enact meaningful change in the realm of criminal justice reform.
Others said council should wait until the city's Police Accountability Board (PAB) finished its review of the misconduct allegations so that the community would have a better grasp of the problem prior to any big decisions about BPD leadership.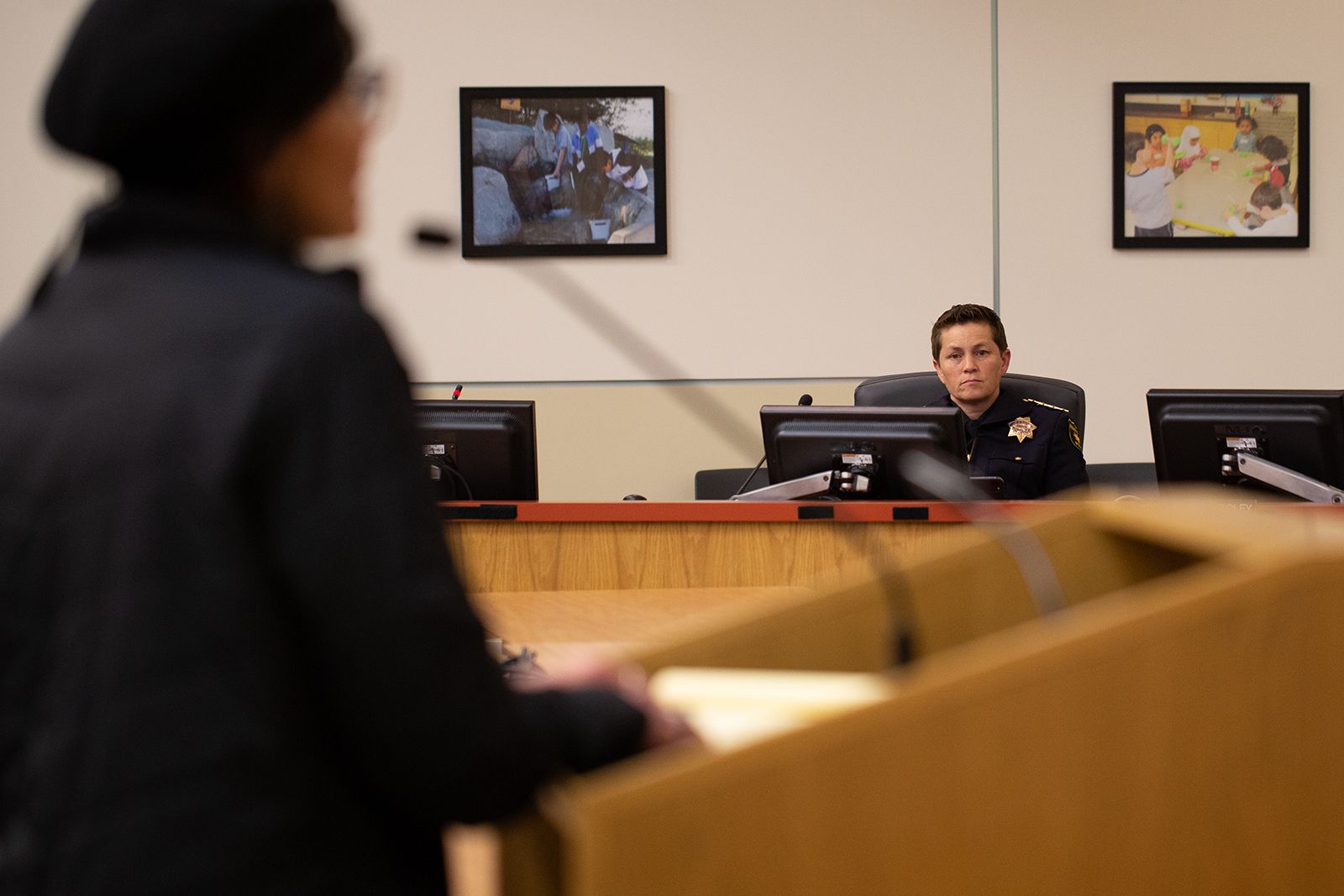 But other members of the public told officials that the Louis vote was a no-brainer — particularly in light of climbing crime rates and the department's ongoing staffing crisis, which has impacted officer morale, response times and overall patrol operations.
Patrol efforts were hampered just this week when officers were unable to set up an effective perimeter to catch fleeing suspects because not enough officers were on duty.
"You cannot have change without leadership. Without leadership there's chaos," one Zoom caller told city officials.
"The fact that this council's been held hostage by these anti-cop zealots" is the problem, said Berkeley resident Josh Buswell-Charkow, who also called in via Zoom. "Enough playing Russian roulette with the lives of Berkeley residents."
Robinson: "Nobody I trust more" to lead than Louis
After public comment, Councilman Mark Humbert observed that more than 200 people had emailed the city about the police chief vote and that most had said they were in favor of Louis as chief.
Humbert made the motion to approve the appointment and Susan Wengraf was his second.
"The city manager spoke with a sense of urgency that I haven't heard very often," Wengraf told her colleagues, urging all of them to vote yes. "She basically was pleading with us to make a decision tonight. I have to respect that."
Councilman Rigel Robinson said Tuesday night had provided an important forum to discuss the task force allegations and the subjects of bias, unjust policing and the continuing need for system change.
"This is the most direct opportunity we've had as a community to speak to what happened last fall, what we've called the texting scandal. What really is a racism scandal," he said. "And has, rightfully and understandably, led so many in our community to doubt the progress we are making as a city. It made me doubt the progress we are making as a city. It enraged me."
Read more meeting highlights on Twitter. (No account needed!)
"That was an earthquake," he continued, "and a reminder to all of us, no matter how much we tell ourselves that we have the best and most forward-thinking police department in the world, we still struggle with many of the same challenges that have plagued the profession from coast to coast."
Robinson said Berkeley needs to work harder to tackle implicit bias in policing and to detect it sooner when it happens. He said BPD must ensure it has a culture where officers who see problems are empowered to report them.
"This work is the most important thing we can do to build the credibility of the department while we pursue truly equitable public safety and re-engineer the very role of a police officer," Robinson said. "And that's the work that I am eager for Chief Louis to be able to champion."
"There is nobody I trust more to tackle the challenging chapter ahead of us" than Louis, he added.
BPD Chief Jen Louis: "Trust must be earned"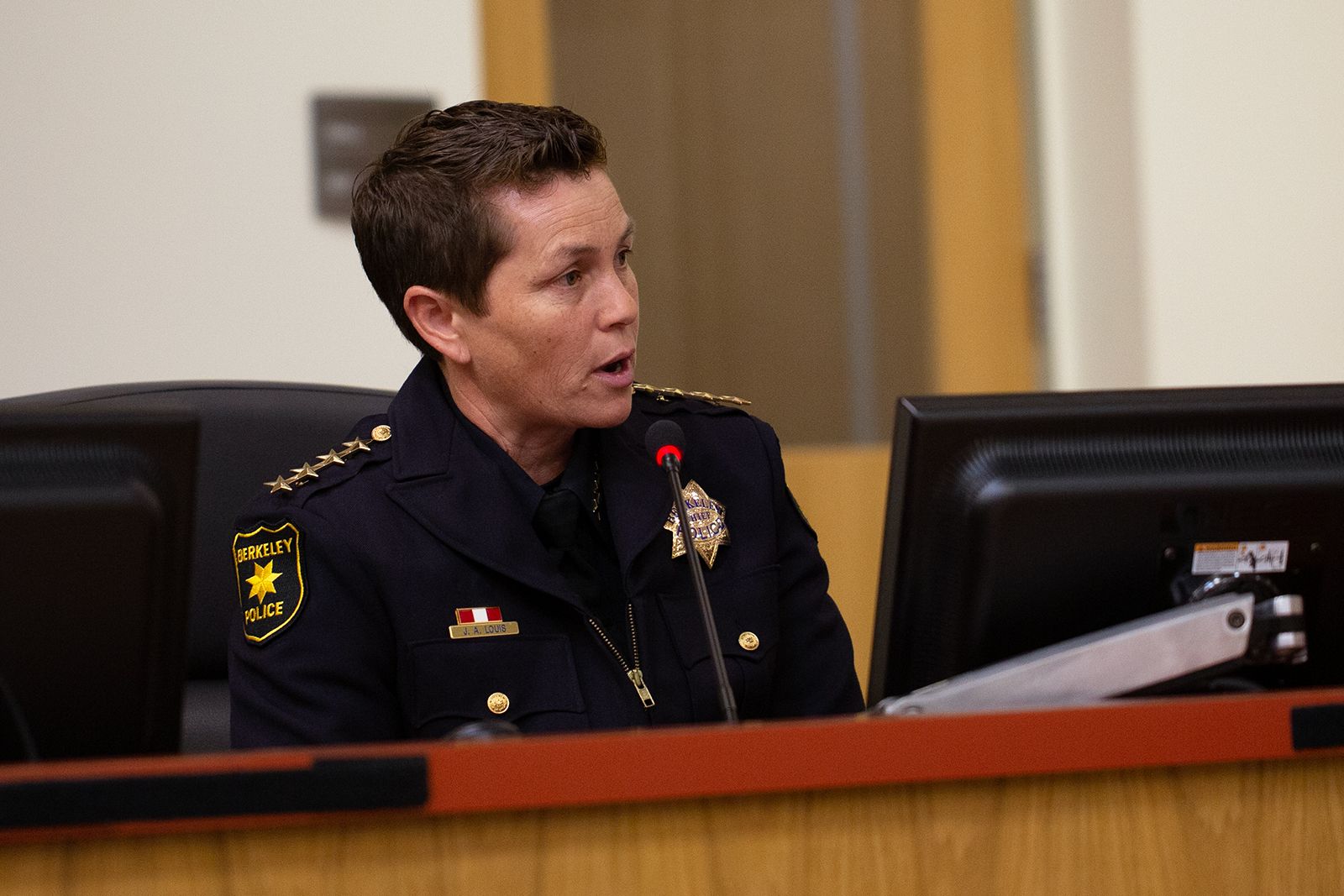 When Louis herself addressed the room, she said she had come to Berkeley PD nearly a quarter-century ago "because I saw that it was a city and department that valued and supported women and minorities."
"I am proud to become Berkeley's first woman, first Asian American and first openly gay chief of police," she said.
Louis is a first-generation Chinese American: Her father and his parents and siblings immigrated from China to Oakland when he was 10.
On Tuesday night, Louis pledged to support plans by the city to create a Ceasefire program to reduce violence and launch alternative responses like the Specialized Care Unit to handle nonviolent crisis calls.
She said she would "develop strong working relationships" with the Police Accountability Board and its director, and hold her officers and the department "accountable to policy and the law."
(It was Louis who fired the officer who went on to make allegations about his former unit after he was determined to have staged a bike crash on duty and lied about it.)
Louis said she would continue working to build public trust through responsiveness and transparency and prioritize the city's ongoing efforts to reimagine policing and promote fair and impartial policing.
"Trust must be earned," she said, "and there is no more important trust relationship than the chief."
7 in favor, 2 abstain in Berkeley police chief vote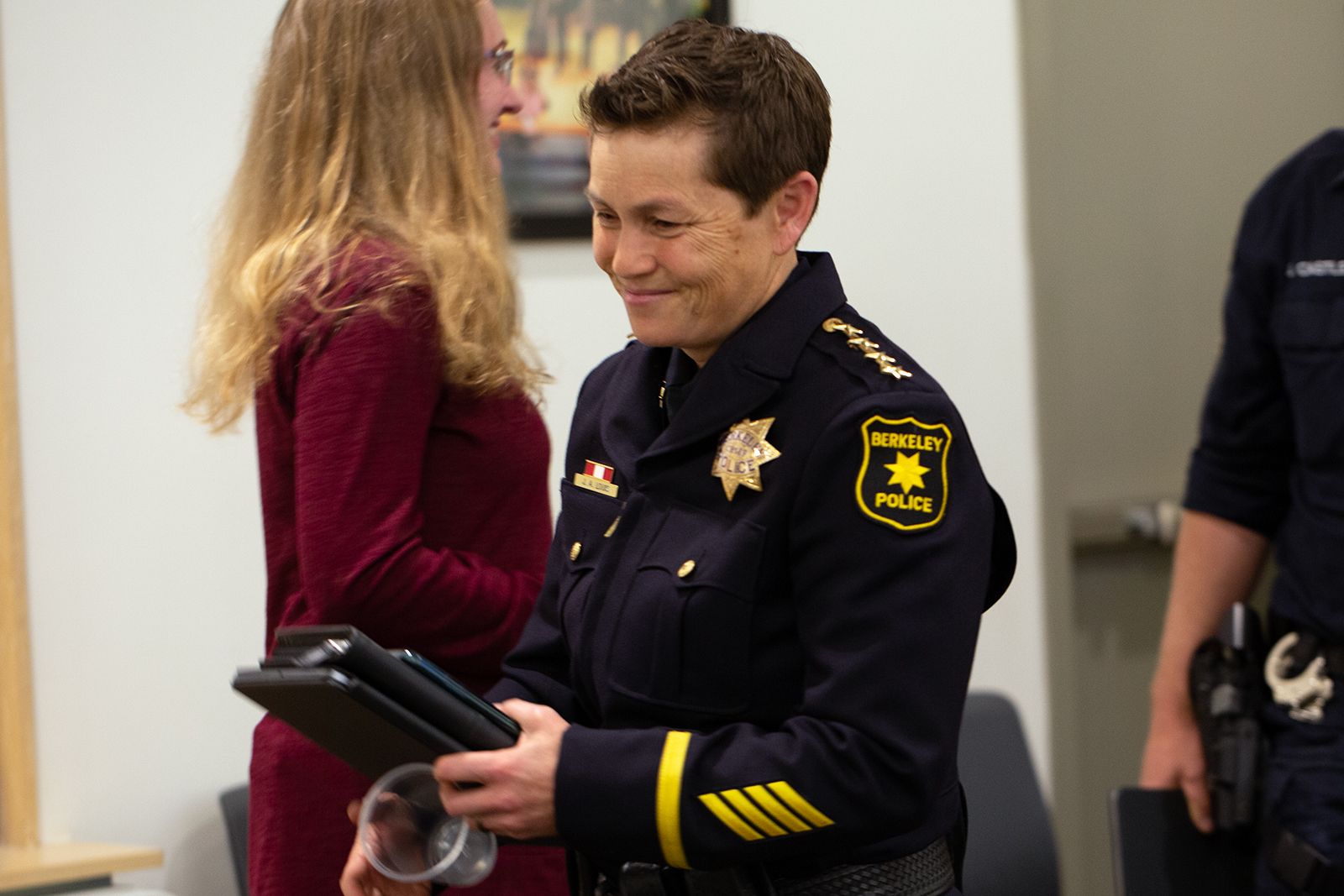 In the end, a council majority took the city manager's recommendation to heart, with Rashi Kesarwani, Terry Taplin, Susan Wengraf, Rigel Robinson and Mark Humbert saying during the night's discussion that they would vote to confirm Louis' appointment.
Mayor Jesse Arreguín, Sophie Hahn, Ben Bartlett and Kate Harrison voted in favor of the Harrison motion to put off the vote — saying they preferred to wait for the conclusion of the investigation in the interest of public trust.
But, after that effort failed, Arreguín and Hahn voted with the majority at 11:20 p.m. to appoint Louis. They said they would have preferred a different process but had confidence in the chief's ability to lead.
Harrison and Bartlett abstained.
According to Tuesday night's agenda item to confirm Louis, her base salary as Berkeley police chief will be $301,820. That does not include benefits.
In 2021, the most recent year available, Louis' base salary as interim chief was about $238,000, according to Transparent California. Her total pay including benefits was nearly $540,000.
Get informed and get involved with Berkeley politics
💡
The Berkeley Scanner is 100% member-supported. That means no ads, no spam and no distractions. Help ensure timely, accurate public safety news for Berkeley by
signing up now
.