About The Berkeley Scanner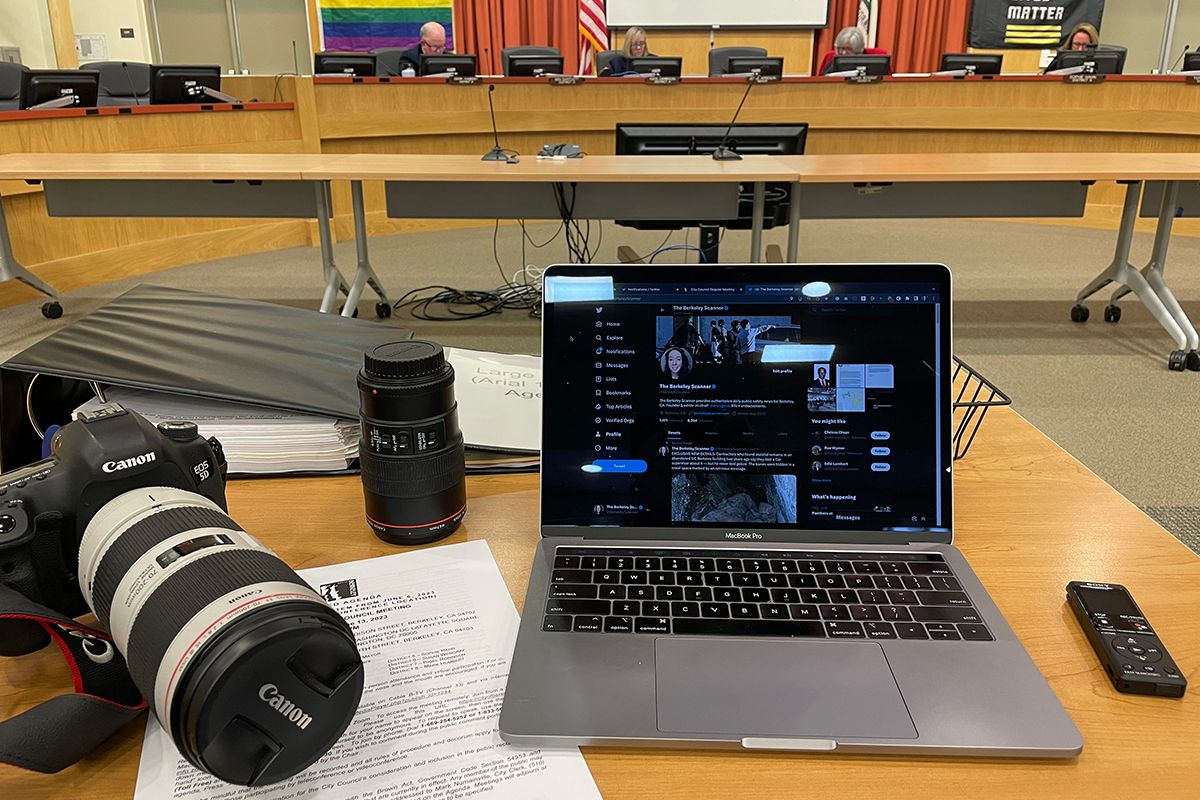 The Berkeley Scanner is an independent daily news outlet devoted to crime and public safety reporting in Berkeley, California.
Berkeley police activity on your block? Smoke in the air? Helicopter overhead? We'll find out what's happening. Earthquakes? Power outages? We'll give you all the latest updates on breaking news and other critical coverage.
We'll also follow serious cases through the criminal justice system and report on ongoing efforts to reshape Berkeley's approach to policing and fire safety in the years ahead.
TBS averages about 240,000 monthly pageviews.
Veteran reporter and editor Emilie Raguso launched The Berkeley Scanner in September 2022 to provide more robust daily crime and public safety coverage to Berkeley and the Bay Area.
Raguso has been a reporter for nearly 20 years. She's spent the past 10 of those years becoming the most authoritative source on Berkeley policing and crime reporting news coverage.
After working for a decade at Berkeleyside, Raguso realized her passion to write about Berkeley police activity and public safety issues needed a bigger platform.
She founded The Berkeley Scanner to offer comprehensive coverage of crime and safety in the city and to allow her to help readers learn more about what's really going on in the neighborhood.
The Scanner retains full editorial independence over all of our stories.
The Berkeley Scanner is 100% reader-supported. That means we need your help to survive (yes, yours!). Pitch in now to ensure our reporting can continue.
If you're looking for alternative support options, we have those too.
Contact The Berkeley Scanner
Our tips form has everything you need to know about how to get in touch. If you think it's missing something, let us know.
Media coverage about The Berkeley Scanner
Miscellaneous tips and tricks
The Berkeley Scanner has three members-only email newsletters: daily, weekly and news alerts (depending on your membership tier). If you need to change your account settings, you can do so here. Bookmark the link to sign into your account anytime.
You can follow The Berkeley Scanner on Google News.
Interested in a particular Berkeley neighborhood? We categorize our stories by geography. See the growing Berkeley neighborhood archive list to find the stories that hit closest to home.
Don't miss our resource guide to police data in Berkeley.
Find all the latest Berkeley Scanner stories. We also have an RSS feed.
Affiliations
The Berkeley Scanner is a proud member of LION Publishers, the Society of Professional Journalists, SPJ NorCal and IRE (Investigative Reporters and Editors) as well as the Berkeley Chamber of Commerce. Raguso obtained her master's degree in journalism from the UC Berkeley Graduate School of Journalism in 2006.
Awards
Emilie Raguso is an award-winning journalist with a career dating back two decades.
Her work at Berkeleyside (2012-22) received repeated recognition.
Comments policy
At The Berkeley Scanner, community dialogue and engagement are core to our mission. We believe in the robust exchange of diverse ideas and that there's much to learn from reader input. Comments are limited to paying members.
We ask you to follow a few basic rules and reserve the right to delete comments that violate this policy.
Corrections policy
The Berkeley Scanner places a premium on accuracy and objectivity in our reporting. If you see something that needs to be corrected, whether it's a typo, a mistake or an outright error, email The Scanner for a prompt review. We want to hear from you. Corrections will be noted at the foot of articles that require a fix.
Privacy and cookie policies: The fine print
The Berkeley Scanner will never sell your personal information. Aside from automated cookies needed to run our site, your information will never be shared.