Policing
Fired Berkeley cop leaks texts alleging bias, asks officials to put off police chief vote
Officers said they were disappointed their union president had written the unprofessional messages, but deny having arrest quotas or illegal practices.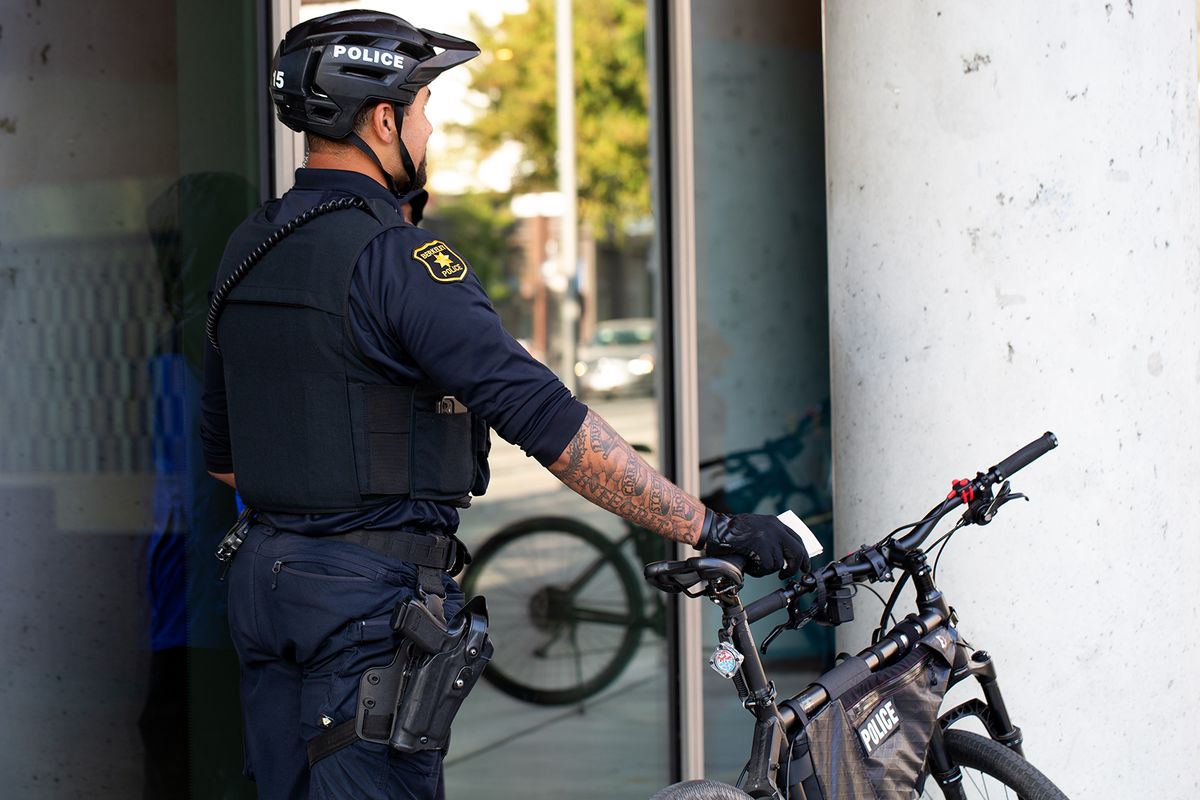 A Berkeley police bike officer who was fired after intentionally colliding with a car, according to sources familiar with the crash, has brought forward new claims about "unethical and illegal" practices he says were prevalent in his unit.
Corey Shedoudy was terminated from the Berkeley Police Department in August 2021, he told Berkeley City Council members in an email Thursday that was leaked to The Berkeley Scanner and at least one other individual.
In his email, Shedoudy claimed the bike unit had "arrest quotas of downtown unhoused" and used "questionable legal tactics" such as "stop and frisk, probation searches with no reasonable suspicion of a crime, and a very loose interpretation of stay-away orders from UC Berkeley."
Officers familiar with the unit say there were no such orders or illegal practices, and asked why — if such things had happened — had Shedoudy not raised concerns immediately to command staff, or brought it up when he was first put on leave in late 2020 after what multiple sources have described as an intentional collision with a driver near UC Berkeley.
In his Nov. 10 email, Shedoudy — who recently filed a lawsuit against the driver from the 2020 crash — urged the city to investigate his allegations and put off the ratification of a permanent Berkeley police chief. That vote had been scheduled to take place Tuesday night.
Shedoudy did not respond to multiple inquiries from The Berkeley Scanner over the weekend. As of Monday evening, his voicemail box was full.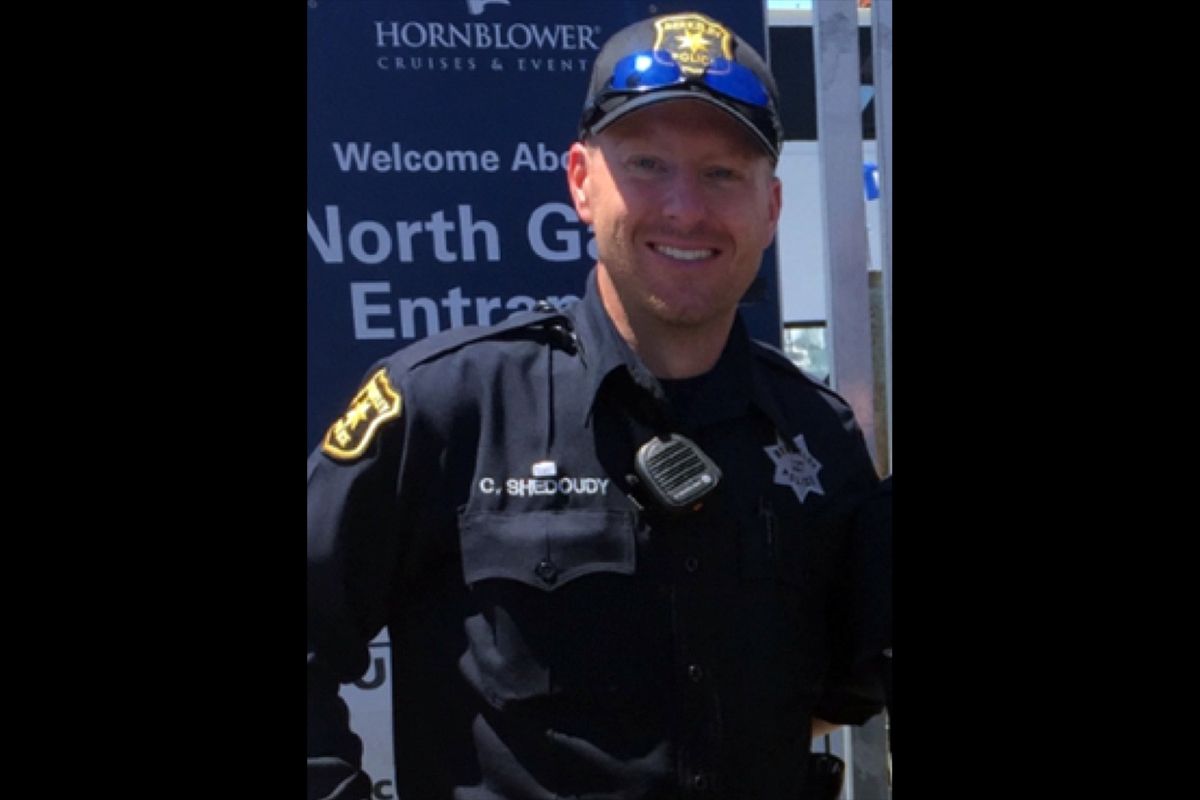 The city has said Shedoudy's bias allegations are "disturbing" and will be taken seriously.
"We will be hiring an external investigator to verify and investigate any and all documentation and allegations arising from this complaint. This will happen in lieu of an internal affairs investigation to avoid any question about the impartiality of the investigation," the city told The Berkeley Scanner by email Monday at 5 p.m. "State law precludes the City from commenting on any personnel matters."
Interim Berkeley Police Chief Jennifer Louis said, through a city spokesman, that she had not been aware of the allegations until Thursday and that none of the alleged incidents took place under her supervision.
"These allegations are extremely concerning, and they deserve to be investigated thoroughly," she said in a prepared statement provided by the city.
Shedoudy: Police union president sent offensive texts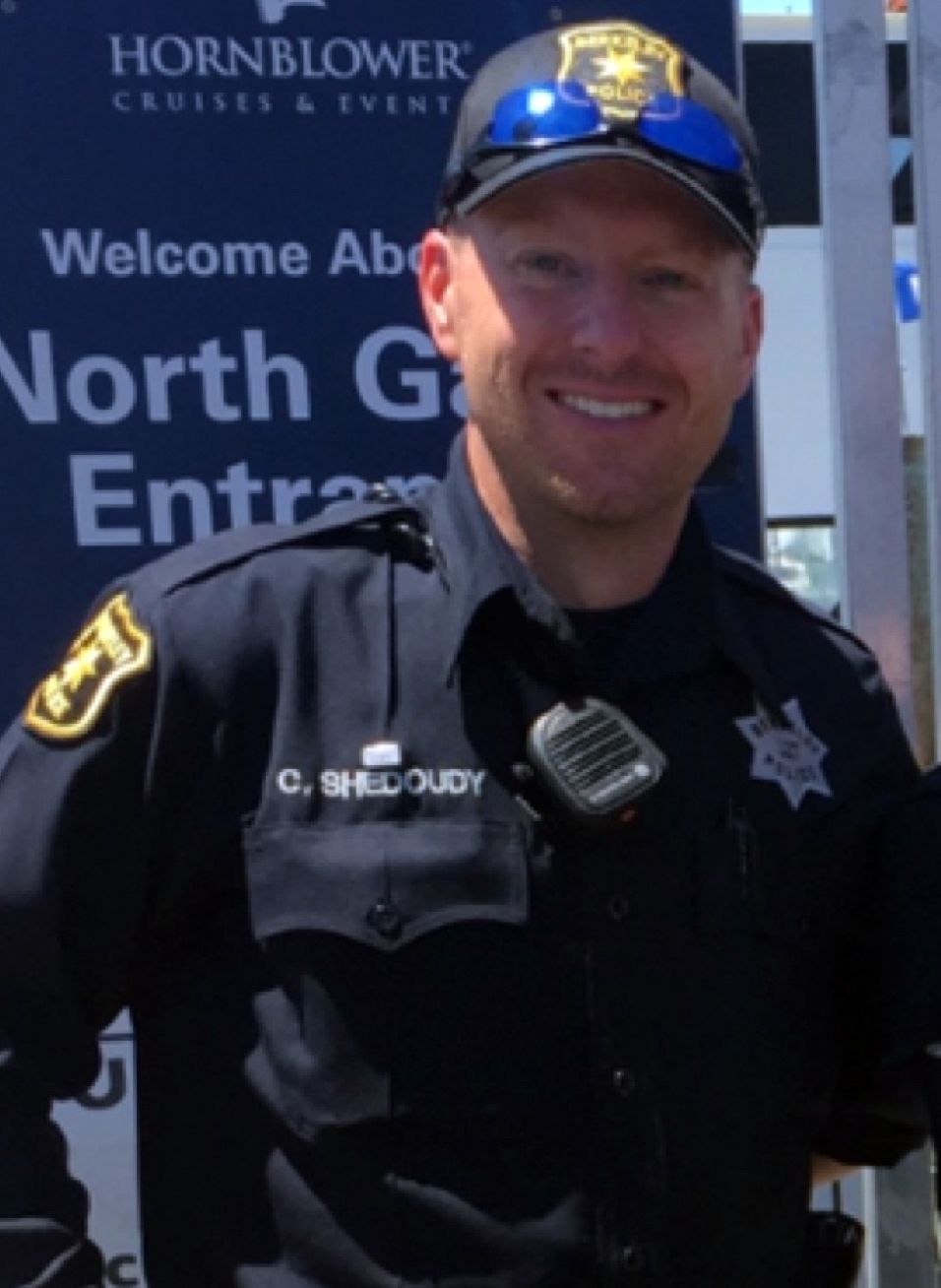 Corey Shedoudy. Berkeley Police Association
Corey Shedoudy was hired by the Berkeley Police Department in 2014 after working as a police officer in Modesto for about two years, according to municipal salary records reviewed by The Berkeley Scanner.
Shedoudy was eventually assigned to BPD's Downtown Task Force, a proactive patrol unit created in 2019 in response to pressing public safety concerns from merchants at the time.
One year after its creation, the task force morphed into a bicycle patrol unit called Bike Force.
The unit has repeatedly won effusive praise at public meetings from Berkeley politicians, many of whom have supported its expansion into other neighborhoods, asked how they could get their own bike patrols, and said the proactive work the unit has done has made a real difference on Berkeley streets.
Shedoudy's email painted a different picture of the team's work. He alleged that unit supervisor Sgt. Darren Kacalek "ordered" the team "to make 100 arrests per month, which was at the time more than the rest of the Police department combined."
Kacalek is also the current president of the Berkeley Police Association. His term ends in December.
Shedoudy told Berkeley City Council members that he had hundreds of text messages from the bike team, along with emails, sworn testimony transcripts, arrest records and photos "that clearly outline a practice of illegal arrest quotas, racism, evidence suppression, lying, and quid pro quo inside that unit."
As part of his package to the City Council, Shedoudy shared about two dozen screenshots of text messages he said involved bike unit members. He told council this was just "the tip of the iceberg."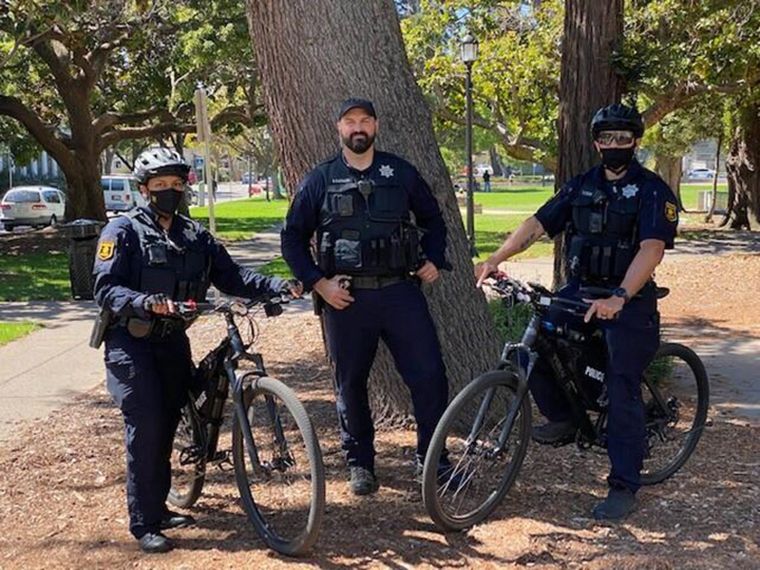 The selected texts appear to show offensive remarks, particularly by Kacalek. In one, he appears to joke about a "new strain that wipes out the homeless pop. We will just ride by the bodies!"
In another text purporting to come from Kacalek, he asks: "Did you guys realize that all 5 people you arrested had something in common?"
In response to a guess from Shedoudy ("They had covid?"), Kacalek writes: "All of the same heritage."
In another text that appears to be from Kacalek, he expresses frustration that a city media release had not, in his opinion, adequately described a man alleged to have attacked someone with a baseball bat.
"I guess he isn't black or no one could decipher his race and he isn't homeless or even unhoused, just no address," he wrote, adding #iwantthecoldhardtruth, according to the screenshot.
In another racially charged text, according to the screenshots from Shedoudy, Kacalek shared a Facebook post that appeared to have been uploaded by a Pennsylvania man; it was not clear who originally wrote the post.
In the post — set up like an item for sale — the author had written, "I'm selling my white privilege card. It's 48 years old and it hasn't done a damn thing for me. No welfare checks, No inheritance, No free college, No free food, No free housing, etc. I may even be willing to do an even trade for a race card. Those seem to be way more useful and more widely accepted."
"Operation 100"
In one text, Kacalek appears to express enthusiasm about the prospect of the unit making 100 arrests that month — but there were no orders or directives attached to it, according to the material Shedoudy released.
"Hows Operation 100 going," Shedoudy appeared to write in another screenshot. The sender name was not visible, but the message appeared on the right side of the screen where outgoing texts are listed.
In another screenshot, a message that appears to be from Shedoudy says that arrests "are the means not the ends. For all the businesses know, we arrest 20 people a day. XX arrests wont impress them. Solving their pain points will impress them. Solving the problems they know of will impress them, arresting the right people. Making their sidewalk not smell like piss."
To that, Kacalek appears to answer: "For sure Corey but numbers are a way of quantifying it as we move to really solving the long term problems. Tickets and arrests are more of a notification to problematic people that we are out and about and there to enforce problematic criminal behavior and public nuisances. It's the official way of reminding them that what they are doing is not okay and will get our attention."
Numerous officers have told The Berkeley Scanner that the department has no arrest quotas.
"We don't have a policy on quotas. We never did. We know that's wrong," one retired veteran officer said. "But encouraging a team to be proactive, there's nothing wrong with that. That's what you want, especially on a team that was devised for that very thing."
Police: Shedoudy crash "dry runs" were caught on camera
Berkeley Police Association Vice President Sgt. Scott Castle said he could not comment on the email or texts because this was a "confidential personnel matter."
But he said the union was carefully monitoring the situation.
"We want to assure the citizens of Berkeley that the members of the police department continue to pursue their mission to provide professional and compassionate service to our community," he said Monday night.
Kacalek is out of town this week on a previously scheduled vacation.
Berkeley police officers who saw the texts said they were disappointed in the tone and content of the messages.
They said the messages, particularly from the union president, were clearly unprofessional.
Officers also questioned, however, whether the texts were actually evidence of illegalities or improper police practices, which would be serious charges.
Shedoudy himself faced serious allegations, including the filing of a false police report and a false workers' compensation claim, which led to his termination, according to multiple veteran officers familiar with that investigation.
On Nov. 22, 2020, at 4:54 p.m., a breathless Shedoudy called for "Code 3" emergency cover to Ellsworth Street and Bancroft Way near the UC Berkeley campus for a traffic collision involving his bicycle and a vehicle.
Dispatch audio of that call appears below.
First responders rushed to the scene and took Shedoudy to Alta Bates for treatment, according to dispatch recordings reviewed by The Berkeley Scanner (TBS).
Suspicions about the circumstances of the collision arose immediately within the Berkeley Police Department, sources told TBS.
Police worked quickly to secure surveillance footage from the area and reviewed Shedoudy's body-worn camera footage as well.
The footage was shocking and appeared to show Shedoudy making more than a dozen "dry runs" on Bancroft Way in the hour or two before the collision "pulling away or braking until he finally hit a car," a veteran officer told TBS. "It appeared he was working on the timing of it."
Footage also appears to show Shedoudy turning left into the passenger side of the car when he could have veered to the right and out of its way, or hit the brakes, police said.
Many officers told The Berkeley Scanner that it had been Kacalek, the unit supervisor, who had closely reviewed the footage and documented the collision irregularities.
Shedoudy was placed on administrative leave and was eventually terminated. He continues to appeal that decision through arbitration, a process that had been slated to wrap up this month.
At the time of the collision two years ago, a number of officers had heard about its questionable circumstances, sources said.
"There were a lot of people who were pissed off about it at work," a retired veteran officer said.
"They were disgusted, upset and angry that this guy would do that," another officer said. "It's so beyond the pale. A lot of us are truly concerned about maintaining the community's trust. And it's like a blight on everybody's good work when you have somebody do something like that."
Officers felt Shedoudy "should be swiftly and properly and fairly dealt with," he added. "There was no dissent at any point about anything."
"People were like, goodbye, good riddance," another officer told The Scanner.
Other officers, reached over the weekend to discuss the Shedoudy situation, said they did not know why criminal charges had never been filed in the matter.
The Alameda County district attorney's office was advised of the fraudulent worker's compensation claim, said one person familiar with the BPD investigation.
The DA's office said Monday morning that it was unable to provide a statement at the time, but would work on providing one later. The Berkeley Scanner will update the story when that information becomes available.
Shedoudy has sued the driver from his crash
Although criminal charges do not appear to have been filed, Shedoudy filed his own civil case in Alameda County Superior Court on Nov. 2 against driver Fred Glass, a Berkeley resident and labor organizer.
(Glass declined to comment for this story.)
In the filing, Shedoudy wrote that he had been in the westbound bike lane on Bancroft Way, and had the right-of-way, when Glass, who had been northbound on Ellsworth, struck him.
He alleges that Glass failed to stop at a stop sign.
Shedoudy claims he was injured in the crash and may have been permanently disabled as a result.
He is seeking unlimited damages, in excess of $25,000, as well as a jury trial, according to the filing.
In his email to the Berkeley City Council, which he sent Thursday at 11:10 a.m., Shedoudy wrote that he believed he would be vindicated in his fight to get his job back.
"I expect my termination will not be upheld for, amongst other reasons, I have the truth on my side," he wrote.
He said his main purpose in writing to the City Council was to ask officials to delay the vote to make interim Berkeley Police Chief Jen Louis permanent.
He wrote that he planned to release more materials to the public when his arbitration process concludes.
City manager urged officials not to comment
Nearly five hours after Shedoudy sent his email to council members, City Manager Dee Williams-Ridley sent her own message to them.
"I understand that you have all received a very disturbing email from former Berkeley Police Officer Corey Shedoudy," she wrote. "I want to assure you that the allegations will be investigated fully and any additional investigative oversight needed will be sought."
She also told council members not to share the emails or texts. She said she would work with the city attorney's office and human resources "to determine immediate next steps in the matter."
She also wrote that she saw no reason to pause Louis' appointment as permanent police chief.
"My initial inquiry affirms that she had no knowledge of the allegations or text messages" sent by Shedoudy, Williams-Ridley wrote.
Williams-Ridley urged council members to refer all media inquiries to city spokesman Matthai Chakko.
Williams-Ridley also provided a brief script for officials who felt they had to say something: "My office is aware of the seriousness of the matter and has been assured that the allegations will be investigated thoroughly. Since this is a confidential personnel matter, there are no other comments at this time."
Councilman Terry Taplin issued his own statement Monday once word of the Shedoudy email and texts began leaking out into the public.
Taplin wrote that he was "deeply disturbed and troubled" by the texts, which exhibited "anti-homeless and anti-Black racial bias."
"There can be zero tolerance for racism, bigotry, and hate anywhere in our city, let alone among the first responders who interact with our community on a daily basis," he wrote. "This conduct is nothing short of a breach in public trust, and is beneath the values of our city, community, and the standards of our Police Department."
In her prepared statement from Monday evening, Louis wrote that she would have immediately initiated an investigation into the allegations had she been made aware of them during her time as chief.
Louis stepped into the chief role in March 2021 when prior Berkeley Police Chief Andy Greenwood retired.
Louis did, at one point during her decades-long BPD career, oversee patrol operations as captain. But she transitioned out of that role in January 2018.
The task force and bike unit were not launched until after her move into a different division that had no oversight over patrol.
The Berkeley Scanner will be seeking all records related to the Shedoudy allegations as well as his termination.
Update, Nov. 15: The Police Accountability Board has called a special meeting for Tuesday at 2 p.m. to discuss the Shedoudy allegations and potentially vote to recommend postponement of the Louis appointment.