Crime
Armed men carjack security guard, rob Berkeley dispensary
CBCB's owner said she felt terrible about the disruption to neighbors and had worked for years to make the business community oriented.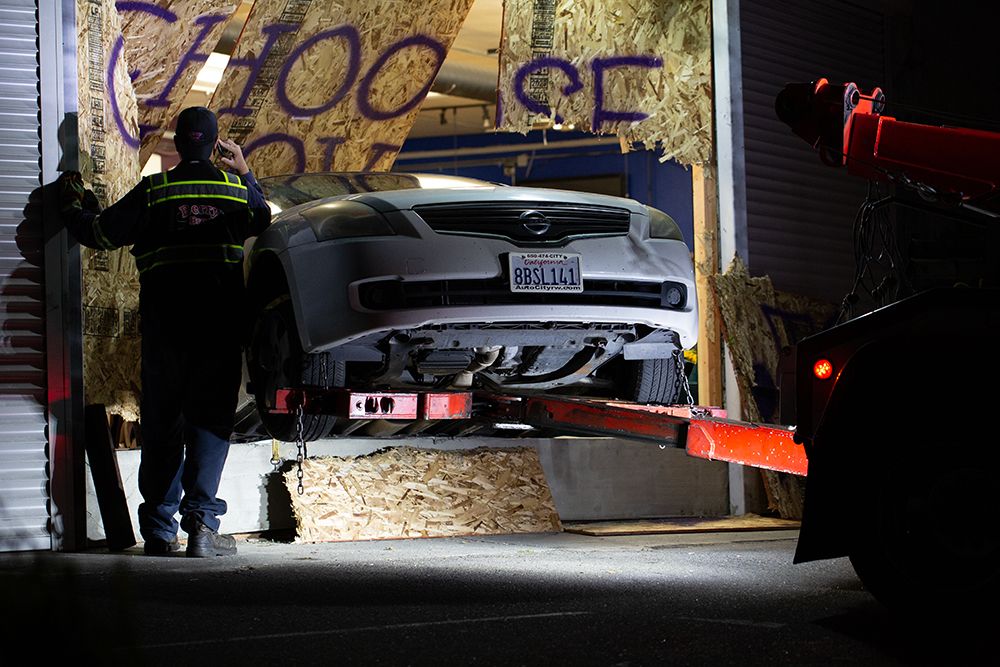 A group of people armed with guns overtook a security guard and used his car to ram their way through a temporary plywood wall at a marijuana dispensary in Berkeley overnight, authorities report.
It was the second time in recent weeks that the Cannabis Buyer's Club of Berkeley (CBCB) at 3033 Shattuck Ave., at Essex Street, has been targeted.
The incident Tuesday began at about 2:20 a.m., Berkeley police said, when a group of perhaps six people armed with guns confronted a security guard who was posted in his car outside the closed gate of the dispensary.
Members of the group pointed guns at him and sprayed him in the face with a substance that temporarily blinded him, he said.
Then they opened the gate and carjacked his vehicle, which they used to ram their way backward into the business through a plywood wall that read "Choose love" in purple spray paint.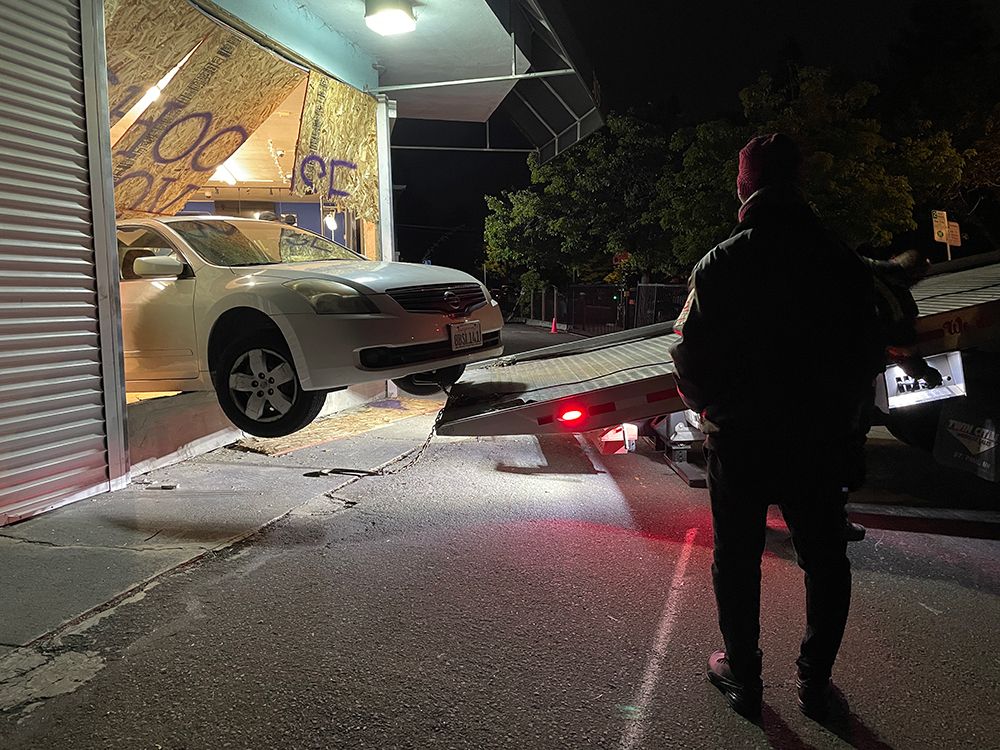 After taking various items, the group fled in three vehicles, one of which had been taken during a carjacking in Oakland, police said.
One of the drivers fled east on Essex Street while the other two went south on Shattuck Avenue, police said.
One of the drivers on Shattuck crashed at 55th Street, about 1 mile away, and everyone in the car fled into the block around Dover Street.
Berkeley officers searched for them, aided by a police K9 from Emeryville, but were unable to find them.
The other drivers also escaped, police said.
CBCB has been hit twice in recent weeks
The marijuana dispensary had a temporary plywood wall due to a recent burglary on the premises, said Aundre Speciale, CBCB's owner.
(The Scanner asked BPD about that incident last week but has not heard back.)
After that, Speciale hired 24-hour security and ordered bollards to install in the concrete to stop drivers from ramming their way into businesses. But they are still in transit.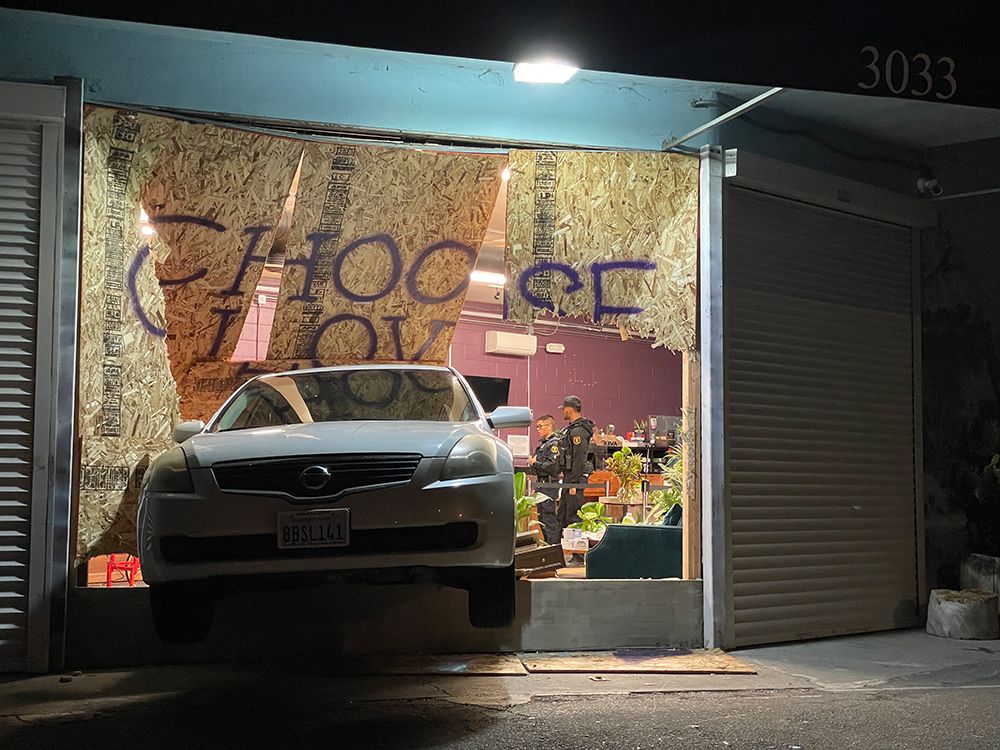 Speciale said she felt terrible about the disruption to neighbors Tuesday and had made efforts over the years to ensure the business was community oriented.
CBCB has been open at its current location for 15 years but was founded in 1996 and was one of the first legal dispensaries in California, according to its website.
Speciale noted that there had been another burglary at CBCB in January and that a dispensary in Emeryville had seen a similar break-in via vehicle in the past month or so.
On Tuesday night, she said, the group who robbed the shop had cut out the cash registers and removed them along with a number of display containers.
But the registers and containers were all empty, she said. So they hadn't made off with much.
She also said people have tried to break into CBCB in the past but have never made it inside.
In the early hours of Tuesday morning, Speciale said she would remain on site until the damage was repaired. And she said greater security measures are coming.
"We're going to lock it down like a federal building," she said.
In addition to Berry Brothers Towing & Transport, which removed the security guard's vehicle from CBCB, a city public works staffer also responded to the scene to help fix the broken plywood barrier.
Berkeley police also remained at the scene until the area was secure.
Update: On Wednesday, CBCB installed bollards in front of the shop.
"Sorry again to the neighborhood for the disruption the other night and thanks to everyone that reached out," one member of the team wrote on Twitter.
🚨
A reader asked us about this incident, which resulted in this report. Have questions about crime in Berkeley? Alert The Berkeley Scanner.