Angel and Jazy
Remembering Jazy and Angel: 'Forever in our hearts'
"When we try to make sense of this, it's just hard and it hurts," said Aaron Lechuga, a Berkeley Unified School District counselor, from the lectern.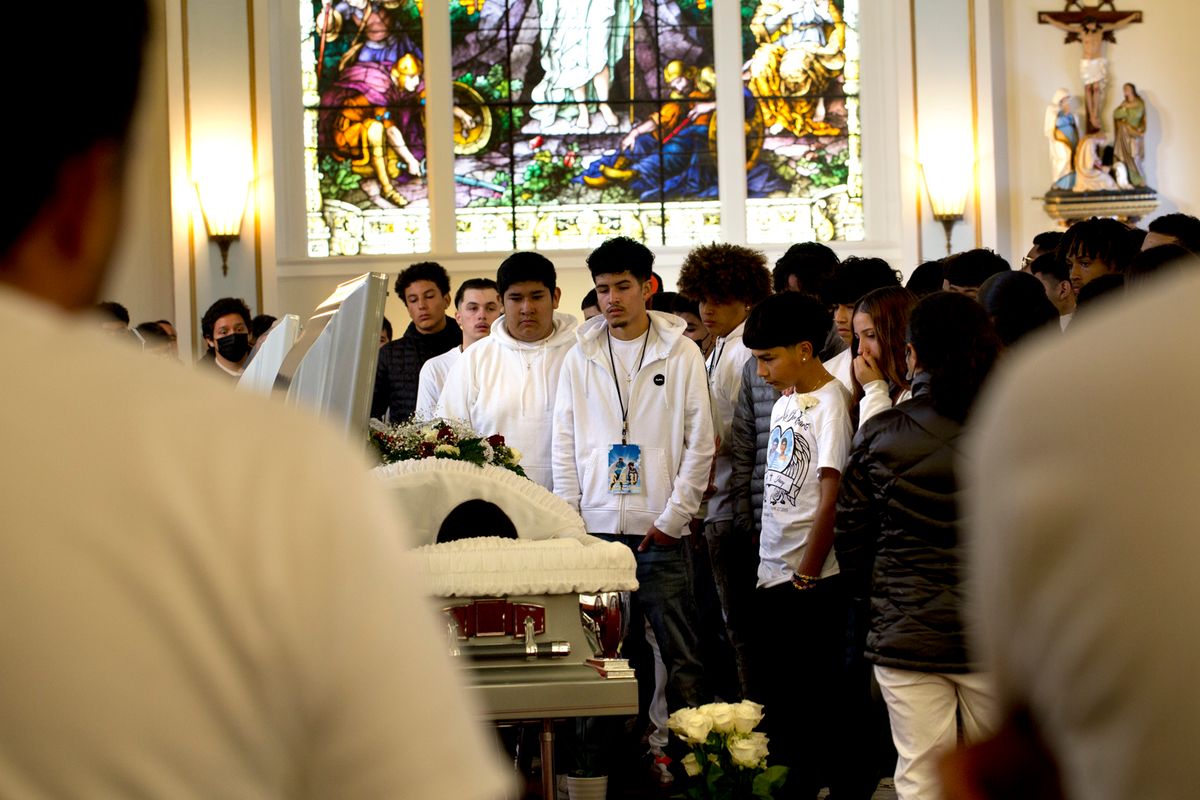 Several hundred mourners filled a Berkeley church on Thursday morning to remember Jazy and Angel Sotelo Garcia, teenage brothers who were killed at a friend's birthday party earlier this month.
Many attendees were Berkeley High classmates and friends, while others were part of the tight-knit soccer community to which the boys belonged.
The funeral mass took place in Spanish and English at St. Joseph the Worker Catholic Church on Addison Street where both brothers had been baptized.
"When we try to make sense of this, it's just hard and it hurts," said Aaron Lechuga, a Berkeley Unified School District counselor, from the lectern. "We know who these boys are and we love them in life and in death. Para siempre. They show us how we should be."
Lechuga said the boys exemplified love and respect, and asked that their deaths be a reminder to be kind to one another and offer support to those in need.
"All the love that we see, if we can carry that with us and take care of each other," he said, "then somehow we can make some sense of it."
Melani Garcia Macias, an older cousin of the boys who had traveled from Los Angeles to be with the family, described Jazy and Angel as kind and warm-hearted.
"I loved them like they were my brothers," she said, in brief remarks toward the end of the mass. "There won't be a single day where I don't think of them."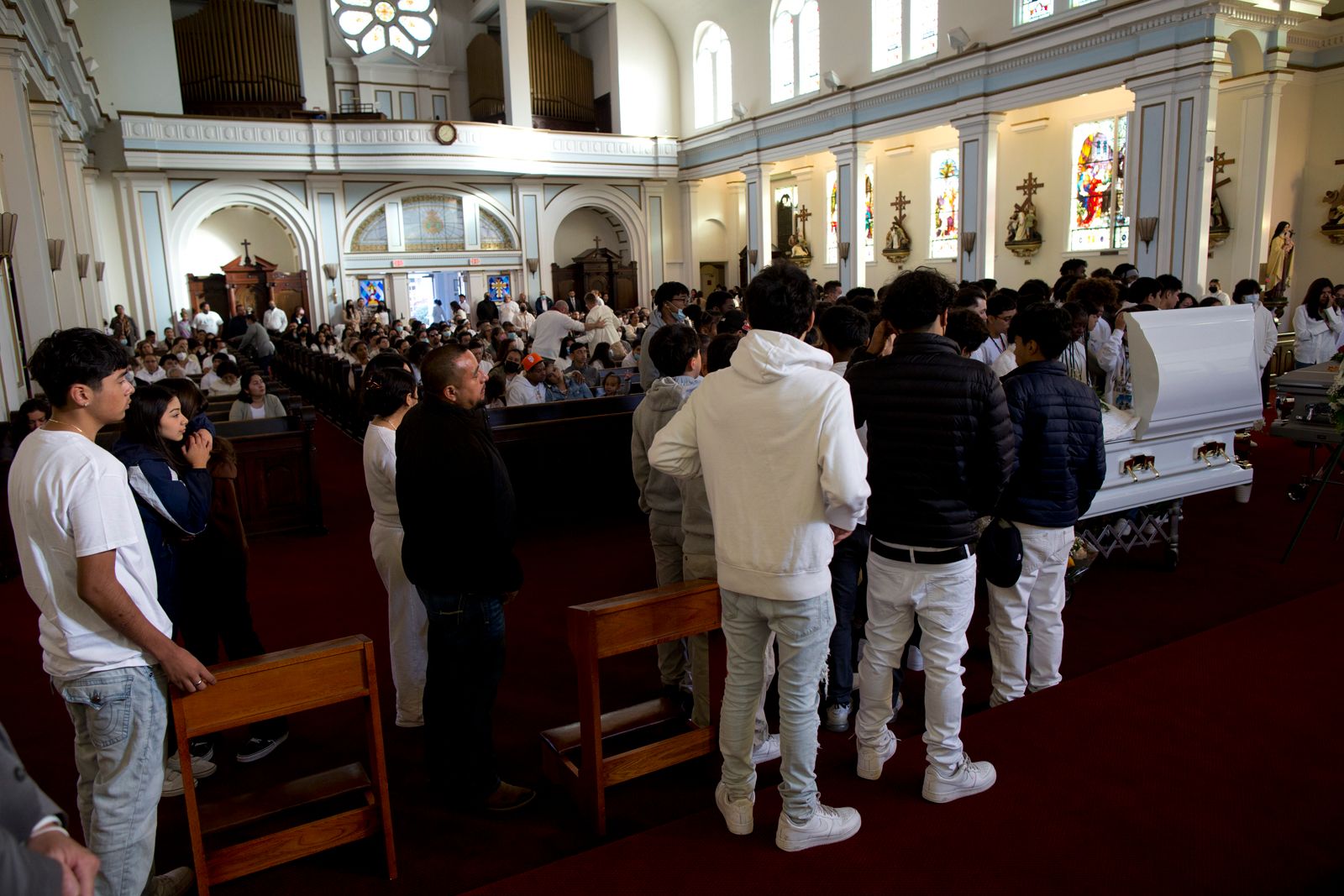 Macias said it was inspiring to see the community come together to rally in support of the boys and the family.
"They always looked out for each other. And they always protected each other," she said. "And even in death they're united."
Father John Prochaska, pastor of St. Joseph the Worker, led Thursday's nearly two-hour mass, which followed an extended morning wake with open caskets.
Seventeen-year-old Jazy's coffin was to the left while 15-year-old Angel's was on the right. Bouquets of white roses and potted orchids were set up around them for the service.
Mass began with the sprinkling of holy water. Loved ones covered the boys' caskets with shrouds.
Prochaska offered words of support to the family, including the boys' mother, María De Los Angeles Garcia Galavis and the boys' four younger brothers.
"Losing a child, no matter how young or how old that child is, is the most profound sorrow that one can experience," he said. "Their sorrow will never be taken away."
He said it was "a pain I can't imagine," and that he hoped the family would find peace and comfort in time.
Prochaska also linked the boys' deaths and their mother's suffering to the crucifixion of Jesus, noting that Mary, too, had experienced "not only the death of a son, but the unnecessary killing of a son, just as Jazy and Angel were unnecessarily killed."
Throughout the morning, a small group of musicians played hymns to accompany the mass. Most of the mourners had worn white at the family's request.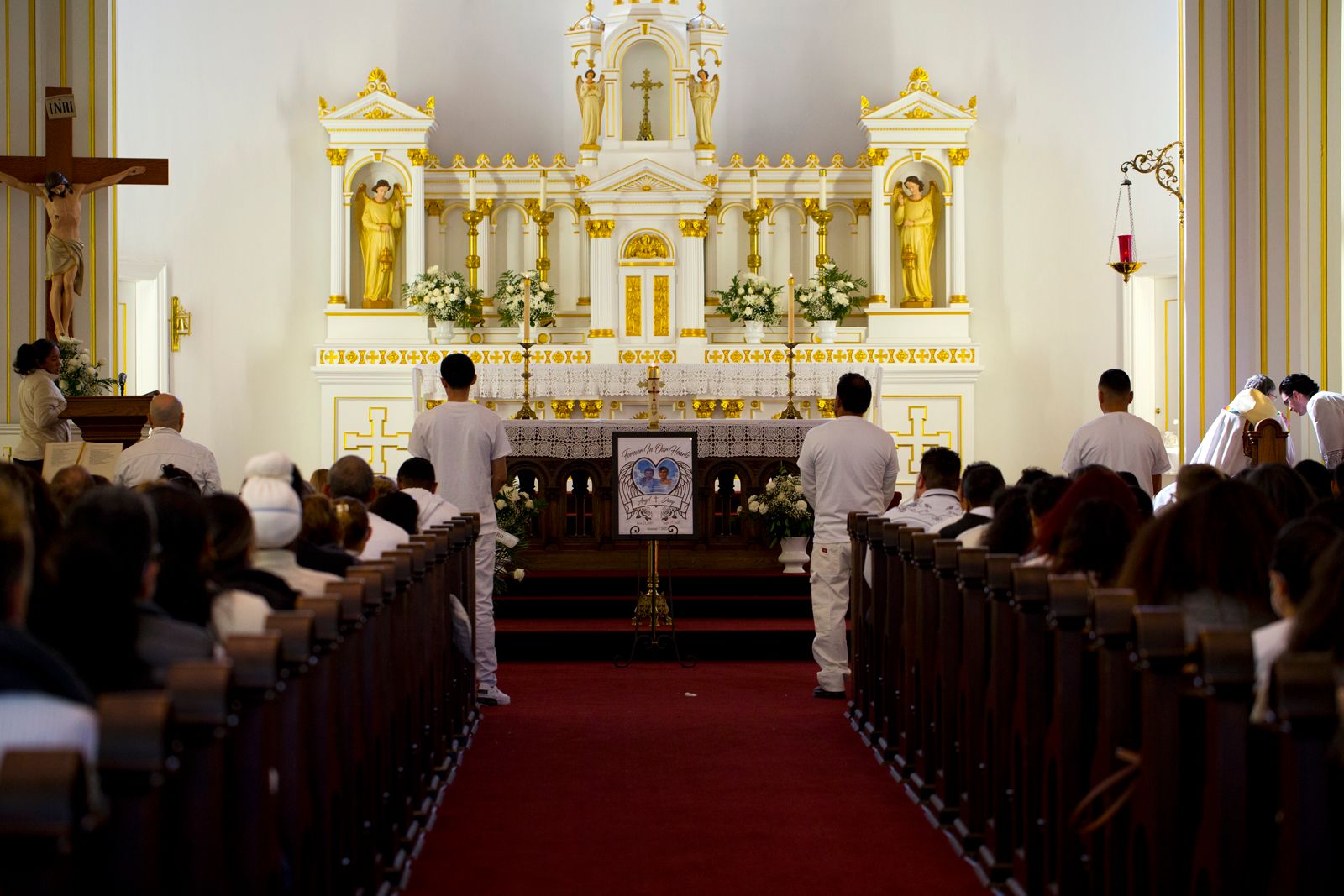 Many donned commemorative T-shirts featuring the boys' faces framed by a heart with wings. The shirt included the boys' birthdates — Jazy had only just turned 17 in late September — and was emblazoned with the message, "Forever in our hearts."
A former BUSD principal who had known the boys at Sylvia Mendez Elementary (then called Le Conte) described how they had both been in the district since kindergarten.
"I will remember always the kindness of Jazy's eyes behind his glasses, holding a book because he loved to read," she said. "And I'll always remember Angel, asking Angel if he was acting like an angel today. And he would look at me with those… eyes and smile — and would nod his head and say 'yes.'"
After mass, the boys were buried at Mount Eden Cemetery in Hayward.
The Oakland Police Department has announced no updates in the case in weeks, following an initial press conference where OPD said investigators believed arrests would be forthcoming.
The boys were killed at a birthday party for a friend on Oct. 1 on Apgar Street in North Oakland.
At a candlelight vigil at Longfellow Middle School earlier this month, their mother described how she had been on her way to pick up her sons just as the shooting happened.
"I got a text from him but, when I asked him for the location, he never answered," she said. "I was already making my way to him, but I guess death beat me there."
"I wish this was a dream," she said.
The Berkeley Scanner will continue to follow the case and seek updates from authorities about the status of the investigation.