Shootings
Berkeley mayor: Gun violence 'cannot be the new normal'
Sunday's rally offered a rare chance to see city and School Board officials come together on the same stage to urge action against gun violence.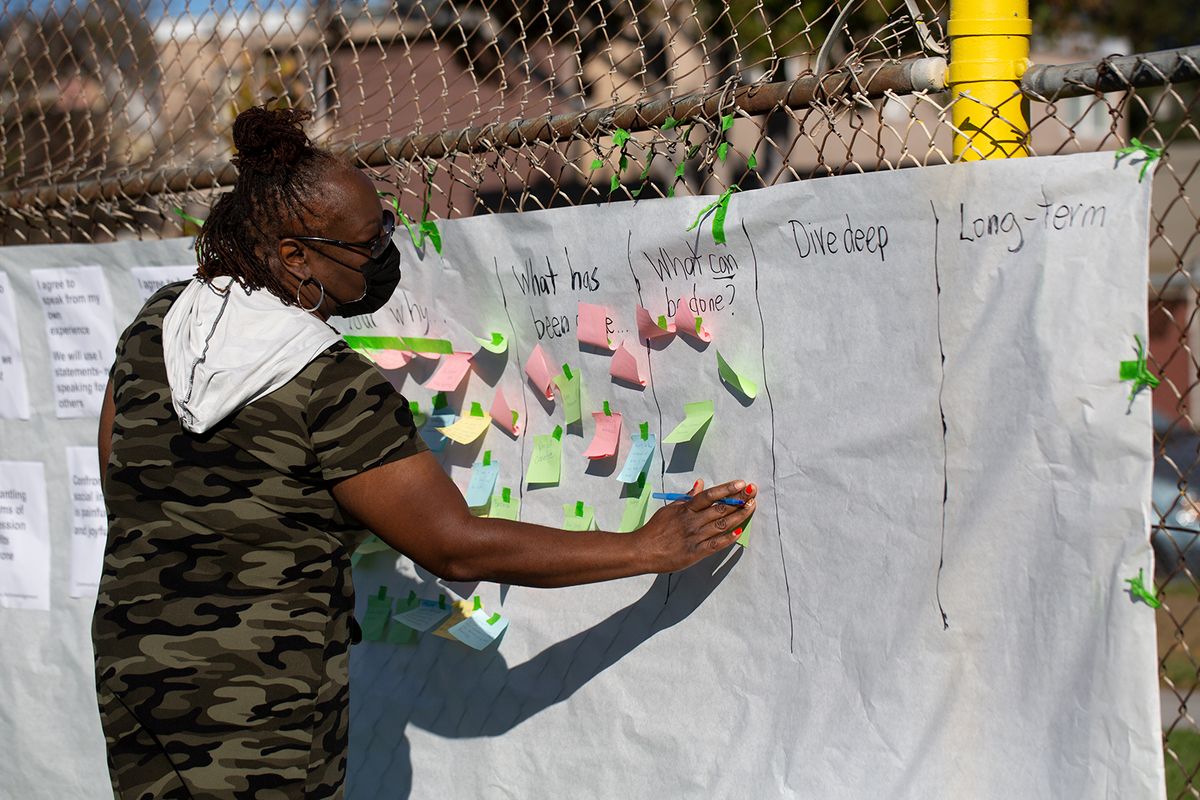 It began with a moment of silence and continued with a collective roar: Berkeley faith leaders, politicians and members of the broader community pledged Sunday to take "direct action" to stop the violence following a pair of shootings in October that left three people dead and five others wounded.
Sunday's three-hour session at James Kenney Park in West Berkeley was part-rally and part-campaign event. And, while proposed solutions ran the gamut, there was a unifying call for action.
"We can't just keep coming to rally after rally and pray that things will change," Mayor Jesse Arreguín told the 60 or so attendees at Sunday's event. "It requires real commitment and direct action. And that's what we're here to commit to today."
"The increasing prevalence of gun violence in our community is not acceptable," Arreguín said. "This cannot be the new normal."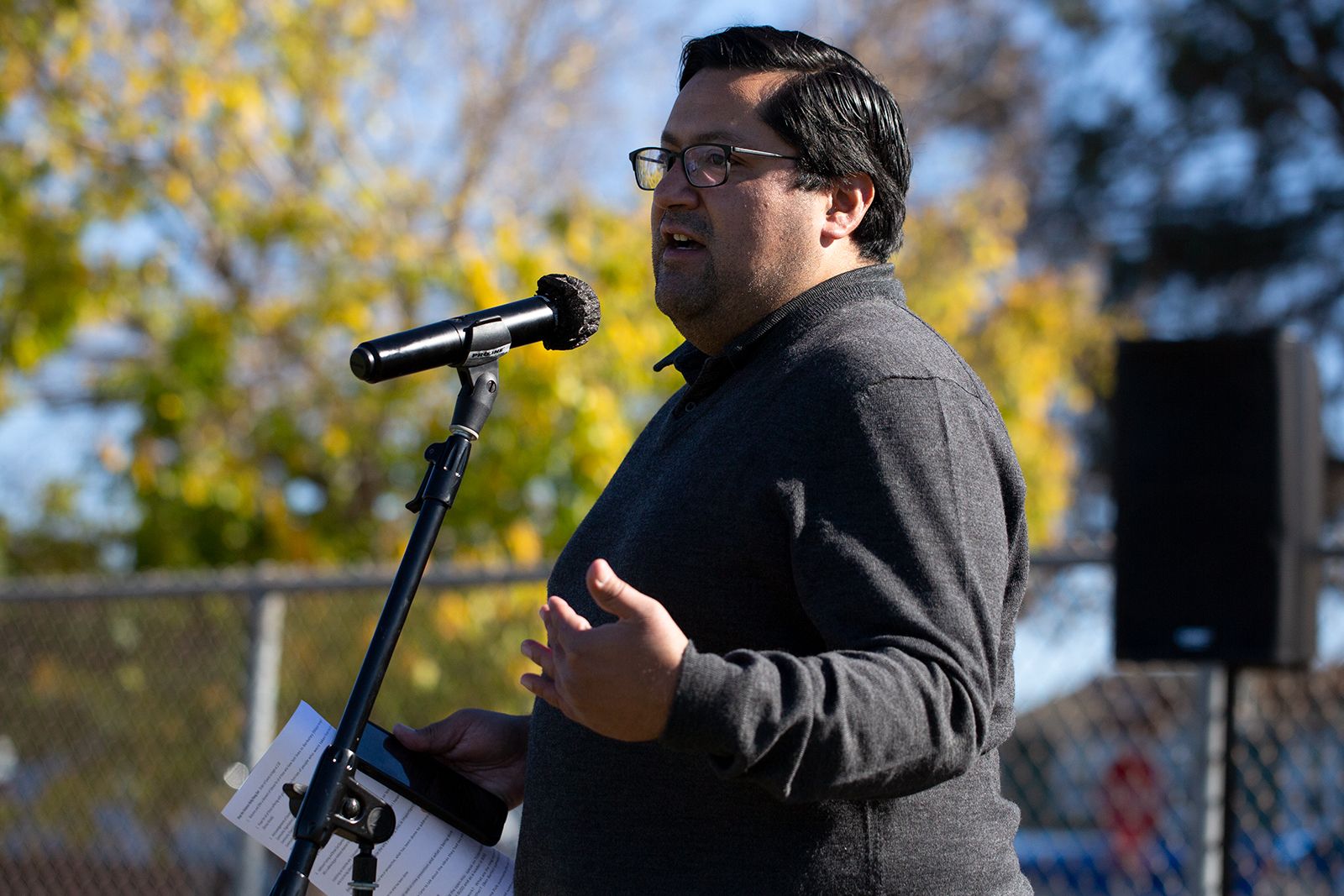 Speakers described the urgent need for Black male mentorship and for "upstream" support such as mental health services, arts and after-school classes, and job training programs.
They asked for more safe spaces for kids to be kids and more opportunities for students to learn trades and skills that would help them thrive.
Some also said Berkeley needs to build stronger relationships with police, boost police staffing and deploy tools like security cameras at key intersections to help solve crimes.
At one point, School Board member and event organizer Laura Babitt asked the crowd to give a "collective roar" if they were serious about coming together to curb the violence — and those who had gathered were happy to comply.
To set the stage for the conversation, attendees were asked early on to write on colorful Post-it Notes about their reasons for coming to Sunday's "Stop the Violence" rally. Several speakers then stepped up to the mic to share what had brought them to the park.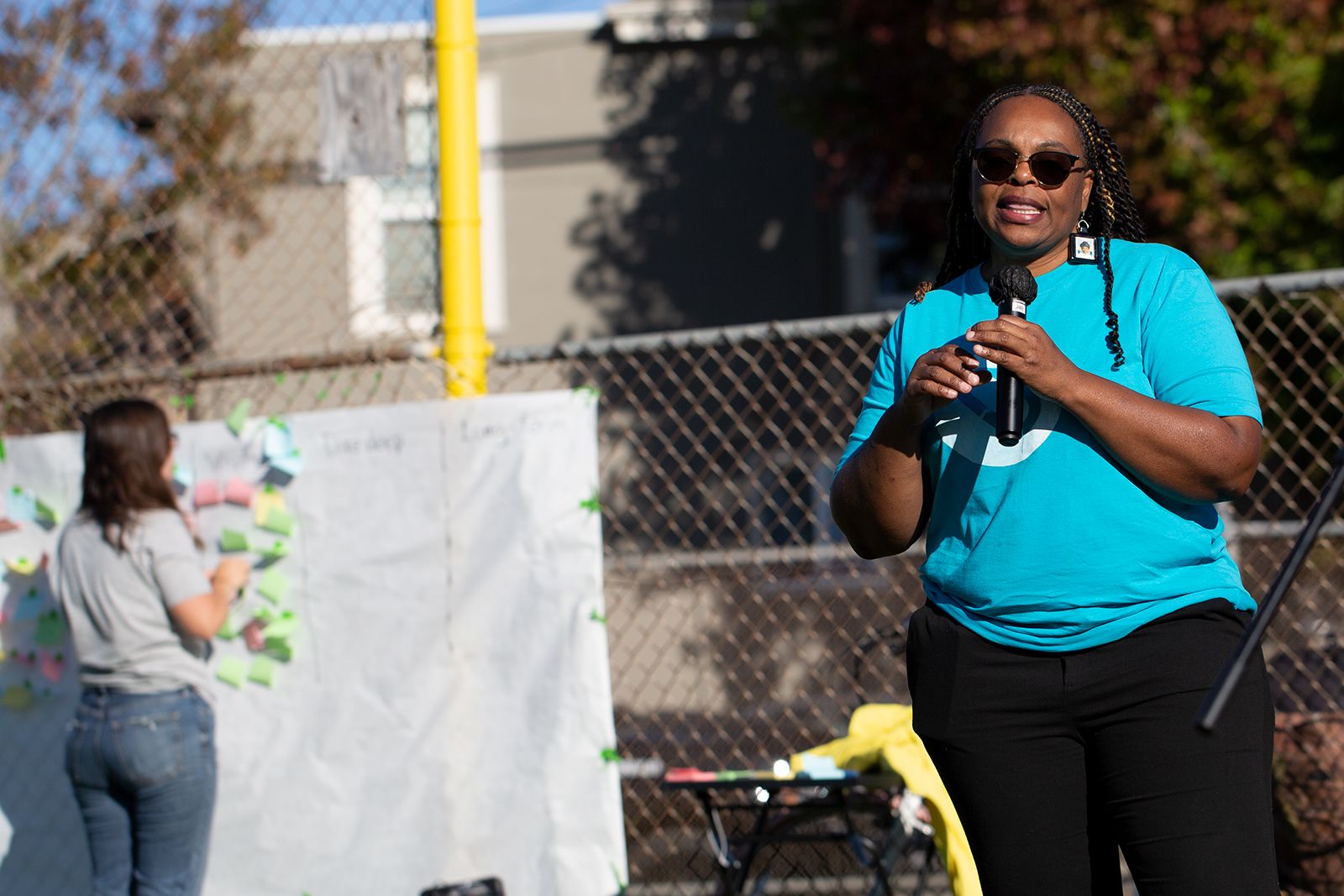 Jasmyne Riley, a Berkeley High grad and the daughter of Laura Babitt, said she wanted "to stop the mourning of my peers who have lost hope due to gun violence."
Sam Frankel, a retired teacher, said he was "tired of losing my former students — and my own children losing their friends."
"If we take time out now to make a difference," added parent Montrella Wilson, "we can stop this from happening."
"It's impossible for a boy to teach a boy how to be a man"
The need to connect Black youth to strong male mentors came up repeatedly during Sunday's rally.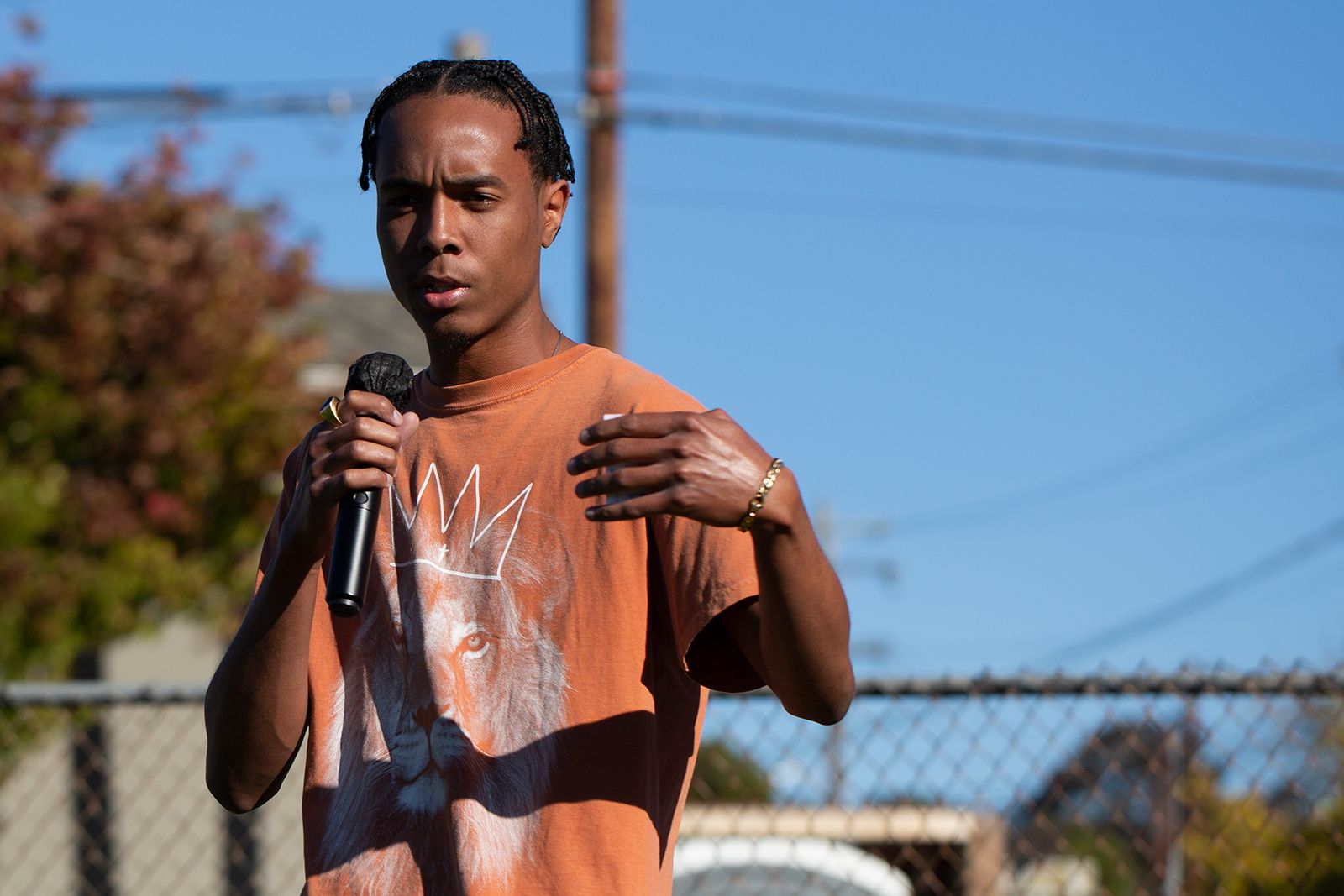 Naeem Hopkins, who works at Berkeley Youth Alternatives (BYA), said he sees firsthand how so many boys don't have men in their lives to teach them that it's OK to have emotions, to cry and to feel sadness.
"They're learning from social media. They're learning from YouTube. They're learning from rappers. And they're learning from their peers," Hopkins said, of many of the kids in his program. "And it's impossible for a boy to teach a boy how to be a man."
The crowd greeted Bishop Kelly Woods, of Covenant Church in West Berkeley, with a strong round of applause when he too called for "more Black male mentorship."
Woods described a previous church program that had sent men from the church into elementary school classrooms to connect with students who needed more attention.
"Teachers would identify kids that may be having issues," he said, "and Black males were able to go and tutor and help right there in school."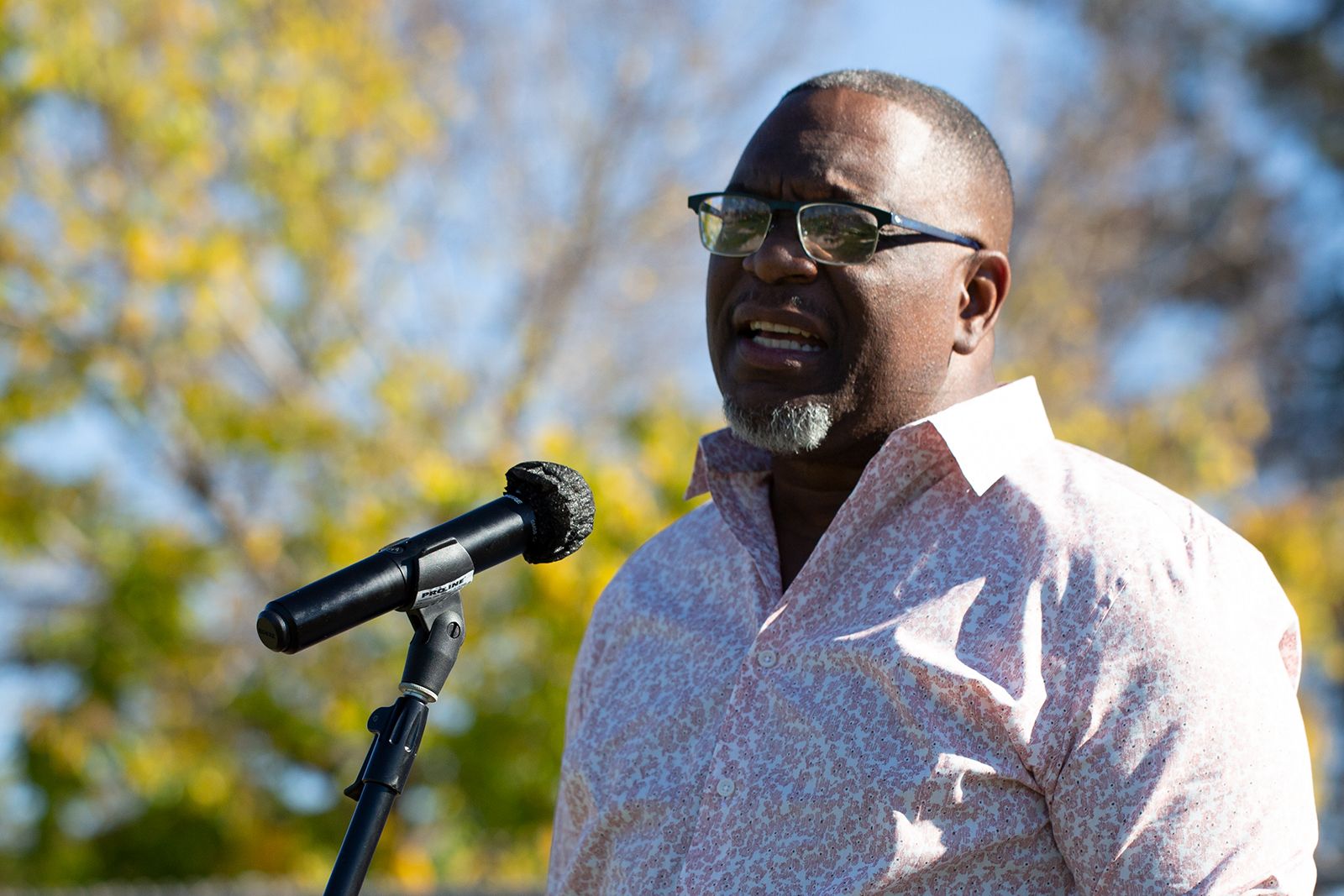 Woods said it was important to get to kids as early as elementary school to combat the negative influences around them.
"It's a culture of violence, and every song they hear, every television show they hear, it's reproduced," he said. "So how do we counteract that? How do we counteract the voices that are coming from people that look like them? There has to be other voices of people that look like them."
"It's my part," Woods continued: "Call upon me."
A particularly violent month brought city leaders together
Sunday's rally offered a rare chance to see city and School Board officials come together on the same stage to urge action against gun violence.
It was a particularly violent October — perhaps combined with an intensifying election season — that prompted organizers to pull together the "Stop the Violence" event late last week.
October began with a shooting that sent shockwaves through the Bay Area when Jazy and Angel Sotelo Garcia, two teenage brothers from Berkeley, were killed in North Oakland at a birthday party for a friend.
One week later, a Berkeley divinity school student was killed — and three of his relatives wounded — in a shooting on Telegraph Avenue near the UC Berkeley campus. It was the worst shooting Berkeley proper had seen in decades in terms of scope and violence.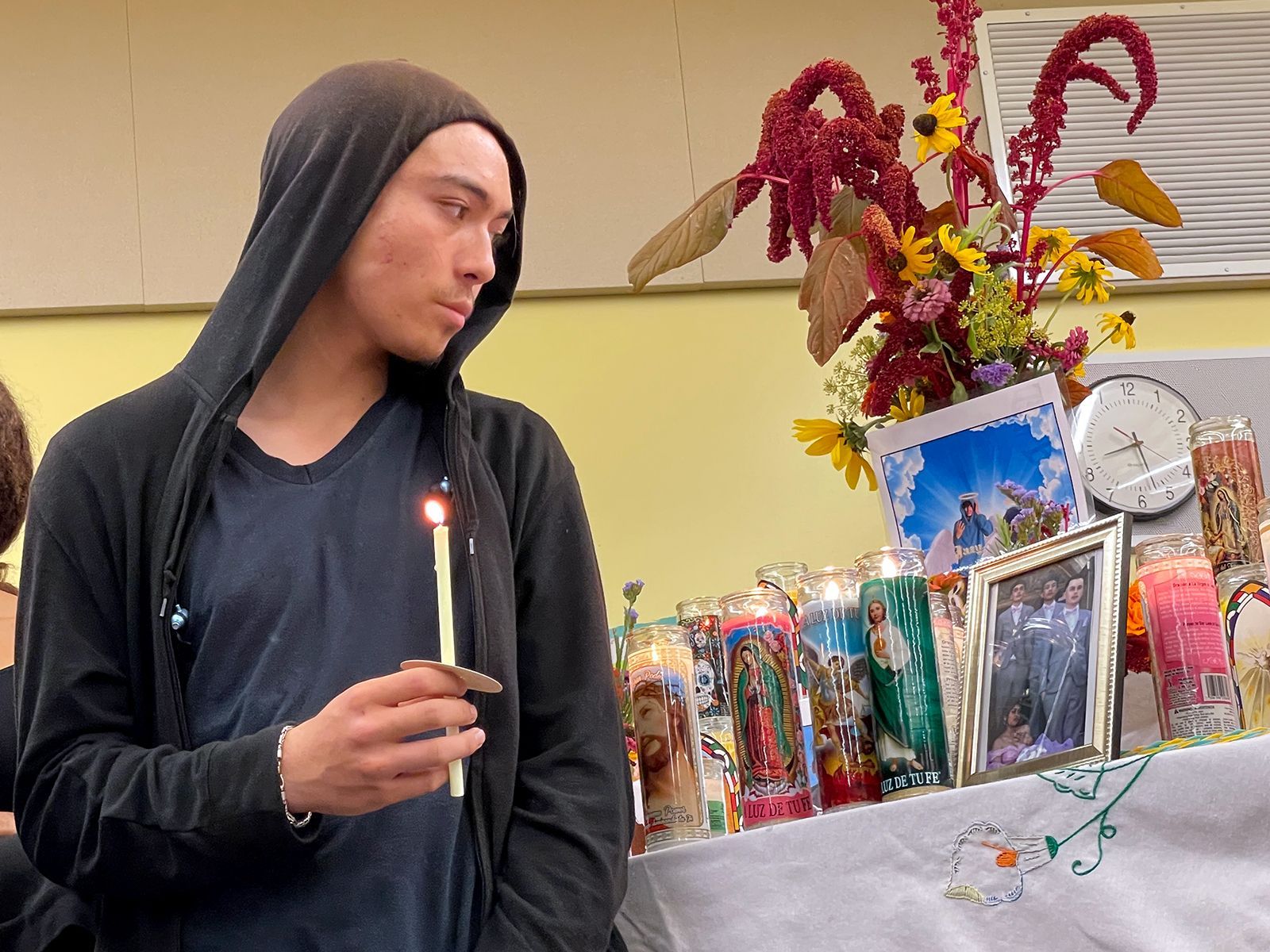 "I don't know what happened with my babies"
The deaths of the Sotelo Garcia brothers sparked particular concern in Berkeley, where the boys grew up, played soccer and attended school. Their aunt and uncle attended Sunday's rally, although they did not speak publicly during the event.
Privately, however, they both said how much the family had appreciated the outpouring of support from the community over these past few weeks, and said it had helped to have so many people around who wanted to help lighten the burden.
But, still, it continued to be a struggle to learn how to live with the unthinkable loss.
Ruben Garcia, the boys' uncle, said he felt the schools needed to do more to inform parents about the challenges students face, including gangs and drugs. And he said parents must do more to build strong relationships at home.
Garcia said he had brought his family, including his three sisters, to the United States from Mexico 20 years ago to find a better life and more opportunities.
These last few weeks, he said, had brought grief he never could have imagined.
"I don't know what happened with my babies," he said, eyes red, before turning away.
"They died in the most beautiful time in their lives," said Claudia Cardenas, the boys' aunt. "They were just learning how to be men."
Cardenas said she wasn't surprised to see so many people come out Sunday with a desire for change.
"When it comes to Berkeley, the community is united," she said.
A time for hope — but also work
The organizers of Sunday's rally urged attendees to leave their contact information so they could receive updates about how to keep the momentum going.
Elected leaders pledged to find a way to coordinate the various violence prevention efforts happening in town, from a budding Ceasefire program to job training, counseling and other services that are available but scattered.
Woods, of Covenant Church, warned the crowd that change would not come easy and that it would take a sustained effort to succeed.
"Twenty-eight years ago we were having meetings like this, and having rallies like this," he told the crowd. "We get excited to do something about it. And then it kinda fades until the next event."
"There's a time where we pray and there's a time for action," Woods continued. "Our time is now for our young people, for our families, to really do the work. And whatever that means, whatever that takes: It's certainly time for us to do that."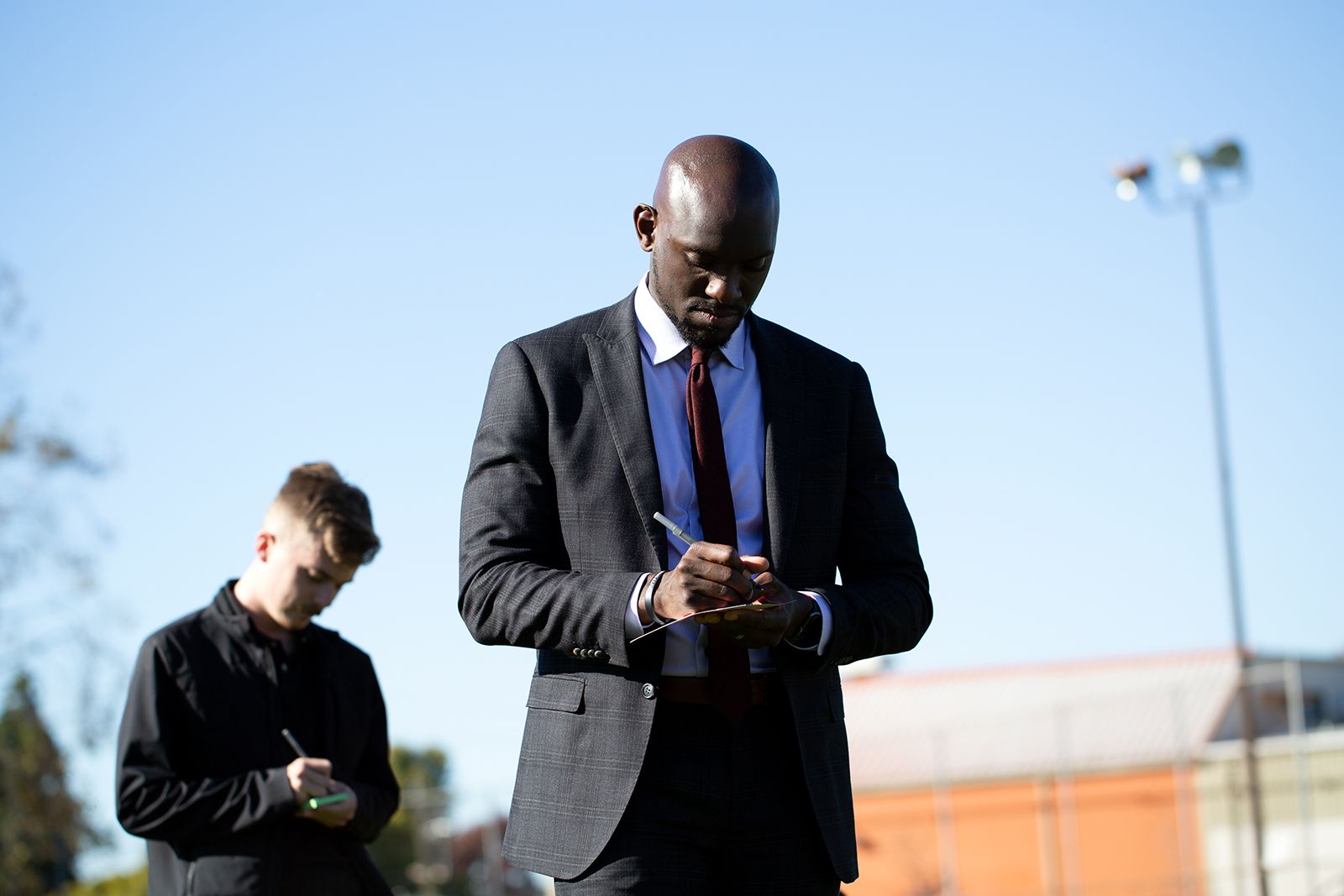 As the event wound down, Bob Marley songs played in the background and the shouts of children filtered over from a playground nearby.
Lead Pastor Kevin Craddock, of Ebenezer Baptist Church in South Berkeley, said he could feel a deep need in Berkeley for love and support, particularly from those who hope to prevent violence.
And he said he'd been impressed to see the range of speakers who had participated in Sunday's program.
"We all come from different backgrounds — but we all want the same result," Craddock said. "There's hope in that. If you were here today, you saw that there was hope."