Crime
Oakland crime concerns prompt community rally, church forum
Officials spoke candidly Saturday about the need to address lawless behavior in the city.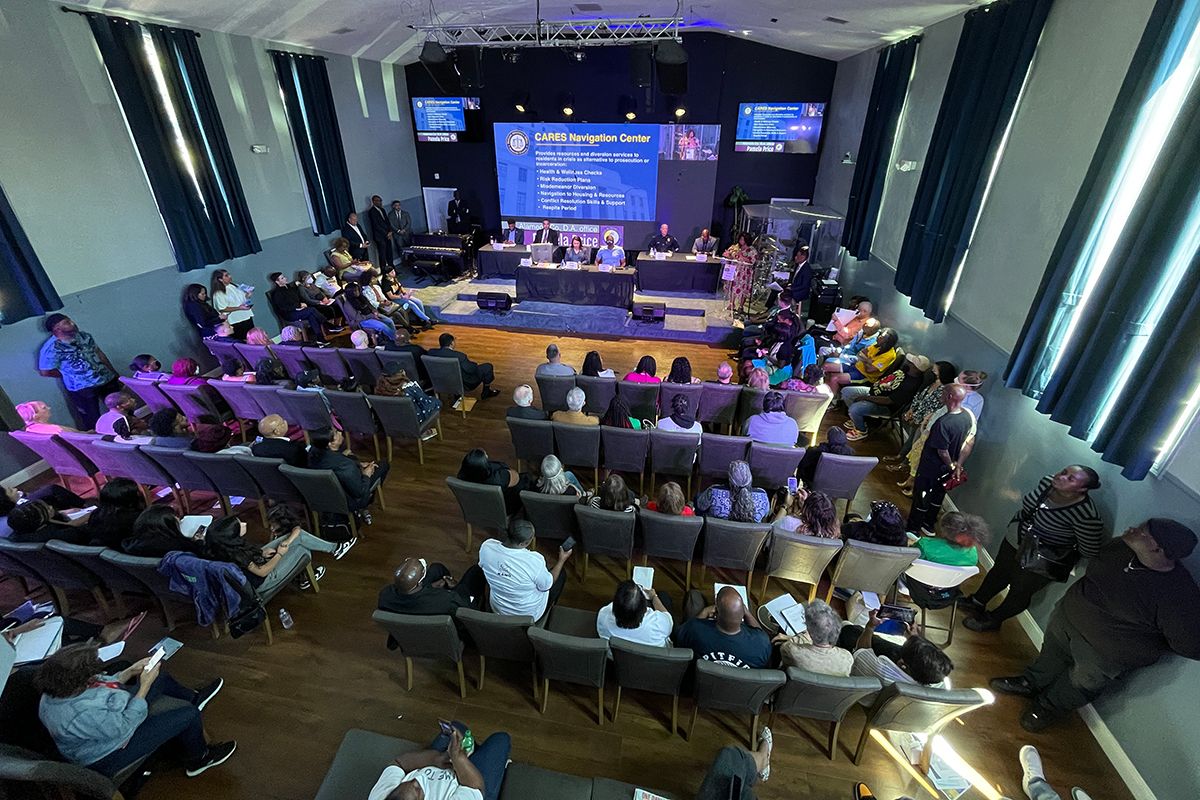 Hundreds of Oakland residents came out in force Saturday to raise concerns about rising crime and hear how officials will tackle the problem.
The day began with a Neighbors Together Oakland rally for safety, which led into a three-hour forum inside Genesis Worship Center where Oakland Mayor Sheng Thao, DA Pamela Price, Supervisor Nate Miley and others shared their plans for the work that needs to happen.
The church quickly reached its capacity of about 100 people before even a fraction of those who waited outside in the blazing sun for an hour could enter. (The event was also streamed live.)
Speakers described the need for constructive solutions rather than finger-pointing and said they wanted to look forward, not back.
"This is not a meeting where we are going to talk about recalls," said Bishop George Matthews, of the Genesis Worship Center, in opening remarks. "The election is over."
Supervisor Nate Miley took the mic first and said Oakland had longstanding troubles that could not be addressed without holistic "upstream" solutions such as early-childhood education.
"Oakland has been suffering from pathologies that have been tough to deal with for decades," Miley said. "To blame it on any one administration is not really, I think, productive."
Miley also said he was a strong supporter of law enforcement and that he believed in consequences for bad behavior.
"We cannot have a society that's lawless. Because, if we have a society that's lawless, people are gonna start packing guns," he said. "We need to have a society where we have rules and we can govern ourselves and we're not in chaos. Otherwise, it's gonna be every man and woman for him or herself."
Bishop Matthews said he, too, believed Oakland now feels like "the Wild Wild West." And he said he saw the shift in recent years toward demonizing the police as misguided.
"We need the police," he said. "And we support the good police officers. I'm grateful that they helped mentor me back in the day."
Matthews said he saw Proposition 47, which lowered the penalties for certain crimes, as a huge driver of the problem. He said young people who are arrested now have the mentality that "I'll be out the next day."
"That sends a message to our young people that they can do whatever they want," he said. "We need to look at repealing it if we're serious about it."
"No one's safe anywhere in Oakland"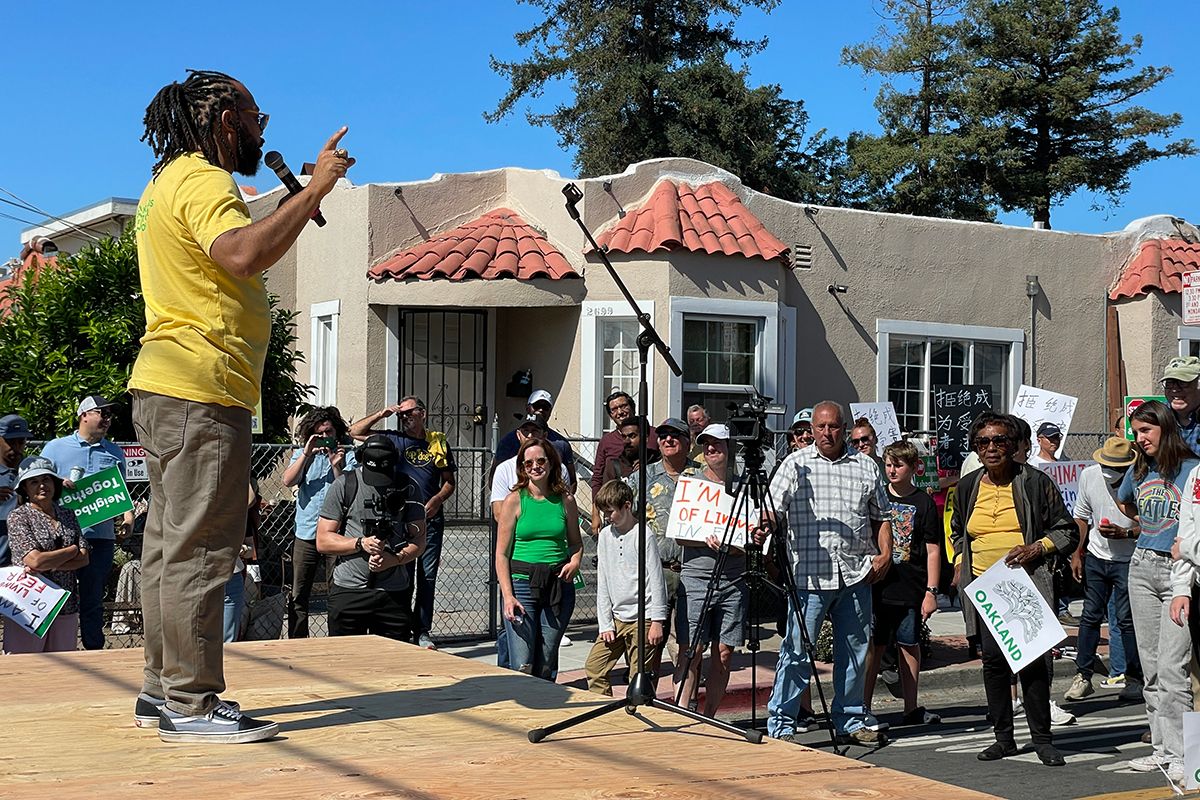 Events Saturday began outside Genesis Worship Center, at 2708 Ritchie St., where more than 100 community members, many holding colorful signs, gathered in the street.
They called for making Oakland a more livable city and addressing its ongoing "public safety emergency."
In a program organized by community group Neighbors Together Oakland, one speaker brought up the need to do more to address homelessness while another focused on food insecurity.
Jazmín Villata of Cocina del Corazon said she saw people from all walks of life in the crowd before her.
"We are here not to fight, but to put pressure on the people who represent us," she said.
The Genesis Worship Center event offered a rare chance to find so many city and county officials together in the same room to address crime and safety.
Rally organizers said they had not wanted to miss the chance to lobby local dignitaries to adopt sensible solutions to Oakland's biggest problems.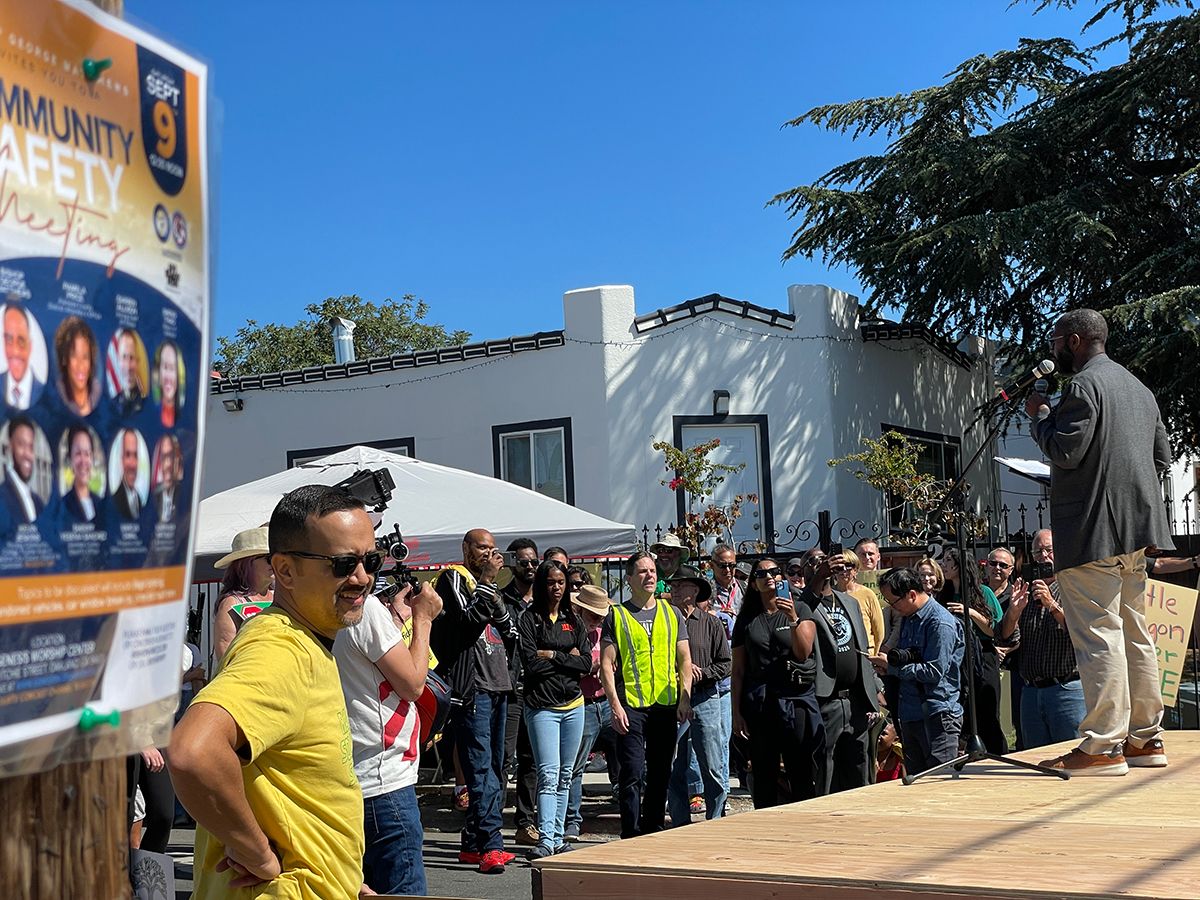 Neighbors Together founder Seneca Scott said the turnout Saturday gave him "tremendous hope."
"For people to make their way to deep East Oakland on a Saturday morning from all parts of the city is absolutely incredible. But it's only happening for one reason: No one's safe anywhere in Oakland," he said. "Babies shot in the foot. You have home invasions in Piedmont. You have rampant violent crime across the city."
The latest Oakland crime statistics show violent crime up 19% over the same period last year. Robbery alone is up 30%. Homicides are about even with last year but shootings are up.
Loren Taylor, a former Oakland council member who lost the 2022 mayoral race to Sheng Thao by less than 1%, was the rally's main speaker.
He said, among other ideas, he believed Oakland should declare a state of emergency to tackle the crime problem and issue progress reports and weekly briefings about public safety going forward.
"Oakland has never been this bad," Taylor said. "There is no lack of ideas. What we lack is the political will and the fortitude to see them through."
Mayor Sheng Thao: "Change don't happen overnight"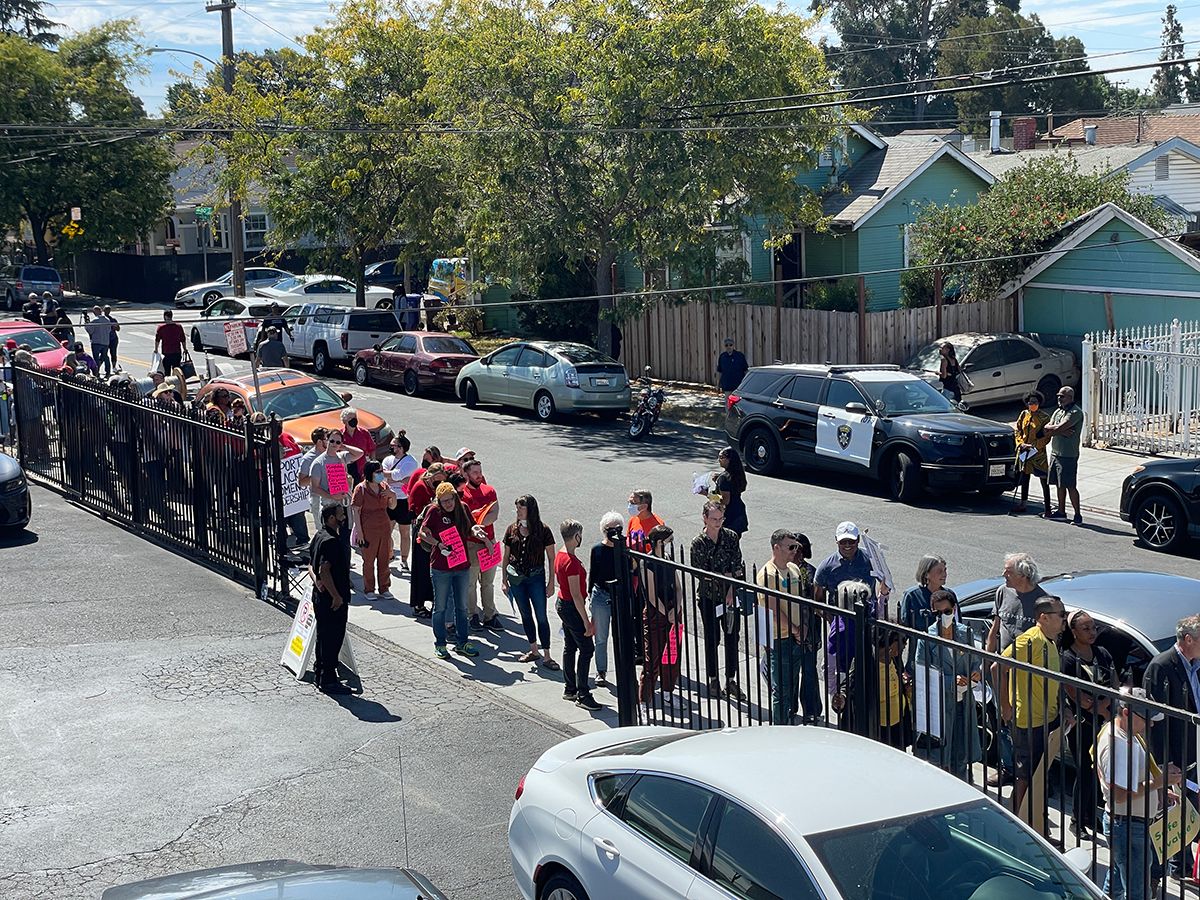 Once the rally ended, people quickly lined up to get inside Genesis Worship Center. Most waited more than an hour but never got in, as many of the seats quickly filled with people who seemed to have connections to the speakers or the venue.
After Supervisor Miley spoke, Bishop Matthews asked Mayor Sheng Thao how she planned to "bring the city together around one agenda, as the leader of this city, as it relates to public safety."
In response, Thao described her "One Oakland Community Safety" initiative and talked about the need for prevention as well as enforcement — particularly in relation to dangerous driving.
"People ain't stopping for the red lights and stop signs," she said. "It's madness."
That's why, she said, she asked for extra CHP resources for Oakland and got six officers allocated, and is working on a citywide automated license plate reader system.
Thao said she is also launching a new committee to address human trafficking; added two extra police academics to get more officers in the pipeline; and had brought back some police foot patrols and OPD's traffic unit, among other efforts.
"You'll see the motorcycle cops out and about, especially in school zones and the downtown area," she said.
Thao and other officials said they are also working to fix the 911 system, which too often leaves callers on hold for extended stretches.
"Change don't happen overnight," she said. "Especially systems change. It don't happen overnight. By next year, I promise you: Let's look at the numbers and then have me held responsible for that."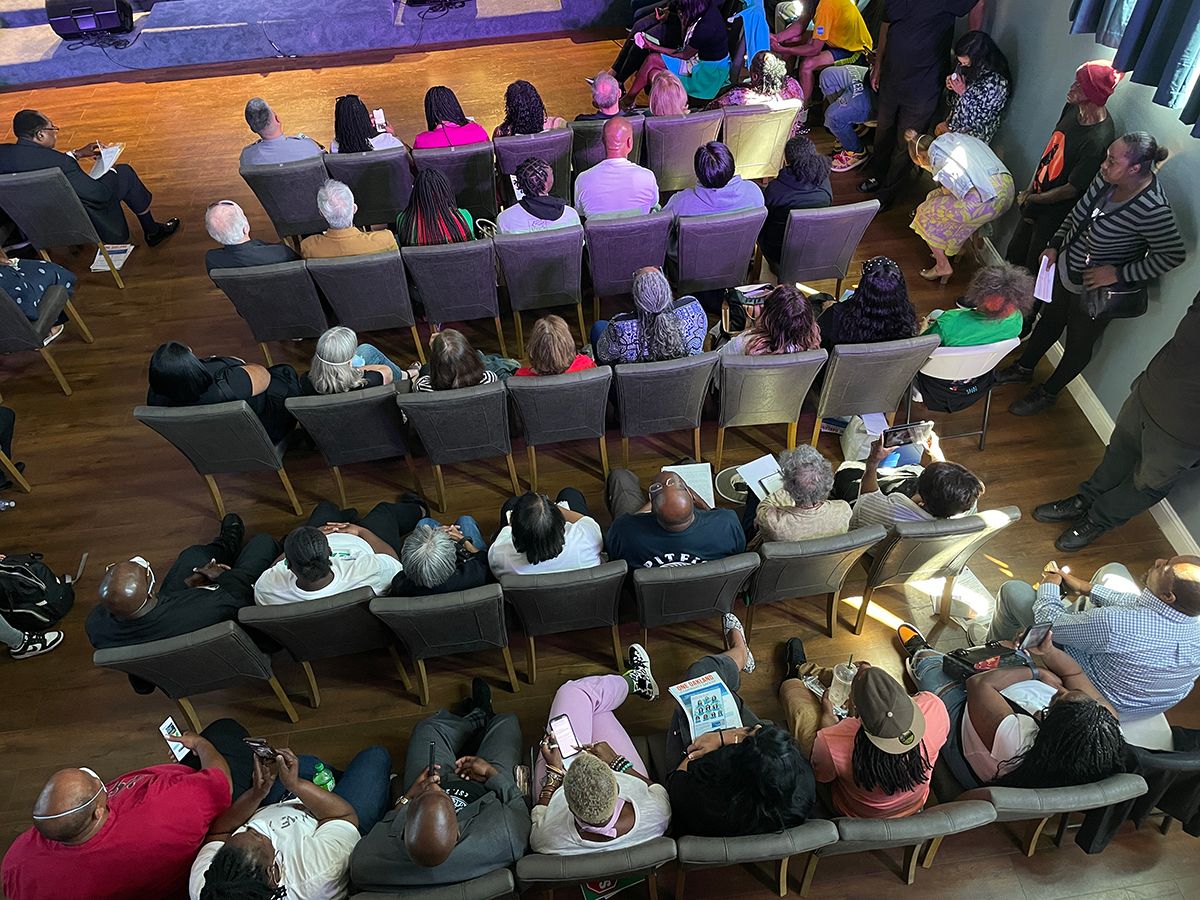 Thao said she did not see the need for a state of emergency because departments are already collaborating and she has already secured extra resources for the city.
"This work has already been done. I've already got the investments. Onto the next!" Thao said. "Quit it with the political theater."
Bishop Matthews urged Thao to consider the issue more deeply.
"Businesses are closing down. Businesses don't feel safe. When we say 'state of emergency,' we're basically saying we need additional resources," he said. "Oakland Police Department needs help. We don't feel safe."
"You all don't have the answer," he continued. "All of us are here because we're concerned."
Matthews also asked Thao about the status of the hiring of the new Oakland police chief.
"The process has started," she said, adding that she was frustrated about how long it was taking but could not "interfere" because hiring is outside the scope of her duties.
Pamela Price decries criticism as "fundamentally racist"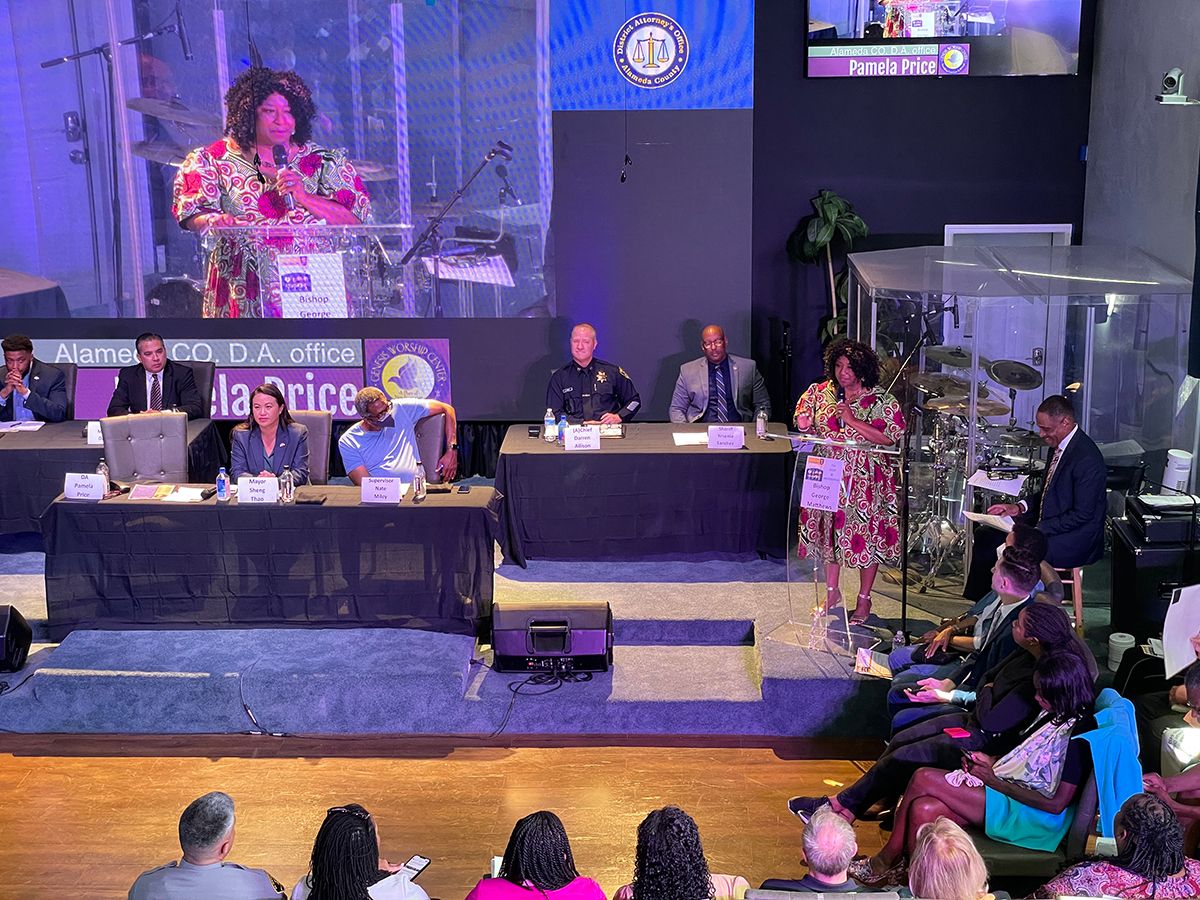 Alameda County DA Pamela Price took the mic next.
Matthews asked Price to address the "general feeling," from the questions he received, "that the accused have more rights than the victims"; that people are quickly released too often without serious charges; and that accused individuals are being released without including victims and their families in the discussion.
He also asked her to address the biggest misconceptions she had encountered.
"One of the biggest misconceptions that has been part of the political theater that has come to Alameda County is that I am the mayor of Oakland," Price said. "And I'm so happy that the mayor is here. Because I'm not the mayor and I don't control the police department, the Oakland Police Department."
Price also dismissed the criticism she's encountered since taking office as Alameda County's first Black female DA as "fundamentally racist."
"From the moment I took office, the media created the impression that there was something wrong with my administration," she said. "That's racism and I'm calling it for what it is."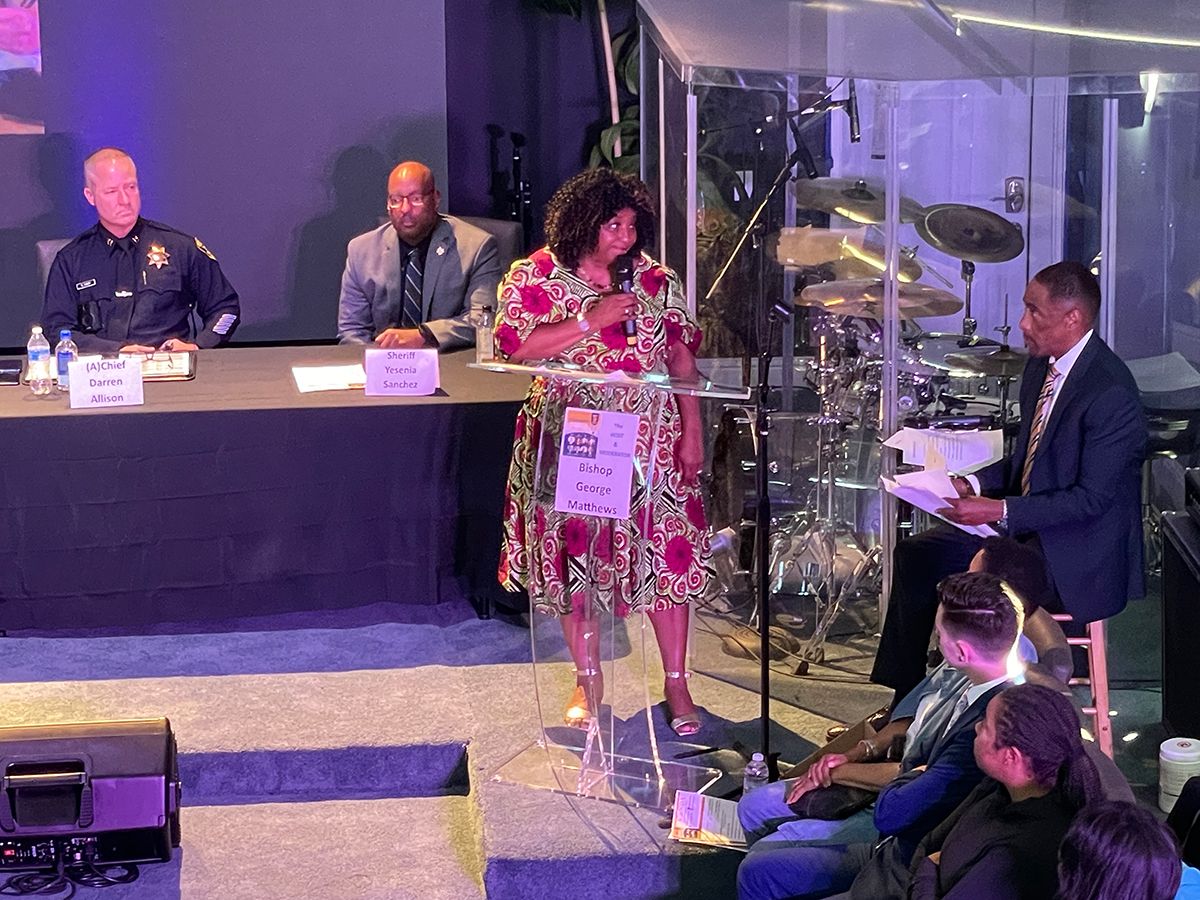 Price also dismissed the idea that she favored the rights of the accused over victims' rights.
She described how she had once been arrested and charged, and prosecuted by the Alameda County DA's office, on a domestic violence case in which she said she herself had been the victim.
"I experienced personally what this office has not done for victims," she said.
Bishop Matthews asked her specifically about a family who had tried to meet with her but had been rebuffed.
Their son was killed, and the killer was released this year after his charges were reduced under the Price administration.
"I have met with numerous families who are not on the news," Price said. "I cannot meet with every person who has suffered harm in this community. And those who expect that I will stop leading this agency, reforming this agency, in order to meet with every person who suffered harm in this community is unrealistic."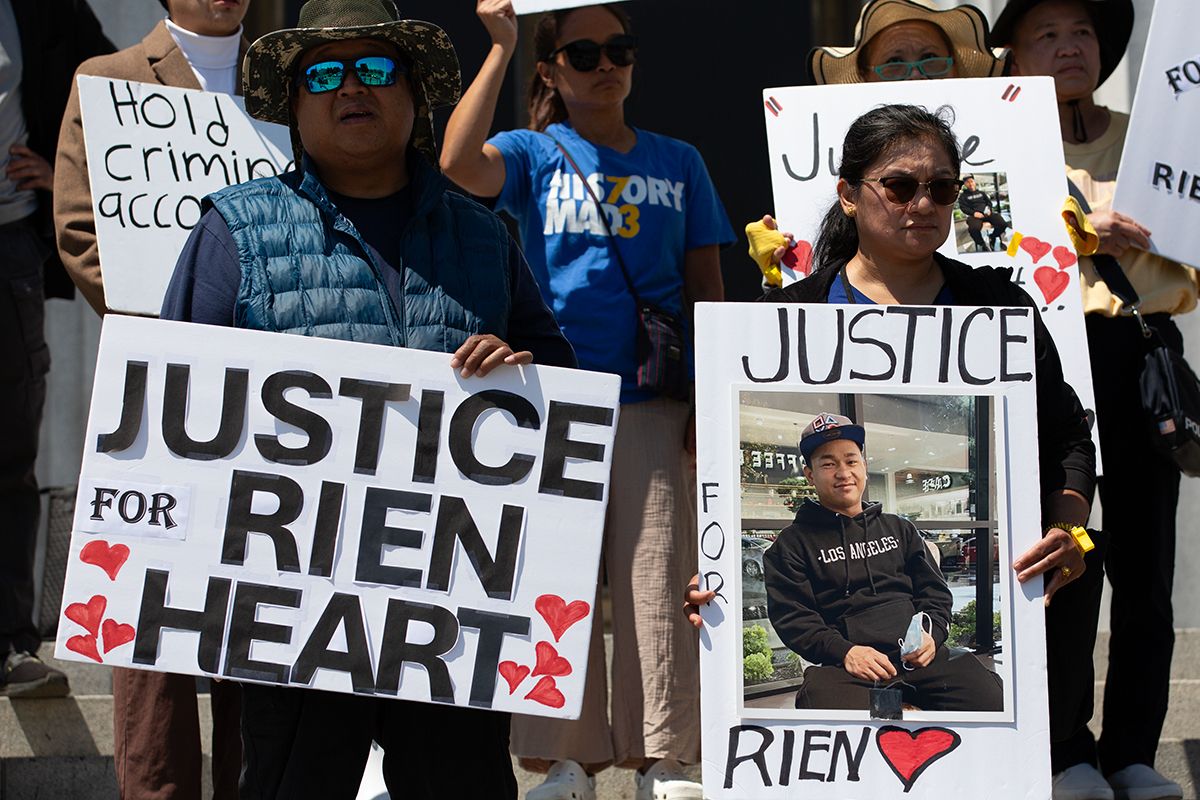 Price said she gets requests from families "all the time" to meet with her — both victim families and the families of incarcerated individuals — and she realized she could not meet with them all.
"For somebody to get on the news and say she didn't talk to me…. you are not being fair to this community," she said. "And the media who runs to the house and has interviews with people who are grieving, and is exploiting their pain for political gain, that is not being fair."
She also noted that, while victims' rights are set out under Marsy's Law, that only goes so far.
"There is no right in Marsy's Law that says you have a right to meet with the district attorney," she said. "It's not there."
Price said she had expanded the victim-witness program under her watch and hired more diverse staffers for the team.
She also described other wins since taking office, including $7 million for Alameda County from an illegal dumping settlement against Kaiser; the creation of a mental health commission; efforts to reduce guns in the community; and the creation of a Civil Rights Bureau focused on constitutional policing.
She said the DA's office had charged more than 7,600 cases this year.
She concluded her remarks with a "shoutout to my investigators": Price said she had promoted seven diverse inspectors who are veteran law enforcement officers. One of their jobs is to act as her security team.
"I do have to have protection in this season," Price said. "The kind of dialogue and diatribe and hatred that has come to Alameda County is unprecedented."
She continued: "If we continue to allow people to attack our democracy, to undermine our elections, to attack elected officials, then we're going to see an increase in violence. And none of us want that."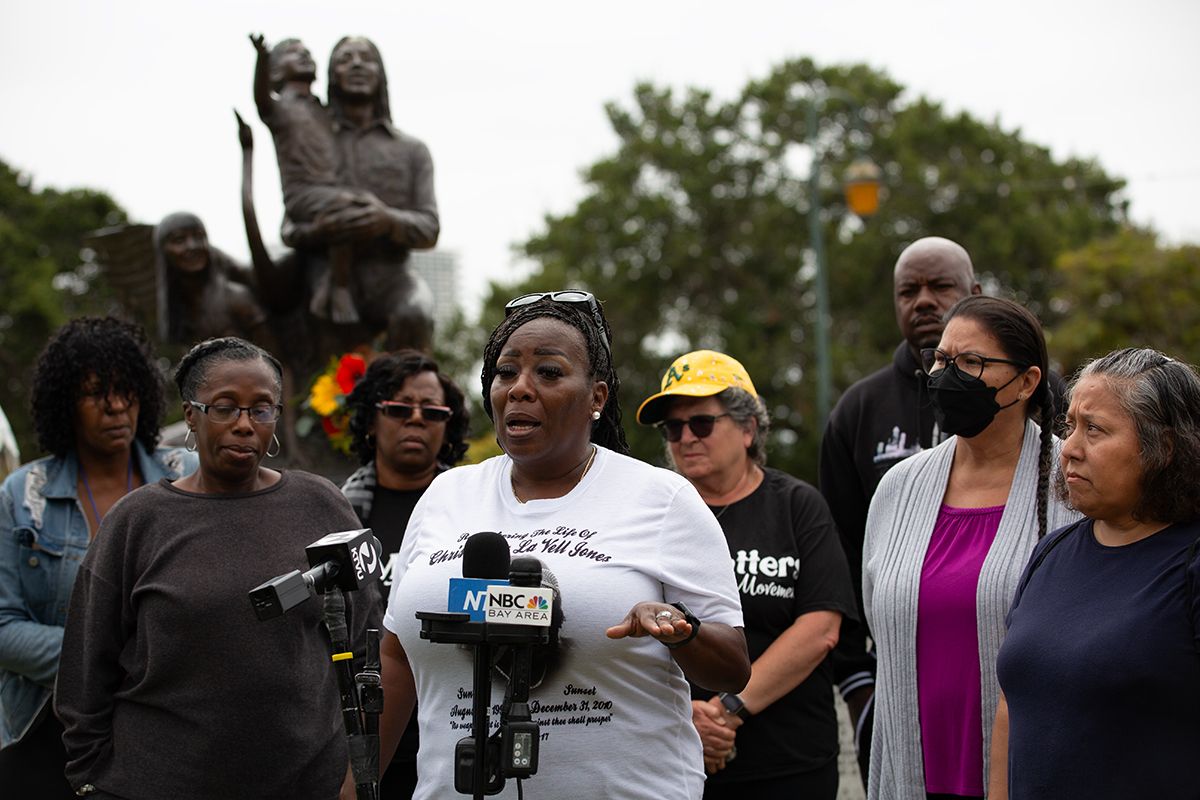 Price did not give specific examples of the attacks she referenced.
And she did not mention the recall effort she's facing, which has been driven by strong criticism about her policies as well as her management of the office, from the firing of veteran staff to her treatment of victim families.
Price has also been chided for her own response to the recall effort in recent months, with one of the recall leaders asking for an end to "political games" and for the Price campaign to proceed with more decorum going forward.
Recall proponents, who include a growing number of victim families, expect to begin signature collection in mid-September.
"We have to do something to correct the behavior"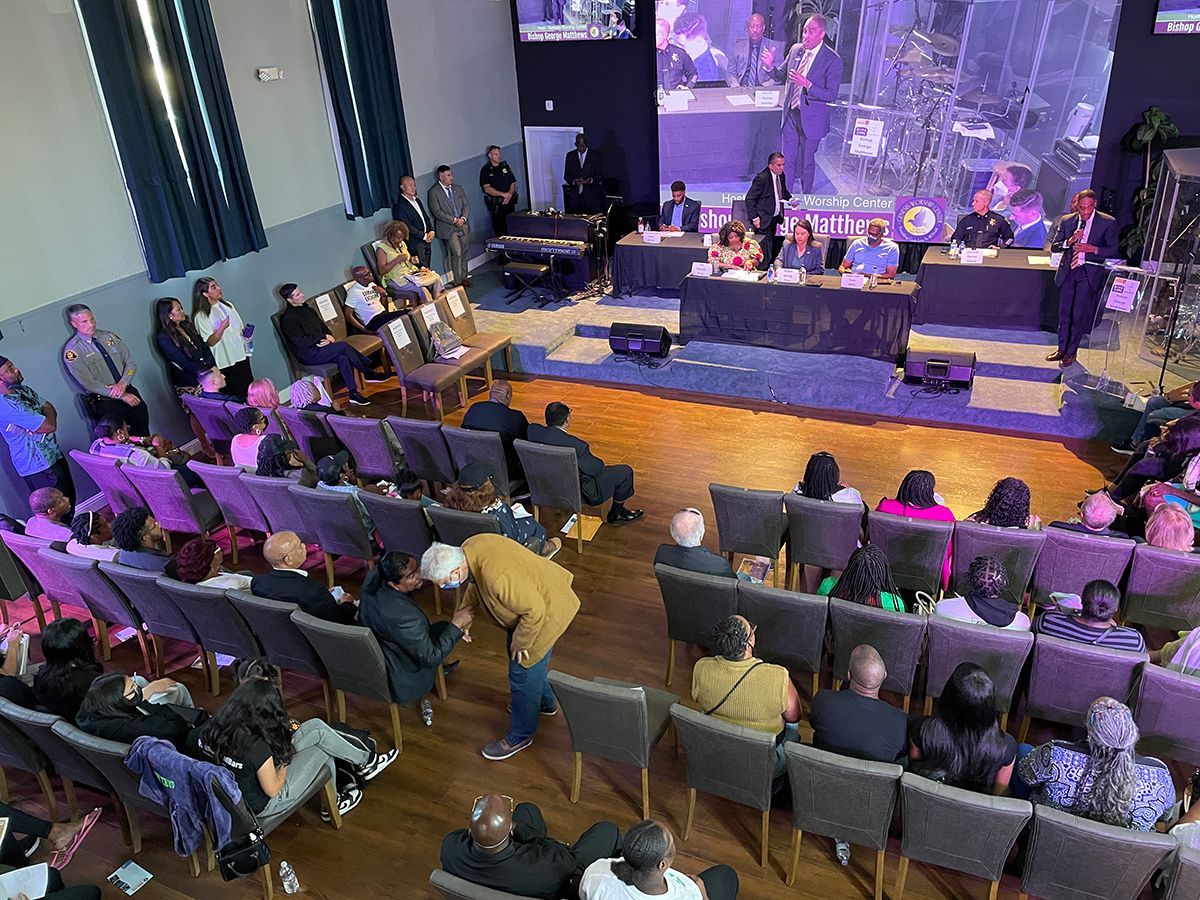 Councilmember Kevin Jenkins of Oakland's District 6, where the meeting was held, pledged to work with the mayor to fix the 911 system and install ALPRs.
He said making Oakland safer is personal to him.
"I judge public safety based off of my mother. My mother is 70 years old. Right now she doesn't feel safe walking outside," he said. "We have to get to a point where our seniors feel comfortable walking outside."
Jenkins urged people to get directly involved to create change in the community.
"Coach a football team," he said. "Reach out to a child that might be falling off the tracks."
Alameda County Probation Chief Marcus Dawal also addressed the crowd along with representatives from OPD and the Alameda County Sheriff's Office. (Neither chief was in attendance.)
But ACSO Assistant Chief Emmanuel Christy spoke about the need to offer programs and resources to offenders while also having consequences. He likened it to parenting a child who has done something wrong.
"If you don't correct that behavior, they're going to keep doing it," he said. "We have to do something to correct the behavior. It'll never get fixed if we keep doing what we're doing."
Councilmember Treva Reid from District 7, the southeasternmost area of Oakland, was the final speaker of the afternoon.
Reid said she had been calling for a regional public safety task force that could meet regularly to identify resource gaps and share key data and solutions.
"If we have allowed the power of 1% of people to leave us this crippled — living with the level of trauma and fear; having our babies at Verdese Carter Park, two days in one week, having bullets at the side of their feet; elders in my neighborhood getting their door kicked down at 2:30 in the morning — we got a problem," she said.
She continued: "We've gotta come together … to take care of us, all of us — from West Oakland to the deepest part of East Oakland, from the flatlands up to the hills. What we have long felt in District 7 the entire city is crying over now."
Reid also urged anyone concerned about crime in Oakland to come out Tuesday at 6 p.m. to the next Public Safety Committee meeting.
Reid is on the committee along with council members Carroll Fife, Janani Ramachandran and Rebecca Kaplan, who is the chair.
Reid said she hopes to expedite license plate cameras and a community ambassador program through the work of that committee.
But she said City Council members need to hear from Oaklanders directly if they truly want change to happen.
"It is often a struggle to get … five council members to hear and see and respond to what you are asking for," she said. "Show up with us at the public safety meeting Sept. 12."
💡
The Berkeley Scanner is 100% member-supported. That means no ads, no spam and no distractions. Help ensure timely, accurate public safety news by
signing up now
.