Courts
Homicide victim families demand Pamela Price recall
"As a mother, I cannot accept this," one woman said. "How can you protect your community if you're going to do that?"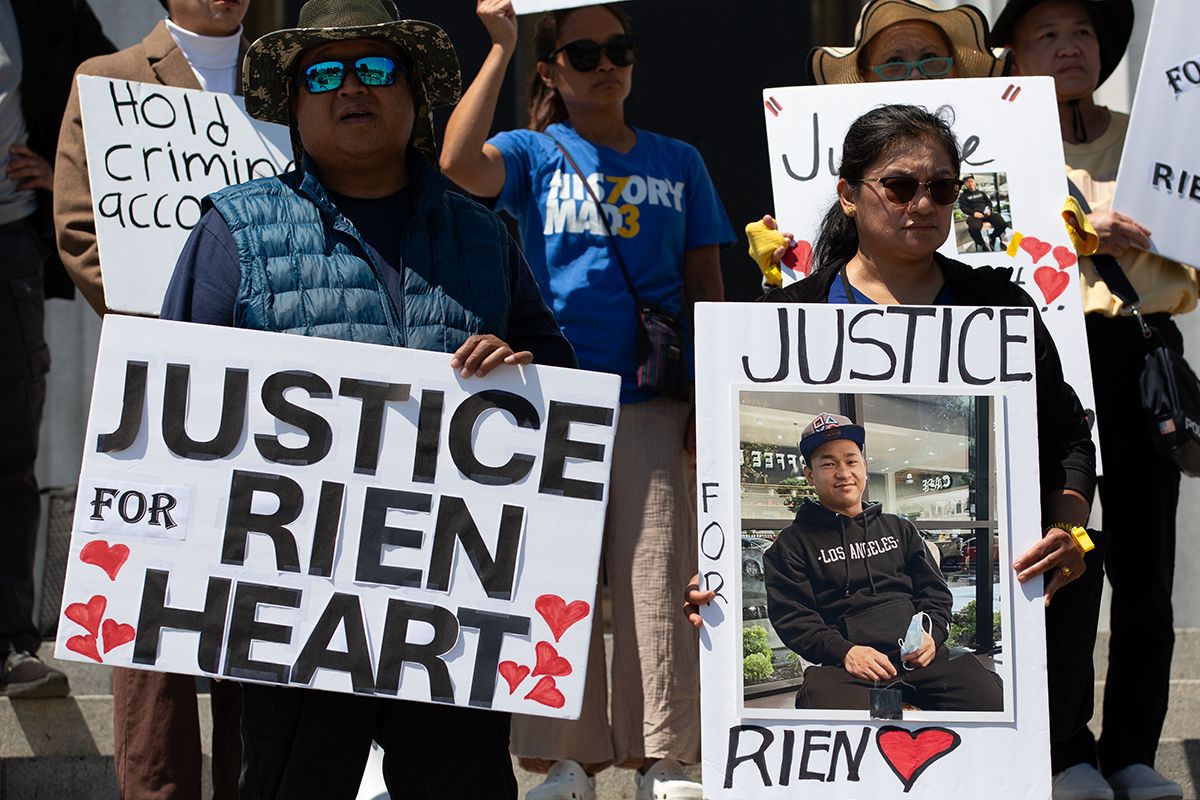 About 40 people rallied Saturday on the main courthouse steps in Oakland to demand the recall of DA Pamela Price and justice for loved ones who have died due to gun violence.
Many of the rally participants were linked to six Alameda County homicide victims whose family members said they have been frustrated by case outcomes under DA Price or are concerned about what's to come.
Anna Tolentino, mother of Rienhart Asuncion, said her son's killer would spend just seven years in jail as a result of a recent plea deal — despite being linked to three Alameda County murder cases.
"As a mother, I cannot accept this," she said. "How can you protect your community if you're going to do that?"
Sergio Morales-Jacquez was just shy of 18 when he killed Asuncion in a traffic dispute.
Asuncion worked for Tesla and had only recently gotten married when he was killed.
Butch Ford, a former Alameda County prosecutor who was placed on leave by Price and later left the office, said Morales-Jacquez would not be charged with the other murder cases as a result of the plea deal reached under Price.
(Ford has now been charged by Price with a misdemeanor in relation to a different case. He denies any wrongdoing.)
Charlie Huang, co-founder of the National Asian Pacific Islander Prosecutors Association, said Price has not been doing her part to hold criminals accountable and keep the community safe.
He called for Price to "do your job" and described her as a "defense attorney parading around" as the district attorney.
"Crime is rampant," he said. "People don't want to be here."
Oakland has seen rising violent crime this year, according to police data, with robberies up 25%, shootings with surviving victims up 9% and violent crime overall up 17%. (Homicides, which are down 8%, are bucking the trend.)
Some Oakland residents have said they are moving out of the city and many people say they are afraid to go out, in part due to an epidemic of auto burglaries, which are up 47%.
Price was elected in November with 53% of the vote as Alameda County's first Black female DA.
Read more about Pamela Price on The Scanner.
Police have said her policies are making their jobs harder, while Price and her supporters insist there's only so much she and her office can do to address public safety.
"The DA's role has really no impact on crime," Price told Betty Yu of CBS News last month. "I was elected because the people in this community didn't feel safe."
"The people handily elected her to implement criminal justice reform and make our system fair and balanced, rooting out racial, gender and economic disparities," her campaign wrote last month.
Patricia Harris: "She does not understand or feel our loss"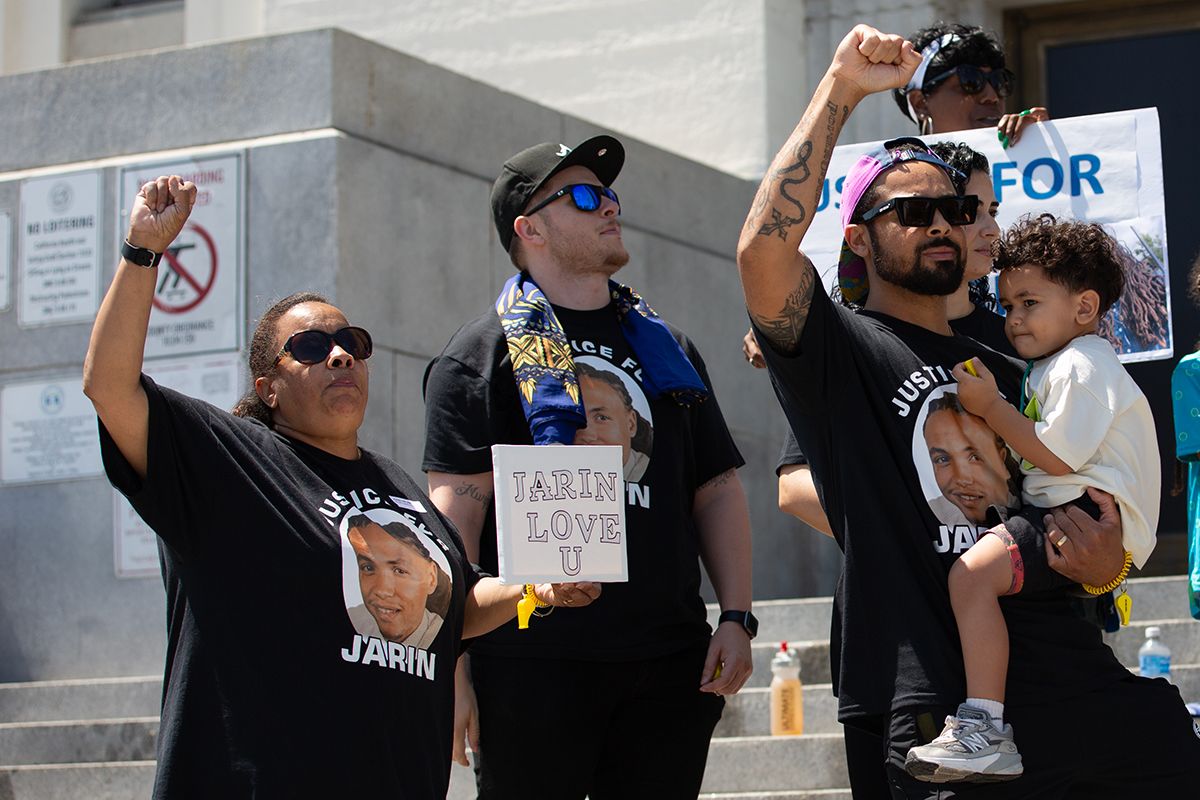 The family of homicide victim Jarin Purvis also attended Saturday's rally.
Under Price, charges against Jarin's killer were reduced from murder to manslaughter. The case now awaits sentencing.
Patricia Harris, Jarin's mother, said she believed her son's case would have had a very different outcome had it gone to trial before Pamela Price was elected.
"She will not meet with us. She will not speak with us," Harris said of Price. "She does not understand or feel our loss."
Jarin's killer is now out of custody after spending 2.5 years at Santa Rita Jail.
He entered a guilty plea when charges were reduced. He was not even charged with a strike, she said.
"He has not been held accountable," Harris said.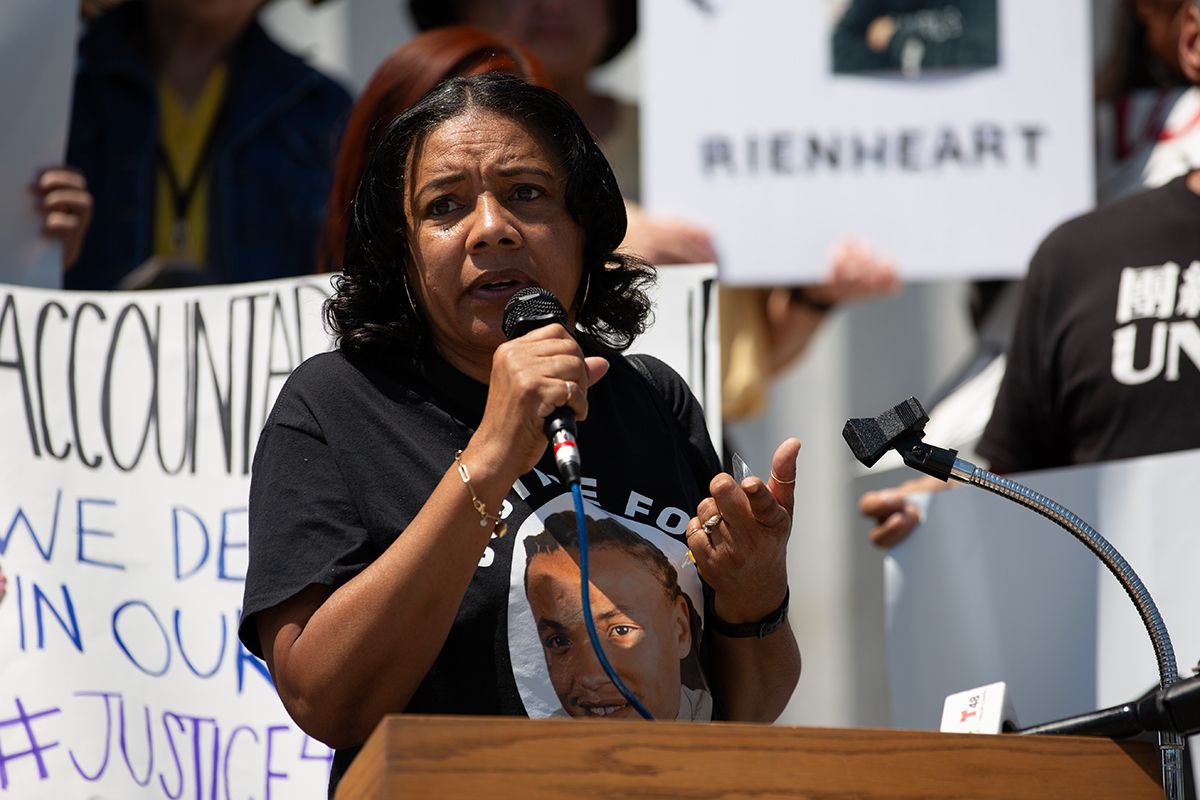 Harris — who has signed on in support of the Price recall — said she believes many families are struggling with similar situations, with little communication from the DA's office as defendants get shorter sentences.
"We don't know anything because they don't have the time for us," she said. "It has to stop. If this is how Pamela Price is running it, she has to go."
Ford, the former Alameda County prosecutor, said nothing about the evidence in Jarin's case had changed to result in reduced charges.
He said Price's approach to criminal justice had been the only reason for the lighter sentence.
Price "punched them in the gut," Ford said, of Jarin's family. "She's doing what she said she was going to do: releasing killers."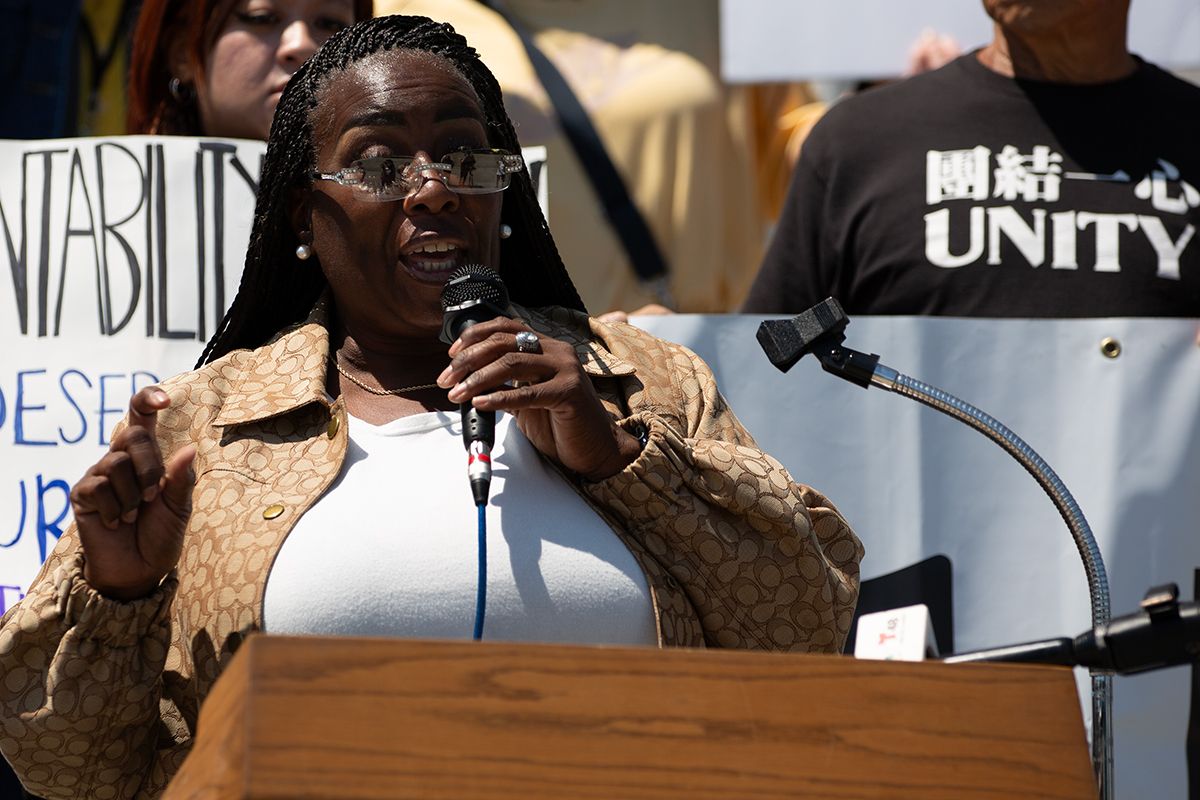 Brenda Grisham, a longtime victims' rights advocate whose son Christopher Jones was killed in Oakland in 2010, also spoke out Saturday about increasingly lenient sentences in Alameda County and problems with how the DA's office is treating the families of homicide victims.
"These families are the victims, period," said Grisham, who also signed onto the Price recall effort. "And if we have to be out every week with different families, we're going to do that. Because you need to know who is being hurt. We can't name them all, but they are here."
Also in attendance at Saturday's rally were the mother and relatives of Angel and Jazy Sotelo Garcia, teenage brothers from Berkeley who were killed at a birthday party for a friend last year, and Virginia Nishita, whose husband Kevin was killed while providing security for a KRON4 reporter during an attempted robbery in Oakland in 2021.
People have been charged with murder in both cases, which remain pending.
"If a person commits a violent crime, we need the people to know and to trust that they'll be held accountable to the fullest extent of the law by Pamela Price. And that's not happening," Nishita said Saturday. "This is victimizing the victims and their families and friends again and again."
The recall effort against DA Pamela Price officially launched Tuesday.
Price now has several more days to respond to the recall effort. Then the recall campaign will be able to begin collecting signatures.
Exactly how many signatures are needed and how the recall process will work remain somewhat open questions.
The Alameda County registrar of voters has said it is awaiting guidance on how to handle conflicts between state and county recall rules.
On Friday, Alameda County Counsel Donna Ziegler declined a request by email to discuss the recall process, saying only that "More information will be released soon."
💡
The Berkeley Scanner is 100% member-supported. That means no ads, no spam and no distractions. Help ensure timely, accurate public safety news by
signing up now
.