Courts
Price critic facing misdemeanor blasts DA for security breach
The DA's office made Butch Ford's address public, in violation of state law and the union contract, when it charged him with a misdemeanor this week.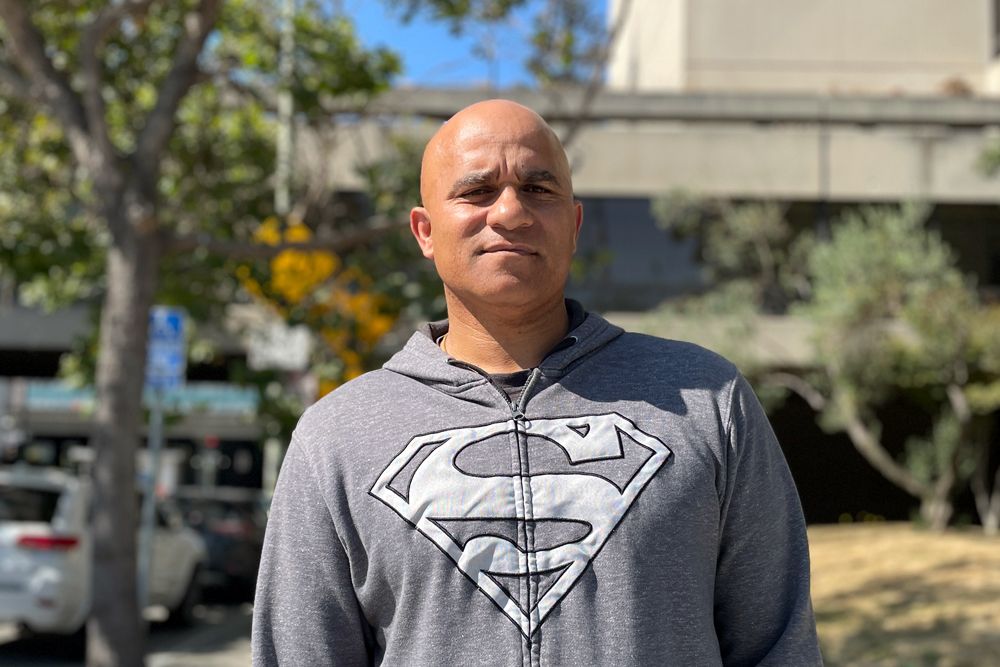 Former Alameda County prosecutor Amilcar "Butch" Ford had his first court appearance as a defendant Friday after being charged this week with a misdemeanor by District Attorney Pamela Price.
And, if Friday is any indication, the DA's office is in for a fight.
On the record before Judge Clifford Blakely, Ford repeatedly described the prosecutor on the case, Leah Abraham, as inexperienced. He advised her, while walking out of court, to get "backup."
"She better get some help," Ford told reporters after the brief hearing Friday morning at the Wiley Manuel Courthouse in Oakland. "She's not ready. She has no experience."
Ford represented himself in his initial appearance Friday but said he will be represented by a team of attorneys as the case proceeds.
The DA's office says Ford broke the law by providing help to a defendant on a case on which he allegedly appeared at least once as an Alameda County prosecutor. If found guilty, he could be disbarred.
Ford says he's done nothing wrong and that Price is going after him because he's been a whistleblower, vocally criticizing the new DA and her administration.
Ford ran Alameda County's felony trial team until Price put him on administrative leave as one of her first big moves in January. He resigned in May to work as a prosecutor under Brooke Jenkins in San Francisco.
Ford was not slated to appear in court on his case until July 31, but things changed abruptly this week after Abraham included Ford's home address on two different public court documents.
The Government Code and the Alameda County prosecutors' contract both protect the home address of DAs as confidential due to the nature of their work and the potential safety risks they face as a result of it.
On Wednesday morning, two days after the case was filed, the union sent Price a letter asking for Ford's court records to be redacted or sealed so the address was not visible.
"Any disclosure of the home address of a current or former deputy or senior/assistant district attorney raises serious concerns for that individual's personal safety," the union wrote. "As such, we would expect such information to remain confidential regardless of whether it pertains to a current or former employee."
The union asked for a prompt response due to the potential safety risks.
"Given the publicity this case has already received, as well as the safety concerns that public dissemination of such information implicates, we request that this be done immediately," the union wrote.
According to Ford, neither Price nor her deputies, Otis Bruce Jr. and Royl Roberts, responded at any point Wednesday.
In the meantime, the court sealed one of the documents and redacted the other one after being alerted to the problem by Ford associates.
One person familiar with the situation said it was ironic for Price to have been unresponsive to Ford's security concerns given that she has her own security detail made up of DA inspectors — who are law enforcement officers — who have at times provided overnight security at her home and have regularly driven her between home and work.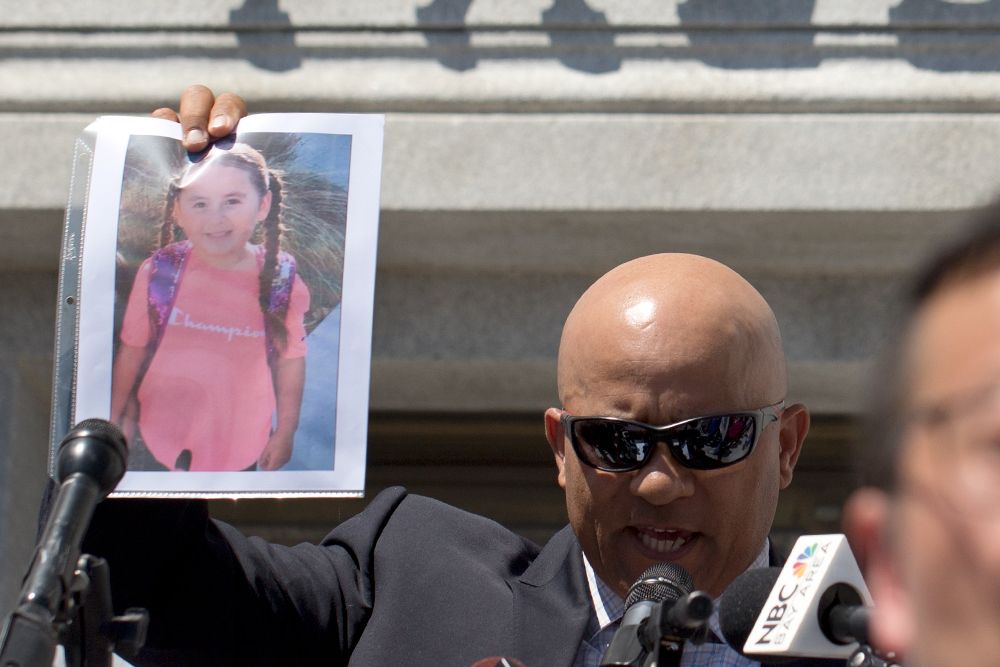 On Thursday, Ford said he learned that Abraham had asked for a hearing Friday to address the matter — even though it had already been handled "by the court on its own," Ford said.
That's what brought the two attorneys together Friday morning before Judge Blakely.
Relations between the two prosecutors were frosty from the jump. When Abraham approached Ford in the gallery before the judge took the bench, Ford rebuffed her.
"Don't speak to me off the record," he told her. "I only speak to real attorneys."
Abraham walked back to the jury box and took her seat, sipping periodically from a large travel mug and using her cellphone screen as a mirror to review her appearance before court began.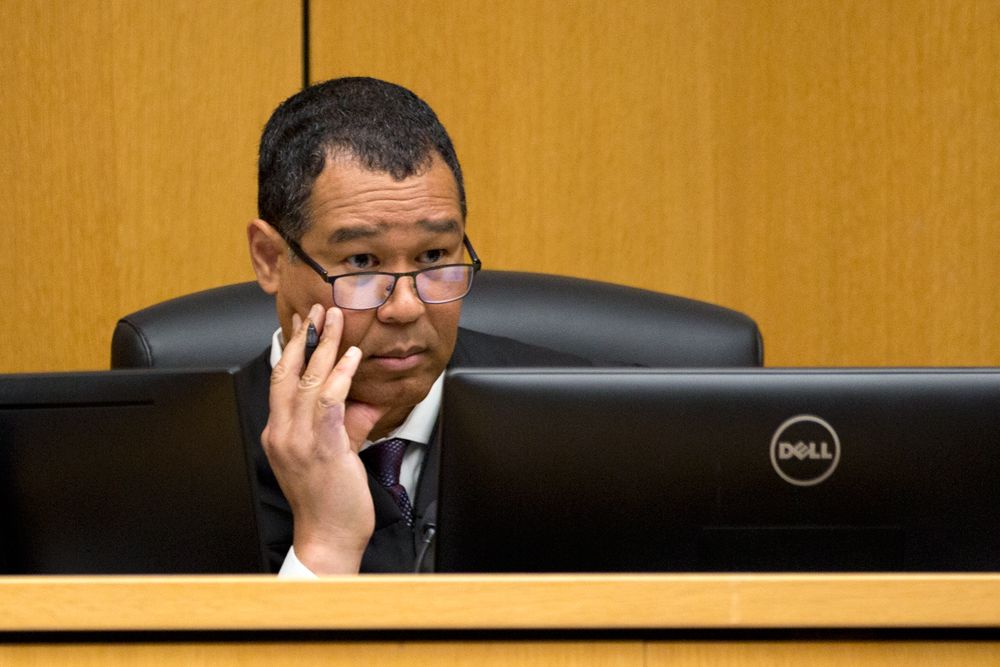 When Blakely took up the matter around 9:40 a.m., Ford told the judge he had handled cases involving serious criminals, including serial killers and serial rapists. He called the release of his personal information and the risk to his family "inexcusable."
Ford said the DA's office made the information public "on purpose."
"Nothing was done on purpose," Abraham told the judge. "I just want to put it on the record since the accusation was made."
Judge Blakely said the address had no evidentiary value and ordered it to be redacted from all materials related to the case.
After court, Abraham said she would provide a statement on the matter in response to an email request but, in the end, did not respond to that request.
The DA's office did not respond to two other requests for comment this week about why the confidential information was released to the public.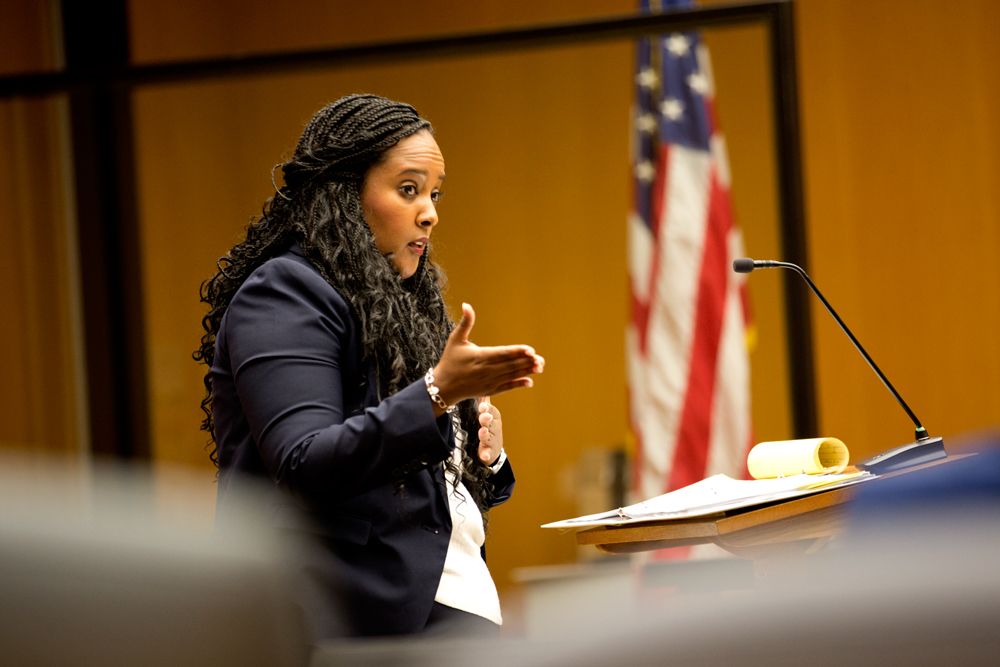 Abraham joined the Alameda County DA's office in February, according to her LinkedIn page, after beginning her law career as a clerk with several Bay Area public defenders' offices.
She then worked with the Alameda County public defender's office as an attorney for nearly five years.
Abraham was hired as a prosecutor under Chesa Boudin in San Francisco, where she worked for nearly 2.5 years. She left in July 2022, the same month Boudin left after his recall.
She began at the Alameda County DA's office after an eight-month fellowship with Fair and Just Prosecution.
Ford, meanwhile, worked for the Alameda County DA's office for more than 20 years.
The California District Attorneys Association named him Outstanding Prosecutor of the Year in 2019, noting that he was revered by victims, witnesses and their families, as well as younger lawyers: "He instills a faith and trust in the criminal justice system."
At the time, his office wrote about the award on Facebook, saying Ford had "tried 20 misdemeanor cases and 62 felony cases to verdict, convicting 73 defendants of some of the most horrific crimes in Alameda County. Thirty of these cases involved murder charges."
He can be outspoken and even brash, and has made waves as a result.
In 2020, a murder case he prosecuted was overturned on appeal, but that hinged on the judge's response to a juror question, according to court records.
In its ruling, the appeals court said Ford misstated the law but specified that there was "no claim of prosecutorial misconduct before us."
Ford has also faced allegations of misconduct, including in a defense motion in 2021 that referenced the murder case described above. (A judge ultimately rejected that motion, saying it failed to meet the legal standard, the East Bay Times reported.)
Ford "has no public discipline on his record," said Rick Coca, a spokesman for the State Bar of California, on Friday.
When asked generally about the business code section under which Ford is charged, Coca said there have only been four cases since 2019 "where a possible violation of B&P 6131(b) was considered, and none resulted in the filing of a Notice of Disciplinary Charges by the Office of Chief Trial Counsel. It is a rare occurrence."
The section prohibits a prosecutor who has been involved in a criminal case from subsequently helping with the defense.
Ford: "I'm never gonna be convicted of this"
After court Friday, Ford said he was not convinced that the release of his home address had been an accident.
"It's a ridiculous statement," he said. "She purposely filed the document, purposely included my home address, purposely filed the notice to appear — all of which has my home address on it."
(Prosecutor Leah Abraham signed the court papers that were filed with the clerk.)
Ford said his personal information was public for at least two days, and that many friends had alerted him to the problem and wrote to express their support after Price announced the case against him.
Ford said Friday's hearing had not been necessary because the issue had already been resolved by the court. Had that not been the case, the DA's office could have filed new paperwork on its own without a hearing.
"It didn't need to be in court," he said. "She's wasted my time. She's wasted the court's time. She's wasted all the citizens' time in there who are sitting there waiting patiently for their case to be called."
He said he showed up in court himself because he was concerned the DA's office would issue a warrant for his arrest had he not been there.
Ford said he plans to enter a not-guilty plea in the case in the coming weeks. He is set to appear July 31 for arraignment.
"I've done nothing wrong," he said. "I'm never gonna be convicted of this. And it really is just further bringing bad light to Pamela Price. Which I'm here for."
He said that, since Price had taken charge, there had been a witch-hunt in the DA's office to find out who was speaking to the media and who was talking with attorneys who had been placed on leave.
He said it felt like McCarthy-era tactics "where they were just on this hunt looking for people, and people were freaked out."
It had gotten so bad that supporters who check in with him now to see how he's doing also ask him to delete their messages. They don't want their communications to be discovered by prying eyes.
"She's using her authority as a sword"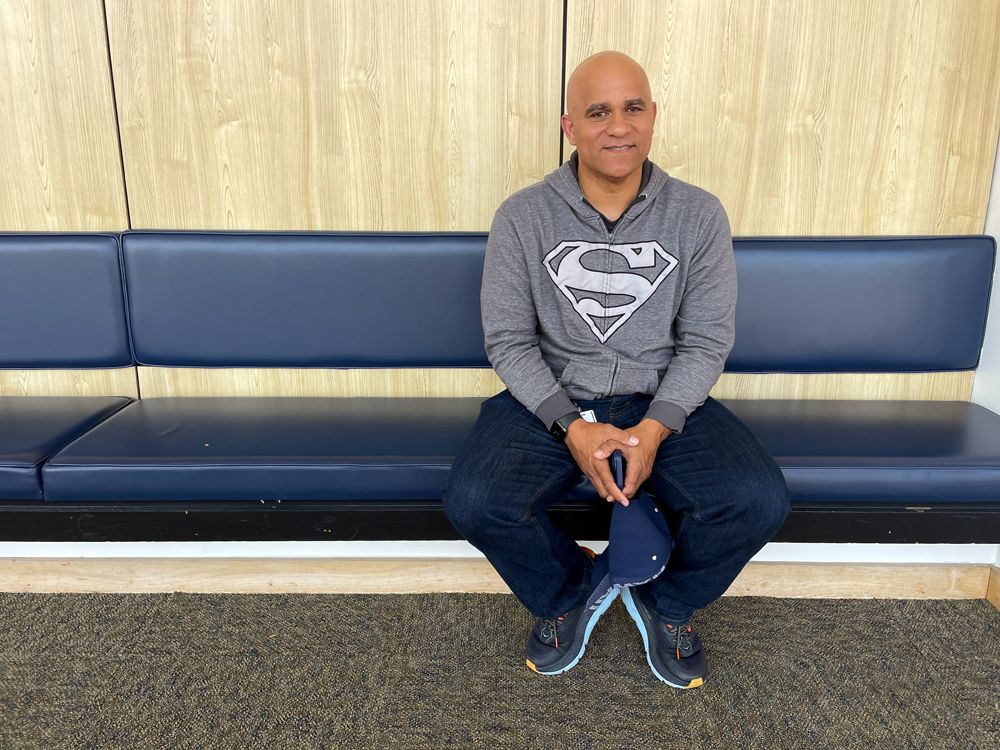 While speaking with reporters Friday, Ford also pointed out that he hadn't worn a suit for the occasion, as he normally would in court.
Instead, he wore a gray hoodie featuring a large Superman emblem.
"I didn't wear a suit because I'm not really appearing as a lawyer," he said. "I wore my sweatshirt for a reason. Not because I'm the hero. But because she's the bad guy," he said, referring to Price.
"She's using her authority as a sword to prevent people from speaking out against her, to prevent people in her office from filing complaints dealing with discrimination, and clearly to prevent DAs from providing Brady material that is contrary to what her agenda is," Ford said.
For those in the know, the Superman emblem is actually a sign meaning "hope," he added.
"That's how I feel about Alameda County. Even now," Ford said.
He was in court Friday morning as a defendant, he said, which is why he sat in the gallery before the proceedings, rather than in front of the bar with the other attorneys.
"When my name was called, I walked to the other side of the bar. I've earned that right. And she can't take it away," he said, again referring to Price. "Even though that's what she wants."
"If the starting premise is false"
Ford said the DA's office had misrepresented the facts in his case, which relates to a fatal police shooting at a San Leandro Walmart in 2020.
The DA's office has alleged that Ford appeared on the case as a prosecutor and later helped the defendant, former San Leandro cop Jason Fletcher.
Ford said the case was not assigned to him in 2021, as alleged by the DA's office, and that the declaration of probable cause, on which the case against him is based, was "false."
Ford said that, if he ever appeared on the matter, there was "no substance" to it: He may have stood in once for the main attorney to set a new date when a hearing was postponed.
But that's it, he said: "Just my name is on a paper because the case got continued."
"There were certainly no negotiations," he went on. "I never had any discussions with opposing counsel at all."
Reached by phone Friday evening, Mike Rains, Fletcher's attorney, confirmed Ford's account: "He did not take any role whatsoever in this case being prosecuted, negotiated. There was absolutely no discussion with him at all."
Ford said his lack of involvement in the case would have been clear had anyone asked.
"They would have been told no," Ford said. "So, if the starting premise is false, then everything that follows is false."
On Friday, before his own appearance, Ford said he had sat outside a different courtroom at Wiley Manuel — the one in which his grandmother, Judith Ford, used to preside.
She was the first African American female judge in Alameda County.
"I sat there for 20 minutes reminding myself of what people in authority who use their power properly are supposed to be like," he said. "I grew up in this courthouse. I ran around as a little boy in the back halls. So it always is very nostalgic for me to be here."
As Ford got in the elevator to leave the building, a defendant in a different case, who had been in the courtroom when Ford's matter was up, walked inside. The two men chatted as the elevator descended.
"They got you fucked up, man," the younger man said.
"That's the truth," Ford answered. "But they picked the wrong one."
"He said, 'You gonna need more backup,'" the younger man said, laughing at Ford's advice to Abraham on the way out the door.
"They got the wrong one," Ford said again. "And they know it."
💡
The Berkeley Scanner is 100% member-supported. That means no ads, no spam and no distractions. Help ensure timely, accurate public safety news for Berkeley by
signing up now
.