UC Berkeley
Man attacked female students at UC Berkeley, put on 5150 hold
Students and parents have expressed frustration this week about the limited information often available about UC Berkeley crime reports.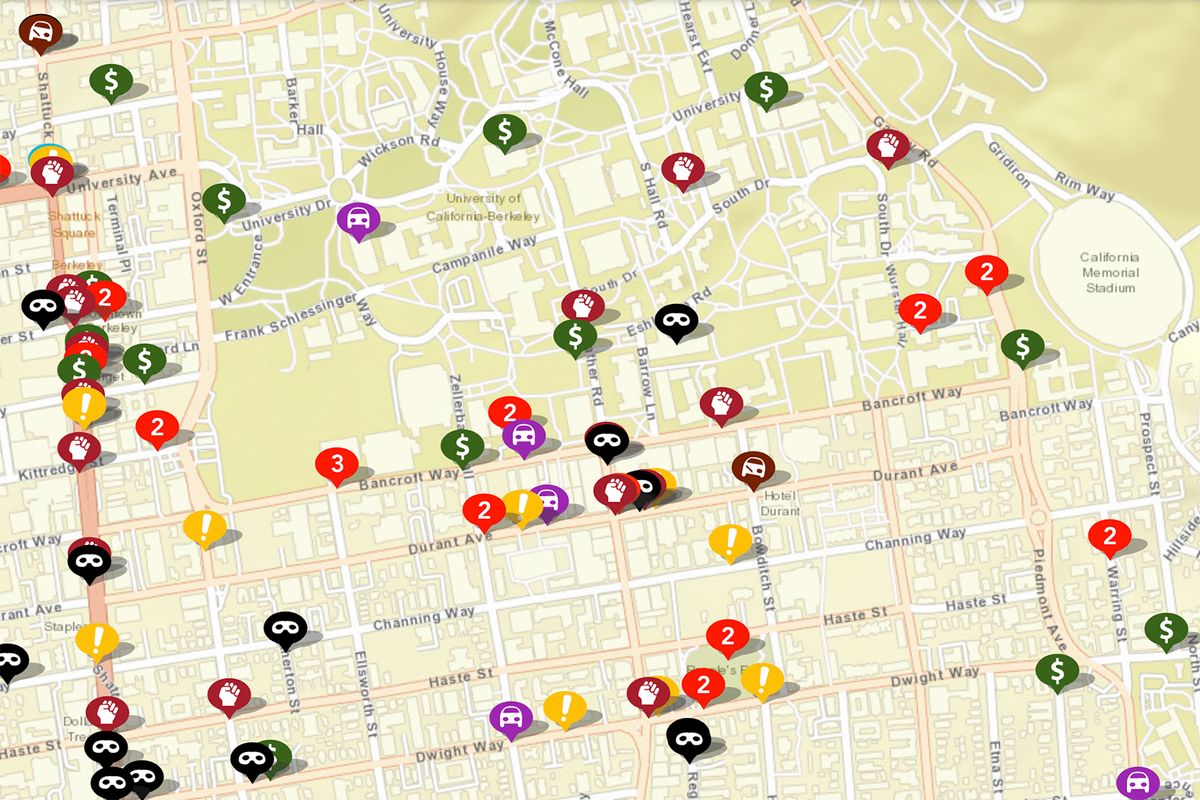 A man who attacked multiple students Thursday afternoon on the UC Berkeley campus has been sent for a psychiatric evaluation, authorities said.
UC Berkeley students asked about the incident on Reddit at about 4:30 p.m. Thursday and community members then asked The Berkeley Scanner to find out more.
The University of California Police Department said it began getting reports Thursday around 3:50 p.m. about a person on campus who had attacked some students and tried to attack others.
Officers responded and saw that individual fleeing while committing at least one other assault, UCPD said.
On Reddit, students provided more information about what they had seen.
"Some guy ran past Dwinelle," one person wrote. "A cop was chasing him, but was pretty far back. The guy ran up to a random girl at the tree in this pic and started beating her up.. then another girl. The police caught him."
Another person wrote that a man had "kicked and hit a girl on Sproul" around the same time, "saying things like 'go back to your country!'"
A third poster said the man had "slapped a girl near the gate and ran away, throwing the trash cans" in front of the Golden Bear Café dining hall.
On Friday, UCPD said the case is still under investigation and that limited information was available.
"We're trying to locate witnesses and victims," authorities told The Berkeley Scanner.
Police believe the same person may have caused disturbances on campus Wednesday but no further information was immediately available about those reports.
"There's a lot of moving parts on this one," police told The Scanner.
UC Berkeley police did not put out a WarnMe alert about the incidents described above.
Other violent crimes at or near UC Berkeley on Thursday
But police did put out two other WarnMe alerts in the hours that followed.
Just before 6:45 p.m., UCPD said there was an aggravated assault on the pedestrian bridge near the east side of Stephens Hall, which is just south of the Campanile.
A man in his 20s "said something to the victim and struck the victim in the face causing their nose to bleed. The incident was unprovoked."
The assailant kept walking north and left the area.
UCPD said the man was 5 foot 6 with a heavy build wearing a pink hat, green or blue sweater, and unknown-colored pants. (No other details were provided.)
UCPD sent that alert shortly before 9:30 p.m. Thursday.
On Friday just after 3 a.m., UCPD sent another WarnMe alert about an attempted robbery via gun where the victim was pistol-whipped in the head.
That incident took place just off campus at 2347 Telegraph Ave. (near Durant Avenue) in the Southside Berkeley neighborhood at 2:40 a.m.
The robber was male and wore a black mask and dark clothing, police said.
UC Berkeley spring semester began Tuesday
The fall 2022 semester ended in mid-December and classes only just resumed Tuesday.
As a result, campus has been largely devoid of violent crime reports for several weeks.
But there were numerous incidents of concern over the winter break.
Just before the break, a homeless man got inside a secured apartment building on Dwight Way and surprised two UC Berkeley students at home.
Later that week, Berkeley police arrested a man reported to have fired a gun into the air and punched a woman near campus.
On Dec. 23, a victim reported that a naked man with a knife "slashed at" them shortly before midnight, but police told The Berkeley Scanner that night that the report had been unfounded.
That same day, a former Cal student died by suicide after being found unresponsive on Telegraph Avenue.
In early January, a man was found deceased in a tent in People's Park. Limited information has been available.
On Jan. 4, UCPD said there had been a sexual assault at 11 a.m. at the People's Park construction site.
The victim, who was not affiliated with UC Berkeley, told police that a "suspect that frequents" the park was responsible. Police declined to share her age or any further information about the sexual assault.
More recently, on Wednesday, authorities responded to a garbage chute fire at Beverly Cleary Hall at 2424 Channing Way shortly after 6 p.m. The dorm was evacuated. UCPD sent an alert just before 9:40 p.m. that the building was safe to enter.
That same day, Vice Chancellor Marc Fisher, UCPD and Berkeley PD officers held a Facebook Live discussion focused on campus safety for parents and other community members as the spring semester gets underway.
In the days that followed, parents and students alike have expressed frustration about the limited information that often seems to be available from UC Berkeley when there are incidents of concern.
"Where was BERKELEYWARNME ??" one Reddit poster said Thursday after the campus attacks.
"Funny how they send out warnme for fires and people park assaults but not about actual students getting assaulted on campus," wrote another.
"I never got anything," a third person added. "This is some scary shit. I feel so sorry for those girls."
UC Berkeley uses the WarnMe system to send alerts "upon confirmation of a significant emergency or dangerous situation occurring on the campus that involves an immediate threat to the health or safety of students or employees. UC Berkeley WarnMe is also used to send timely warnings and community advisories from campus police."
But the alerts appear to be inconsistent: Some serious incidents are reported while many others are not.
Over the years, UCPD has made less and less information readily available to the public.
In years past, for example, UCPD's online daily crime log included narratives, arrest details and other information about notable incidents. Most of that information is no longer posted.
UCPD also has limited resources available to respond to media inquiries after hours and on weekends.
While some UCPD police supervisors are willing to answer media inquiries after hours, others decline to comment or are unavailable due to short staffing.
That can make it difficult to answer community questions in a timely way or add context when crimes near UC Berkeley spark community concern.
🚨
A reader asked us to look into this incident, which resulted in this report. Have questions about crime in Berkeley? Alert The Berkeley Scanner.