Traffic safety
'A driver killed our neighbor here': Berkeley holds vigil for Bill Evans
Bill Evans, 72, was a Marine who lost his legs in the Vietnam war and was medically retired from the service.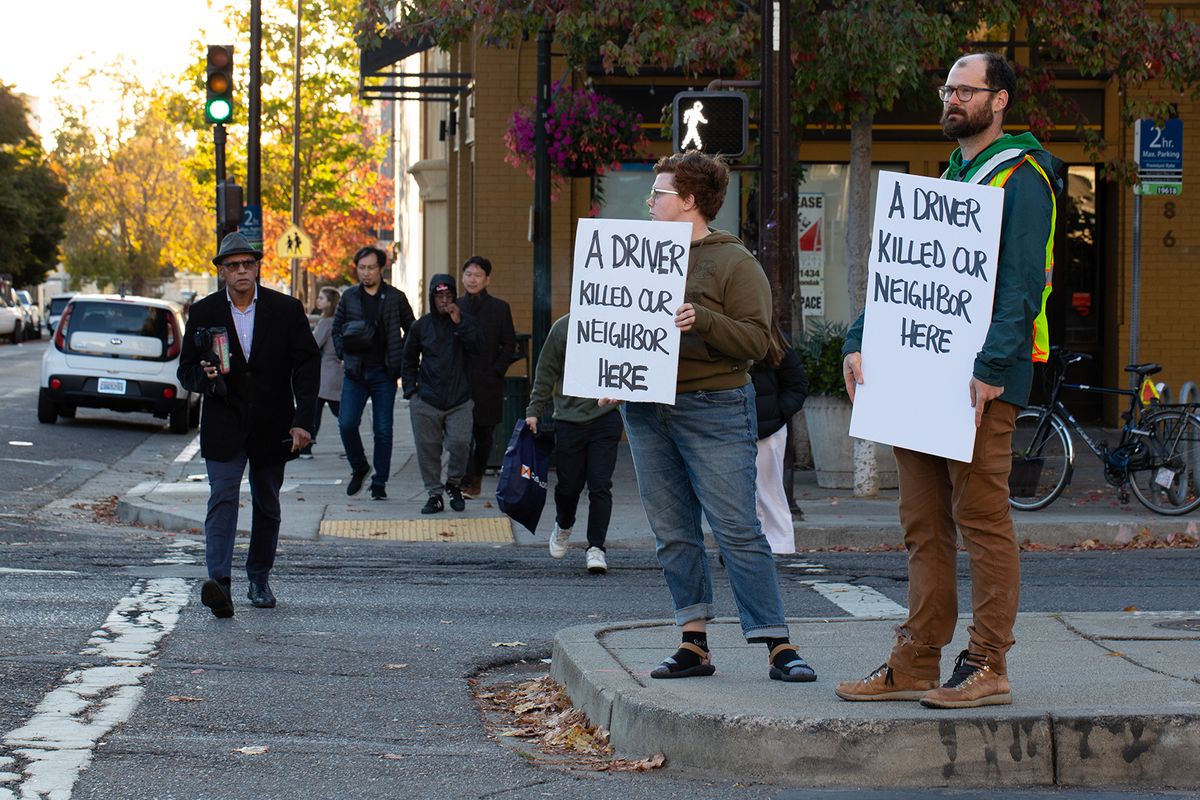 Community members came together in downtown Berkeley on Tuesday night to remember Bill Evans, a gentle man with a beaming smile who was a fixture in the neighborhood.
Evans, 72, was a Marine who lost his legs in the Vietnam war and was medically retired from the service, friends recalled. He lived at Shattuck Senior Homes, just blocks from the downtown Berkeley intersection where a dump truck driver struck him Oct. 20.
Evans initially survived the crash, on Bancroft Way just east of Shattuck Avenue, but died in the hospital a short time later.
Traffic safety advocates organized Tuesday's vigil, which a number of Evans' friends and neighbors also attended.
Thirty to 40 people took part in the event, at one point marching across all four sides of the intersection of Bancroft Way and Shattuck Avenue carrying signs to raise awareness about traffic safety and about Evans' death.
Throughout the vigil, some drivers honked in support of the demonstration.
At least one, however, irritated at being delayed by the march for several moments, honked angrily and accelerated south on Shattuck Avenue as soon as the roadway cleared.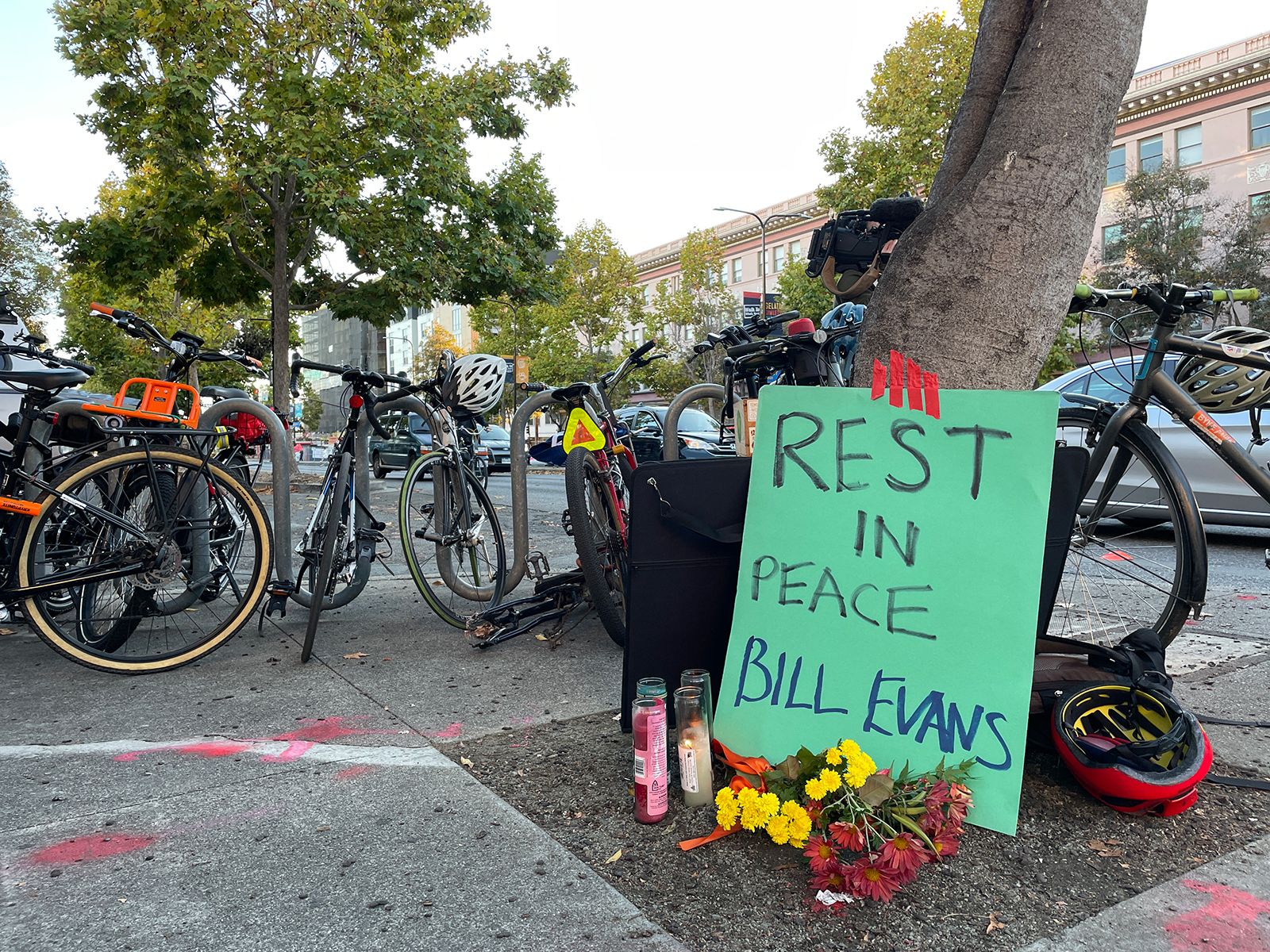 "He survived Vietnam just to come home and get killed by a truck," said longtime friend Kevin Gaines. The two had met years ago at the Department of Veterans Affairs in Oakland.
Gaines said he'd seen Evans just one week before the crash, and that Evans had shared his plans of going home to Louisiana.
Gaines said he and Evans would often meet at Cornerstone, a local bar and music venue nearby, to grab a drink and catch up.
Evans also spent a lot of time with friends at the bus bench on Shattuck Avenue just north of Haste Street, not far from the front door of his apartment building.
"That's where we all used to meet to take in the sunshine," recalled Peter Ngunyi, a neighborhood resident. "He was a good person, nice and friendly. And very soft-spoken."
Eric Carroll, a friend and neighbor from Evans' building, said he'd often see Evans coming home on the 18 bus line from visits with his sister in West Oakland.
"I still come out in the morning, waiting for him to get off the bus," he said.
Carroll first met Evans years ago at a now-shuttered restaurant at 30th Street and San Pablo Avenue in Oakland.
"He would come in for coffee and breakfast," recalled Carroll, who worked at the restaurant at the time. "He liked to talk to the old-timers."
Ngunyi said the group is still trying to come to terms with the loss of their friend.
And the men said they had become much more aware of driver behavior, and their seeming impatience, in the wake of the crash.
"They treat this street like it's a freeway," Carroll said, of Shattuck Avenue.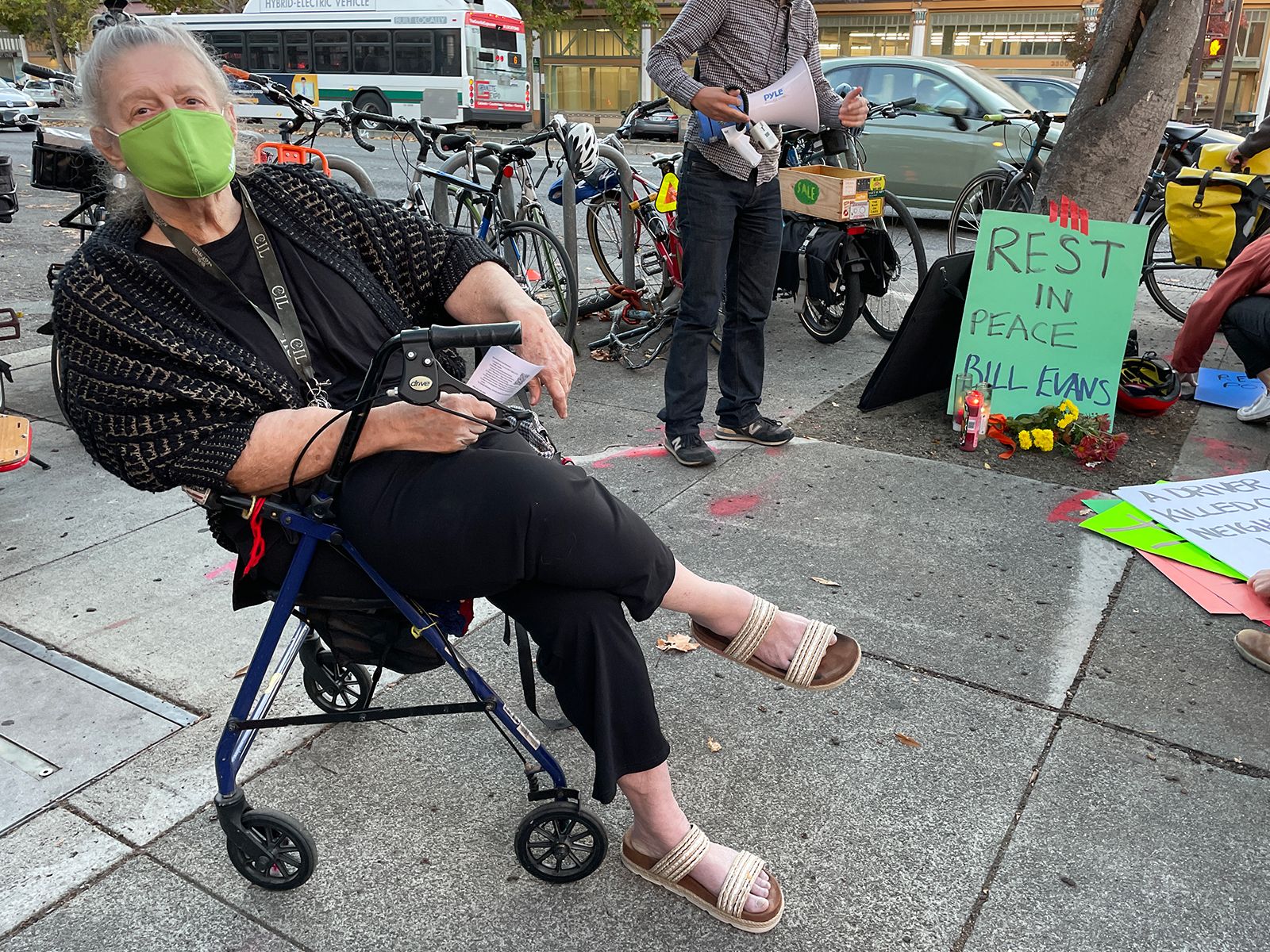 Neighbor Judy Jackson said Evans always loved to be outside to take in the fresh air.
"He tried to be nice to everybody," she said.
Jackson moved into Shattuck Senior Homes in 2002 and said she thought Evans moved in several years after that. She described Evans as a careful man who always made sure to follow the building rules.
He'd been homeless for a period of time, she said: "He didn't want to be on the streets anymore."
San Francisco resident Elizabeth Weinberg said she had come to know Evans on her walks in the neighborhood.
"I talked to him many times," she said. Weinberg recalled his "bright beautiful smile, just beaming from his wheelchair," and said Evans was gentle and sweet.
"I was always impressed by his energy and zest for life," she said. "He was a warm person, and humble. Those qualities really struck me."
Weinberg said she, too, felt the area was becoming less safe due to dangerous drivers.
"A lot of people race around here, there's speed racing in the street," she said.
With so many seniors and people with disabilities trying to get around downtown Berkeley, Weinberg added, "it's just not a good area for people to be driving like they're in a racecar."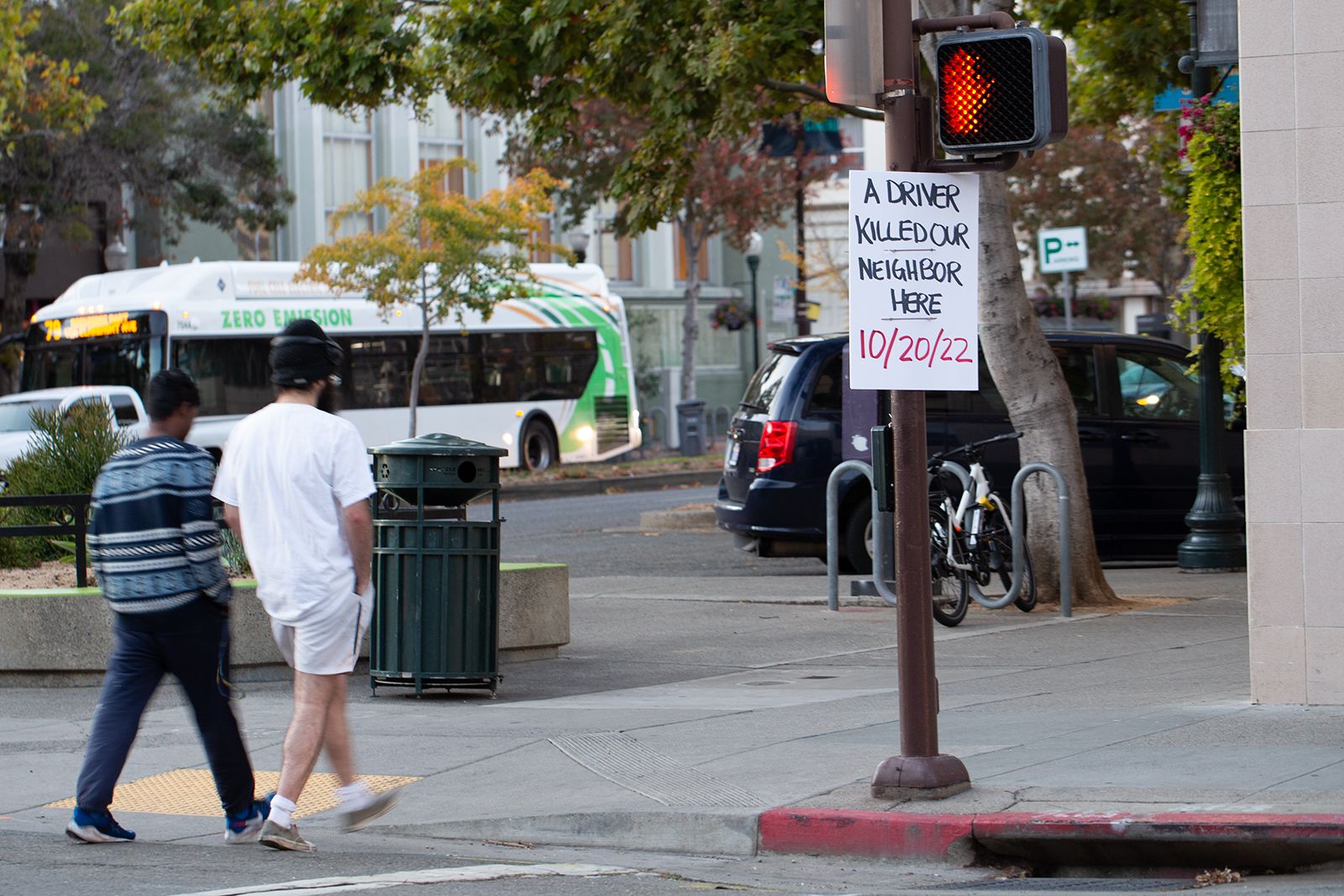 Several groups worked together to plan Tuesday night's vigil, including the Traffic Violence Rapid Response Team, Walk Bike Berkeley, Telegraph for People and Senior & Disability Action.
The groups have asked Berkeley to install "no turn on red" signs at all traffic lights; shorten crossing distances by adding bulb-outs on high-injury streets; and extend pedestrian crossing times, among other demands.
A witness said Evans was crossing Bancroft heading north and had almost made it to the sidewalk when a driver struck him.
The Rapid Response Team formed in Oakland earlier this year, following a similar effort that had begun in San Francisco in 2021. The group has since held eight or nine vigils in Oakland for pedestrians and cyclists who have been killed.
Tuesday night's vigil was the group's first event in Berkeley.
Ben Gerhardstein of Walk Bike Berkeley told The Berkeley Scanner it was important to hold events like this to give people a way to raise awareness and take action beyond attending council meetings or emailing officials.
Similar grassroots efforts designed to fight traffic violence have cropped up in other places that have succeeded in creating safer streets for everyone, he said.
One key goal of these events is to help spread the message of traffic safety to the wider community, Gerhardstein said.
"They just need to know that it's not OK," he said. "People shouldn't die on our streets, especially the most vulnerable community members among us."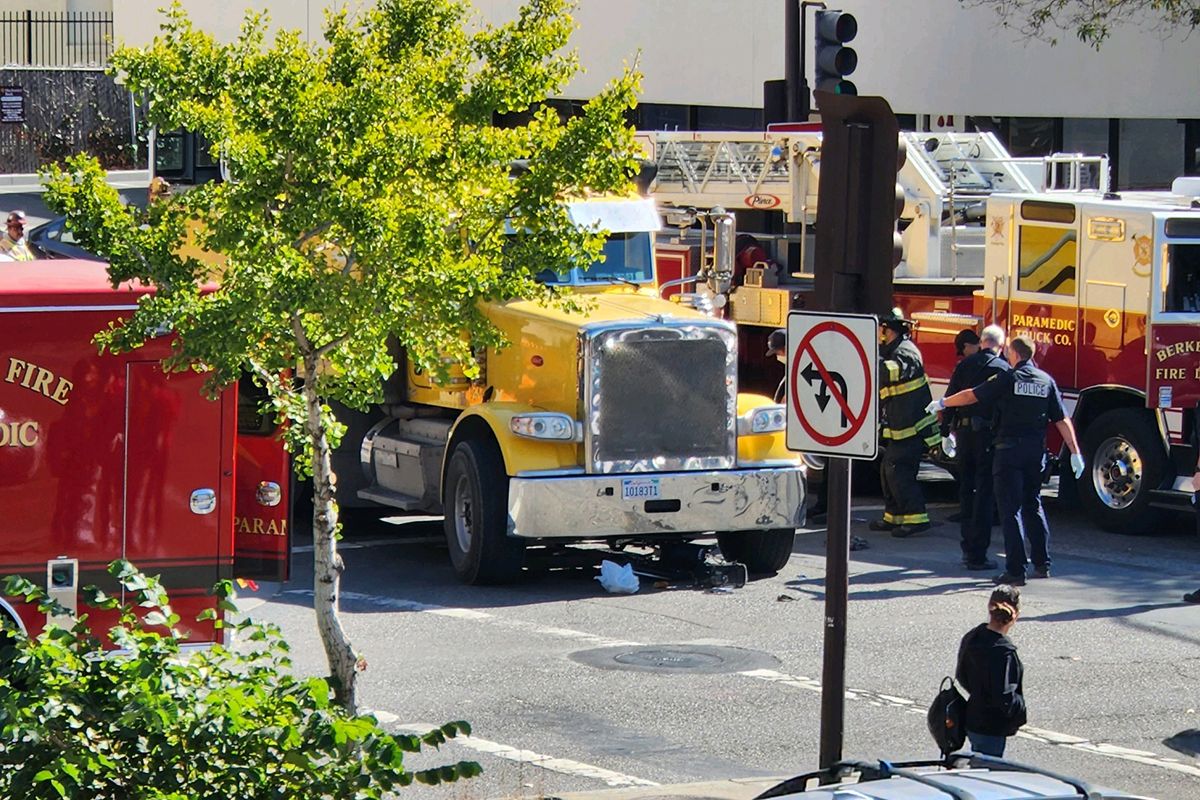 Correction: Elizabeth Weinberg lives in San Francisco. This story has been updated to reflect that.