Courts
Investigation of top Price deputy found misconduct at prior job
"The only person who made me feel unwelcome as a person of color was Mr. Bruce," one person wrote, "by repeatedly implying to me that my coworkers were racist against me when in fact that was a lie."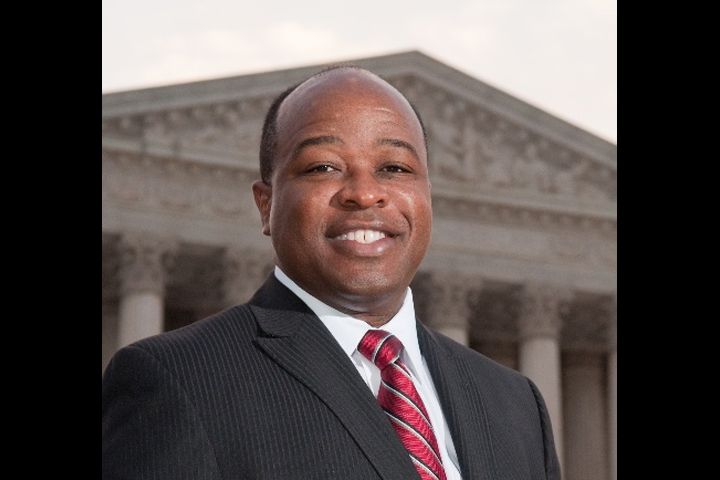 Otis Bruce Jr. left Marin County under a cloud before becoming one of DA Pamela Price's chief deputies in Alameda County, new records show.
Before working at the Alameda County district attorney's office, Bruce used his senior position in the Marin County DA's office to manipulate employees and foster a fear of workplace retaliation, an investigation by his former employer found.
That investigation resulted in sustained workplace conduct and equal opportunity violations by Bruce when he was second in command at the Marin County district attorney's office, according to official records. The investigation concluded in February.
In recent weeks, The Berkeley Scanner obtained narrative letters and findings from the Marin County investigation through a Public Records Act request.
Marin County initially rejected the request in May, citing confidentiality related to personnel matters, but revised its position on appeal.
The records include 11 letters from workers alleging problematic interactions with Bruce as well as sustained findings from eight corresponding complaints.
Names and some details were redacted from the records, but they still paint a vivid picture of what some described as a toxic and "hostile work environment" where Bruce allegedly tried to get people on "Team Otis" by telling them he alone was responsible for their success and that he was the only person backing them in the office, according to the official investigation.
"Otis would remind me that I was only here because of him. He told me that he told [Marin County DA Lori Frugoli] they had to hire me," one person wrote, according to the records released. "I later learned that Otis tells almost every new person in the office that to make them feel indebted to him and to manipulate us."
"He told me that he was the only one in the office fighting for me," wrote another.
"I feel manipulated and lied to," wrote yet another person. "I feel terrible that I walked around this office suspicious of my coworkers who are in fact incredible people. In reality, the only person who made me feel unwelcome as a person of color was Mr. Bruce, by repeatedly implying to me that my coworkers were racist against me when in fact that was a lie."
A number of people in the Marin County DA's office described breaking off ties with Bruce or said they would not speak with him alone due to repeated problematic comments, according to the records. Some described anxiety and said they avoided the office so as not to have to interact with him.
"Otis shit talks people in the office," one person wrote. "It's one way he uses to manipulate and divide us. He either shit talks about you or to you about other people. Sometimes he does both."
One person, who said Bruce had been "friendly for the most part" and seemed to be a "kind man who wants to make big changes in this world," nevertheless largely attributed their departure from the Marin County DA's office to Bruce's approach to leadership, according to the investigation.
"Every time I have tracked him down to ask a question or get clarification because he won't respond to emails, I kick myself because somehow my question never gets answered and I have just wasted a chunk of time hearing about All Things Otis," the person wrote, according to the records released by the county.
The Berkeley Scanner has repeatedly tried to contact Bruce and his attorney for comment since Friday but received no response as of publication time.
Complaints arose in restorative justice sessions
Marin County DA Lori Frugoli said the complaints against Bruce "came to light through our work with outside facilitators to build a healthier working environment."
"We fully cooperated with our Equal Employment Director and HR Department in investigating and resolving the issues," Frugoli said Monday in a brief prepared statement. "We value our employees who work hard to keep our community safe."
According to the investigative materials, the office embarked on a restorative justice process last summer to address a variety of workplace grievances.
The sustained findings relate to a range of allegations while Bruce was Marin County's assistant district attorney, from using divisive language, manipulation and intimidation to create a fear of retaliation, to making disparaging and inappropriate comments, to bias and trying to find out about the restorative justice sessions, which were confidential.
Bruce retired from the Marin County DA's office on Dec. 31, 2022, the month before the HR investigation concluded, according to the county. He then filed a $12 million discrimination claim against Marin County, which could be the precursor to a civil lawsuit.
To date, no formal suit has been filed, Marin County said Friday.
Otis Bruce Jr. said he was "treated differently" in Marin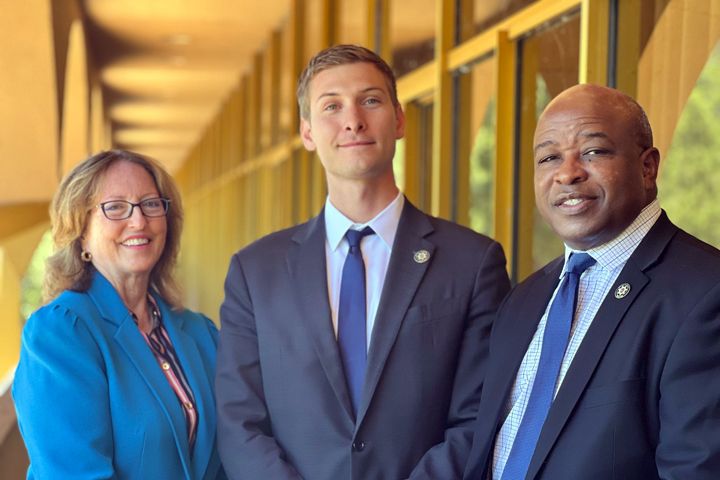 In his claim, Bruce said DA Frugoli placed him on paid leave in September 2022 and required him to turn in his access badge, phone and computer as well as his department-issued firearm.
He wrote that he had been "treated differently, retaliated and discriminated against" compared to other non-Black Marin County employees and was denied access to his office: "In my 32 years of work, service and experience, as a Marin County employee, no other county … employee, similar situated, has ever been subjected to this type of workplace misconduct against them" from a supervisor or county administrator.
In his claim, Bruce wrote that he had been subjected to workplace misconduct from Frugoli and others "that is unprecedented, intentional, aggressive, threatening, unfair, inequitable, wrongful, hateful, harassing, disparate treatment, embarrassing, disparaging remarks, hostile work environment, constructive discharge, conspiratorial, retaliatory and discriminatory conduct and defamation of my professional character … because of my race, age" and gender, beginning in the months before August 2022 and continuing into January.
The friction followed on the heels of what had seemed to be a positive working relationship between Bruce and Frugoli.
According to a 2021 Facebook post by the Marin County district attorney's office, Bruce began as a legal assistant for the county in 1989. Six years later, in 1995, he became its first Black prosecutor.
In August 2020, Frugoli selected Bruce as her top deputy, appointing him to serve as assistant district attorney.
"I am honored to appoint Otis Bruce Jr. to this important position," Frugoli wrote at the time. "His exemplary career in this office along with his work ethic, leadership skills and commitment to our community and social justice programs make him the perfect choice for this important position. Mr. Bruce has already begun working on social and racial equity programs in our office and the community."
The Marin County DA's office wrote that, in his new role, Bruce would expand the agency's Social Justice program, support victim services, and oversee prosecutors who were reviewing prison cases related to use-of-force by police, among other duties.
"Mr. Bruce's experience within the department runs the gamut, including coordinating teams of attorneys and prosecuting high-profile cases," according to the 2020 announcement about his new position. "In the courtroom, he has specialized in prosecution of cases involving domestic violence, gangs, adult drug offenses, elder financial abuse, business fraud and embezzlement and other felonies. Outside of court, he worked in child and family support debt collections, supervising and developing office intern programs, investigations, research, and the support of crime victims, spouses, and children."
Dozens of people on Facebook offered their congratulations to Bruce when he took on the senior leadership role in Marin County nearly three years ago.
"Good for him, he was a great guy to work for," one person wrote in 2020.
Said another: "Great choice and maybe one day become the DA."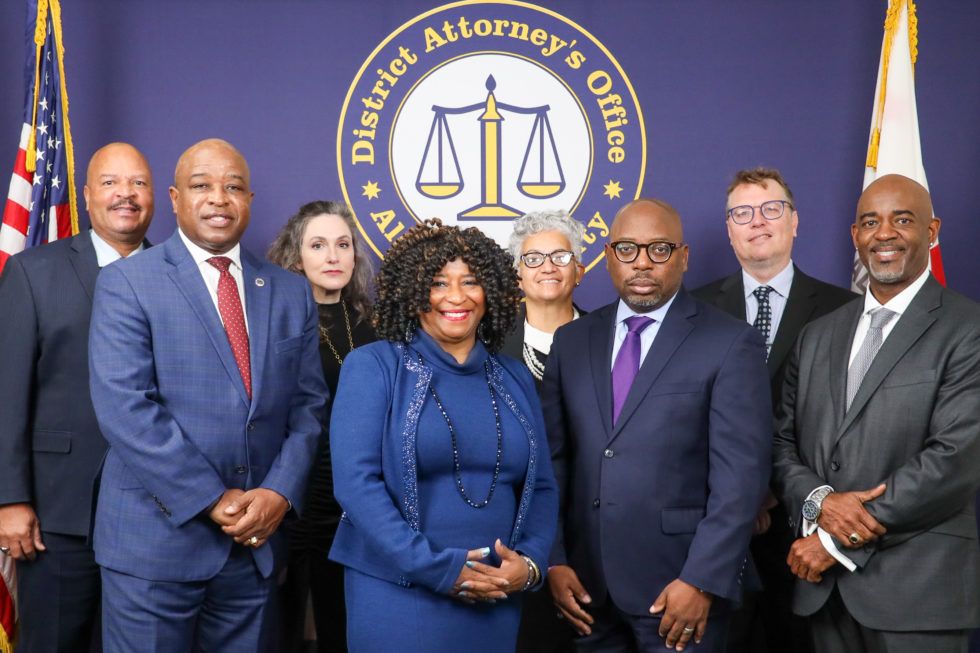 Bruce came to Alameda County with DA Pamela Price in January as a member of her executive team who would focus on operations, including authorizing charging decisions.
He is one of two chief assistant DAs in the office who report directly to Price.
As of publication time, Price's office had not responded to requests for comment on the Bruce matter other than for a spokeswoman to say she was not aware of it.
Employees had concerns about sexism, systemic issues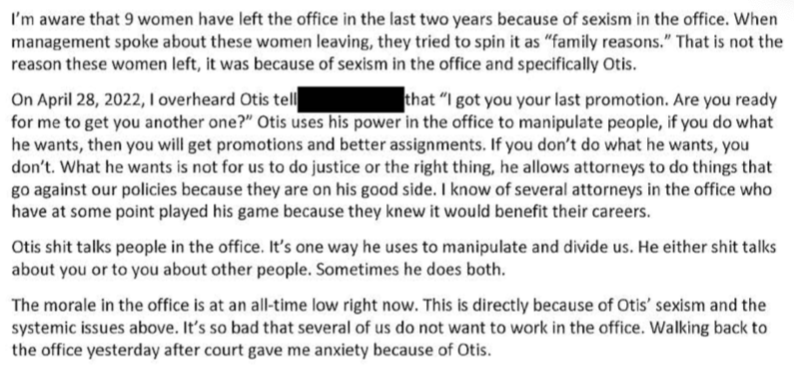 According to the official investigative records that were released by Marin County, some DA's office employees described what they saw as systemic problems in the workplace in addition to, and in relation to, their concerns about Bruce.
"The morale in the office is at an all-time low," one person wrote, according to official Marin County records. "This is directly because of Otis' sexism and the systemic issues above. It's so bad that several of us do not want to work in the office."
The same person described heavy caseloads that were unmanageable despite night and weekend work, according to the file: "Many attorneys in the office have put the job above their physical and mental well-being, but that's not enough for Otis."
They continued: "I'm aware that 9 women have left the office in the last two years because of sexism in the office. When management spoke about these women leaving, they tried to spin it as 'family reasons.' That is not the reason these women left, it was because of sexism in the office and specifically Otis.'"
(Because complainant names in the files are redacted, it was often difficult to know the gender of the person who was describing their experiences.)
A different person wrote that Bruce had stated that "it was important to remember that it was men who made things happen. That it was men specifically who were responsible for the great achievements of the world. Mr. Bruce asked if I understood what he meant. I was extremely uncomfortable and unsure how to respond."
That person described numerous interactions with Bruce and said there were also others "that left me feeling uncomfortable."
"However, they were so regular," they wrote, "I cannot recall them."
One woman described alleged remarks by Bruce about appropriate clothing for women, according to the county records, and what struck her as a misogynist attitude.
"Very early on in my tenure he stated to me that he did not like when women returned from court and changed from heels into flats. That heels were more professional," she wrote.
Otis also said that women were not "baller" workers because they did not stay late "to get offers out of cases," she alleged.
"I believe Otis had a significant role in ensuring a male colleague was promoted over two more qualified and senior female employees," she wrote. "This is an example of systemic sexism in the office and I believe Otis is a strong contributor to these issues."
It's also worth noting that, because the narrative descriptions and findings were produced as two separate packets, it was not possible in most cases to match the detailed letters to any resulting outcomes.
The sustained findings were mostly described in broad language that included limited details.
The Scanner repeatedly sought clarification from Marin County on that subject but did not receive a response.
"A fear of retaliation in the workplace"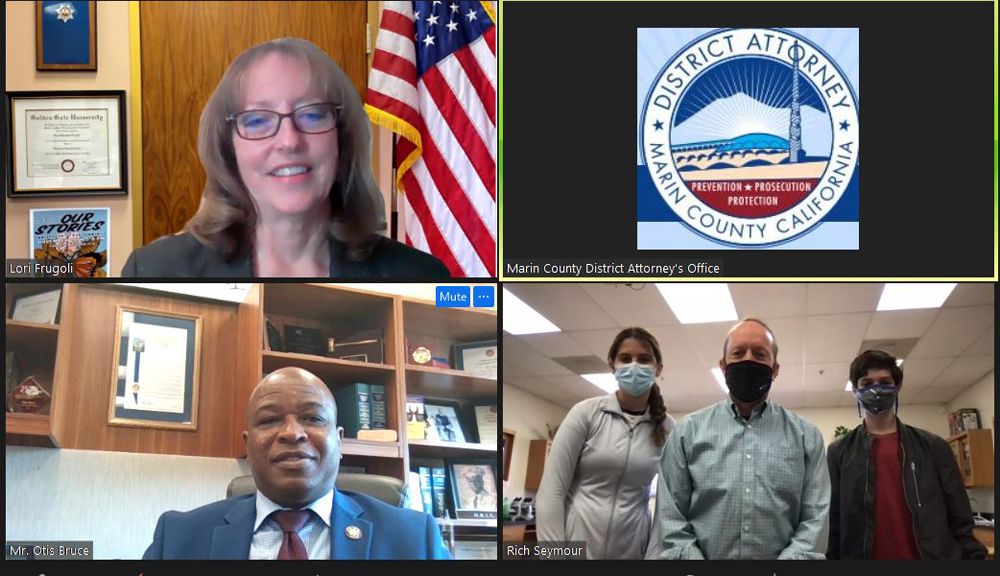 Some of the people who submitted materials for the investigation wrote that they had benefitted from Bruce's help but still felt a duty to speak up on behalf of colleagues.
"I hope this letter leads to a better office environment, one that is both inclusive and in which employees are truly happy and comfortable," one person wrote.
In total, the investigator sustained 16 allegations against Otis Bruce Jr. across eight separate complaints, according to records from Marin County.
The most common allegation, which was sustained across seven of the eight complaints, fell into the manipulation and intimidation category, according to the files: "The Investigator found for this allegation that Mr. Bruce did use his position as Assistant District Attorney to intimidate, isolate and/or manipulate you by using divisive language to influence behavior in the office. Moreover, his behavior was found to create a fear of retaliation in the workplace."
There were two sustained findings of bias related to family status, the county wrote, stemming in part from Bruce's "comments misrepresenting why female attorneys left their position" and comments about one person's "family plans."
In one of those instances, the county found that "Bruce made offensive comments to you regarding pregnancy," according to the records. "However, these comments were not found to be based on gender, but were rather made based on family status. Therefore, that allegation is not sustained as to gender, but as to family status."
There were also several sustained findings about his disparaging and inappropriate comments, according to the records.
Three of the sustained findings related to the confidential restorative justice sessions during the summer of 2022 and how Bruce reportedly tried to find out what had been said there, the records show.
To that end, Bruce reached out to one person "numerous times" to try to glean information, the investigator found.
It became clear during those sessions that "people in the office are suffering because of the things he is doing," one person wrote of Bruce.
After one of those meetings, they said, they were "terrified" to find Bruce hovering outside their office. Normally, he was "loud and laughs a lot," but not this time, the person wrote.
"I could hear his whispers outside my door," they wrote. "It became abundantly clear that he was trying to spy on my telephone conversations because I was on the phone before I realized he was there."
The person said they had voiced concerns about Bruce at one of the meetings and that, afterward, his behavior changed, according to the investigation. Previously, Bruce would come by to chat and "fist bump," they wrote.
"After the meeting he wouldn't speak to me or make eye contact with me for weeks," they wrote, according to the files.
"I felt compelled to do as he said"

The prosecutor who wrote that Bruce had convinced them that "my coworkers were racist against me when in fact that was a lie" wrote in detail about their experience, according to the records.
They said Bruce directed them to email him about a compliment that related to him, according to the files. Others relayed similar experiences.
"I did as I was told because he was the Assistant District Attorney," the attorney wrote. "I felt compelled to do as he said and make no waves."
The same person described a meeting where Bruce reportedly "spoke at length" about the importance of being a good teammate, according to the letter. Bruce "described a good teammate as one that covers up mistakes that others make on cases and does not report any mistakes or errors to management. I was very concerned about these comments for multiple reasons."
They went on to write that they "felt Mr. Bruce was applying pressure in his role as Assistant District Attorney to the [Misdemeanor] team to bury cases that were not correctly prosecuted which is dishonest and contrary to public safety."
They said Bruce would often issue warnings about two other supervisors in the office, according to their letter, and talk about the county's racist past.
"He would make statements about 'the other two' not liking me, not believing in me, didn't think I should be hired and would say this in the same breath as reminding me of the country's history of racism," they wrote. "The warning was clear that if I did not play my cards right with Mr. Bruce, my job could be on the line."
The employee eventually got to know one of those supervisors and found that she "was nothing like Mr. Bruce described. And what's more, it didn't seem at all she didn't like me, respect me or want me in the office. In fact, I felt the exact opposite. My interactions with her made me feel like a valued and respected team member."
"Samoans fight": Alameda County claims of racist comments
The Berkeley Scanner has received no allegations from inside the Alameda County DA's office along the lines of the conduct described in Marin County.
But Bruce did make headlines in the Bay Area earlier this year when he reportedly made disparaging remarks about Pacific Islanders to an Asian American prosecutor as they discussed a case.
On that occasion in April, as they talked about the victim and a possible resolution to the case, Bruce told the prosecutor that "Samoans fight. They like to get drunk and high and they fight in a minute," according to the email complaint obtained by The Scanner.
The prosecutor broke down in tears in her office after hearing the comments, then reported them to her supervisor, former Alameda County prosecutor Butch Ford said at a rally in Oakland earlier this year.
ABC7 reporter Dion Lim took a closer look at the allegations in the weeks after the rally.
According to the email complaint, which was also forwarded to the Teamsters Union that represents the Alameda County Prosecutors' Association, the younger prosecutor "shut down" during the meeting due to the "anger, sadness, and mostly shock that I felt by [Chief Assistant District Attorney] Bruce's comments regarding the victim in this case."
"I remained mostly quiet during the remainder of the conversation with CADA Bruce and tried to respectfully end the call," she wrote. "As someone who identifies as Asian American Pacific Islander (AAPI), and as a prosecutor who fights for justice for victims regardless of their race, gender, nationality, sexual orientation, age, etc., the comment by CADA Bruce deeply offended me."
Source protection is of the utmost importance at The Berkeley Scanner. If you have insights about the Alameda County DA's office, we want to hear from you. Contact The Scanner through our tips form or on Signal: 510-459-8325.