Courts
Outcry over Jasper Wu ignites push to recall Pamela Price
Jasper was killed in his car seat in 2021 by a stray bullet from a "roving gun battle" on I-880, authorities say. He was just 23 months old.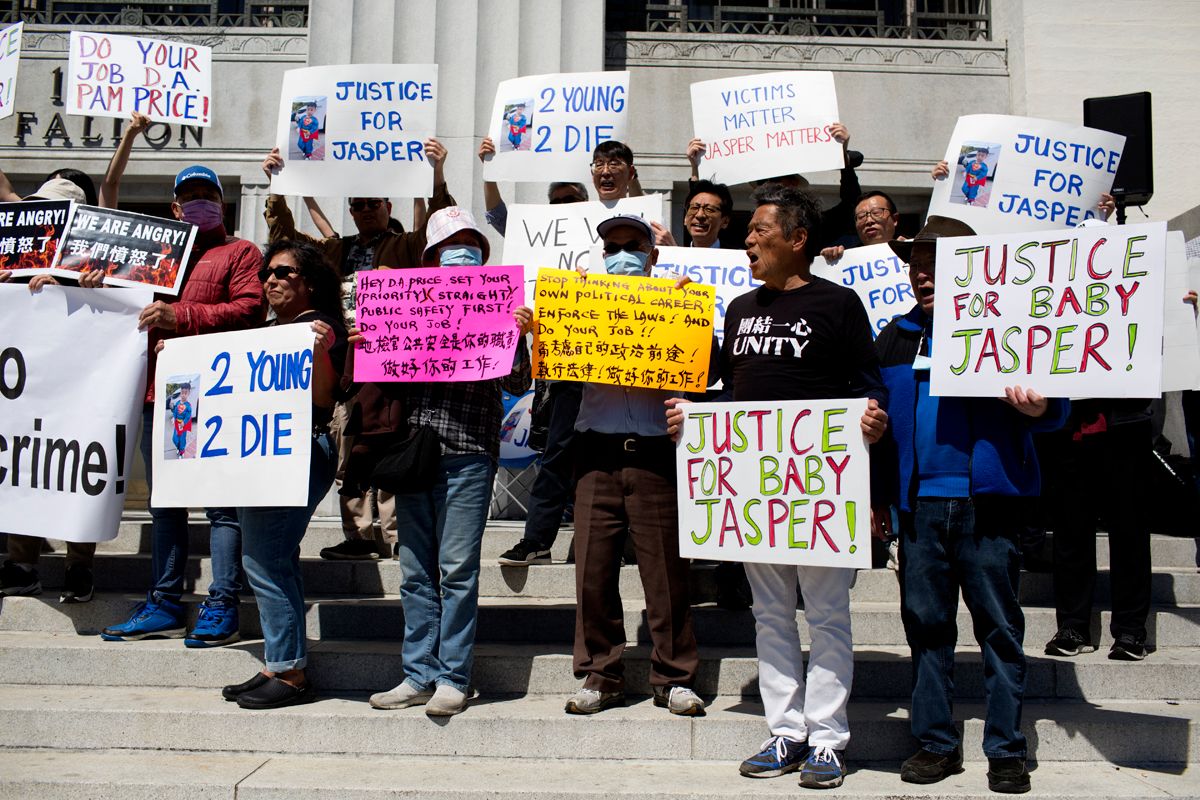 Community members crowded onto the courthouse steps in Oakland on Monday to demand justice for Jasper Wu as well as the recall of Alameda County DA Pamela Price.
Jasper was killed in his car seat in 2021 by a stray bullet from a "roving gun battle" on I-880 between rival gang members, authorities have said.
He was just 23 months old.
Community frustrations about the case that have been building for the past month boiled over Monday afternoon during the rally outside the René C. Davidson Courthouse next to Lake Merritt.
More than 100 people attended the rally, holding signs, chanting and demanding justice for Jasper for about an hour as the noon-time sun bore down.
The baby boy's parents — mother Xiao Xiao An and father An Wu — have made it clear they want the harshest possible penalty for the three men charged with his murder.
Jasper's parents were unable to attend Monday's rally, but Oakland Chinatown Improvement Council president Stewart Chen read a statement in Chinese and English on their behalf.
"I am extremely worried about Jasper's case and the direction that it might go," Xiao Xiao An had written to Chen over the weekend. "As a mother, I cannot accept nor forgive myself for not being able to help my son seek justice. I am asking for the maximum sentencing allowable under the law."
Jasper's parents have said they are concerned this won't happen in light of changes enacted last month by DA Price designed to shorten prison sentences or replace them altogether with probation.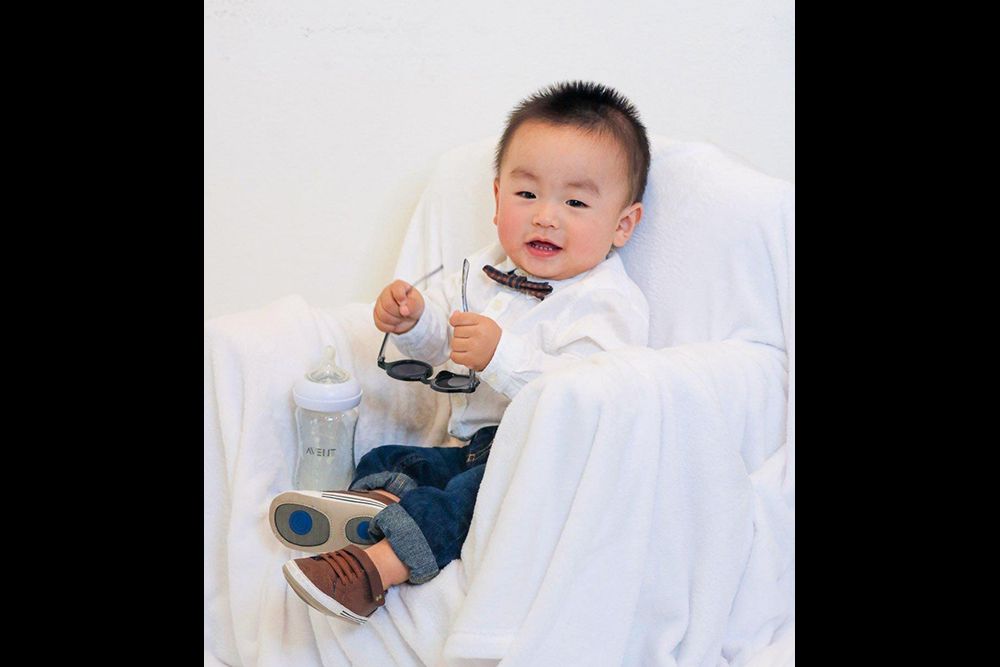 Last month's directive added layers of review to charging decisions. That now often means that prosecutors who ask to pursue stricter penalties never get a response, say sources in the DA's office who are familiar with the new practices.
Price has said these decisions will be made on a case-by-case basis but, in actuality, sources say, the new directive has resulted in a blanket ban on "big use" charges in murder cases: those that could lead to a sentence of 25 years to life.
"We aren't allowed to use the penal code the way other district attorneys' offices are," one person said. "It's unheard of that the prosecutor's office will not file 'big use' charges ever."
In fact, there has not been a single "big use" charge filed on any new murder case since the directive took effect one month ago, sources say.
(The Scanner granted several people anonymity in relation to this story due to their concerns about possible workplace retribution.)
The Jasper Wu case has unleashed a firestorm
Jasper Wu's death amid a freeway shoot-out in Oakland in November 2021 shocked the Bay Area.
As a result, many people and community groups have watched the case closely as it moves through the justice system.
A major milestone in that process is set to take place next week, April 19, when a judge is slated to hear evidence to decide whether the case can proceed to trial.
Last week, Price met with Jasper's parents to hear their views.
But, rather than put minds at ease, the meeting and its aftermath seem to have set off a new firestorm in the media and in the community at large, which ultimately resulted in Monday's rally.
Concerns about the case began making headlines about a month ago when ABC 7's Dion Lim aired an exclusive interview with Jasper's parents to talk about the case.
They told Lim they were worried about what Price's broader plan to seek shorter prison sentences might mean for the case.
Several weeks later, ABC 7's Dan Noyes uncovered an email Price had written to an AAPI (Asian Americans and Pacific Islander) community member who had asked Price about the status of the case.
Price had addressed her response "To the Chinese communities," Noyes reported, and said her office was "working on a partnership with the Asian Law Caucus to support AAPI victims of violence in ways that open up broader possibilities for healing and non-carceral forms of accountability."
The idea that there might be no jail time for Jasper's killers — "non-carceral forms of accountability" — astounded many people.
Other aspects of the email also raised questions, from its awkward salutation to the alleged "partnership" with the Asian Law Caucus: The group told Noyes it had only had an introductory meeting with Price that did not relate to the Jasper Wu case.
Noyes and Lim have both said they've sought interviews with Price to no avail.
(Pamela Price has also declined or ignored repeated interview requests from The Berkeley Scanner.)
On Thursday, Price released her own recorded statement about the Jasper Wu case on social media and said she had been targeted with racist messages because people were attempting to use the case for political ends.
The same day, the local chapter of the National Asian Pacific Islander Prosecutors Association (NAPIPA) issued its own strongly worded statement regarding the Jasper Wu case and Price's email "to the Chinese communities."
On Friday, other AAPI community members announced plans for Monday's rally in an effort to raise awareness about all that had unfolded.
Event organizer: "Pamela Price is not the victim"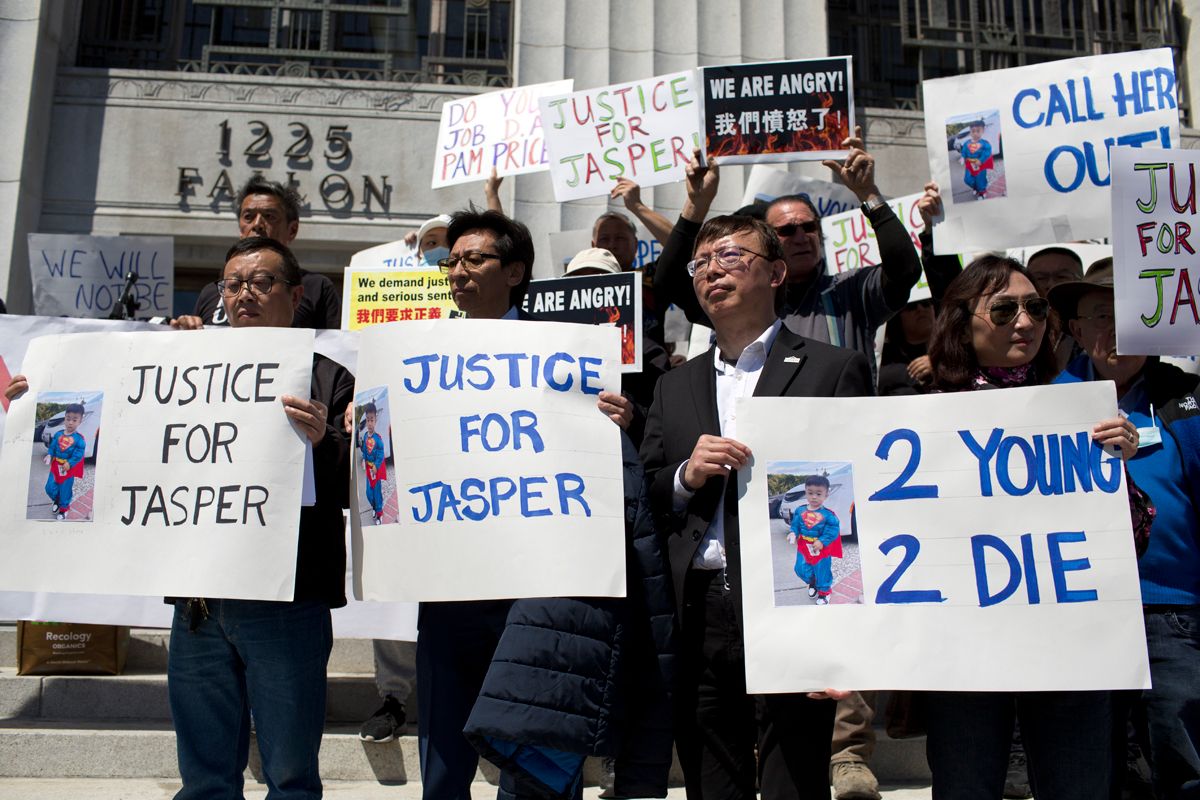 Monday's rally drew significant media attention, including news helicopters that hovered overhead for much of the event.
Dozens of AAPI community members held signs and chanted in support of a series of speakers who described the reasons for their concerns and what they hoped to accomplish.
Many of the signs read "Justice for Jasper" alongside what has become an iconic photograph of the little boy dressed in a Superman costume.
Others were more pointed, stating, "Call her out!" in relation to DA Pamela Price, and "We are angry" in English and Chinese.
Bob Yee kicked off the rally with his own message to Price, describing how he had watched her video last week with dismay.
"I wanted to view your video with an open mind to understand your views. I was hopeful," he said. "What I saw in that video shocked me. It outraged me."
"A 2-year-old gets a bullet in the head and somehow Pamela in her video made it about her," said Yee, who described himself after the event as one of its organizers. "Pamela Price is not the victim. Jasper Wu is the victim."
Yee said the goal of the rally was to empower people to hold Price accountable by "calling her out" on social media and in the press when she does things they believe run counter to community safety, from offering lenient plea deals to seeking to disqualify judges who disagree with her to declining to answer questions from the press.
Brenda Grisham, an African American mother whose son was killed in Oakland in 2010, also took the stage Monday in solidarity with the AAPI community.
"I'm here today because it doesn't matter what race, we all have to support each other," she said. "These parents have lost their son. And we should care about it. It doesn't matter our skin color."
Chen, the Oakland Chinatown Improvement Council president, spoke next, reading the statement from Jasper's mother.
Chen said she had texted him at midnight Saturday night with her remarks.
"Only when the criminals are justly and severely punished will they understand the gravity of their actions and the pain that they have caused," she had written. "I do not want to see another family go through the pain and suffering that we had to go through. We must do everything we can to prevent this from happening again."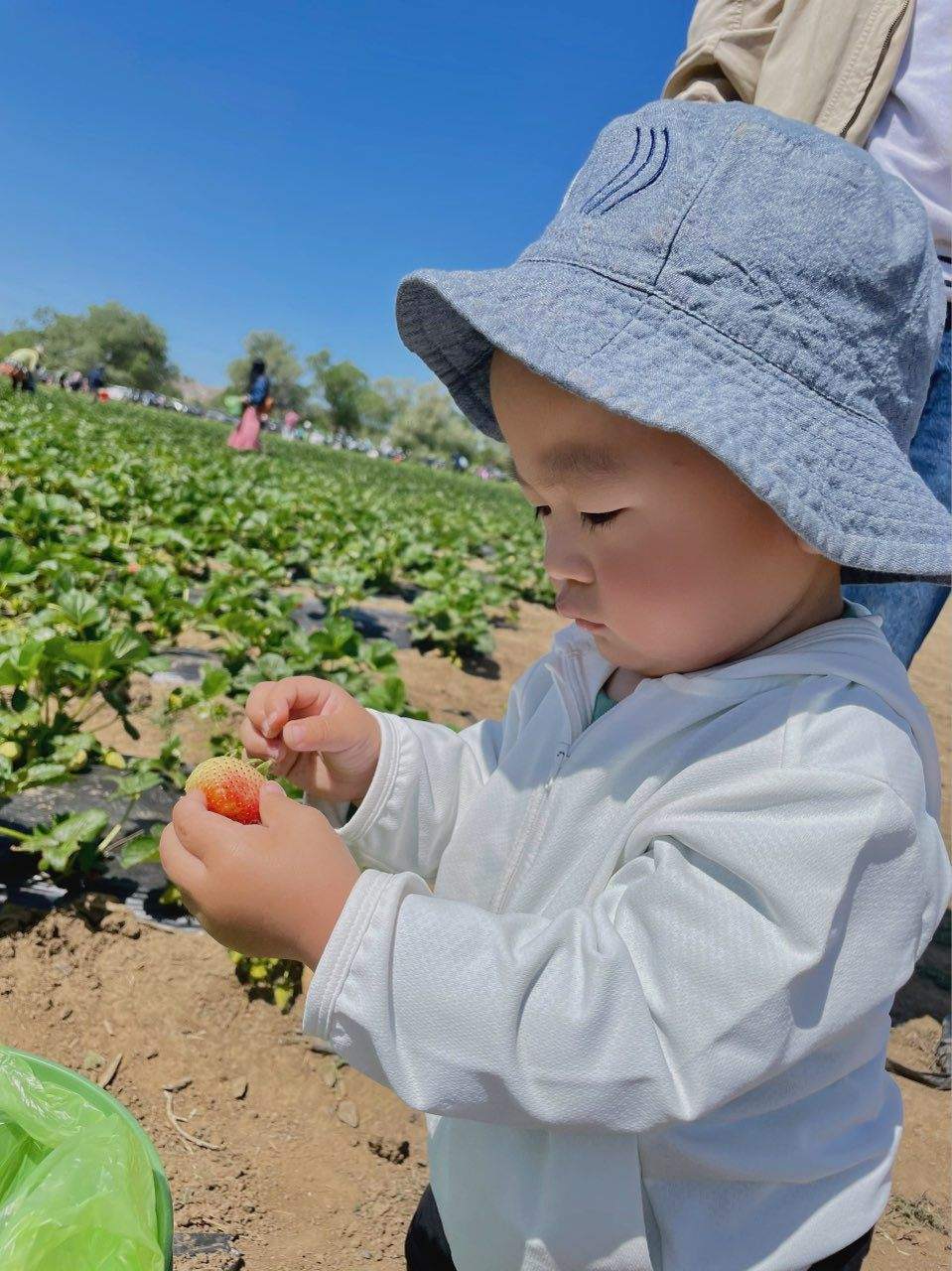 Chen told the crowd that he had been in close contact with Jasper's mother, Xiao Xiao An, about the case.
It had been an emotional time for her with all of the recent news coverage, but An told him she had felt "hopeful" after meeting with Price, who had "made promises" and "made assurances" to the family, Chen said.
Chen also noted that Jasper's parents were immigrants from China who wanted to believe that things would work out in the end.
"They want to trust people," he said. "They want to trust the American judicial system and that justice will prevail."
Unofficial petition to recall Price has over 12,000 names
One of the last speakers to take the stage Monday was Butch Ford, a longtime Alameda County prosecutor whom Price put on leave in January as one of her first acts in office.
(Ford and a handful of other veteran prosecutors Price put on leave are still waiting to be granted a legally-mandated hearing regarding the decision to bench them.)
Ford, who is half-Pacific Islander and half-African American, said he had learned from both cultures that "when you commit a crime and you hurt people, you should pay."
He described what he said has been Price's "playbook" on a number of serious cases: removing the prosecutor who knows the case best and then offering the defendant a lighter sentence than he'd otherwise have gotten.
Ford also told the crowd he had just learned that Price's chief assistant district attorney, Otis Bruce Jr., had gone into Chinatown in the days before the rally "to discourage people from speaking out."
That was particularly disturbing, Ford added, because he had also been advised that Bruce had made disparaging remarks to an AAPI prosecutor about an AAPI crime victim, telling her, "Samoans fight. They like to get drunk and high and they fight in a minute."
The woman had broken down in tears in her office after hearing the comments, then reported them to her supervisor, Ford said. But there had been no discipline or reprimand, he said.
Ford also described how a 5-year-old girl named Eliyanah had been killed over the weekend in what he described as "another gang shoot-out on the freeway."
"While everybody here is representing Jasper, I know you all stand with Eliyanah's family as well," Ford said, as he held up a photograph of the little girl. "This is about victims. This is about the safety of our community."
Monday's rally included countless calls to recall Alameda County District Attorney Pamela Price.
After the event, some attendees asked others how to help with the effort.
One noted that an unofficial Change.org petition now has more than 12,000 signatures and counting.
Any official recall effort would go through an entirely different process and does not appear to have begun.
How was Jasper Wu killed?
Charges were not filed in the Jasper Wu case until December 2022, just weeks before Pamela Price took office. The California Highway Patrol led the investigation.
According to charging papers, two gang members had "engaged in a gun battle" with two members of a different gang while driving northbound on I-880 on the afternoon of Nov. 6, 2021. It was a Saturday.
During the shoot-out, one rifle round "traveled across the highway into oncoming traffic" where it went through the windshield of the Wu vehicle and struck Jasper in the head as he slept in his car seat.
The CHP later determined that the two gangs were "known rivals" who were involved in a "violent feud with shootings and murders" spanning Alameda, Contra Costa and San Francisco counties, according to court papers.
In December 2022, the Alameda County DA's office, still under Nancy O'Malley, charged Trevor Green, Ivory Wane Bivens and Johnny Ray Jackson Jr. with Jasper's murder.
According to court papers, the round that killed Jasper came from the vehicle of Chopper City gang members Green and Bivens.
Eddy Rock gang members Jackson and Keison Lee had been in the other vehicle, the CHP wrote.
Green, Bivens and Jackson have all been charged as gang members and with special circumstance allegations that could see them incarcerated for life if they are convicted, according to court papers.
All three were precluded from using guns at the time of the Wu shooting due to their criminal histories, according to charging documents.
Green and Bivens were also charged with felony conspiracy.
According to court papers, the pair had driven from Richmond to Oakland on Nov. 6, 2021, while they were armed with an AK-style rifle.
They spotted Jackson's Nissan parked outside a rival's home at about 1:50 p.m., then caught up with it on I-880 a short time later and exchanged gunfire, authorities allege.
Green and Bivens fired eight rounds, according to charging papers, hitting the Nissan several times and striking Lee in the back.
He drove himself to the hospital and survived.
Nearly a year to the day after Jasper Wu was killed, however, Lee was murdered in Oakland, the CHP wrote, before charges could be filed in the Wu case.
Green and Bivens have been charged with the attempted murders of Jackson and Lee. Jackson has also been charged with trying to murder Green and Bivens.
A raft of other serious crimes and enhancements related to firearms and gang activity have also been alleged against all three men.
On Monday, Price issued a statement to the media saying her office would be "transparent about this case as it proceeds through the justice system."
Price says she hasn't decided on Jasper Wu case
In last week's social media video, DA Pamela Price said she wanted to "clear the record" about her recent meeting with Jasper Wu's parents.
She said she had assured them during that meeting that "the men we believe are responsible for his death are charged with very serious crimes and they will be held accountable."
Price also said, however, that her office was "still reviewing" the case.
"We have not made any decisions about what charges to pursue or what not to pursue," she said in the video.
"Anytime a family loses a child or a loved one, it is a huge and terrible tragedy. Nothing will be able to take away that horrible pain," she said. "I met with Jasper Wu's family this week and told them those words. There's nothing that our justice system can do that will relieve or remove the pain of losing their child."
Price said the boy's death was "being used by people with a political agenda to divide our diverse community" and that she herself had been targeted: "The kind of racist messages that my office has received and directed at me personally is unprecedented," she said.
She denied that race had in any way influenced her approach to the case.
"My office is committed to doing our part to administer justice with a vivid understanding of the need to root out racism in our criminal system," she said, in closing.
A system out of balance?
Alex Adams, Northern California chapter president of the National Asian Pacific Islander Prosecutors Association (NAPIPA), said the group had become concerned last week about multiple issues related to the Jasper Wu case, from Price's email "to the Chinese communities" to her remarks on social media.
That included what Price had said in her video about racism, he said.
"It's very confusing when she keeps referring to eliminating racism in the system," Adams said. "This is a murder of a 2-year-old boy. I don't understand how race factors into this decision."
The group wrote to Price to open a dialogue but had gotten no answer, he said.
So it issued a statement and took its concerns to the media.
In its letter, NAPIPA said it had been disturbed by the "othering" language of Price's email ("to the Chinese communities") as well as its apparent implication that some people in the community might not understand the "basic principles" of the legal system.
In her email, Price had also claimed that "certain vocal members of the local Chinese community and media" had misled the public, NAPIPA wrote, which was a dangerous allegation that Price had not backed up with facts.
In its statement, the group called for Price to apologize for her "misleading and condescending statements."
But perhaps the biggest open question, Adams told The Scanner, is how Price will handle the wishes of Jasper Wu's family as the murder case proceeds.
It's the job of the defense, he said, to ensure that the prosecution meets its burden of proof and to seek the best sentence or dismissal.
It's the job of the judge to make sure both sides play by the rules.
"The DA's job is to pursue the truth but also to speak on behalf of the victims," he said. "If that doesn't happen, the system falls out of balance."
"The issue with the way she's handling the case means nobody is there to listen to the victim and represent the family," said Adams, who himself is a Bay Area prosecutor.
Jasper's parents have said they support the most serious charges allowed under the law — which is how the case is currently charged, he said.
But Price's comments last week, that no decisions have been made about charging, had been alarming.
Adams said Jasper's parents have now retained their own attorney, Norbert Chu, a retired Alameda County prosecutor, to ensure their rights under Marsy's Law are respected: that they are informed if a plea offer is to be made and that they will have input if that happens.
Adams said he'd also been struck by Price's remarks that there was "nothing" the justice system could do to relieve the pain of losing a child.
"You can never bring their child back," he said. "But you can try to give them some closure so they can move on with their life. And part of closure is that you get your day in court."
💡
The Berkeley Scanner is 100% member-supported. That means no ads, no spam and no distractions. Help ensure timely, accurate public safety news for Berkeley by
signing up now
.