Courts
Star witness refuses to testify in Logwood case; DA's office drops 2 murder counts, 1 remains
Judge Mark McCannon will stay on the case despite efforts by DA Pamela Price and the defense to remove him.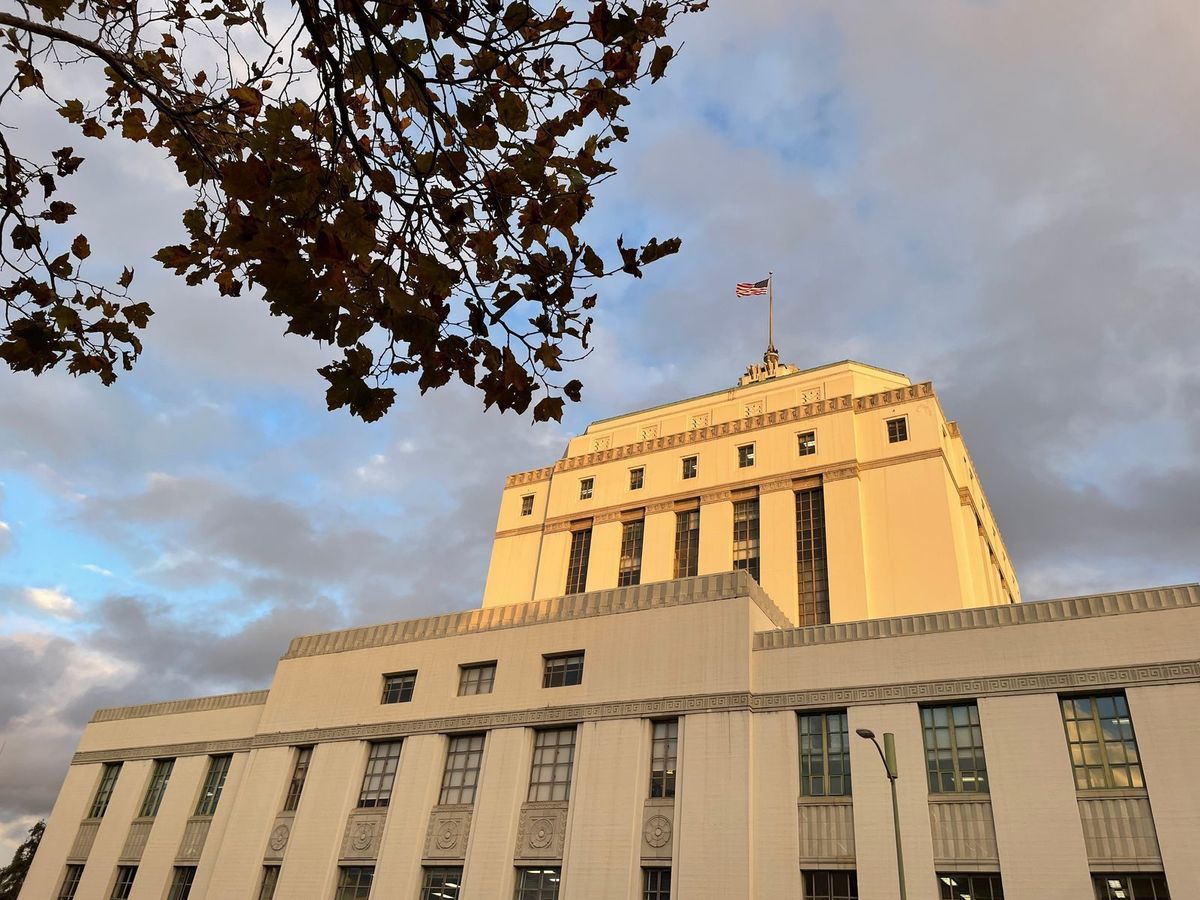 The Alameda County district attorney's office dropped two of three murder charges Wednesday in the case against Delonzo Logwood citing the refusal to testify of a key prosecution witness.
Earlier this year, Alameda County DA Pamela Price attempted to broker a 15-year plea deal in the Logwood case that sought to drop those same two murder charges and reduce the third one to voluntary manslaughter. But an Alameda County Superior Court judge rejected her deal and set the case for trial.
In the wake of his decision, Price and the defense counsel both tried to have the judge removed from the case, alleging bias.
This week, a San Luis Obispo County judge denied their motions and ruled that Judge Mark McCannon would remain on the murder case as it proceeds.
"Both parties have failed to meet their heavy burden to demonstrate on an objective basis that a person aware of the facts might reasonably entertain a doubt that the judge would be able to be impartial," Judge Roget Picquet wrote. "The presumption of judicial honesty and integrity has not been fully rebutted."
Wednesday's announcements were the latest developments in a case that has gripped headlines for months in the Bay Area and beyond, particularly in relation to the light it might shed on DA Pamela Price's new vision for justice in Alameda County.
Price was elected in November with 53% of the vote on a promise to "end mass incarceration and root out racial, socioeconomic and gender disparities within Alameda County's criminal justice system," among other goals she set out to achieve as Alameda County's first Black, progressive prosecutor.
Attorneys in the case — Nick Homer for the prosecution and David Briggs for the defense — appeared Wednesday morning before Judge McCannon and received Picquet's ruling at that time.
During the same hearing, Homer filed a new motion to drop murder charges against Logwood in relation to two men, Richard Carter and Zaire Washington, while leaving the murder charge in the killing of Eric Ford intact.
But whether Logwood will actually go to trial on the Ford murder charge remains an open question.
It's possible a plea deal could still be struck: During Wednesday's hearing, Judge McCannon encouraged Homer and Briggs to discuss the matter before returning to court Thursday morning.
When reached after the ruling, Briggs told The Berkeley Scanner that Wednesday's decision had been a long time coming.
"I've been saying this for years," he said. "I said it in February and I said it in March. It's great that the district attorney took another look at it and agreed with me."
And he said he was confident that, should the case go to trial, his client would prevail.
"Mr. Logwood is innocent of all three of the charges against him," Briggs said. "Today he was victorious on two of them, and we intend to be three for three after trial."
Carter and Washington murder charges relied on 1 witness
Delonzo Logwood, who had recently turned 18 at the time of the fatal shootings in the summer of 2008, had potentially been facing 75 years to life had he been convicted of the crimes with which he was originally charged.
Logwood was not charged with the murders — which allegedly involved a murder-for-hire plot, a carjacking and the killing of a witness to a shooting — until 2015 when he was already incarcerated and facing prison sentences for other violent crimes.
In the new prosecution motion, Homer wrote that he had been assigned to the Logwood case April 5 after the original prosecutor, Stacie Pettigrew, resigned from her job at the Alameda County district attorney's office.
The next day, Homer wrote, the attorney for the key witness informed Homer that he had "decided to refuse to cooperate" with either side. And he said that "if he was called as a witness he would refuse to answer questions."
In court papers, the star witness was identified only by his initials, "DL," "due to numerous documented threats to his safety," Homer wrote.
DL's cooperation in an earlier hearing had been secured through a reduction in his sentence, Homer wrote: That deal — which reduced his 31-year prison term to about 19 years — had included "no mechanism" for the prosecution to penalize DL for a subsequent refusal to testify at trial.
DL was released from prison in mid-February of this year.
In his motion, Homer described DL as "a cooperating coparticipant" in various crimes, including the Carter murder, "who received a substantial benefit in exchange for his testimony."
That testimony was the sole evidence against Logwood in the killings of Carter and Washington, the prosecution said.
Homer also wrote that DL's various statements included numerous discrepancies and that he had admitted to telling dozens of lies to police.
His refusal to testify, Homer wrote, "leaves no opportunity to clarify the contradictions and incorrect statements DL has made over the course of the past fifteen years."
As a result, he wrote, the DA's office had determined that it could not prove Logwood's guilt in relation to Carter and Washington "beyond a reasonable doubt."
Homer also wrote there were "significant discrepancies" in the facts of Eric Ford's homicide, between DL's testimony and other evidence, but said he would not address that in detail in Wednesday's motion to dismiss the other charges.
Alameda County District Attorney Pamela Price did not attend Wednesday morning's hearing, but a member of her transition team was in the room, according to one person who was present.
In a prepared statement Wednesday evening, Price wrote that she had learned in January "that this witness was not guaranteed to testify."
No family members for any of the victims were in court Wednesday morning.
(The Berkeley Scanner was also not in attendance.)
Homer wrote that the district attorney's office had attempted to contact the relatives of each victim multiple times to discuss the case, adding, "Thus far we have not received any reply."
As Price has announced plans to reduce prison sentences and look at alternatives to incarceration, particularly for young defendants and those struggling with mental illness, the office's approach to crime victims and their families has repeatedly drawn scrutiny.
This week, the parents of a 26-year-old loss prevention worker at Home Depot who is alleged to have been shot to death by a shoplifter in April told CBS News that they were "deeply troubled by the lack of communication with District Attorney Pamela Price and her decision to pursue lesser charges and sentencing in the case."
It's only the latest such headline to make Bay Area news since Price took office in January.
On Wednesday, Eric Ford's mother, Thea Ford, told The Berkeley Scanner that she had not been aware of what happened in court that morning.
And she said she too had struggled this year to make sense of the new DA's approach to the case.
Ford told The Scanner she had not received regular updates on the case since prosecutor Stacie Pettigrew resigned, and that DA Price's decisions often seemed to result in even more suffering for the families of murder victims.
"It just seems like a pattern," Ford said. "I don't know what to say. It's crazy."
Source protection is of the utmost importance at The Berkeley Scanner. If you have insights about the Alameda County DA's office, we want to hear from you. Contact The Scanner through our tips form or on Signal: 510-459-8325.