Courts
Charging decisions questioned after killing on I-880 of girl, 5
Sources say it is almost unheard of in the Bay Area to see charges filed without any enhancements in such a serious case.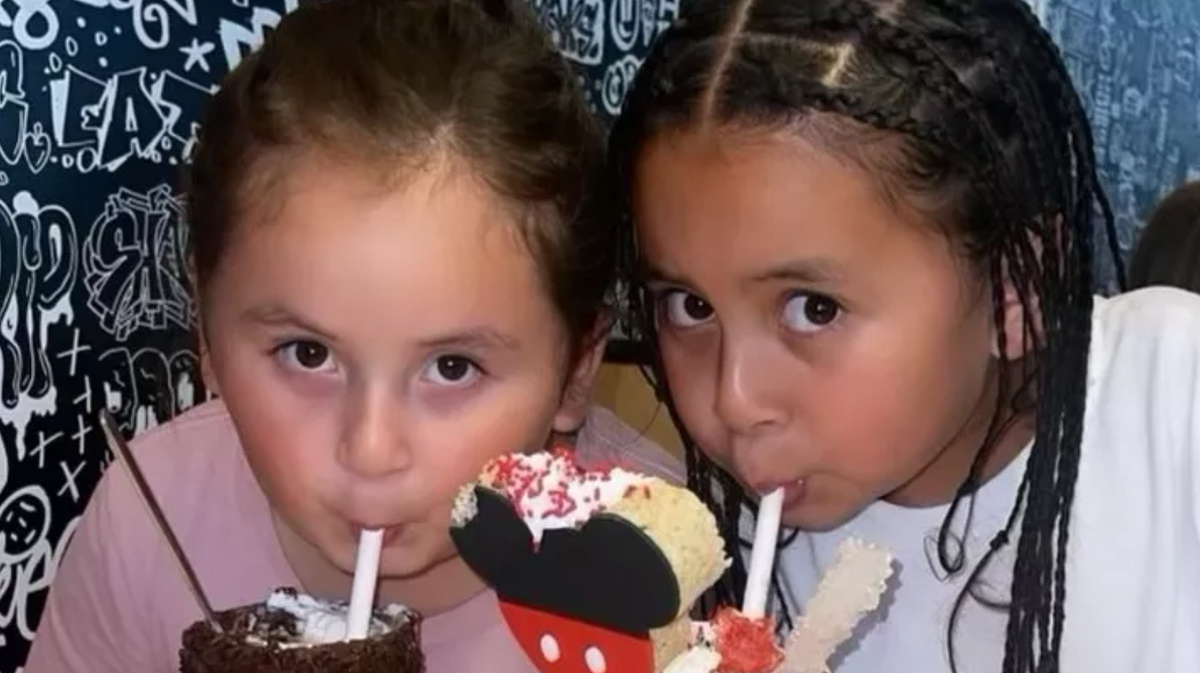 Community members and critics of Alameda County DA Pamela Price have raised questions this month about the charges that were filed after the fatal shooting on the freeway of 5-year-old Eliyanah Crisostomo.
Price has not brought any gang or gun enhancements in connection with the fatal shooting — even though the DA's office identified all three men who have been charged as Sureño gang members from Fremont.
It is almost unheard of in the Bay Area to see charges filed without any enhancements in such a serious case, said sources familiar with the matter.
And it's the first time anything like it has happened in Alameda County.
This break in precedent may be the most revealing move yet as to how Price plans to approach and overhaul criminal justice in the county.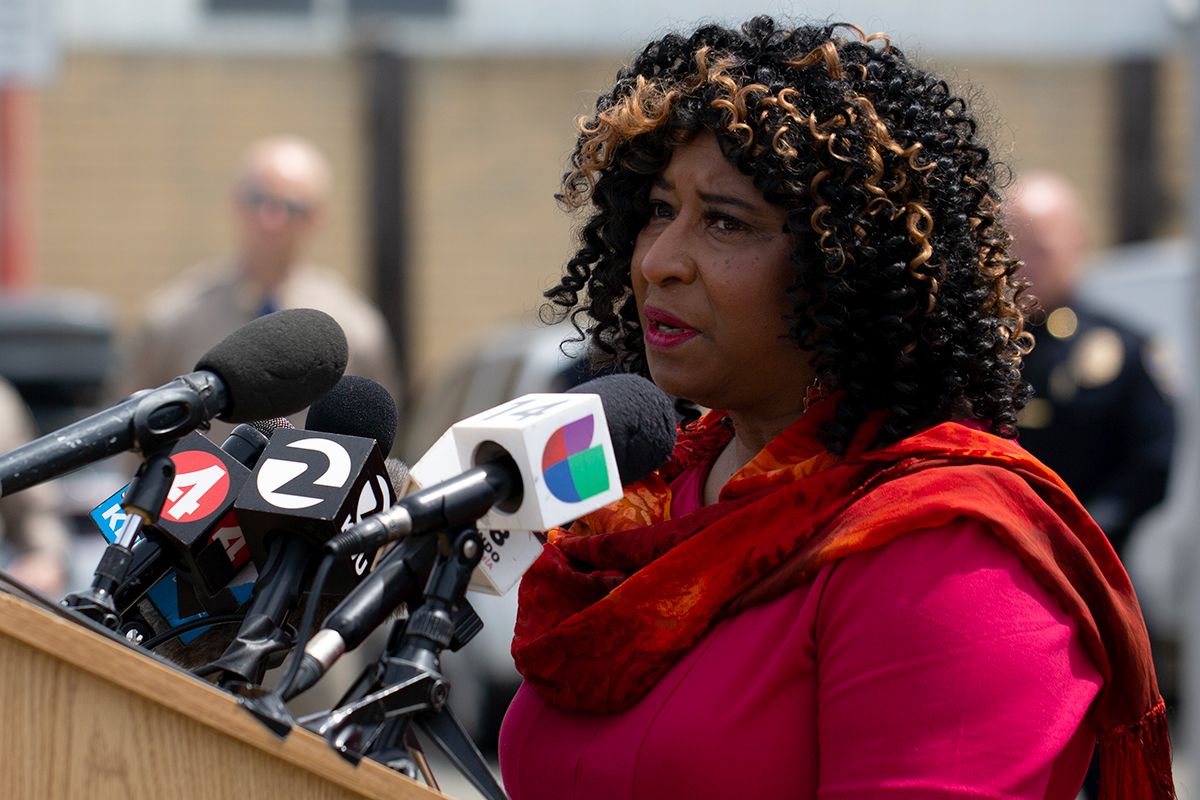 Price, Alameda County's first Black district attorney, describes herself as a progressive prosecutor whose goal is to "disrupt the system."
She won 53% of the vote in November and has said she believes she has a mandate to reshape the office.
By many accounts, however, Alameda County was already among the most progressive DA's offices in the nation when she took over.
In a directive she issued in March and recently finalized, Price took the position that sentencing enhancements, which can significantly increase prison terms, are to be avoided in most cases.
Her stated goal in taking this stance was to "bring balance back to sentencing and reduce recidivism," according to the directive, by shortening prison sentences or replacing them altogether with probation or the minimum term.
In a press conference last week outside the California Highway Patrol office in Hayward, Price said her office is still reviewing the Eliyanah Crisostomo case to decide whether charges will be added.
"We're not ruling out anything," Price said Tuesday.
But she also declined to shed light, despite inquiries from the media, as to why gun and gang enhancements have not been filed.
Gang members believed driver was a rival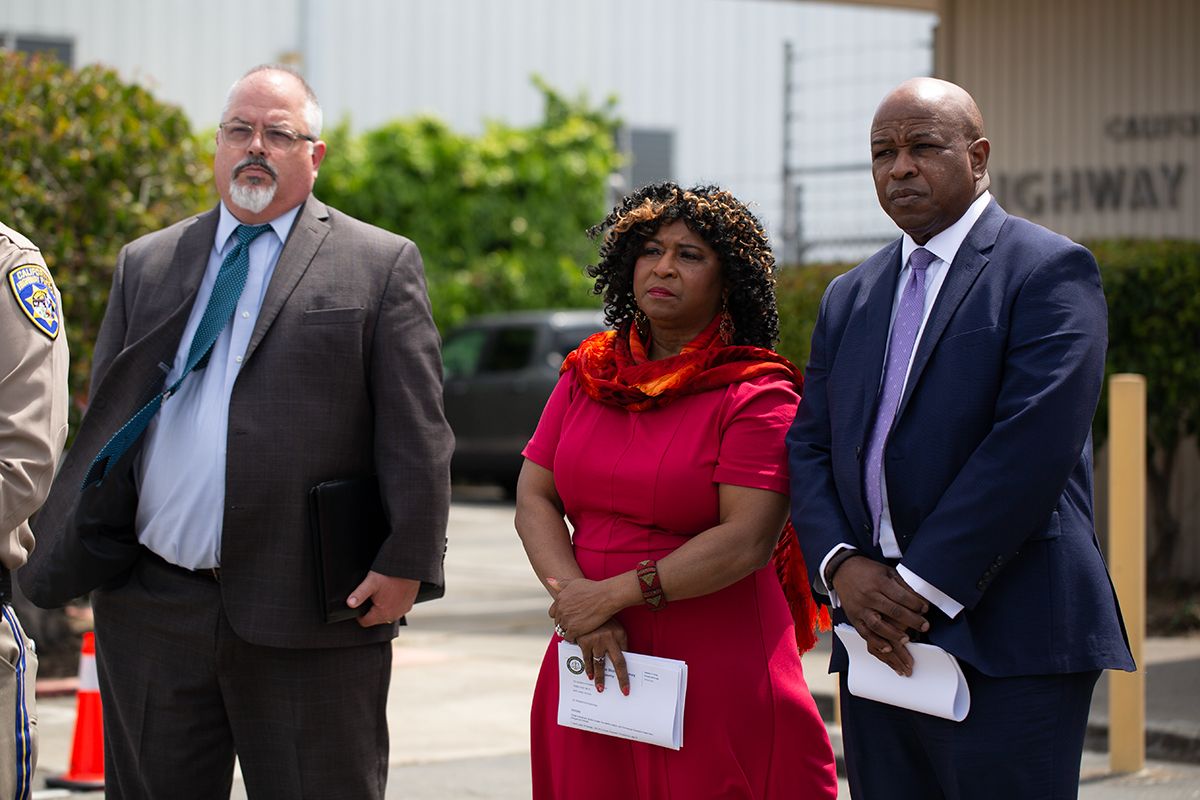 Eliyanah was killed, authorities have said, when gang members opened fire on her family's gray GMC Yukon on southbound I-880 in Fremont at about 6:40 p.m. on April 8.
Authorities have called the shooting depraved, heinous and senseless. A fundraiser for the family has raised more than $90,000 as of this week.
On the night of the shooting, the family had been heading to a birthday celebration at Outback Steakhouse in Milpitas, according to the fundraiser page on GoFundMe.
Eliyanah was sitting next to her 7-year-old brother in the rear passenger seat of the Yukon. Four other family members, including their parents and grandmother, were with them.
The kids were looking forward to celebrating Easter the next day, and Eliyanah's 6th birthday on April 21.
As they headed down I-880, according to court papers, three men pulled up on the driver's side of the Yukon. They "started to put up gang signs" when they saw the driver and believed he was a rival Norteño gang member.
One of the men, 29-year-old Humberto Anaya of Fremont, later told police that he brandished a 9 mm firearm at the Yukon while the driver — 25-year-old Kristo Ayala of Pleasanton — fired three rounds at the SUV from a .45-caliber Glock before speeding off.
Authorities say one of the rounds struck Eliyanah in the heart, critically wounding her. Moments later, her family spotted a CHP officer parked on the side of the freeway.
"They pulled over, grabbed their young daughter and handed her to the CHP officer," said CHP Golden Gate Division Chief Emery Beauchamp during last week's press conference. "He did everything he could to try to help her and requested medical services. Unfortunately, as we all know, this young girl passed away."
Fremont shooting prior to I-880 shooting provided key clues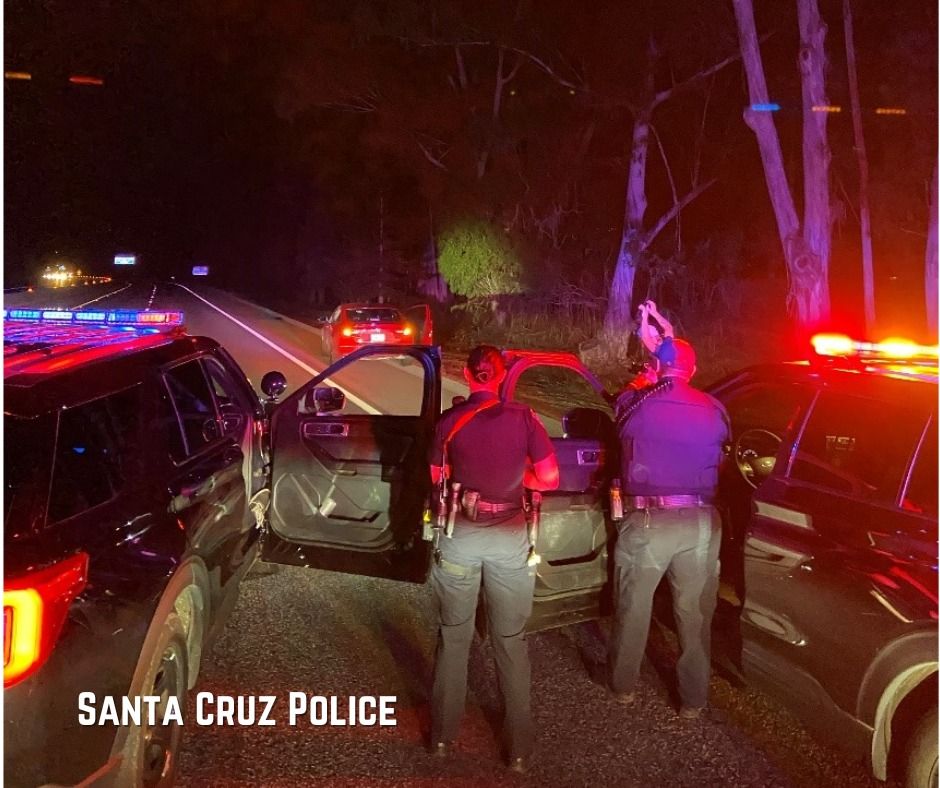 During the press event, authorities described how they had pieced together the case against Anaya, Ayala (who has also been identified as Kristo Ayala Valderrama) and 27-year-old Emmanuel Sarango of Fremont with the help of surveillance footage and forensic evidence.
Fremont Police Chief Sean Washington said the group had been caught by two "community cameras" at a different crime scene in Fremont shortly before the freeway shooting.
"I'm saddened that we have to be here to once again speak about ridiculous and unacceptable violence by individuals utilizing guns to commit crimes," he said. "These are bad people. And I am grateful they are no longer in our communities causing harm."
Authorities have said that Anaya, Ayala and Sarango had been driving on city streets in Fremont at 6:25 p.m. April 8 when they spotted a man wearing red walking on Fremont Boulevard.
(Red clothing is generally associated with Norteño gang members while Sureños often wear blue.)
One of the men told the pedestrian he was "wearing too much red" and the group jumped out of the car, authorities say.
One of the men, identified as the driver, shot at the victim but missed him as he ran away, police say.
Police were able to identify the car, a red Honda Accord and its full license plate, through surveillance footage.
They put the information into a law enforcement database and listed it as a felony attempted murder vehicle, which alerted other agencies to watch out for it.
The fatal freeway shooting happened a short time later on I-880 southbound about 10 miles away.
About three hours later, at 9:30 p.m., police in Santa Cruz stopped the Honda, which turned out to be a rental, after a short pursuit that began on Highway 17.
During the chase, authorities say, officers saw the group discard a firearm from the Honda.
Authorities credited the Scotts Valley Police K9 team with finding the gun, a black semiautomatic handgun, "after an extensive search."
A second firearm was later recovered by the CHP.
Beauchamp, the CHP division chief, explained during the press conference how investigators spent the next five days focusing on collecting forensic evidence, "closing down the freeway to look for shell casings, to look for DNA evidence, to look for guns," he said. "We were able to find evidence that helped with this case."
Price: "No family should have to experience this"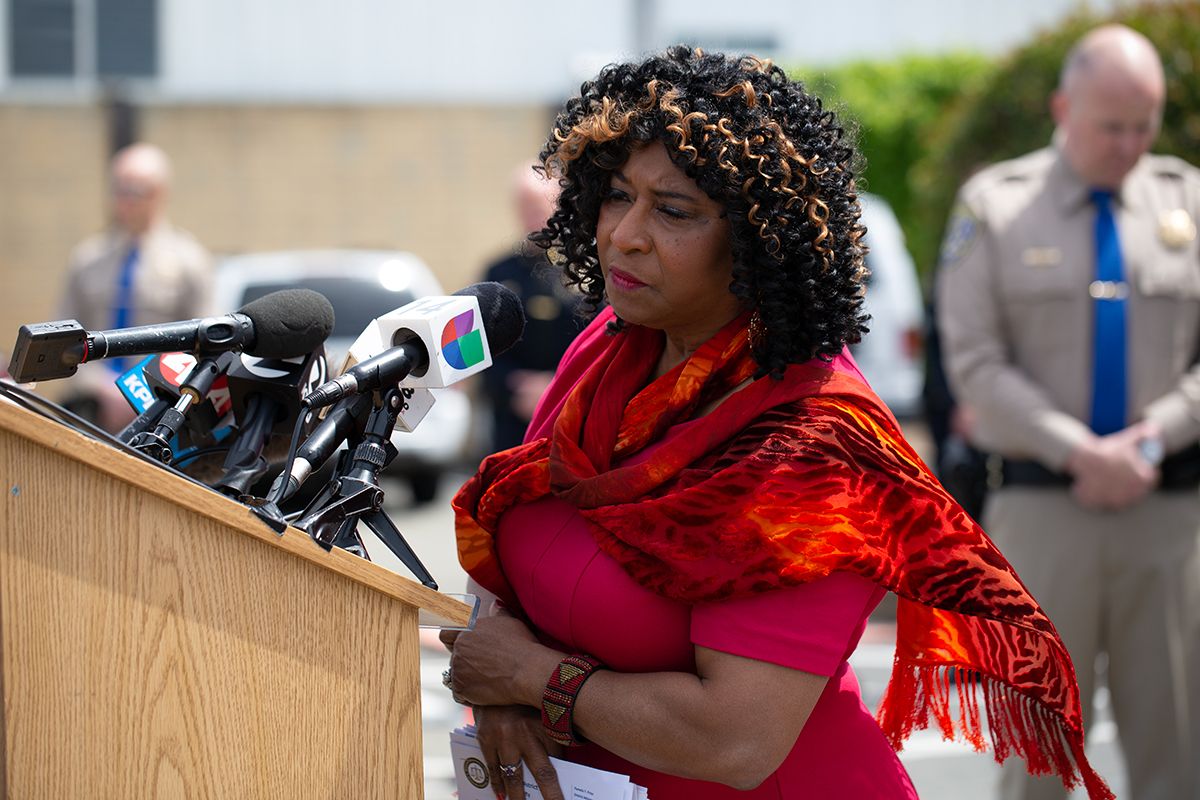 Alameda County District Attorney Pamela Price spoke last, describing how all three men from the Honda had been charged with Eliyanah's murder as well as six counts of shooting at an occupied motor vehicle in relation to the GMC Yukon.
(They have actually been charged with seven counts of shooting at an occupied vehicle, but this may well be a mistake as there were only six people in the Yukon. The Alameda County DA's office has been unable to provide clarification.)
All three men also were charged with assault with a semiautomatic firearm in connection with the Fremont shooting.
Only Ayala and Anaya were charged with carrying a concealed firearm in a vehicle and carrying a loaded firearm.
"No family should have to experience this," Price said at least week's press event. "No mother, no grandmother should have to be riding in a car and discover that your child has been shot by someone that you have no idea and no sense, no warning whatsoever, that this would happen."
Price said each man now faces "a minimum of 42 years to life" in prison.
Critics say missing charges may weaken the case
But other prosecutors who reviewed the charges filed said the minimum possible sentence is actually probation — because no enhancements were charged and no aggravating factors were listed in the complaint.
(The Scanner granted several people anonymity in relation to this story due to their concerns about possible workplace retribution.)
Murder only requires a sentence other than probation if there's an enhancement alleged.
Enhancements and clauses related to the use of firearms, great bodily injury or gang ties could result in indeterminate life sentences (some period of time "to life") for all of the defendants, attorneys said.
And if the case were to be charged with gang enhancements, the alleged killer — who has been identified by at least one witness as Ayala — could face life in prison without parole.
But none of those has been filed.
The maximum sentence the men could get, sources said — not the minimum, as Price said — is 42 years to life according to how the case is currently charged.
The bare-bones charges, sans enhancements and clauses, weren't the only unusual feature of the complaint, sources said.
One veteran prosecutor noted how the complaint includes references to a code section that has not been used before in Alameda County. It states that conviction for the shooting counts would result in a "presumptive minimum jail time" of six months.
That signals that six-month sentences are a possibility for those counts, the prosecutor said.
One person also noted that, without gang charges, it may be difficult to bring in any evidence related to gangs or motive.
"Her charging decisions will affect her ability to prove the case," the attorney said.
Although Price's directive seeks to minimize enhancements, it also states that they "may be allowed on a case-by-case basis in cases involving the most vulnerable victims and in specified extraordinary circumstances."
It would seem that the killing of an innocent child on the freeway could qualify as an exceptional circumstance.
Price skeptics have said that the lack of enhancements in Eliyanah's case can only mean that there is "no such thing" as extraordinary circumstances.
And they questioned whether Price is truly open to filing additional charges in the future.
If not, they said, the community has the right to know.
"My thought is, be brave enough to say it. Have the courage of your convictions," one person said. "If you have a mandate, say it."
"Gang-related" shooting — but no gang enhancements?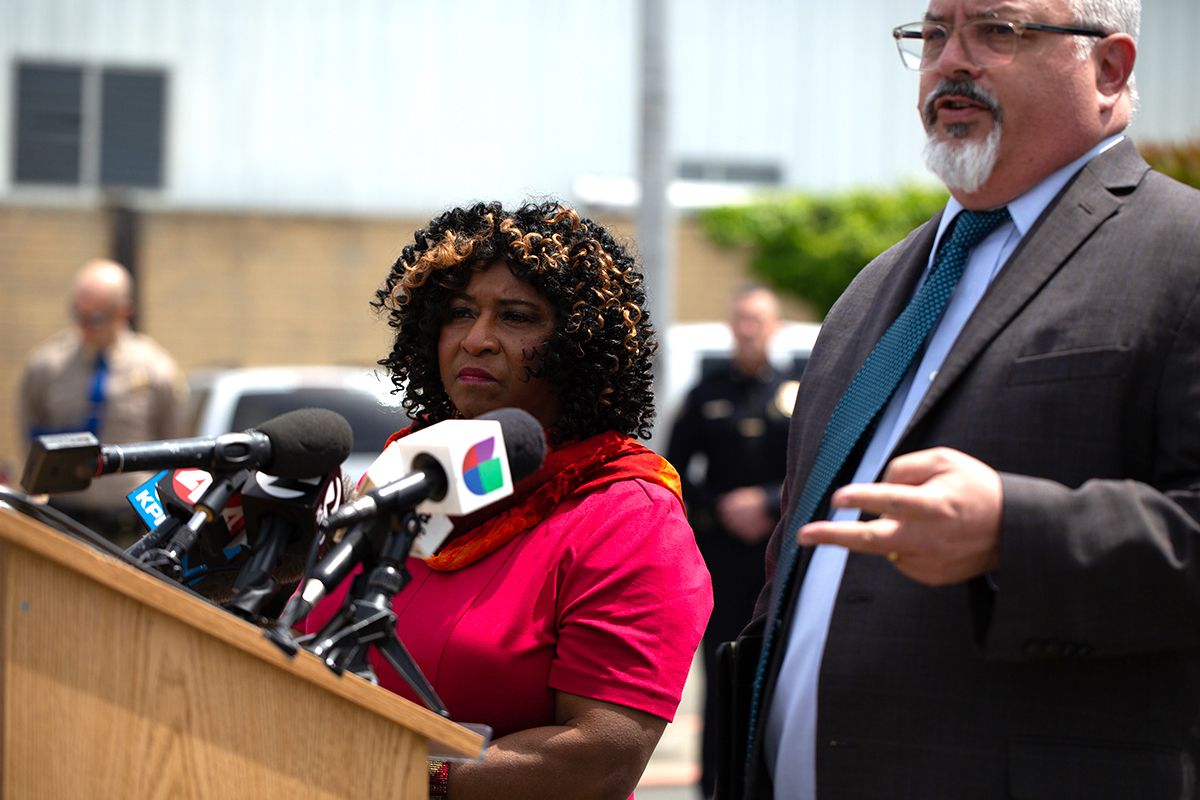 Over the past week, many people have wondered why gun and gang enhancements have not been filed given the evidence in both cases.
Anaya reportedly told a detective, according to court papers, that he and his associates were Sureños who targeted the Yukon because "they believed the driver of the victim vehicle was a Norteño."
Last week, the CHP said there was clear gang affiliation among the trio and called Eliyanah and her family "innocent victims."
And Fremont police definitively described the shooting attempt in their city as gang-related.
During Tuesday's press event, however, chiefs Beauchamp and Washington each made it clear that charging decisions are out of their hands.
"We provide the facts. We provide the information. We turn that over to the district attorney to make a decision," Washington said. "We can only control what we can control — and that's putting together a solid case for the district attorney to consider and then allowing her to take it from there."
Read more about Pamela Price on The Berkeley Scanner.
Assistant District Attorney Casey Bates, who signed the charging papers and heads the DA's Fremont branch, also fielded several questions during Tuesday's press event.
In response to a question from The Berkeley Scanner, Bates said he had asked for enhancements or clauses to be filed, in line with Price's directive on charging.
"The directive of Madame DA is that, in all cases where enhancements are requested, or clauses requested, that it run through a chain of command," Bates said. "And in this case, that's what was done."
Bates said he was subsequently told that "the situation is under ongoing investigation."
"These are important decisions that have to be made over a period of time and not at the moment of charging," he said Tuesday. "I have never received any statement that anything is foreclosed."
Other prosecutors pointed out in recent days that it's not always easy to add charges to complaints — that a judge must approve the changes and that the defense can object.  
Critics have also noted that the Price directive added layers of review to charging decisions. That now often means that prosecutors who ask to pursue stricter penalties never get a response, say sources in the DA's office who are familiar with the new practices.
"We aren't allowed to use the penal code the way other district attorneys' offices are," one person said previously.
Is Eliyanah's case a blueprint for Price's vision?
Many people have drawn parallels between Eliyanah's killing and the fatal freeway shooting of 23-month-old Jasper Wu, in which gang and gun enhancements were filed by Alameda County's former DA in December.
And they have said they believe Eliyanah's case may provide a blueprint for what Jasper's case might one day look like.
Community members, including the Wu family, have been raising concerns for months about the fate of the case given Pamela Price's vision for the office and her focus on reducing prison sentences.
The Wu family has made it clear that they are hoping for "the maximum sentencing allowable under the law," which is how the case is currently charged.
Some say they believe Price plans to drop charges or enhancements in Jasper's case as it moves through the legal system.
Those concerns were sparked, at least in part, by an email Price sent "to the Chinese communities" earlier this year in response to an inquiry about Jasper's case, ABC 7's Dan Noyes reported in March.
The email referenced the concepts of "broader possibilities for healing and non-carceral forms of accountability," which many took to mean there might be no jail time for Jasper's killers.
Those concerns have become even more pressing with Jasper's case set for a major hearing over the next week: An Alameda County Superior Court judge is slated to decide whether the case will proceed to trial and whether the current charges hold up.
(The Berkeley Scanner will be in attendance.)
Motion to strike hearing comes May 12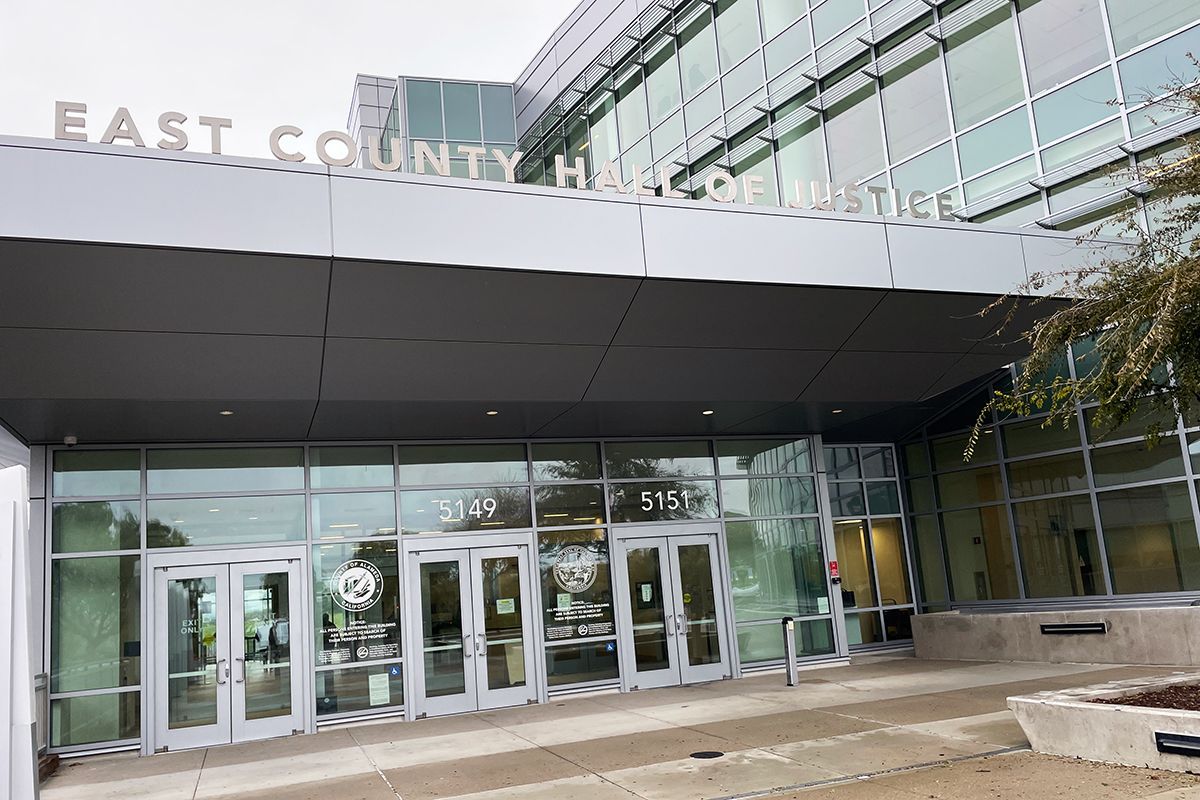 As for Eliyanah's case, all three men charged with her murder entered not-guilty pleas last week.
They are set to return to court May 12 at the East County Hall of Justice in Dublin and have filed a motion to strike counts five through 11, which relate to shooting at the GMC, according to court records.
Last week, DA Pamela Price said her office "is committed to doing as much as we can to eliminate and reduce gun violence in this county wherever it exists, whether it's on the streets, in your home or on the freeway."
"Wherever it happens," she said, "we have to stop it."
Beauchamp, the CHP Golden Gate division chief, said the agency would continue to use technology and work closely with its law enforcement partners to solve crimes on the freeway as they happen.
Shootings on state highways have become a growing problem in California.
The East Bay Times reported last week that there have been 32 confirmed shootings on Bay Area freeways so far this year compared to nine over the same period in 2022.
As a result, Beauchamp said during last week's press conference, the governor's office has allocated more than $10 million to help tackle "highway violence" around the state.
Beauchamp said the safety of Bay Area freeways is his division's "No. 1 priority" and that he hoped Eliyanah's loved ones might take comfort in the progress on the case.
"I only hope this brings some sense of closure and some sense of hope to this family to know that these individuals are behind bars," he said, "and that they won't be able to do this to anyone else."
Note: The Scanner updated the details regarding the motion to strike in the hours after publication.
Source protection is of the utmost importance at The Berkeley Scanner. If you have insights about the Alameda County DA's office, we want to hear from you. Contact The Scanner through our tips form or on Signal: 510-459-8325.