Disaster preparedness
Lightning strikes Berkeley during 'bomb cyclone' storm
According to the National Weather Service, there were three lightning "flashes" — two that hit the ground and a "cloud pulse."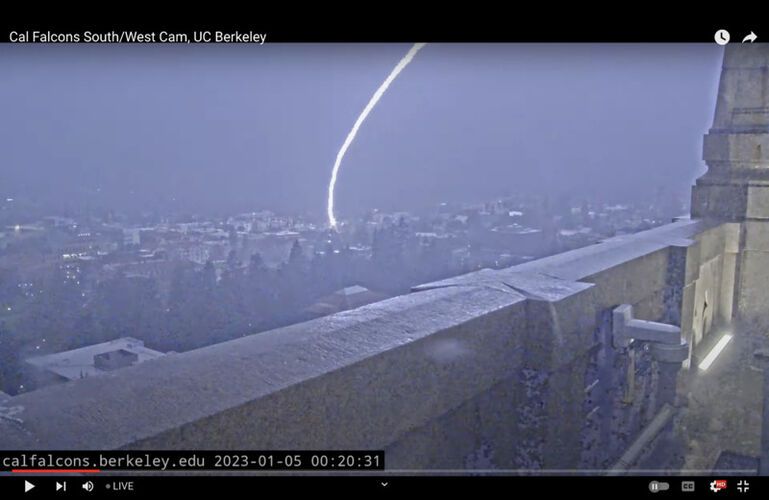 Three lightning "flashes" hit Berkeley almost simultaneously early Thursday morning, setting off car alarms and sending fear and excitement through the city.
According to the National Weather Service, there were two flashes that hit the ground as well as a "cloud pulse," where an electrical charge moves from one side of a cloud to the other.
The flashes came within milliseconds of each other at 12:20 a.m., according to one community member who was closely tracking the weather.
Local resident Ingar Shu captured a dramatic image of the lightning strike in Berkeley from one of UC Berkeley's beloved Cal Falcon cams.
Reacting on Twitter immediately after the lightning flashes, many local residents said they had never seen anything like it.
"I'm not 100% sure, but I think lightning struck my building," one local resident wrote. "Was reading in bed and there was a huge flash of light and simultaneous massive CRACK noise. The power clicked off and on and then the building fire alarm went off."
The Berkeley Scanner posted blow-by-blow updates on Twitter during the height of the storm, but weather activity had largely tapered off by about 8 p.m. Wednesday.
Shortly before midnight, however, NWS Bay Area warned that several lightning strikes had been detected in a storm near Half Moon Bay that was "moving northeastward into the SF Peninsula."
The storm appears to have reached Berkeley about 30 minutes later.
Twitter exploded with reports of the dramatic moment lightning struck followed by an intense wave of prolonged rolling thunder.
According to lightningmaps.org, there was a strike within a large radius of Cragmont Avenue near Regal Road, one in Tilden Regional Park and one that was recorded over an area that included northwest Berkeley.
A different app put the locations at Rose and Spruce streets and at Delaware Street and MLK, a reader told The Berkeley Scanner. Residents living in the neighborhood just north of the UC Berkeley campus wrote that they had never seen lightning so close.
"This definitely felt like the 'bomb' part of the #BombCyclone," wrote Alissa McLean on Twitter, adding "not used to thunder and lightning here."
"OMG lightning just blasted like a bomb right outside it was intense it knocked the power out and it came back on my heart is pounding," one resident wrote.
Thunder came moments after the lightning struck.
"I think that was the loudest thunder I have ever heard," a community member wrote. "It had maybe a 1-2 second delay from the lightning. The cat is cowering under a bookshelf."
"All the car alarms are going off. I never had thunder hit that close to me before," wrote Darrell Owens.
Lightning is rare in the Bay Area due to the typical height of the cloud base here, the National Weather Service said.
On Thursday afternoon, NWS meteorologist Brayden Murdock said it was "not uncommon" to have seen lightning in the storm given the nature of the recent weather.
The powerful storm, known as a "bomb cyclone," was the result of a strong "atmospheric river": which are "long, narrow regions in the atmosphere – like rivers in the sky – that transport most of the water vapor outside of the tropics," as defined by the National Oceanic and Atmospheric Administration.
Murdock noted that cloud pulses are more common than lightning strikes that hit the ground.
Wednesday's storm knocked out power to thousands of Berkeley residents and strong winds downed numerous trees and power lines. The Berkeley Hills were particularly hard hit.
Power out on my block. Except my house. pic.twitter.com/CTPDBqY2nM

— Ariel Nava Photo (@arielnavaphoto) January 5, 2023
The largest power outage likely was caused by damage to a downed high-voltage power line on Campus Drive, authorities said. One community member in the neighborhood said her power came back on at about 10 p.m.
More than 600 properties in the northeast corner of the city, in the Berkeley Hills, are still without power as of Thursday afternoon, according to PG&E's outage map.
Some residents have been without power since about 6 p.m. Wednesday. According to the outage map, their power may not come back on until 5 a.m. Friday.
The outage appears to have been caused by an "equipment issue," PG&E wrote on the outage map.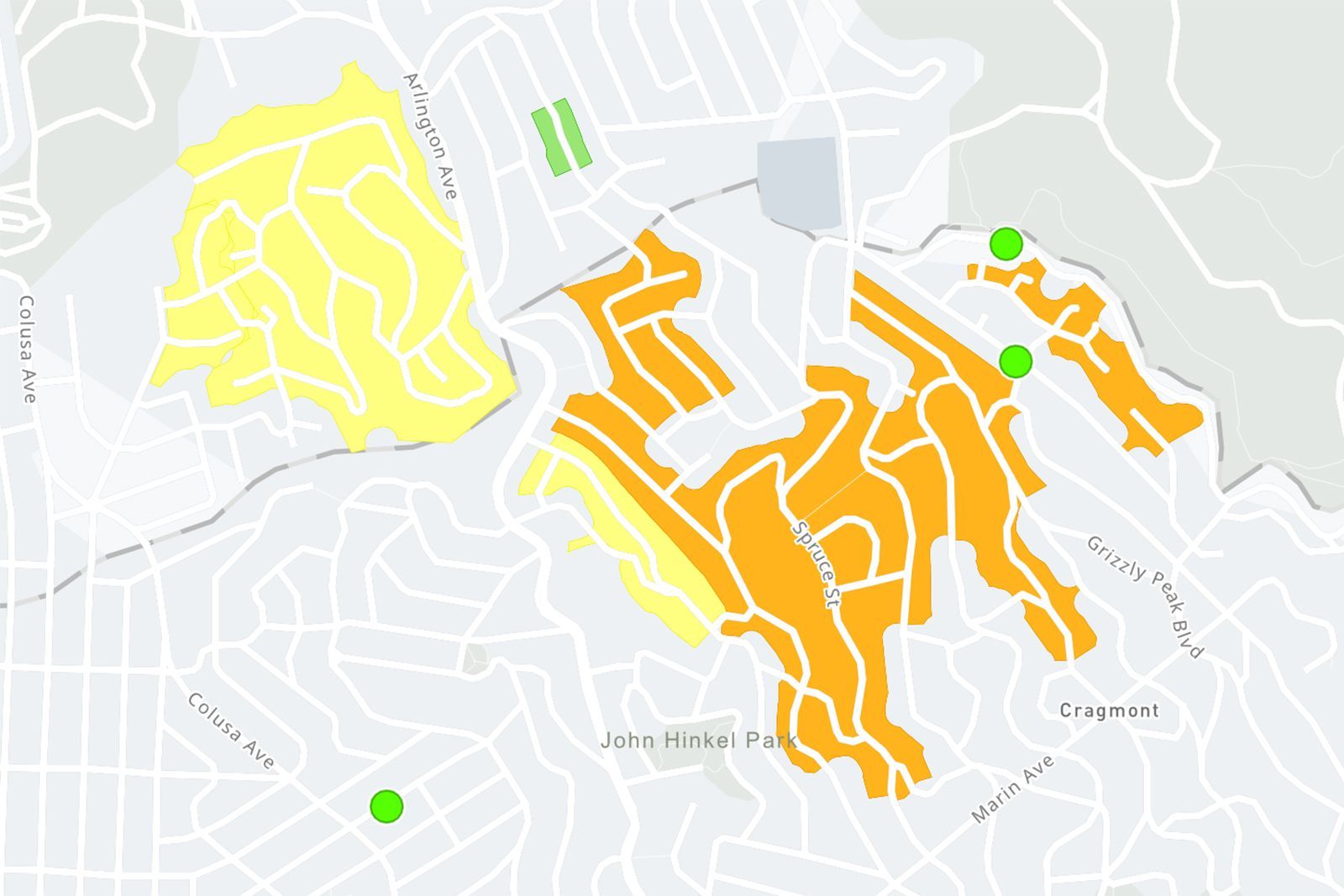 A separate outage, on and around Shasta Road, is affecting 235 more households, according to the outage map. That outage — also due to an "equipment issue" — began Wednesday at about 3 p.m. and currently has a restoration time of 6 p.m. Thursday.
(Update: As of 12:05 a.m. Jan. 6, the power was still out, with an expected restoration time of 2 a.m., according to the PG&E outage map.)
Community members in the outage area have expressed frustration about the lack of communication from PG&E as well as the agency's slow response.
"They're severely underperforming for our neighborhood," one local resident told The Berkeley Scanner on Thursday afternoon. "It's inconvenient for my family, but presumably no power for 36 hours puts seniors and people with medical issues at risk."
Councilwoman Susan Wengraf, who represents the Berkeley Hills, said she spoke with PG&E about the outage at about 3 p.m. Thursday. She said she had been told at least one power pole needed to be replaced for power to be restored.
"I'm very concerned because we have many older people who live in the hills and it's cold and they don't have heat, if they have electric heat," she said. "I don't think anybody was prepared to go without power for 36 hours, and that's what it's looking like it's going to be."
She said she was also concerned about inaccuracies in the PG&E outage map, as far as both the blocks that lost power and the time the outage started.
Wengraf said she told PG&E about the issues and had been promised a response.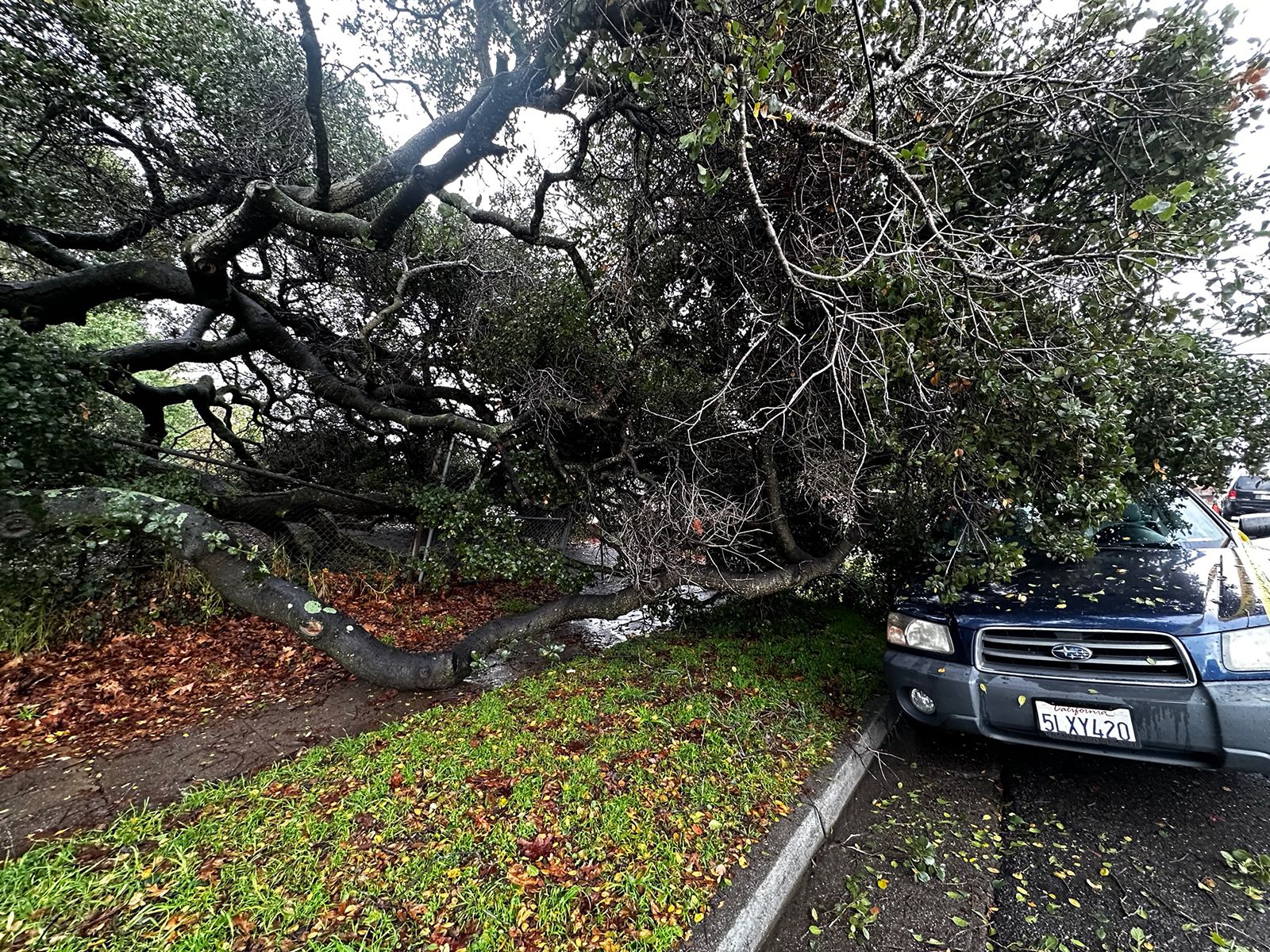 On Wednesday during the height of the storm, firefighters responded to a near-constant flow of weather-related reports from about 6-8 p.m.
Battalion Chief Nate Girard of the Berkeley Fire Department said BFD had gotten about 76 calls for service over a 24-hour period. About 40 of those calls were storm-related.
Most of the calls in Berkeley were for downed trees and wires. A couple of trees did hit homes, he said, but none caused significant enough damage to require relocation.
A tree did fall at Merced and Madera streets that totaled a car, one resident told The Berkeley Scanner.
The city did not see significant flooding that required a BFD response, he said.
"It was 'standard busy' for a storm night," said Girard.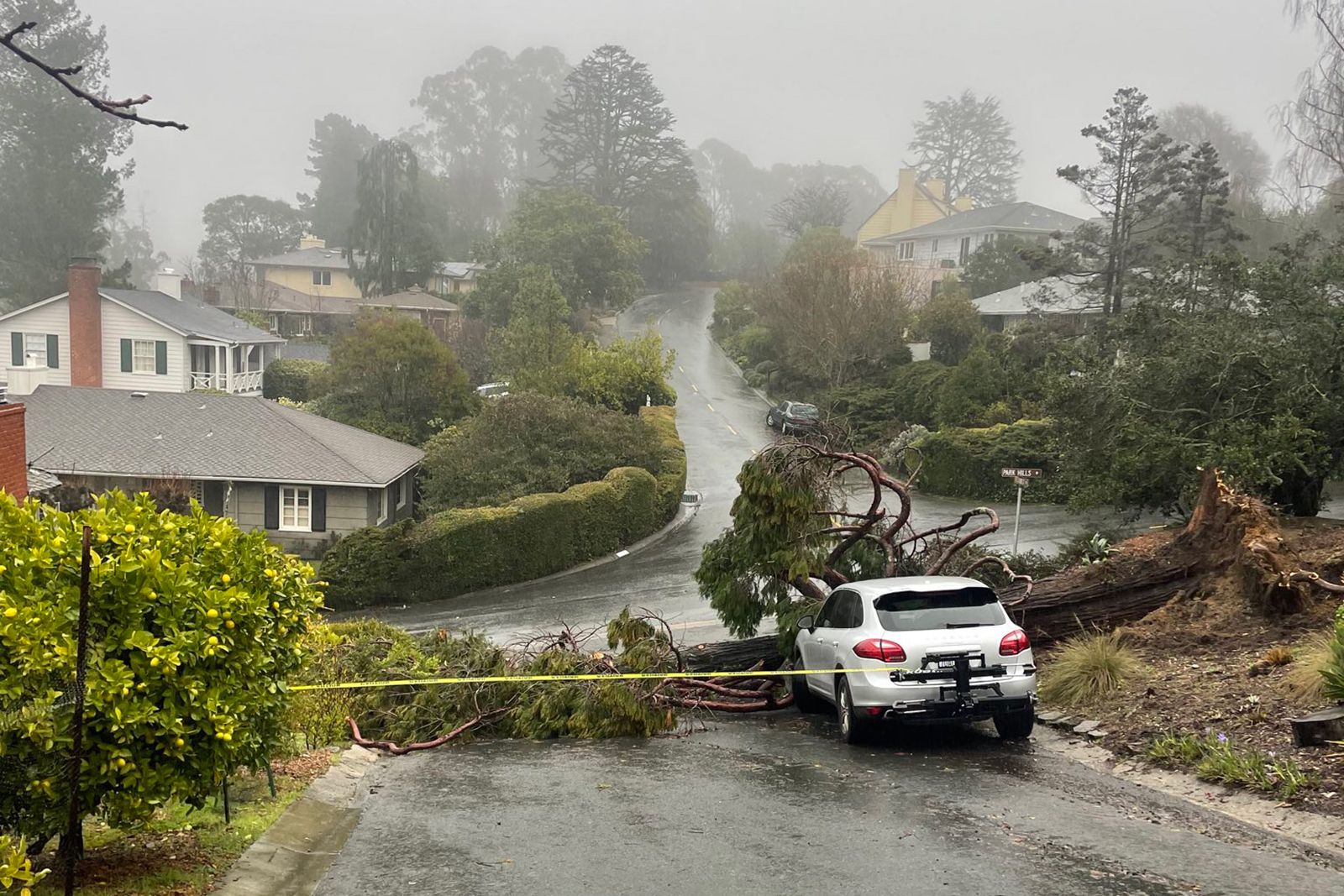 BFD had added staffing in preparation for Wednesday's storm, including a two-person patrol unit to help with downed wires and trees.
As of Thursday afternoon, roadways were largely clear, he said.
The city of Berkeley set up an emergency operations center on Fourth Street on Wednesday to deal with storm-related impacts.
The city has asked community members to report continuing non-emergency weather-related issues, such as fallen trees blocking streets and sidewalks, failed traffic lights and clogged storm drains by calling 311 (or 510-981-2489).
Murdock, the NWS meteorologist, said there would continue to be showers and storms Thursday, along with some flooding throughout the region, but "the heaviest of heavy rain went last night."
There will be more rain in the Bay Area from Saturday to Sunday, he said, but it will be more modest than this most recent storm.
Peak wind gusts during the storm reached 101 mph in Marin County, according to NWS Bay Area.
Murdock said this coming weekend will be "breezy but not as strong as yesterday's wind."
Next week has a similar forecast.
"It's basically just going to be a very wet week ahead of us," Murdock said.