Disaster preparedness
UPDATE: Thousands lose power from the Berkeley Hills north to Kensington, El Cerrito
A massive power outage left more than 5,500 PG&E customers, mostly in the Berkeley Hills and to the north, without electricity.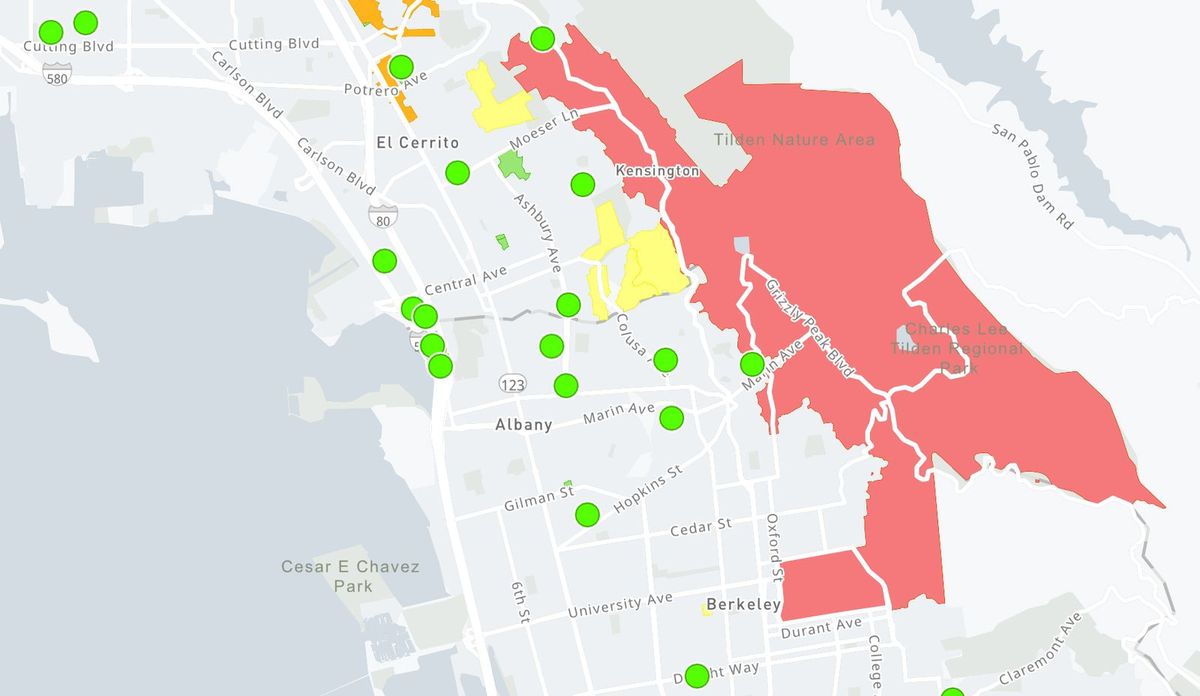 Update, 8:35 p.m. Nearly 5,500 customers, mostly in the Berkeley Hills and north to Kensington and El Cerrito, lost power due to Wednesday night's storm, according to the PG&E outage map.
Update, 8:05 p.m. First responders are staying busy in the Berkeley Hills with reports of downed trees and power lines as Wednesday night's winter storm moves through the Bay Area.
As of 7:50 p.m., the Berkeley Fire Department was responding to a high-voltage power line down on Campus Drive near Shasta Road, according to emergency dispatches reviewed in real-time by The Berkeley Scanner.
One firefighter getting back to his station around that time said it was operating on generator power.
"I took a cruise on Grizzly Peak," one of his colleagues replied over the radio, "most of the top is out."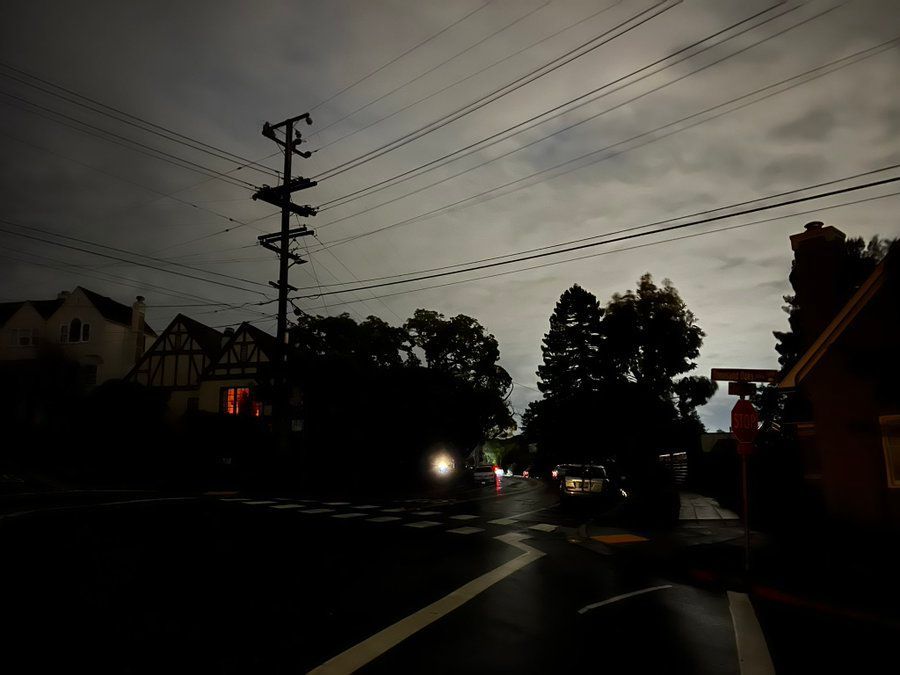 Residents in North Berkeley and the Berkeley Hills began experiencing power outages at about 5:45 p.m.
PG&E's outage map indicated that somewhere between 1,000-2,000 customers in Berkeley had lost power as of 7:45 p.m.
The Berkeley Scanner is reporting live storm updates on Twitter as they come in.
Power out on my block. Except my house. pic.twitter.com/CTPDBqY2nM

— Ariel Nava Photo (@arielnavaphoto) January 5, 2023
One of the first notable weather reports to come out over the radio Wednesday evening was at 5:40 p.m. when police noticed at least 6 inches of water on Ashby Avenue near Seventh Street.
"Hazardous condition" reports began coming into the Berkeley Fire Department more frequently at about 6 p.m., from power lines "arcing and sparking" to downed trees, including some that came down into buildings. They did not slow until around 8 p.m.
There have been multiple reports of trees down and blocking city streets, including on Marin Avenue just past Spruce Street and on The Shortcut near Park Hills.
City staff launched an emergency operations center Wednesday, involving staff from multiple city departments including Public Works, to address weather-related impacts during the storm.
The Berkeley Scanner will continue to post notable updates as they come in.
Berkeley braces for Wednesday's winter storm
Original story, 11:13 a.m. Community members have begun reporting power outages in central and South Berkeley — although information from PG&E appears to be sparse.
PG&E's outage map usually shows the total number of customers in a city who are without power, but that information was missing as of publication time.
The map shows areas of Berkeley that are experiencing a power outage — but does not prominently display exactly how many customers are affected.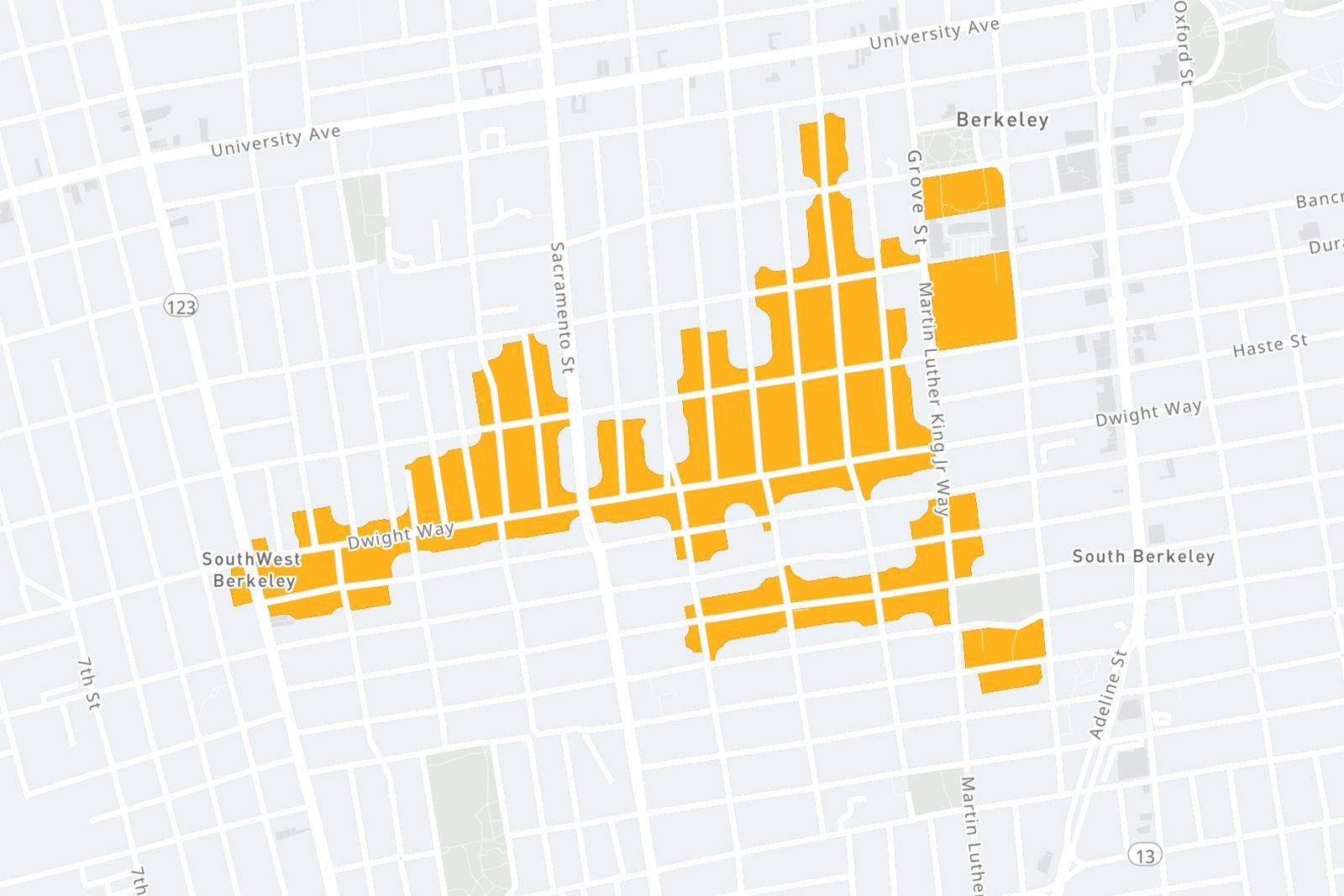 According to color coding on the map, the number of customers in Berkeley without power is somewhere between 500 and 5,000.
A less obvious dropdown menu discovered after publication indicates that at least 1,700 customers are impacted.
The Berkeley Scanner has asked PG&E for clarification about why the usual tools were unavailable.
The Scanner has gotten reports of power outages from readers at Grant and Dwight, Berkeley High, Channing and McGee, and Dwight near San Pablo Avenue, among other locations. Reports began coming in at about 10:40 a.m.
Berkeley storm and weather resources
With Wednesday's storm looming, the city of Berkeley has published a resource guide showing useful information.
A flood watch, high wind warning, gale warning and airport weather warning are in effect in Berkeley until Thursday.
On Twitter, NWS Bay Area and the city of Berkeley are posting weather updates. The Berkeley Scanner, also on Twitter, will be keeping a close eye on the storm this afternoon.