Shootings
A final farewell: Youth pastor Isamaeli 'Eli' Mata'afa laid to rest
"He wanted to be a part of change," his sister said. "He wanted to offer everybody in our community what we were offered. It was his passion."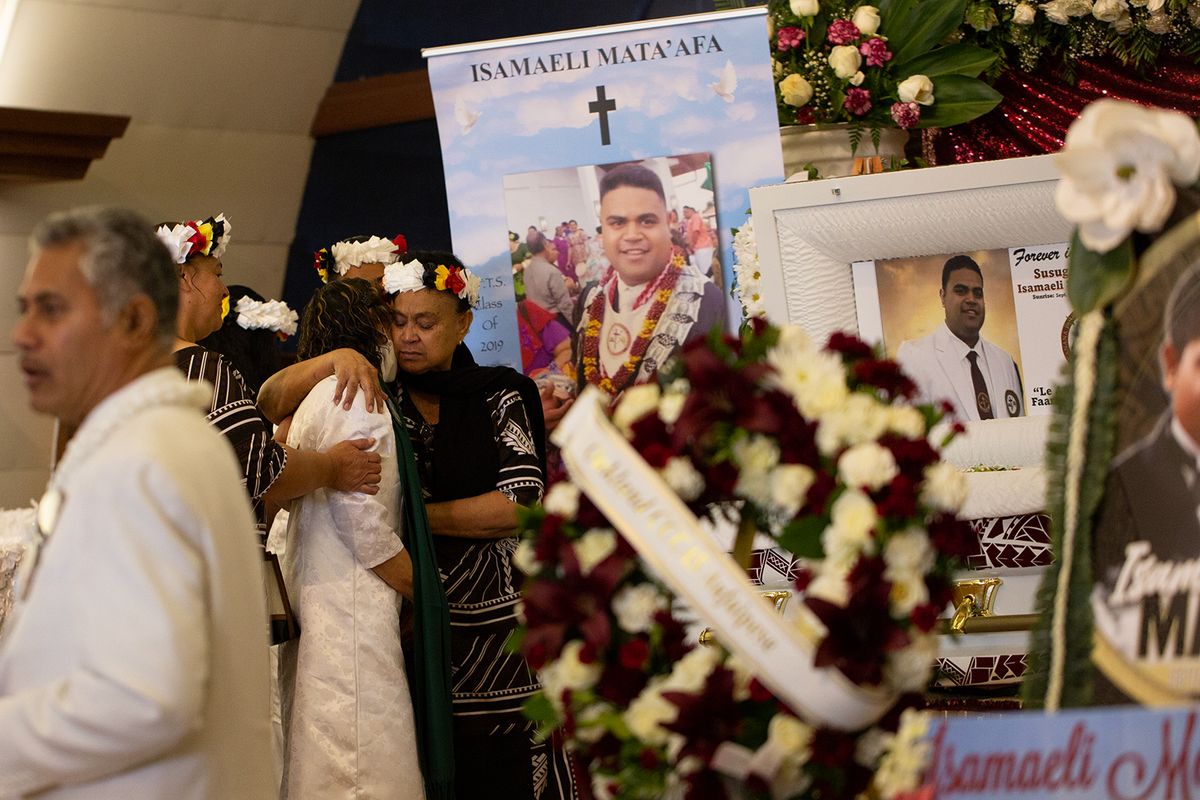 Family and friends came together in recent days to remember Isamaeli "Eli" Mata'afa, a youth pastor from Union City who was killed on Telegraph Avenue in Berkeley last month.
Mata'afa, who was just 29 years old, touched so many lives that the family held three services to ensure that everyone who wanted to share eulogies for him had time to speak. Some came from as far as the Pacific Islands to pay their respects.
Services took place Friday and Saturday at the Samoan Congregational Christian Church in San Lorenzo. Mata'afa was buried in Hayward at Chapel of the Chimes on Saturday afternoon.
Mata'afa was Samoan and Tuvaluan and the services for him took place mostly in Samoan. On Saturday, Rev. David Vásquez-Levy delivered his eulogy for Mata'afa in English.
Vásquez-Levy is the president of the Pacific School of Religion (PSR) in Berkeley where Mata'afa was a star student.
"Today is wrong. It is simply wrong to gather to grieve and to bury a child with so much life and so much promise," said Vásquez-Levy. "It is wrong to gather to bury and to remember Eli on a day and at a time in which we should be preparing to celebrate the conclusion of his studies at PSR and his desire to prepare himself to serve young people in this congregation and throughout this community."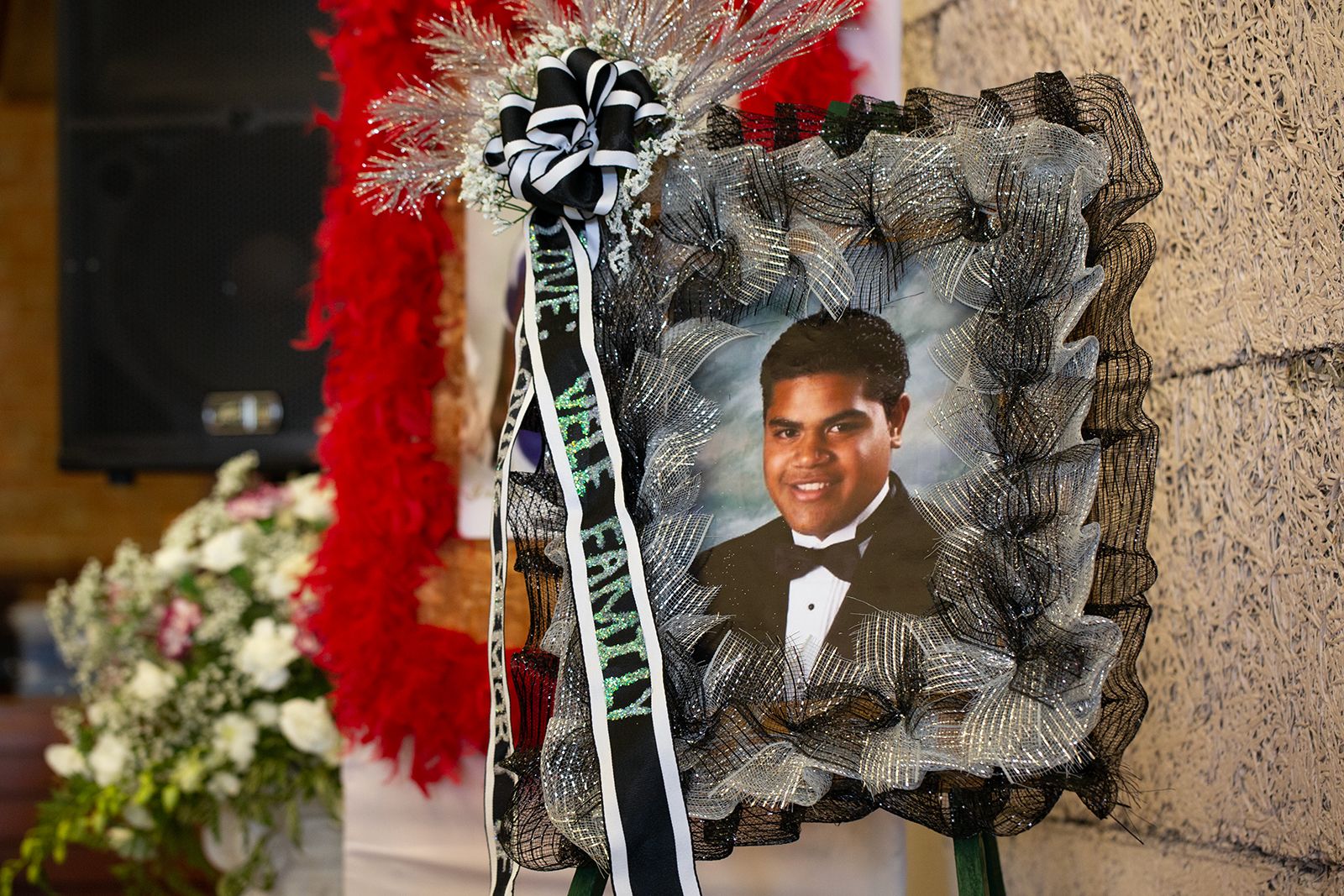 Mata'afa was deeply involved in the church as a youth pastor in San Lorenzo and also farther afield, throughout both Northern and Southern California.
His family had come to the United States from American Samoa when Mata'afa was a child. He went back to American Samoa in his 20s to attend Kanana Fou Theological Seminary.
Mata'afa received a bachelor of divinity at Kanana Fou then returned to the Bay Area and began a master's in ministry and biblical studies at PSR, which had awarded him a presidential scholarship, a merit-based award given to the school's most promising students.
"The pain of Eli's tragic death reverberates as waves," Vásquez-Levy said Saturday. "From your heart to your children to your aunts and uncles, to Eli's cousins and family. To this congregation, to the communities he touched and to so many other places."
Mata'afa's pastor, Ulysses Ve'e, led Saturday's service, which included hymns and songs as well as prayers and words of comfort.
Ve'e described how Mata'afa had been part of a new wave of Samoan church leaders he believed would carry the next generation forward.
"Isamaeli, there were times where I would put him up on Sundays to lead our services. And, I kid you not, his sermons were now getting to be better than mine, his language, articulation, linguistics, everything," Ve'e said. "It's that part where the pupil starts to overcome the teacher. Where the students now are better than the master. I have no problem with that."
An obedient servant of God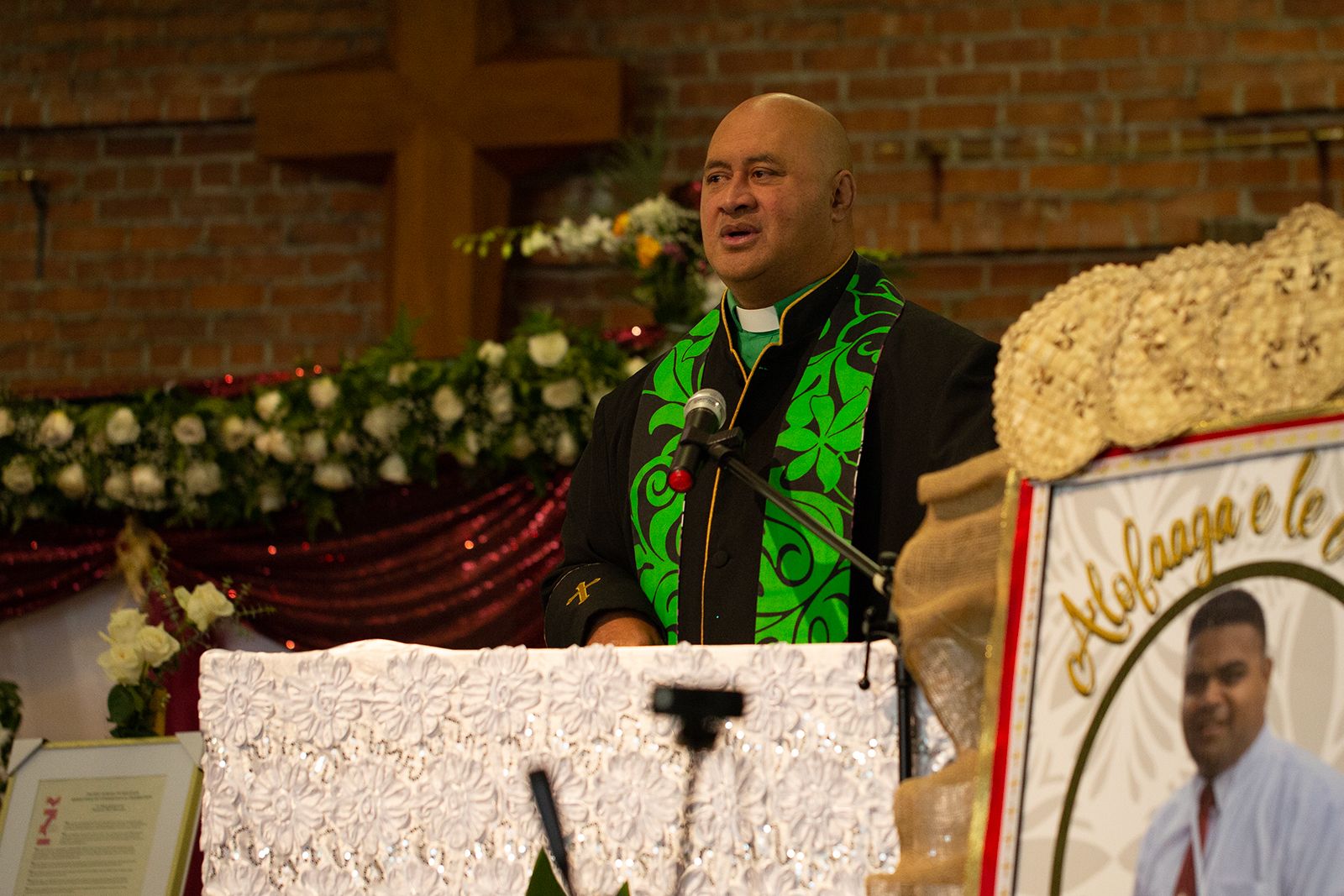 It was Ve'e who had tapped Mata'afa to return to American Samoa to attend Kanana Fou, the theological training institute of the Congregational Christian Church of American Samoa.
Ve'e shared the story of that moment during services Friday. Ve'e had chosen Mata'afa from a wide pool of potential candidates to represent California.
"He just felt it in his heart," said Ina Mata'afa, who relayed the story to The Berkeley Scanner this week.
"He called Eli that morning and said, 'Hey are you ready?' Eli says, 'Ready for what?'"
"I'm going to put your name in, so be ready: You're going to go to the theology school," Ve'e had said.
Eli thought about it for a few seconds, and then said: "OK!"
"He was always obedient, from the beginning, as a servant of God," Ina said. "And it just continued: He just said yes."
"Always the calm in the storm"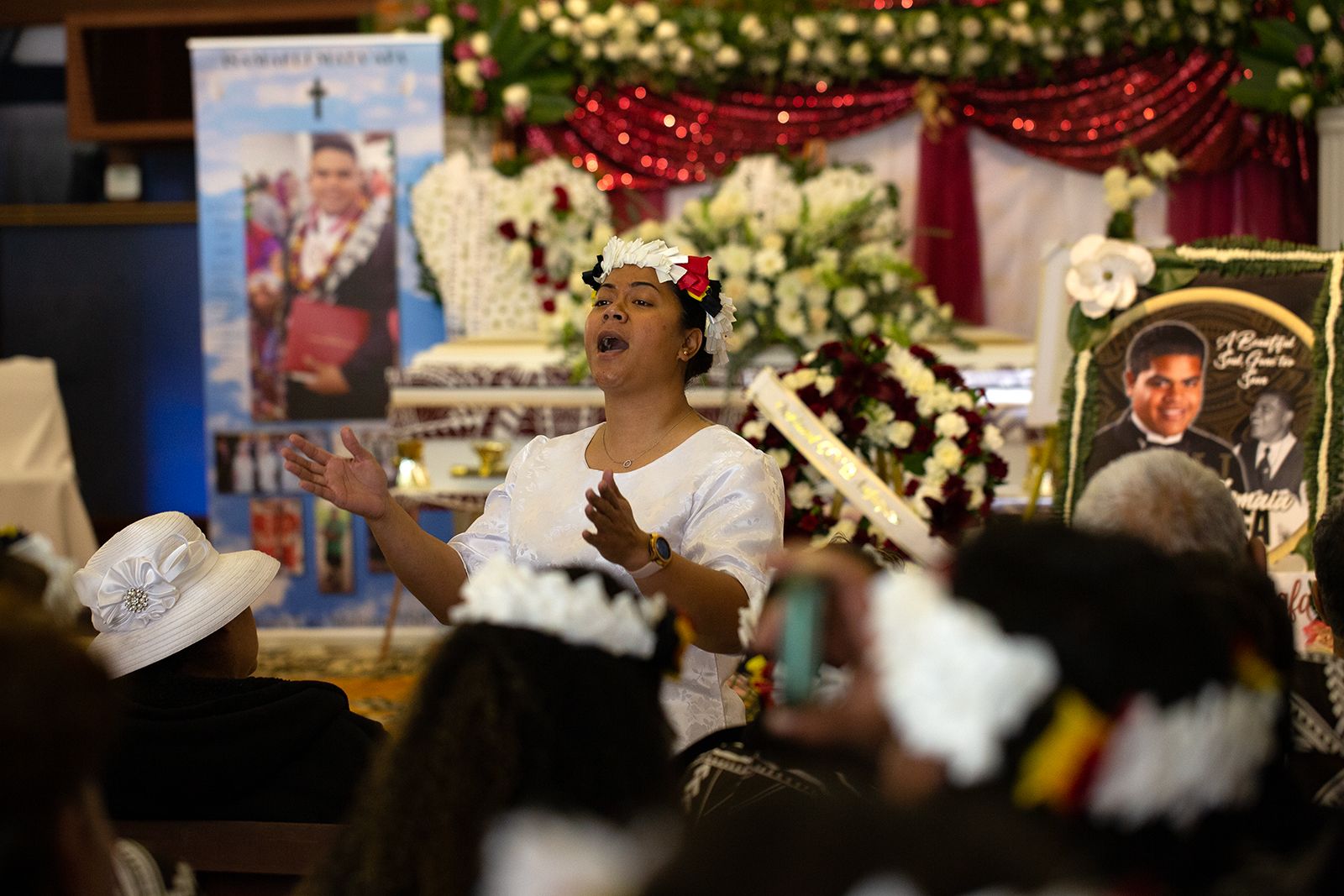 Ina, who is 35, is the oldest of the seven Mata'afa siblings. There were four girls and three boys. The youngest is 21. Eli was the fifth of the bunch.
"He was such a peacemaker, even for us siblings," Ina said. "He would always listen to our chaos. As soon as he spoke, we forget that we were so mad."
Eli's words always held weight, no matter who his audience was.
"When he speaks, he's not loud but he's stern," she said. "He's always the calm in the storm."
She described her younger brother as compassionate and knowledgeable. He had always taken his role in the ministry seriously.
"He knew and understood what it is growing up in these times. He was able to speak in a language where it was very well received," Ina said. "He wanted to be able to communicate to every age — and that's what he did."
Eli loved to dance, particularly in the Tuvaluan tradition. His mother Anita is from Tuvalu and his father Voloti is Samoan.
To honor his Tuvaluan side and his love for traditional dance, family members had worn ceremonial headgear in red, black, yellow and white during Saturday's service.
"That man really loves to dance," Ina said.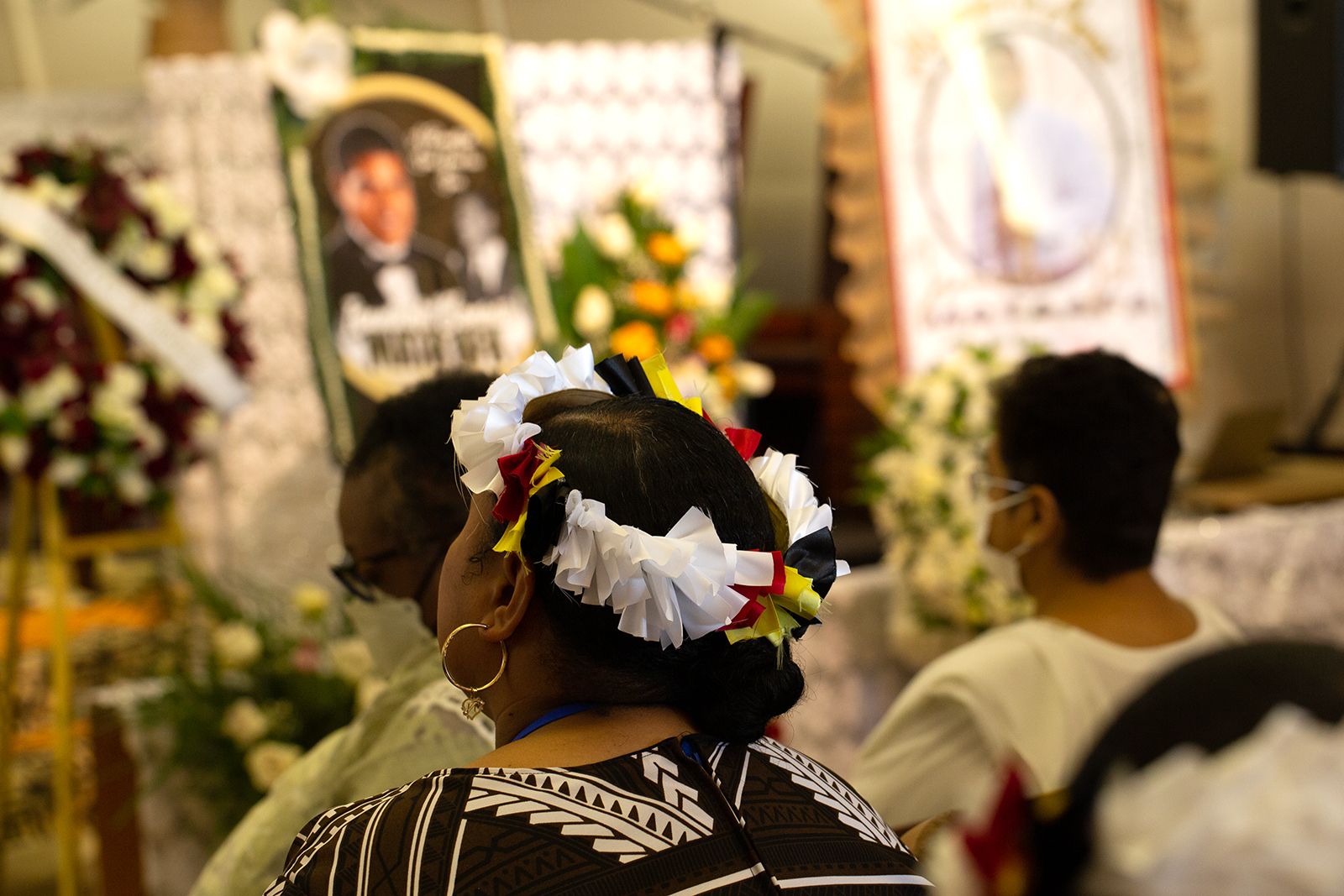 He also loved food.
"He had a passion for every culture," his sister said. "He just wanted to celebrate it with a meal. That was always his thing. He always believed you start everything with a good meal: 'Guys, this way you have good thoughts.'"
Anytime the family went out to eat, it was Eli who would choose the restaurant.
"He had such high taste," Ina said. "It would not be something to settle for. It was always something great."
Eli had no children, but he wholeheartedly embraced his role as an uncle. He had 10 nieces and nephews and loved to take them out — especially for special meals.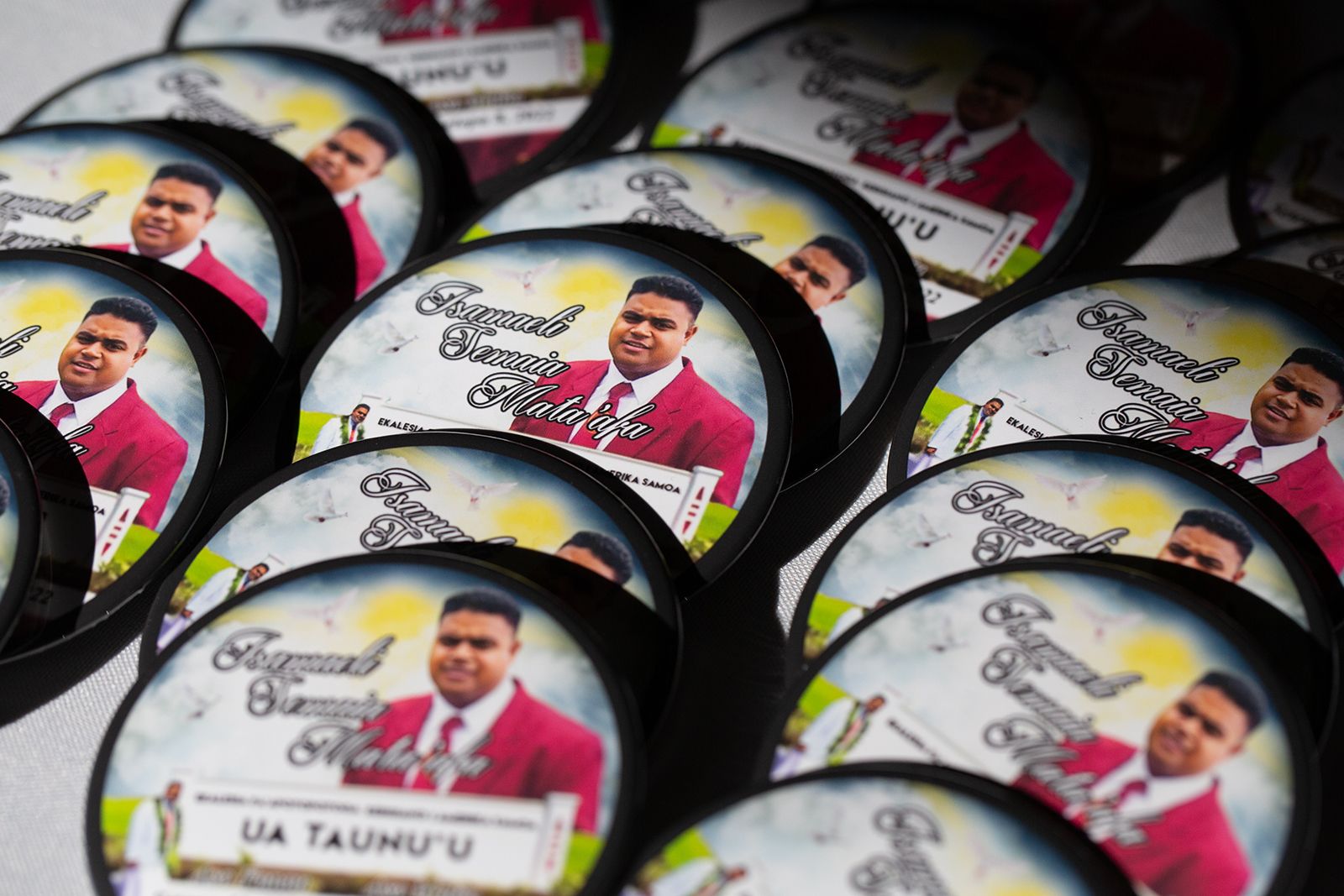 Earlier in life, Eli had majored in engineering. But he later found he had a different calling. He wanted a career where he could touch lives in a broader way.
It was something all the siblings had taken to heart as immigrants to the United States.
"He wanted to be a part of change," Ina said. "He wanted to offer everybody in our community what we were offered. It was his passion. He just loved spreading the word."
Eli had always been a hard worker, but school hadn't always come easily to him.
Growing up, Ina recalled, Eli could be hardheaded and stubborn. She recalled how their father had to sit with him to make sure he did his homework.
But he had always been a devoted son.
"There was never a time he was not with my parents," Ina said. "When he was done with school, he wanted to take care of them."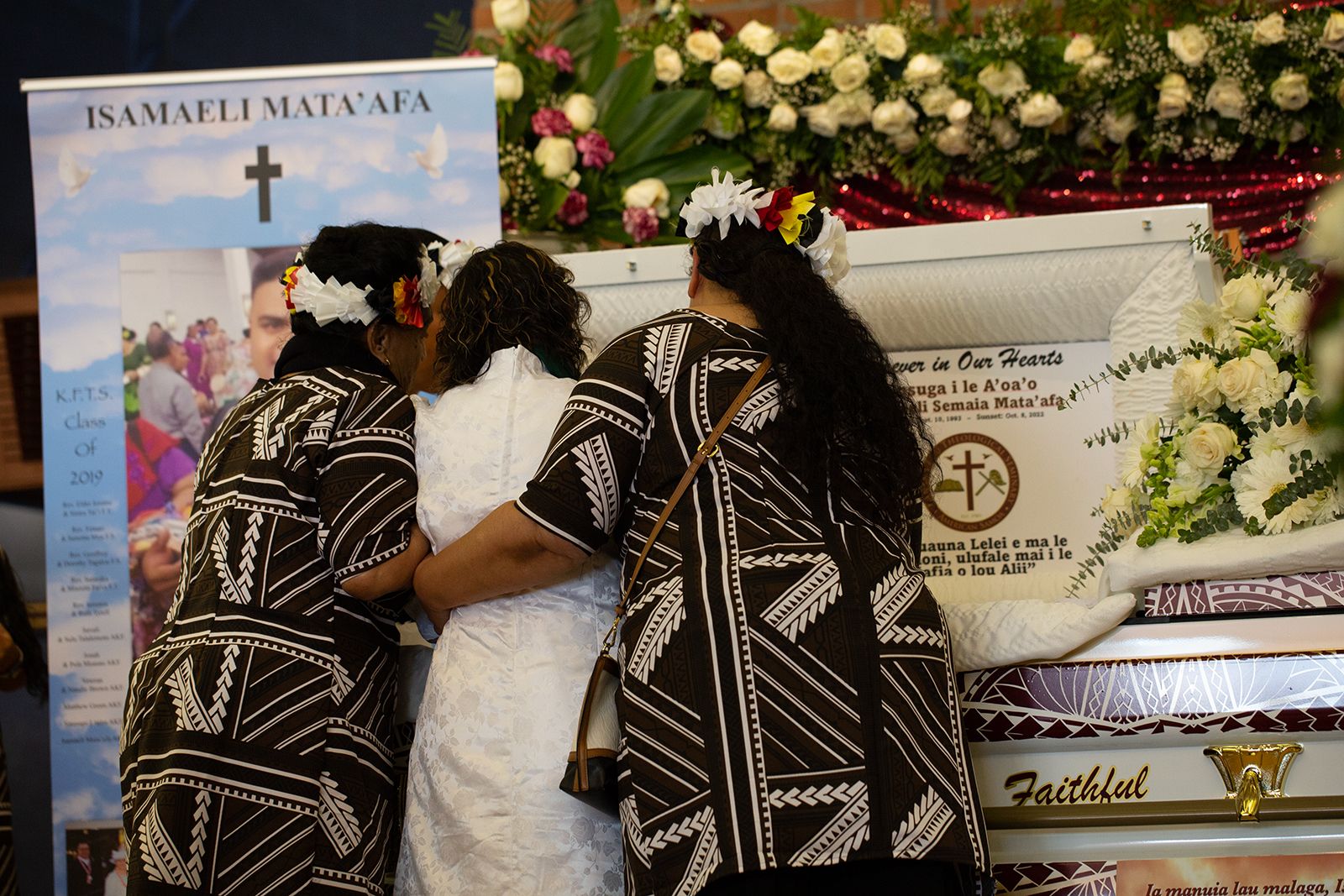 On Saturday, mother Anita shared many stories about Eli in her eulogy for him. She spoke mostly in Samoan.
She recalled times he had struggled in school as a child and wanted to give up. Or when teachers would give him harsh critiques and he would feel discouraged.
"You have to humble yourself," she would tell him.
She recalled when Eli went back to American Samoa to study in his 20s. At one point, he wanted to come home. Anita had counseled him to persevere.
"When you hit a wall or something you don't like," she had told him, "you face it. You pray about it. You don't react to it. You just pray about it."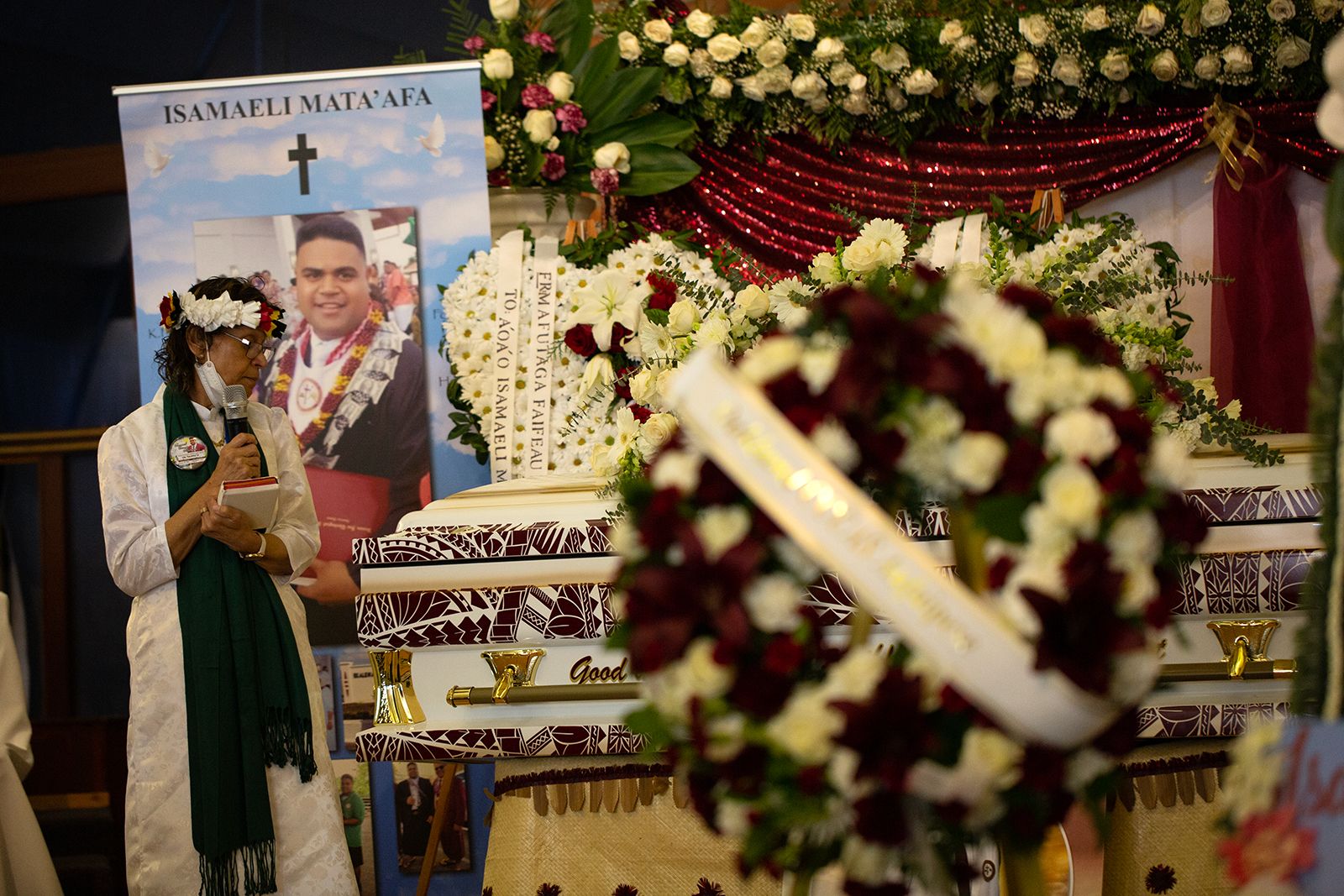 Anita also spoke briefly on Saturday about the investigation into her son's death. Detectives had told her he had tried to help when two strangers provoked a fight with Eli's cousins on Telegraph Avenue not far from UC Berkeley.
Eli was not part of the conflict. But he stepped in to try to end it.
"Back off," he had told the strangers. "Back off."
Then he and his cousins walked away. Police say the two men then pulled out guns and opened fire, hitting all four men.
Both men remain in custody and have been charged with Eli's murder.
Ina said the arrests and charges had brought the family some measure of comfort. But many questions remain unanswered.
"I don't know what really happened," she told The Berkeley Scanner this week. "If my brother was still alive, he would just say, 'Just let the people do their jobs.'"
"We just continue to pray," Ina said.
Eli: "Every ending is a beginning"
Vásquez-Levy, of the Pacific School of Religion, recalled Eli as a jovial presence in the classroom who thought deeply about his role as an immigrant.
In his work and life, Eli was committed to maintaining the traditions and legacies of his past while also embracing his new home and future.
Eli's final assignment at PSR had focused on the power of storytelling.
"Every ending is a beginning and every beginning is an ending," he had written just two days before he was killed.
As his teachers and classmates grappled with Eli's death, those words had stayed with them, Vásquez-Levy said.
"We're trying to consider: What does the end of the story mean? And what does it begin for his family, for his community and for ours?" he asked.
On Saturday, Vásquez-Levy announced to the congregation that PSR would award Eli a posthumous master's degree in divinity in May. The room erupted in cheers.
Students are also working to create a memorial garden on campus that will be named after Eli to honor him.
The school has also pledged to award a presidential scholarship to a Samoan or Pacific Islander student in the next class to carry on Eli's work. On Saturday, school staff read a resolution crafted in his memory.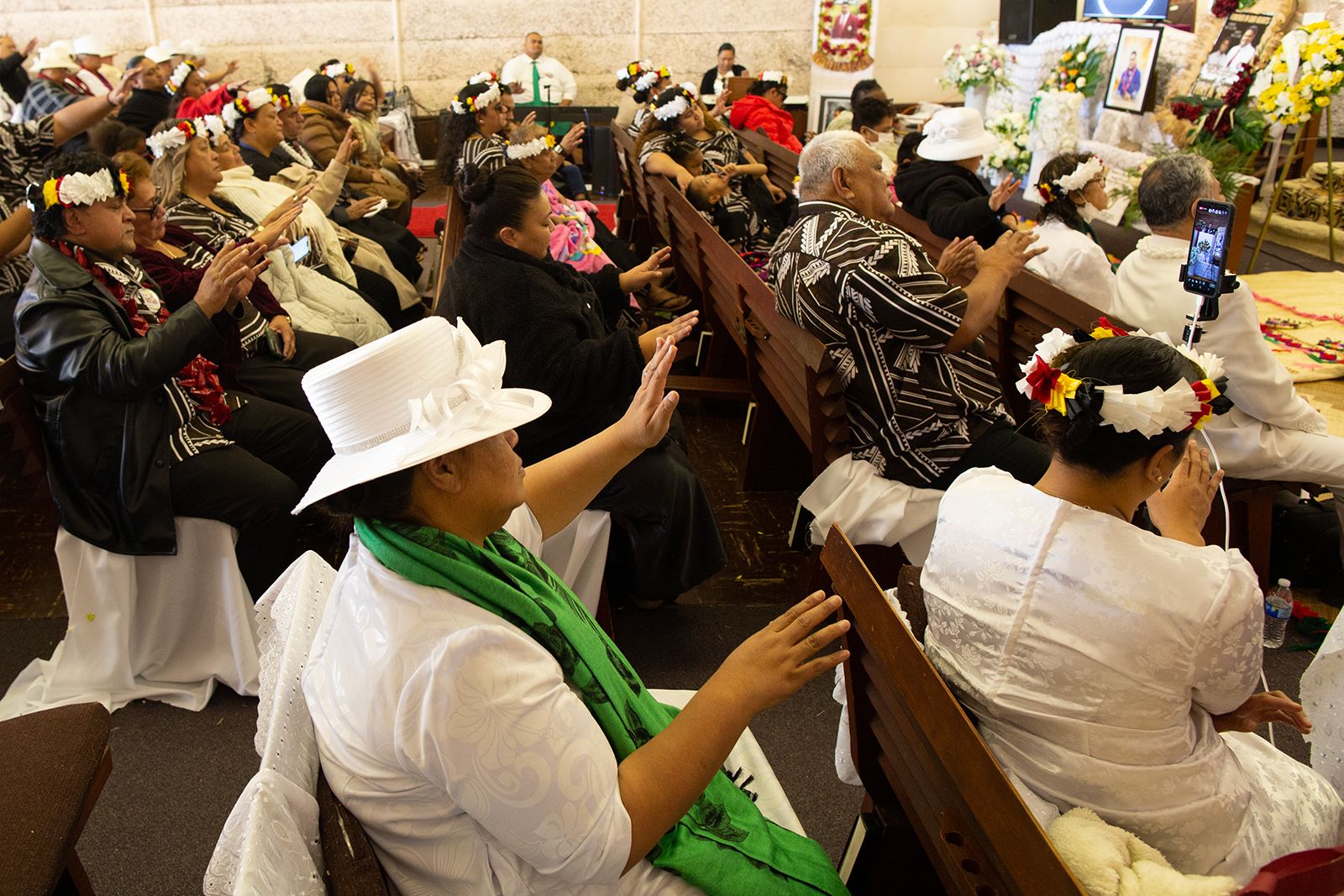 Toward the end of his remarks Saturday, Vásquez-Levy invited all who had gathered to extend their hands toward Eli's parents.
They sat in the front row dressed in white surrounded by Eli's extended family, some 50 of whom filled the pews toward the front of the room. Extended family members all wore identical ceremonial garments patterned in brown and white for the occasion.
"I do not know what it will be like for you to wake up tomorrow morning," Vásquez-Levy said to Eli's parents. "What I do know is that tomorrow morning when you wake, I will be praying for you."
"Tomorrow morning when you wake up, when we wake up, we commit to be in prayer for you," he continued. "We commit to provide you the space for that time to weep. For that time to be silent. We also commit to be there for you for the time to laugh, to give thanks for the incredible gift that Eli was to you. And that you were to him."