Shootings
Community grieves for Eli Mata'afa: 'I don't know how we're going to let him go'
"He always wanted to take the burden off of someone else," one friend said.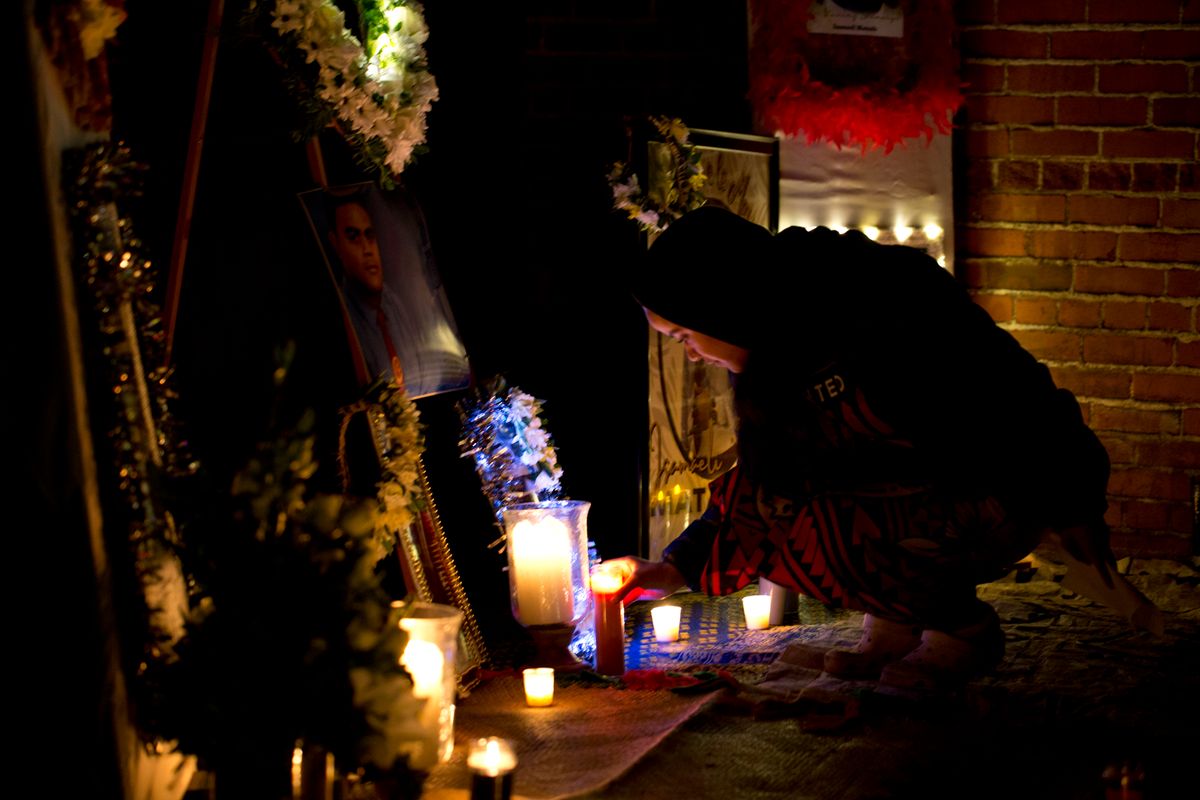 A congregation came together in prayer and song for a candlelight vigil Thursday night to remember Isamaeli "Eli" Mata'afa, a 29-year-old youth pastor who was killed Saturday in a shooting on Telegraph Avenue in Berkeley.
Mata'afa was pronounced dead at the hospital and three others were wounded in the early-morning attack. Berkeley police have said they could not recall a more violent shooting in the city in more than 20 years.
Mata'afa's family and friends said they have struggled this week to make sense of his death. They described him as a humble man who was respectful of his elders and a tireless worker who was devoted to community service.
"He always wanted to take the burden off of someone else," said Vaovai Tavai, who worked closely with Mata'afa to lead the youth group at the Samoan Congregational Christian Church in San Lorenzo.
Tavai, who had known Mata'afa for 10 years, said the men led the youth in bible study and in cultural programs to teach them about Samoan traditions.
A peacemaker who brought people together
Mata'afa also organized games and field days to bring the youth together. He was well-known in the group as a peacemaker.
"He would try and make everything settled. That's his heart. He has a good heart," Tavai said. "He always brought everybody together. And that's why we miss him a lot. I don't know how we're going to let him go."
Tavai's wife, Vale, said they were out of town when the shooting happened. When they got back, they worked with church youth to plan Thursday night's candlelight vigil.
They were planning something small. Instead, perhaps 100 people turned up to take part in the 7 p.m. event outside the San Lorenzo Community Church where the Samoan Congregational Christian Church meets.
"It just goes to show how many people's lives he touched," she said. "He was always the first one here and the last one to leave."
The vigil began with more formal remarks on a low outdoor stage. Behind the speakers, photographs of Mata'afa were mounted on stands. Some were framed by lights and flowers.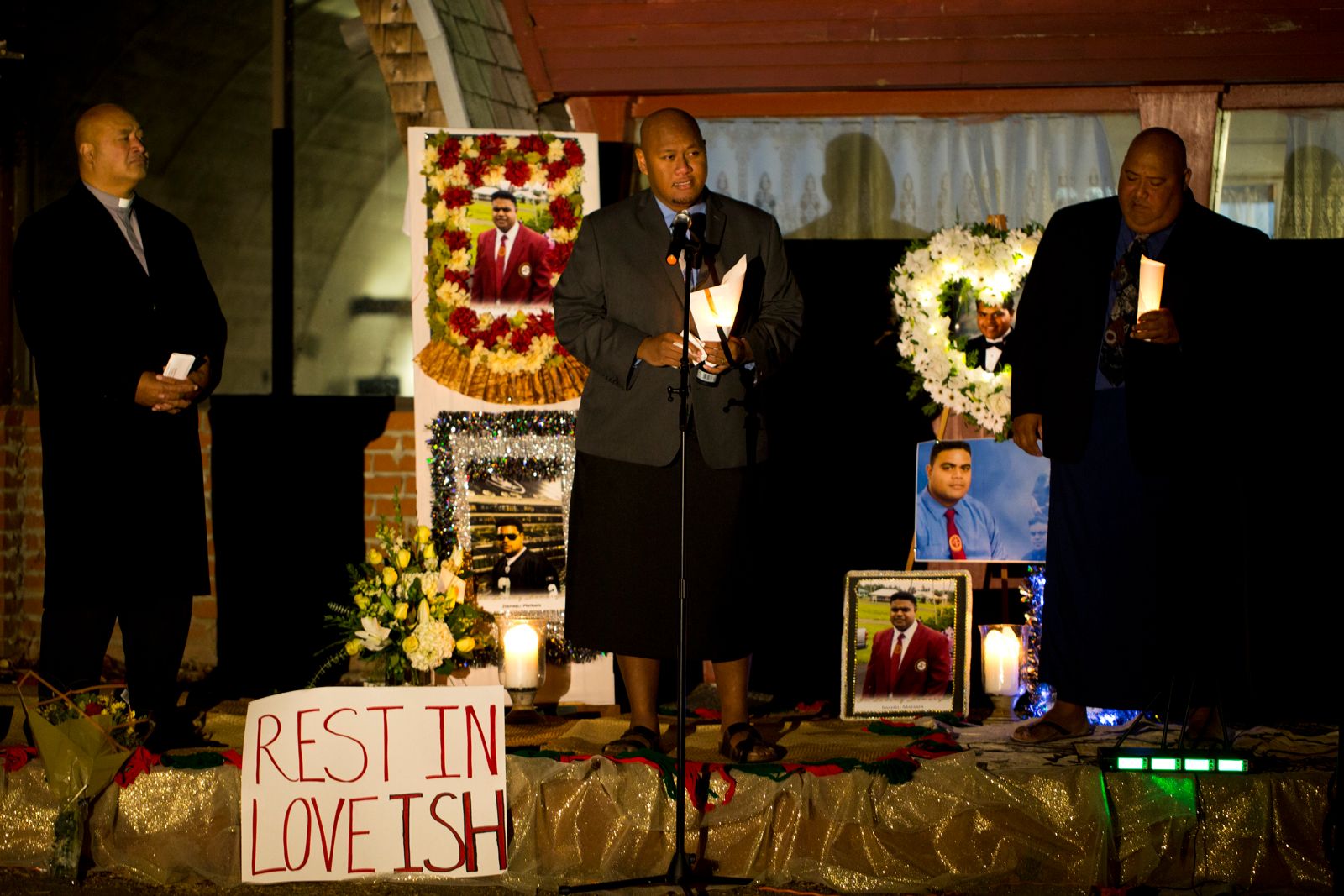 "No matter what he went through, he always saw the good in things," Tipisone Tuiolemotu, a member of the ministry, told the gathered crowd. "And that's hard considering the world we live in today."
Taunuu Ve'e, of the Regional Pacific Islander Taskforce, described how Mata'afa's entire focus had revolved around supporting the next generation.
"The bottom line was, what can we do for our youth?" she said. "Eli was always looking for ways to improve what is fractured in our system."
She continued: "This selfless human being will never give you an answer but: How can I help?"
Voloti Mata'afa, Eli's father, spoke briefly from the stage. He said he could see his son's spirit in the large community that had gathered.
"I miss my son," he said. "But I say thank you very much for coming tonight."
Earlier on Thursday, Mata'afa's sister, Mitaina Lele Mata'afa, had launched a GoFundMe campaign to seek community support for her family.
She wrote that her brother had been "the primary breadwinner for our parents. This loss is going to deeply affect our family for years."
"I am asking for anyone who reads this to please pray for my family," Mitaina wrote in a public Facebook post. "This is going to be an extremely difficult time for us, including financially. If you are in a place where you would like to help, you can support us through GoFundMe."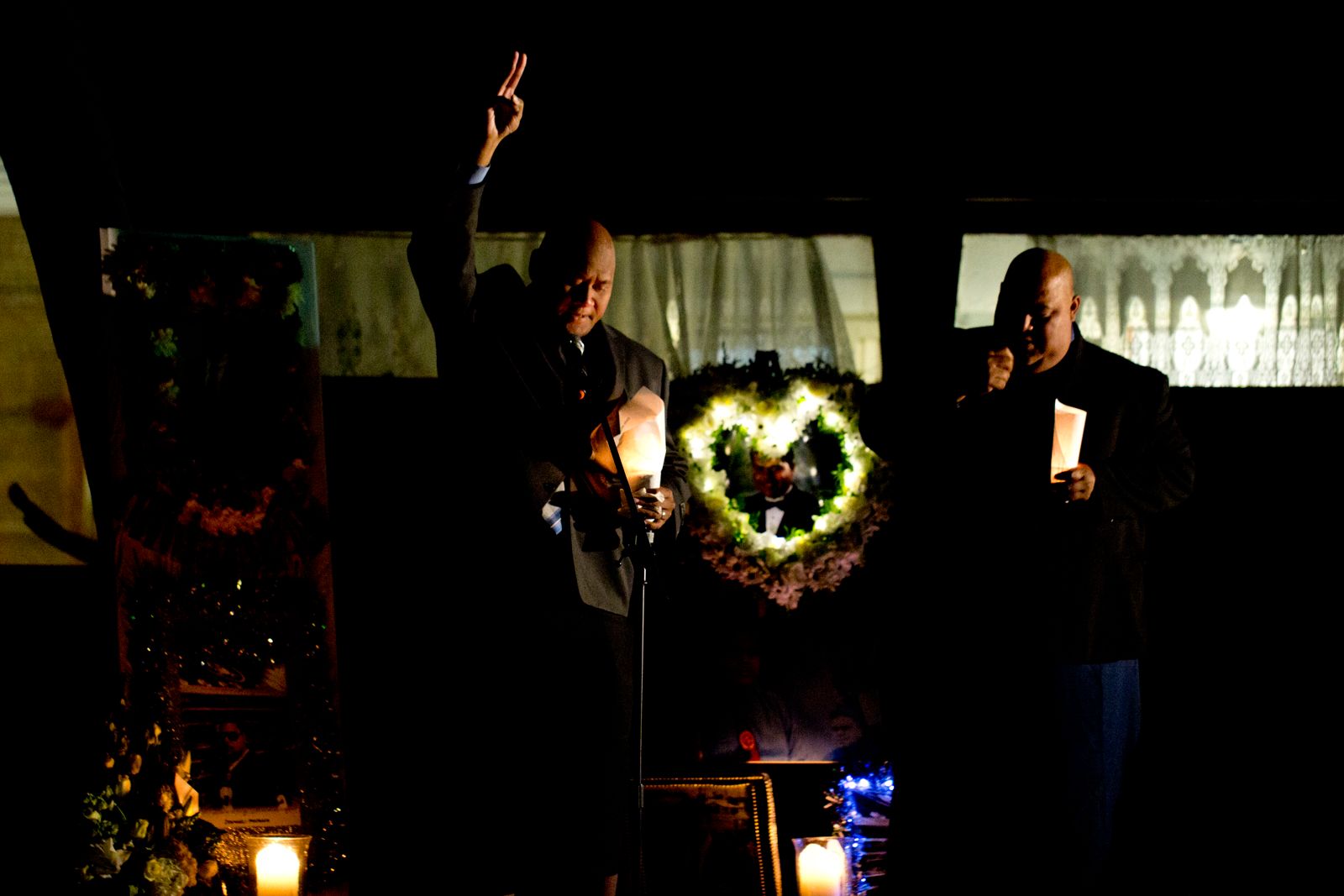 Mata'afa wanted to "serve God and his community"
Mata'afa had been a student in the Master of Divinity program at the Pacific School of Religion (PSR) in Berkeley, according to a statement posted Wednesday by the school.
He had entered the program in the "spring of 2020 on a presidential scholarship, awarded to the top incoming students who best exemplify PSR's mission. He came to PSR after graduating from Kanana Fou Theological Seminary in American Samoa, a school with a long-standing connection to the PSR community."
Mata'afa's goal after completing school had been "to serve God and his community in San Lorenzo and the greater Bay Area," PSR wrote. "He also had a commitment to address climate change, which threatens the Pacific Islands through extreme weather and sea level rise, from a theological perspective."
"He felt strongly that addressing climate change upholds the fifth commandment, 'Thou shalt honor thy mother and father,'" the school wrote, "a concept with great resonance in Samoan culture where a connection of people and planet is greatly relational."
Rev. David Vásquez-Levy, PSR's president, described Mata'afa in the statement as "a person of deep personal faith" who was "a leader and mentor in his community with a desire to create a world where all can thrive. He had much more to give before he was taken from us."
Police are still looking for witnesses, video
Mata'afa and three other family members — ages 22, 24 and 28 — had been taken to Highland Hospital after the shooting on Telegraph Avenue, near Durant Avenue, at about 1 a.m. Saturday.
The four men had been walking together on Telegraph Avenue when conflict erupted, prompting a stranger to open fire on them as they walked away, according to preliminary reports.
Mata'afa sustained multiple gunshot wounds and did not survive, despite life-saving measures at the scene and elsewhere.
Police have made no arrests but detectives have been pushing hard for days to solve the case. BPD asks anyone with information about the shooting to call homicide detectives at 510-981-5741.
Witnesses said there were at least 100 people in the area when the shooting took place, causing the crowd to run south on Telegraph Avenue to escape the violence.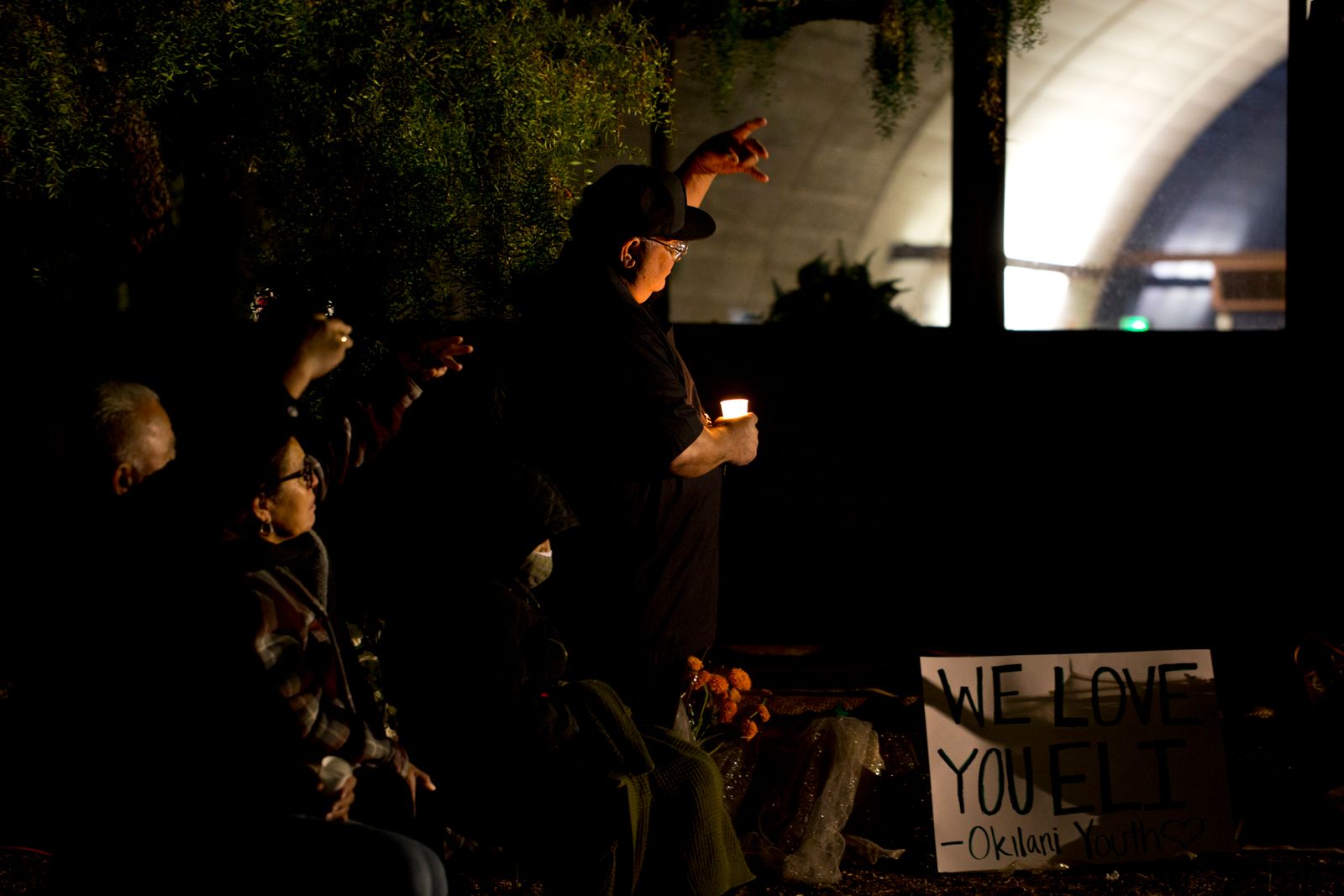 A test of faith
After the prepared remarks ended Thursday night, community members broke off into smaller conversations. Some drank hot chocolate provided by the church.
Pets and children ran around in the cool night.
At about 8:15 p.m., members of the youth group were called to the stage to sing a song Mata'afa had taught them. Some joked around in an attempt to lighten the burden. Others sang through their tears.
Afterward, group members stepped down from the candle-lit stage and stood in front of it. They continued to sing, in English and Samoan, as they looked on at the growing memorial for their lost mentor.
Rev. Ulysses Ve'e of the Samoan Congregational Christian Church, which has more than 280 members, said he was still working to find a way to reconcile Mata'afa's upstanding life with his untimely death.
"This is a test of your faith," he said. "That's a question where your faith comes into play."
He said he had been very close to Mata'afa, who had "great vision" and "great spirit," and had been part of a new generation of pastors that Ve'e believed would lead the next generation of church members into a better future.
Ve'e said he had known Mata'afa since elementary school when his family had moved to the United States from American Samoa.
Both Ve'e and Mata'afa's family, he said, had been incredibly proud of the developing leader.
Ve'e also said he wasn't focused these days on grappling with larger policy implications, such as the need for gun control, or asking how something like this could have happened.
"Politicians… they can deal with that. I'm not asking questions why," he said. "We just want to put it behind us now."