Shootings
UPDATE: 1 dead, 3 wounded in shooting near UC Berkeley
One of the men was pronounced dead at Highland Hospital in Oakland, The Berkeley Scanner learned shortly before 8 a.m.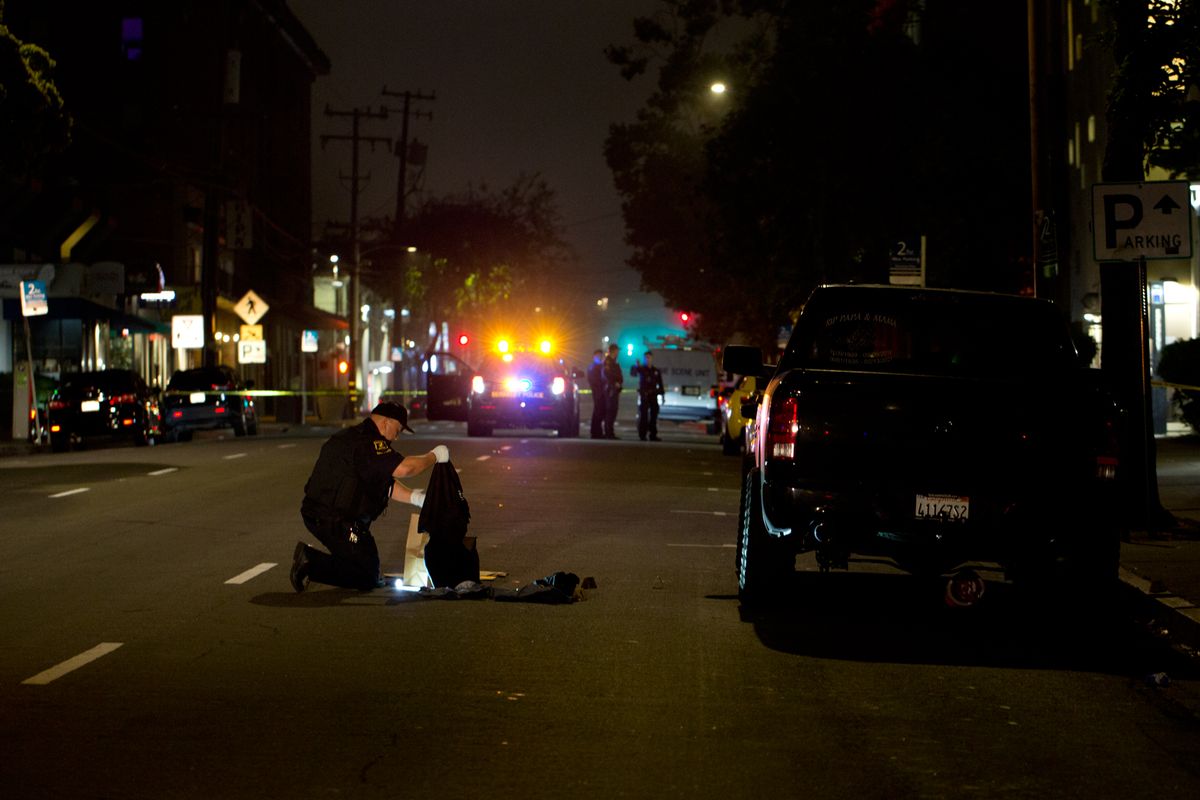 An eruption of gunfire at a busy intersection near UC Berkeley sent four young men to the hospital early Saturday morning, authorities report.
One of the men did not survive his injuries and was pronounced dead at Highland Hospital in Oakland, The Berkeley Scanner learned shortly before 8 a.m.
All four victims were taken to Highland for treatment after the shooting. One of the survivors was shot in the chest, one in the right arm and one in the groin area, according to preliminary reports.
Police say none of the people involved was a UC Berkeley student.
Shootings with multiple victims, especially with so many of them, are rare in Berkeley. One officer said he had never seen anything like it.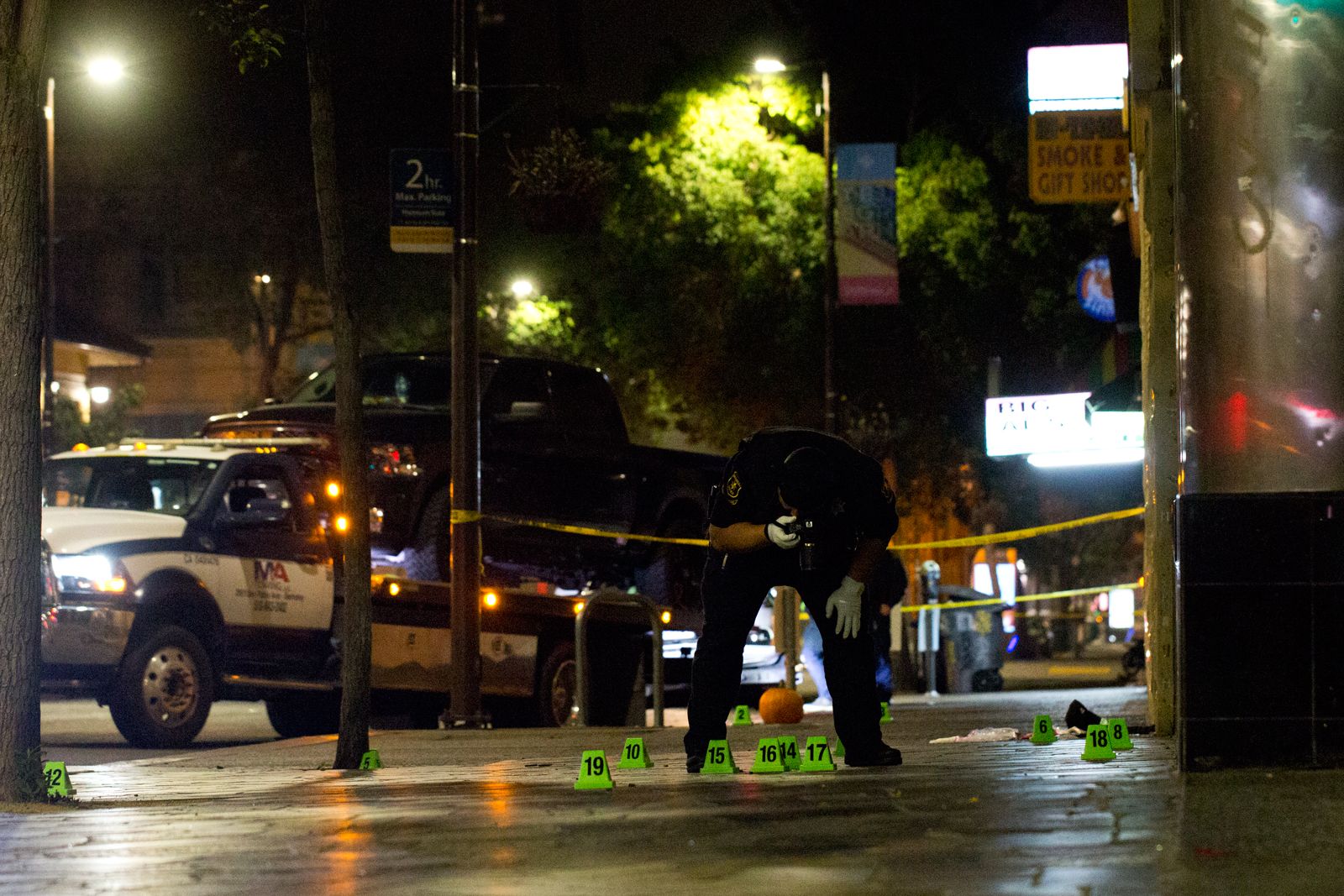 The University of California Police Department put out a vague advisory shortly after the 1 a.m. shooting and advised people to avoid Telegraph and Durant avenues "until further notice."
According to one community member, an argument at Telegraph and Durant had immediately preceded the violence. Gunshots went off and everyone ran, she said. They took off south down the avenue and away from Durant.
The woman said her family members, including her fiancé, had been with the people who had been shot. She tried to retrieve her truck from Durant Avenue and Dana Street, but police told her it was part of the investigation.
The woman then left Berkeley for the hospital to check in with her family.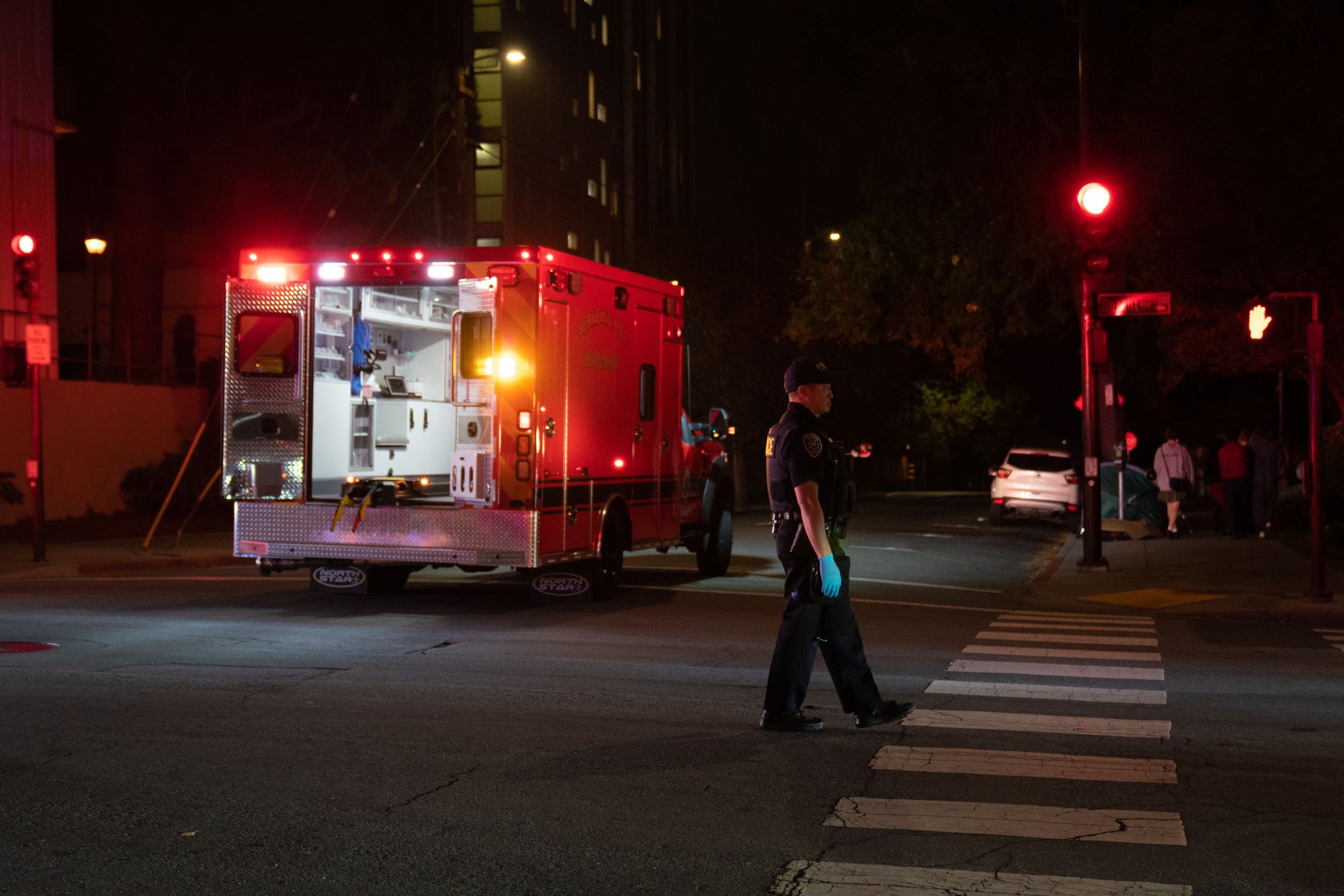 As of nearly 3 a.m., the truck remained parked on Durant Avenue with its doors wide open. Bloody clothing that had been cut off the body of one of the gunshot victims was scattered nearby.
The truck would ultimately be towed as part of the investigation.
Gunfire left a bullet lodged inside at least one vehicle, according to emergency radio dispatches reviewed by The Berkeley Scanner. That vehicle and a second one belonging to bystanders who had been near the shooting scene were also towed.
One of the car owners, who was clearly displeased at the prospect of walking home through the chilly, early morning, said he and his friends had heard the gunfire but did not see anything.
They ran to Taco Bell Cantina, on Durant Avenue east of Telegraph, to escape: "We were scared," he said.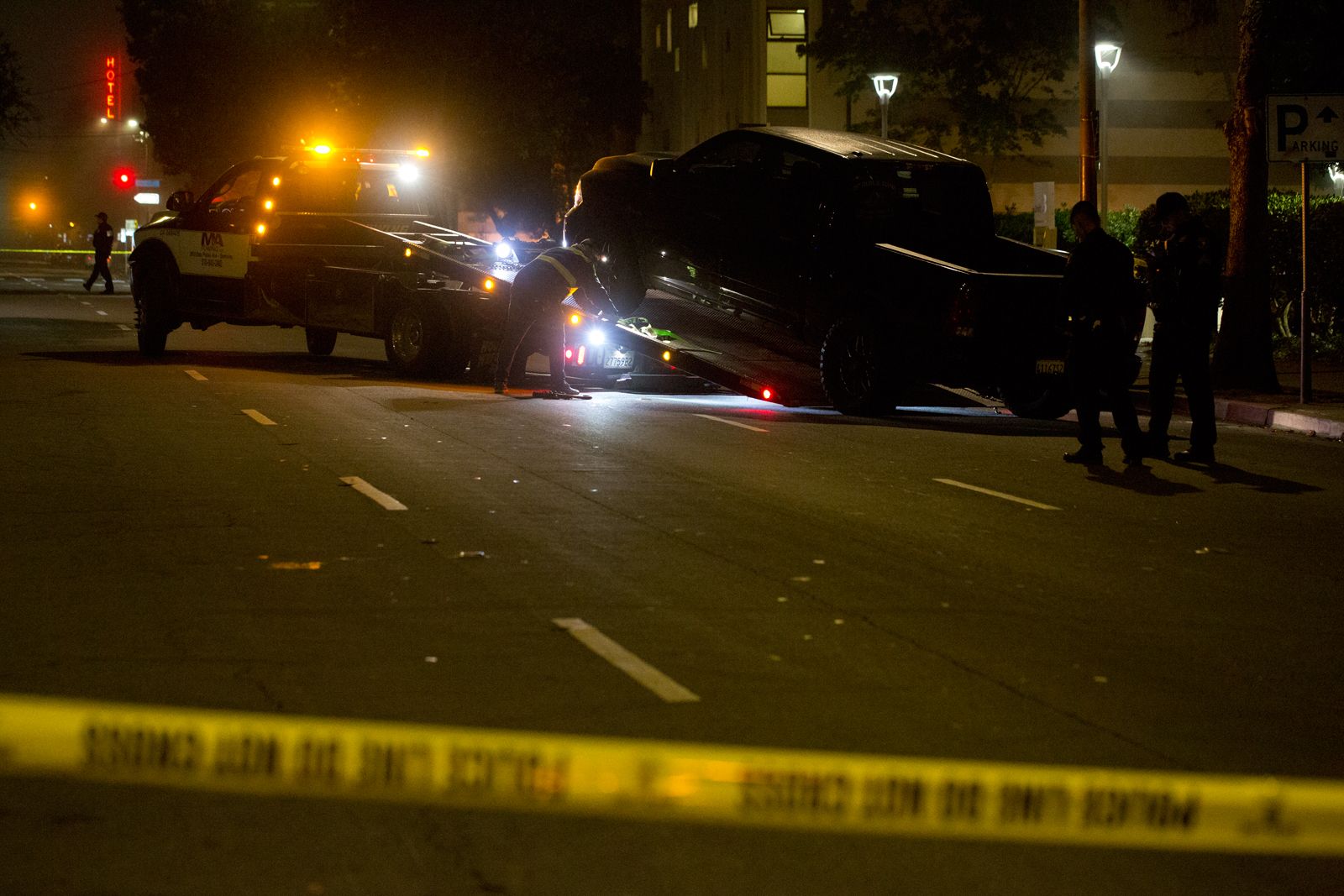 Details about the Berkeley shooting have been scant
Fog rose and fell over the Southside Berkeley streets as the hours wore on.
At Durant and Telegraph itself, more than 20 yellow evidence markers were scattered around the sidewalk on the west side of the street. A crime scene technician with a camera documented all of the location markers for the file.
Students walking up Dana Street ambled by often, asking police how they could get up to Telegraph Avenue with Durant Avenue taped off.
One young man rode his bike through the crime scene, down Durant from Telegraph, asking officers: "Was there a shooting here?"
Other students snapped photos up Durant Avenue toward Telegraph and expressed frustration about the lack of information UC Berkeley had put out about the incident.
"Avoid the area," was all UCPD had said in its notice at 1:35 a.m. "City of Berkeley responded to an emergency to this location. Stay out of the area."
Ever since the shooting happened, Berkeley police resources — already thin due to a historic low in staffing — have been tied up with the ongoing investigation. Details have been scant.
According to emergency dispatch traffic reviewed by The Berkeley Scanner, police were already in the Southside neighborhood when the shooting happened.
Officers were responding to an auto burglary report with suspects said to be breaking out car windows. Just after police detained the pair, one officer who was down the block heard what sounded like fireworks.
Then BPD was advised that UC Berkeley's ShotSpotter gunshot detection system had picked up the sound of gunfire.
Police found the first gunshot victim at 2360 Telegraph Ave., just south of Durant Avenue. They found other victims in the 2400 block of Telegraph Avenue.
A police officer also located a man with a serious gunshot wound ("GSW") on Durant near Dana Street: "I need Fire here immediately, we got a GSW to the chest," he told the dispatcher over the radio.
Officers performed life-saving measures until the scene was secure enough for ambulances to respond.
At one point during the initial response, as the flurry of updates and reports came in, police thought there might be as many as seven gunshot victims and called in ambulances from neighboring jurisdictions.
Police also discussed declaring a "mass casualty incident," according to emergency traffic. It was not apparent whether that determination had ultimately been made.
UCPD issued an all-clear notice shortly before 6 a.m. Saturday.
Berkeley has two other homicides, both shootings, in 2022: in March on Seventh Street and in May on Channing Way.
Just last week, four Berkeley teenagers were shot at a birthday party for a friend in North Oakland. Two of the boys, who were brothers, did not survive.
The Scanner has asked BPD for more information about Saturday morning's violence and will update this story when it is made available.
Update: In a statement at about 10:10 a.m. Saturday, BPD said all suspects in the case remain at large.
Police are looking for security footage that captured the suspects from the shooting near UC Berkeley. They ask anyone with information or video to call the Berkeley Police Department at 510-981-5900.
Homicide detectives are now handling the case with the help of the Operations Division.
Update, 4:45 p.m. UC Berkeley has released a list of safety tips and support services for the community.
"We realize this incident may be disturbing to those of you who witnessed it, as well as those of you who live nearby," Cal wrote. "We remain committed to the safety and well-being of our students, as it is our highest priority."
Follow The Berkeley Scanner's ongoing coverage of the Oct. 8 shooting on Telegraph Avenue.
Note: The Berkeley Scanner went to the scene after publishing an initial story and posted updates on Twitter in the hours that followed. This story was updated repeatedly due to the developing nature of events. Local photographer Ariel Nava contributed to this report.