Policing
'Don't give me that Black crap': Video from 2017 shows embattled Berkeley sergeant
A Berkeley police sergeant is facing a federal lawsuit over alleged racist conduct last year. Video of a police stop in 2017 has added fuel to the fire.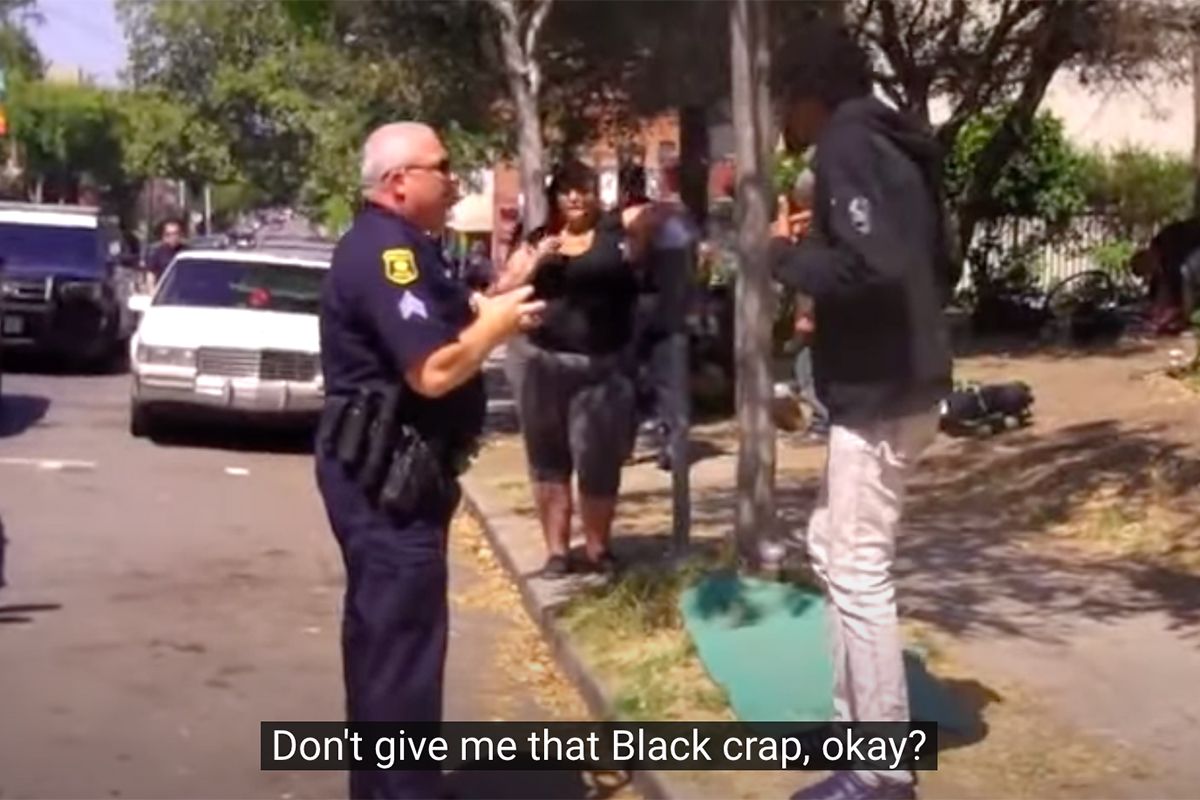 Mayor Jesse Arreguín expressed "shock and outrage" Tuesday night about a newly resurfaced Copwatch video from 2017 showing a Berkeley police sergeant who is already under fire over alleged racist conduct last year.
In the video, Sgt. David Marble, who is white, was recorded saying, "Don't give me that Black crap, OK?" during an explanation to a Black man about why police stopped him.
His words made a powerful impression when they were played by Berkeley Copwatch co-founder Andrea Prichett during public comment Tuesday night, particularly coming on the heels of the news, first reported last week by the San Francisco Chronicle, that Marble has just been sued by a man who says Marble repeatedly used the N-word and struck him during a heated off-duty interaction last year.
"I think I share the entire City Council's shock and outrage over what we heard from the video that Ms. Prichett played tonight. And we take this issue very seriously," Arreguín said from the dais.
The mayor said staff would "fully investigate the video and the allegations: this and other allegations that have been raised."
Those "other allegations" stem from an interaction in Antioch last year that prompted an Internal Affairs investigation by the Berkeley Police Department, the Berkeley Scanner was able to determine.
BPD placed Marble on leave for five months during the review in 2022.
In the end, the IA investigation did not substantiate any claims of "unbecoming" conduct, including the alleged racist remarks or an allegation that Marble pointed his gun at two men.
He returned to work in December and remains on full duty as of this week.
Marble declined to comment for this story due to the lawsuit, which was filed in federal court.
The Contra Costa County DA's office declined to charge him in the Antioch matter last year, citing insufficient evidence in relation to charges of misdemeanor battery and displaying a gun.
But the lawsuit itself, and now the 2017 video, have brought Marble's alleged conduct back into the public eye.
"No city employee should speak that way or engage in that way," Mayor Arreguín said Tuesday night. "Any racist activity or discriminatory activity by any member of the Berkeley Police Department or any city employee is unacceptable."
Councilwoman Kate Harrison described the allegations as "direct acts of aggression towards residents and others using power and race as a cudgel" and said she looked forward to a report from the city manager on the allegations.
"This is not a moment too soon for us to deal with this issue," she said. "We've been waiting a long time. We've looked at it statistically. We've looked at the policies. We've looked at all of these things. But what we have to do is take action. And so I'm looking forward to that being done."
The new allegations of racism drew particular concerns Tuesday night from several community members who brought up the BPD text message scandal, over texts from a different sergeant in 2019 and 2020, that disparaged homeless people and included racially-charged statements.
That sergeant is also back on full duty.
An independent investigation cleared the department of systemic arrest quotas and unethical conduct, but some have continued to criticize the process and question the findings.
Councilman Ben Bartlett echoed some of those concerns in a prepared statement earlier this week.
"I am alarmed by the allegations of racialized violence made against Sergeant David Marble," Bartlett wrote. "Even more troubling, this is the second BPD sergeant implicated in anti-black racism this year. This is important because it implies that state violence could be directed at innocent people. I'm troubled and worried about what this says about the department's culture."
"Both are veteran officers in leadership positions," he continued. "When senior officers are accused of dehumanizing, antisocial behavior, it sends the wrong message to potential recruits."
"Racial prejudice has no place in a just society," said Councilman Terry Taplin after Tuesday night's meeting. "We must be steadfast and vigilant against all forms of misconduct in the fulfillment of the city's mission. I am committed to our community's vision of equitable public safety and constitutional policing."
2017 police stop by Dave Marble raised questions of racial profiling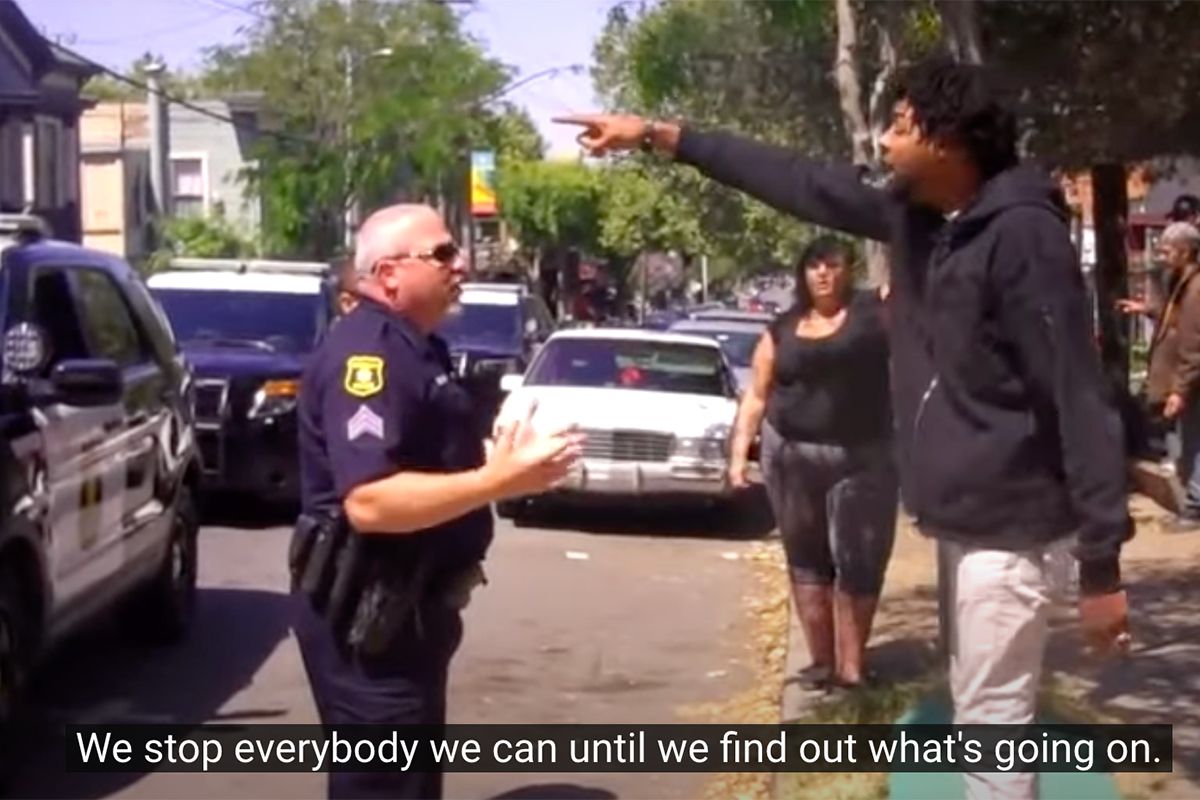 When Copwatch posted its 5-minute video of Dave Marble's police stop in July 2017, a year when political clashes repeatedly tore through the city, it described the footage as racial profiling at People's Park.
In the footage, Marble is seen explaining to the man he stopped that police had been called to the area because "a bunch of people," who were described as Black, were "jumping somebody."
Marble explained that, when he arrived, he saw a man and woman "screaming at each other."
"About cigarettes!" the man responded.
"I don't know what's going on," Marble told him. "How do I know that?"
In response to Marble's "Black crap" comment, the man grew increasingly upset, saying, "Black crap? I'm Black!"
According to the footage, the man and woman told Marble they played no part in any reported fight and had just been walking down the street arguing over cigarettes.
"All I'm telling you is: We get here," Marble said. "We stop everybody we can until we find out what's going on."
The situation escalated when Marble asked for the man's name. The man insisted he was only stopped for being Black.
"You just said because I'm Black that I fit your description?" he said. "N-word, are you serious?"
"Don't call me that," Marble said, his voice rising. "That's not what I said."
Tensions continued to increase, with the man cursing at Marble, who then handcuffed him and said he was being detained.
The police released the man several minutes later when witnesses definitively said he played no part in the initial attack.
During public comment Tuesday night, community member Moni Law urged the city to look into all of the allegations that had come up.
"We need to have a community of police officers who actually provide safety and not risks to our safety," said Law, who is also Black. "The liability upon the city is significant and the risk of safety to all of us is high."
In a statement Wednesday, the city of Berkeley urged anyone who has concerns about police conduct and professionalism to alert the city.
"We take very seriously any allegation of misconduct involving an officer in the Berkeley Police Department. This is regardless of whether an officer is off duty," said city spokesman Matthai Chakko. "Our expectation is that everyone in the department treats everyone with the utmost respect."
Chakko also noted that state law limits what the city can share in relation to "police officer personnel issues, systems of internal review, investigation and discipline."
Conflicting accounts over events in Antioch
In California, police misconduct records remain confidential in all but the most serious matters.
In recent years, a growing number of police records have become available through Public Records Act requests, but many are still protected by law.
As a result, some misconduct allegations only become public when there's a lawsuit, which appears to be what happened here.
According to the lawsuit, Brian Lindhurst Jr. was with a friend on July 16, 2022, when they came into contact with Marble in Antioch.
The incident was also documented in an Antioch police report, which The Scanner reviewed.
Details vary between the two accounts.
According to the lawsuit, Lindhurst was a frequent visitor to Marble's block because he is good friends with Marble's neighbor. The men had no trouble before.
According to Lindhurst's complaint, Marble saw the two Black men outside at 2:15 a.m. and yelled at them, asking why they were there.
The suit says Marble approached them with his Labrador retriever and blocked them from leaving while yelling profanities at them, including the N-word.
The lawsuit alleges that Marble was drunk and that he punched Lindhurst in the face before drawing a gun on the men, pointing it at Lindhurst and saying "I am the Law."
"Mr. Lindhurst's friend pushed him into his car and grabbed Sergeant Marble's arms, begging him not to shoot Mr. Lindhurst," according to the lawsuit. "After several minutes of pleading, Sergeant Marble yelled more profanities at the two men but finally lowered his gun and walked back inside his home. Shaken, Mr. Lindhurst left the area."
According to the Antioch police report, however, Lindhurst's friend said he did not hear Marble make any racial slurs and that Marble's gun was never pointed at them.
Lindhurst's friend also told Antioch police that Lindhurst was highly intoxicated, according to the report.
According to the Antioch police report, Marble had just gotten home from work and had gone outside to water his lawn in preparation for vacation the next day when he found a stranger in his driveway, setting off the events that followed.
He denied using racial slurs during the interaction, blocking the men from leaving or ever pulling his gun.
The lawsuit claims excessive force and civil rights violations and seeks undisclosed damages and attorneys' fees.
John Burris, Ben Nisenbaum and Christopher A. Dean, of Burris Nisenbaum Curry & Lacy, are representing Lindhurst.
Nisenbaum, the lead attorney on the case, said the team has not seen the Antioch police report and is currently awaiting discovery.
But he said the allegations of racism needed to be taken seriously.
"An officer who has that kind of attitude shouldn't be in police work, cannot be in police work," he said. "You're expected to police in an objective manner and a person who has those beliefs can't do that."
And he said, even though Sgt. Marble was not in uniform on duty, he could potentially still be considered to have been on duty if he invoked his police powers during the interaction.
Nisenbaum said the upcoming legal process would uncover the truth of what happened.
"We believe our client and we believe what the witness has told us," he said Wednesday.
Nisenbaum also said that the Contra Costa County DA's office declined to charge the case because there was no clear video of the interaction.
The city of Berkeley is also a named party in the lawsuit but it remains unclear whether its attorneys will represent Sgt. Dave Marble.
Marble had no separate attorney listed in court records as of Wednesday.
The matter is set for an initial case management conference in early December at the Ronald Dellums Federal Building in Oakland.
Marble has worked as a police officer in Berkeley for nearly 30 years: eight years at UCPD and more than 20 at BPD. He is set to retire in December.
Until now, he has never had a complaint related to racial bias.
The Berkeley Scanner has filed Public Records Act requests for all materials related to last year's BPD internal affairs investigation as well as the Antioch case.
Antioch provided a brief summary Wednesday and closed the request. The BPD request remains pending.
💡
The Berkeley Scanner is 100% member-supported. That means no ads, no spam and no distractions. Help ensure timely, accurate public safety news for Berkeley by
signing up now
.