UC Berkeley
Man held to answer in sex crime attack on UC Berkeley student
Felony sex crimes are up 51% in Berkeley this year according to the latest BPD data. Many of the incidents are concentrated around UC Berkeley.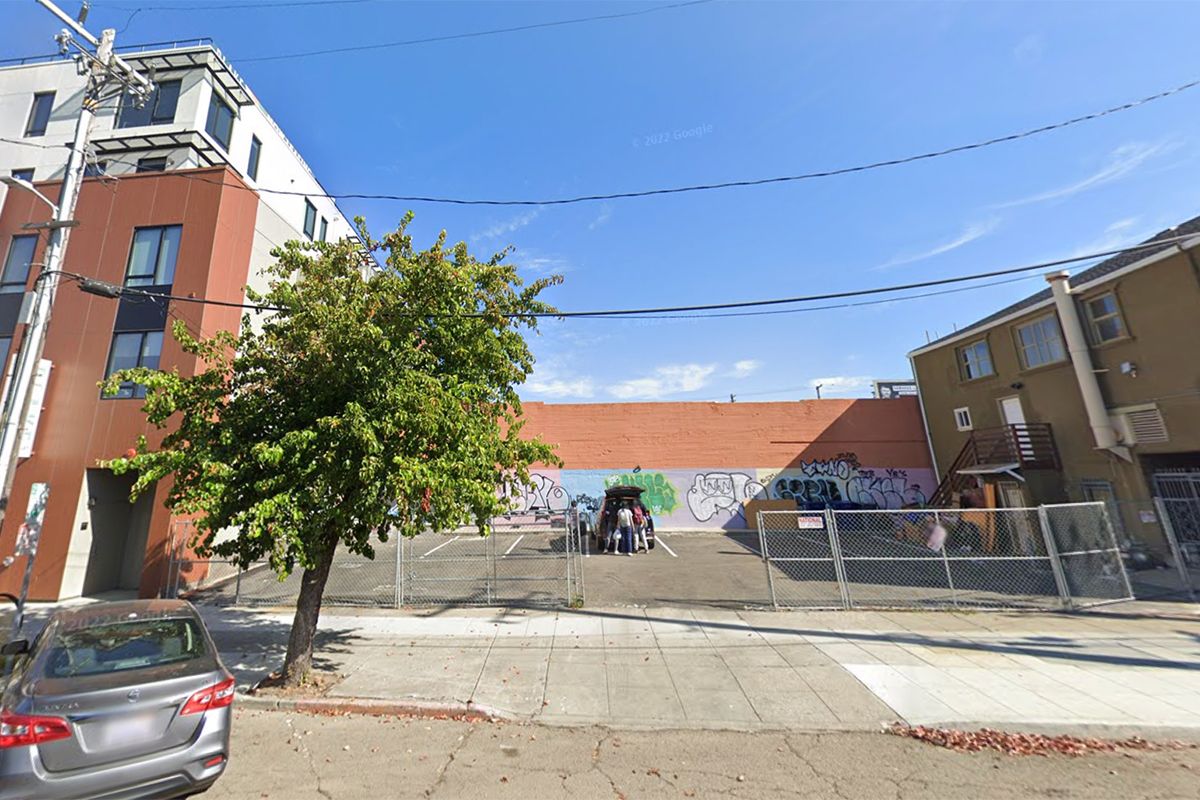 A young homeless man alleged to have attacked a UC Berkeley student in a dark parking lot in March was held to answer this week on felony sex crime charges.
Jonathan Castellanos Miller, 20, was arrested and charged in April after police found his semen on the woman's clothing, according to evidence presented in court Monday during a preliminary hearing.
"The defendant ejaculated, which is how we caught him," said prosecutor Raul Jacobson during closing arguments before Judge Rhonda Burgess.
Jacobson credited the student for "fighting him off the entire time."
"The suspect's intent basically was frustrated by the victim's resistance," Judge Burgess observed from the bench.
Read more about sex crimes in Berkeley.
Burgess held Castellanos Miller to answer on attempted sexual penetration, assault with intent to commit a sex crime and kidnapping to commit a sex crime.
All three of those counts are felonies and the kidnapping charge, if proven, could result in a life sentence.
(Under the law, kidnapping in this context is defined as moving a person from one place to another to commit a sex crime.)
The young woman who was attacked, an international UC Berkeley student from Korea, was identified in court as Jane Doe due to the nature of the charges.
She did not appear in court herself, but Berkeley police testified about what she told them.
Burgess said the young woman put up an extended struggle on the ground in an effort to protect her private areas.
"It wasn't just resistance for a minute or two," the judge said. "This is like three to four minutes of twisting and turning."
Roz Silvaggio, of the Alameda County public defender's office, argued successfully to have charges of attempted rape and sexual battery by restraint dropped, but Judge Burgess upheld the other filed charges.
"Be quiet and you won't get hurt"
Two Berkeley police officers — a patrol officer and a sex crimes investigator — testified Monday about the evidence in the case.
On the night of March 26, police say Castellanos Miller followed the young woman for multiple blocks on Shattuck Avenue after she'd gone for a walk in the neighborhood.
As they worked on the case, sex crimes investigators found surveillance video that showed the young man following the student south on Shattuck Avenue toward Blake Street, police said. Some of that footage was played Monday in court.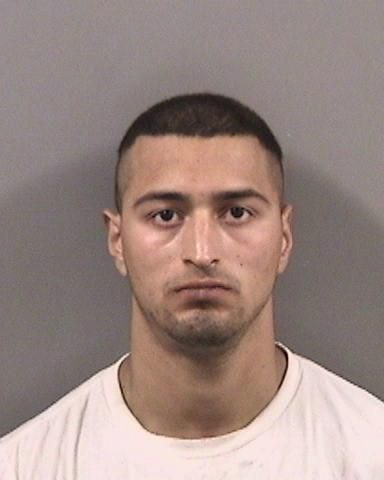 Jonathan Castellanos Miller. BPD
Once Castellanos Miller and the young woman turned onto Blake Street, he suddenly tackled her from behind in a bear hug and pushed her down onto the ground in a dark parking lot, according to BPD.
The attack was caught on surveillance video, which was also played in court.
At times, the man held both of the young woman's arms down, police said.
"She stated she was scared because she did not know when it would stop," BPD Officer Isaiah Verrett testified.
At one point, the woman broke free and tried to escape, police said, but Castellanos Miller managed to push her down again further into the parking lot.
He put one hand over her mouth to stifle her screams and she could feel his other hand moving up and down behind her — apparently masturbating — as she continued to struggle, police said.
"Be quiet and you won't get hurt," he told her, according to testimony by BPD sex crimes Detective Daniel Morales.
The attack ended abruptly when Castellanos Miller stood up and told the woman repeatedly to leave, Morales testified. But she was so "physically exhausted and scared" from the struggle, she could not get up off the ground.
Castellanos Miller eventually ran from the scene himself, Morales said, leaving the woman on the ground.
A forensic analysis ultimately recovered Castellanos Miller's semen from the back of the woman's jacket and under the arm of the jacket, police said.
When police arrested him in April at his mother's home in Concord, they found handcuffs as well as a black backpack, black jacket and black face mask — consistent with items visible in the surveillance footage — during a warrant search of his vehicle, Morales testified.
Defense: "A lot of gray area" in the attack
During closing arguments, defense attorney Silvaggio sought to have most of the charges in the case dismissed.
She said there had clearly been a kidnapping, but that it was not for the purpose of rape.
"What the evidence has shown us through this testimony is that there was a sexual act, and the sexual act was completed," she said. "The sexual act was masturbating to completion."
Silvaggio said there was "a lot of gray area" in what happened, and that Jane Doe told police she had feared something more traumatic would happen than what actually took place.
She also argued that the touching of the woman's private areas was "incidental."
"In no way am I trying to discredit or argue that what happened to this victim isn't scary," Silvaggio said. "It's just not what Mr. Castellanos Miller is charged with."
Silvaggio also acknowledged that the surveillance footage of Jane Doe being followed down the street by a man in a mask was "terrifying."
It's "what all of us fear when we walk down the street alone at night," she said. "One set of footsteps behind you — it's what everybody fears."
But, Silvaggio continued, "though the conduct is terrifying, it does not make the actual charges true."
She argued that the evidence presented did not support any sexual intent beyond masturbation.
Jacobson, the prosecutor, said Castellanos Miller had touched the woman's private areas "many times" over several minutes as she squirmed and did everything she could to turn her body away from him and push his hands off of her.
"When she's taken to the ground, the intent to rape is there," he said. "All of this being done for … sexual gratification is quite clear."
During Monday's hearing, Roz Silvaggio also asked for Castellanos Miller to be released on his own recognizance, in part so he could receive extended foster care services, such as housing placement and "programming that will address his very specific needs."
Silvaggio also told the judge that Castellanos Miller's file on her desk, including his Child Protective Services and juvenile offense records, was "3 feet high."
She said he had been "homeless on the street" when the incident happened in March — despite working two jobs, including at Burger King.
"I understand that these charges are serious," Silvaggio said. But she asked the judge to consider "what is important to our society in terms of public safety, in terms of children and young adults getting the services that they need so they can be productive law-abiding members of society."
Judge Burgess ultimately denied the request to release Castellanos Miller on his own recognizance.
She ordered him to remain in custody with a bail of $500,000.
Castellanos Miller is scheduled to return to court Aug. 15 for arraignment on the charges he now faces.
Felony sex crimes are up 51% in Berkeley this year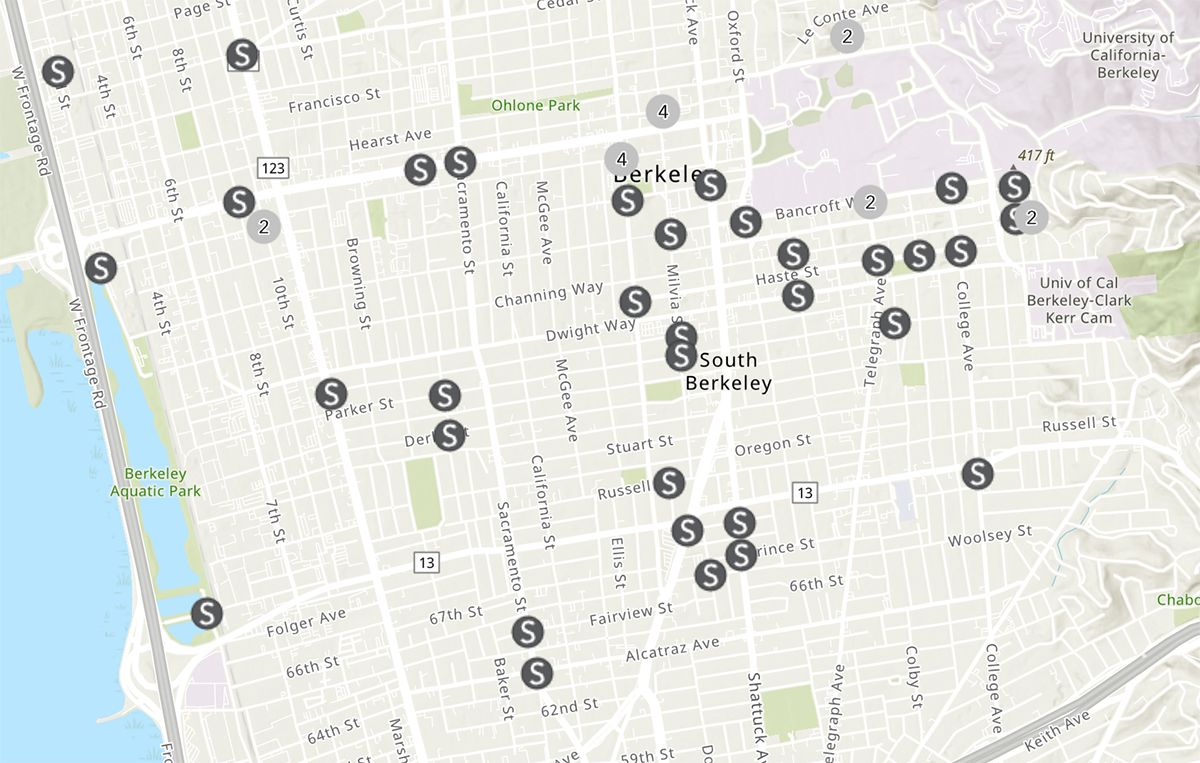 There have been at least 53 felony sex crime reports in Berkeley this year compared to 35 at this time last year, according to BPD crime statistics.
That's a 51% increase.
Many of those reports are concentrated in the neighborhoods south and west of the UC Berkeley campus.
Campus sexual violence support resources
Other 24/7 resources
For more information on sexual violence prevention and resources, UCPD directed members of the campus community to its survivor support website.