Traffic safety
Berkeley police: Reckless driver strikes Lyft, sends rider to ICU
The speeding driver, a 20-year-old Richmond man, ran a red light and had been going 90 mph, the authorities said.
A man who was taking a Lyft ride home from San Francisco on Sunday morning is in critical condition this week after a driver speeding down San Pablo Avenue ran into his car in Berkeley, authorities report.
The speeding driver ran a red light and had been going 90 mph, authorities said.
The crash happened early Sunday morning, police told The Berkeley Scanner on Thursday.
According to the Berkeley Police Department, the Lyft driver had picked up three people in San Francisco and brought them to the East Bay.
Shortly before 3 a.m., he was driving east on University Avenue in Berkeley when a driver who was southbound on San Pablo Avenue struck him, police said.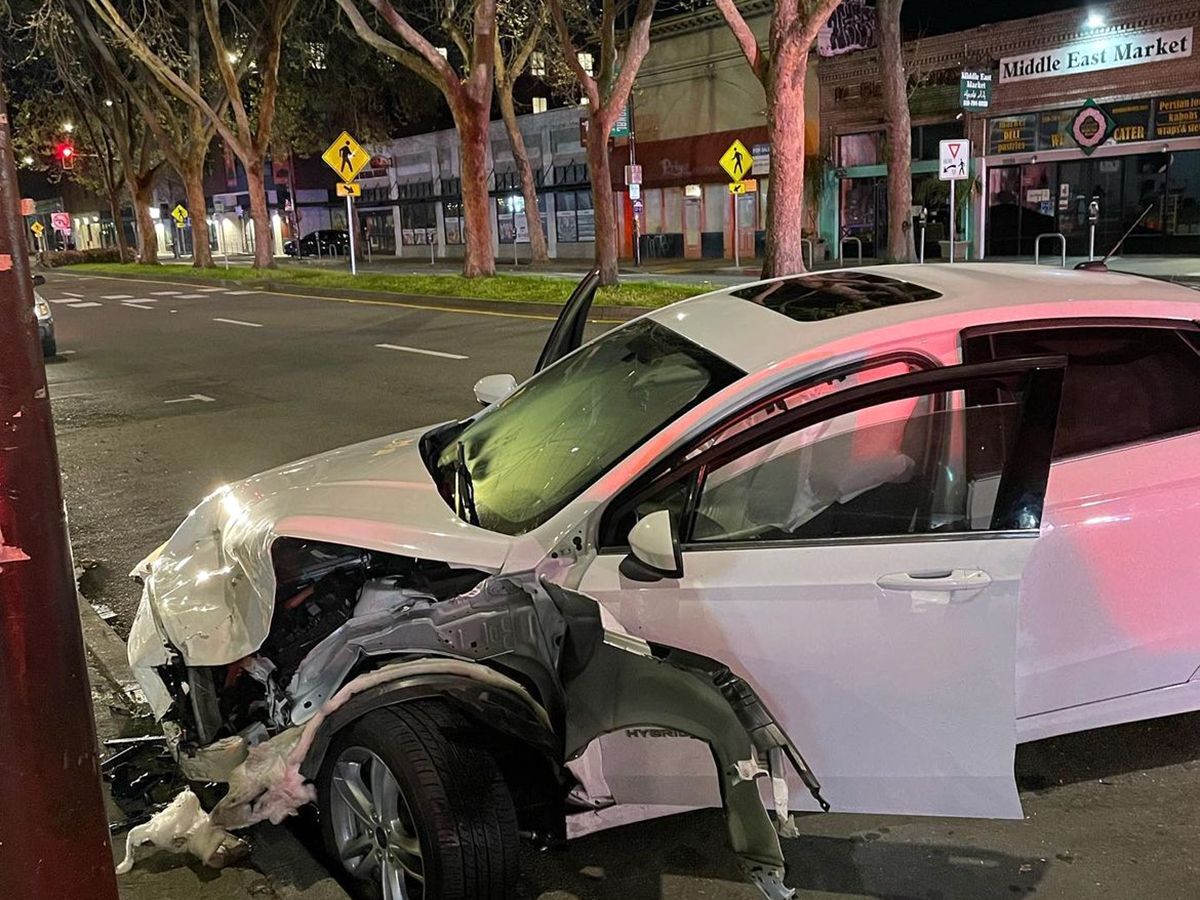 BPD said the speeding driver's car, a white Ford Fusion, came to rest in the northbound lanes of San Pablo Avenue south of University Avenue.
The Berkeley Fire Department had to extricate the man with the most serious injuries from the back of the Lyft car, which was a silver Toyota Camry.
The passenger had been sitting behind the driver's seat and bore the brunt of the impact, authorities said.
Police identified the passenger as a 28-year-old Oakland man and said he was still in the ICU but stable as of Thursday.
🚨
The Berkeley Scanner was the first to report this incident.
Two female passengers who had also been in the backseat of the Lyft, both women in their 20s, sustained minor to moderate injuries.
The Lyft driver, a 62-year-old man from Castro Valley, sustained moderate injuries, police said.
When the speeding driver struck the Camry, police said, it spun around and was launched backward into a traffic signal on the southeast corner of the intersection.
The driver of the Ford Fusion, a 20-year-old man from Richmond, reported a complaint of pain.
The Berkeley Fire Department transported all five people to Highland Hospital.
Police arrested the Richmond man on suspicion of reckless driving. His name was not immediately available because he is no longer in custody.
Police do not believe drugs or alcohol were factors in the crash.
🚨
A reader asked us about this incident, which resulted in this report. Have questions about crime in Berkeley? Alert The Berkeley Scanner.