Crime
TikTok challenge drives uptick in thefts of Hyundais, Kias in Berkeley
Hyundais and Kias have been targeted in vehicle thefts around the nation. The automakers have come up with a new theft deterrent software to help.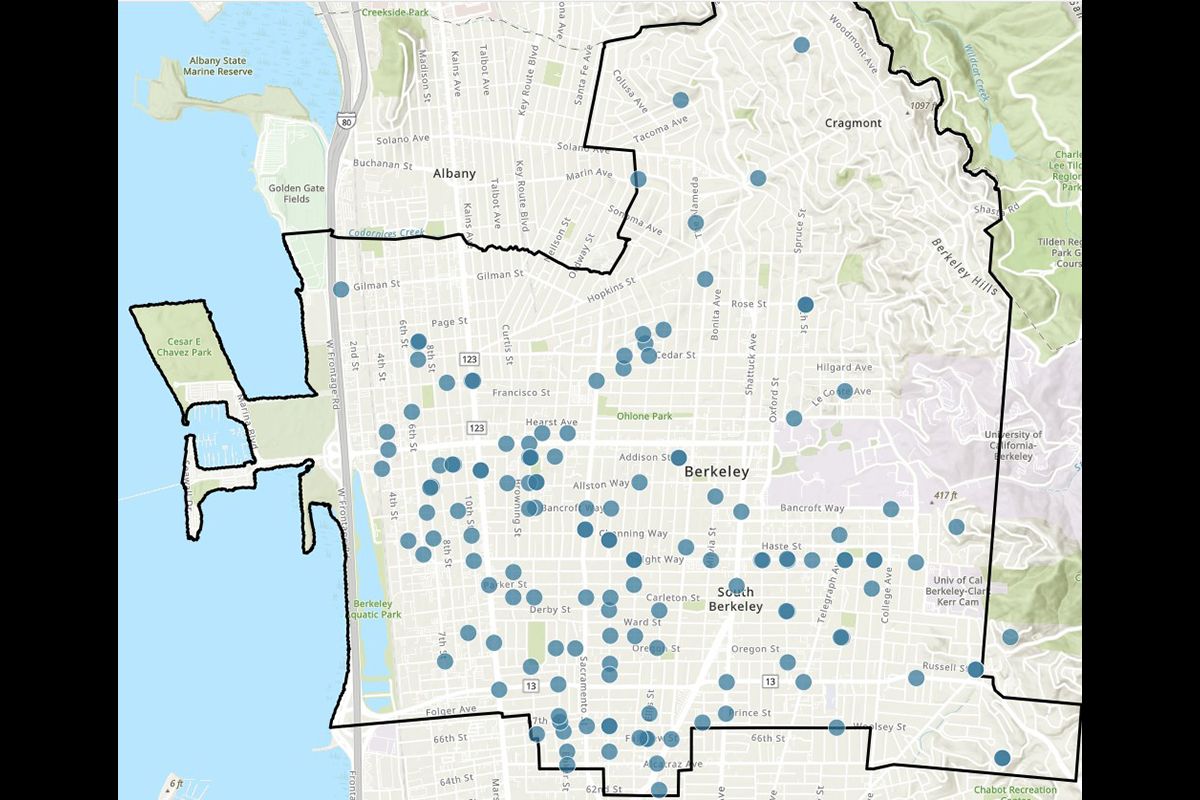 Police in Berkeley are warning the community to watch out for vehicle thefts involving Hyundais and Kias, which made up 38% of stolen cars in the city from December through February.
February saw the highest number of vehicle thefts in Berkeley in recent months — despite being the shortest month of the year, according to data reviewed by The Berkeley Scanner.
Throughout the month, 100 vehicles were stolen, according to CrimeMapping.com, a repository for local crime data.
In October and November, Berkeley averaged 66 vehicles stolen. That number jumped to 90 in December, stayed relatively flat in January with 86 vehicles stolen, then increased to 100 in February — which works out to nearly four vehicles stolen each day.
Berkeley police said the "noticeable trend" in stolen Hyundais and Kias in Berkeley had been driven in part by a TikTok social media challenge that has been spreading across the nation.
As reported by CNBC, participants, who are mostly young teens, "post videos stealing and driving the cars on social media using the hashtag 'Kia Boys' — which has more than 33 million views on TikTok."
Federal authorities say the TikTok challenge has resulted in at least 14 crashes and eight fatalities across the nation and spurred automakers to come up with stronger theft deterrents including special software and steering wheel locks.
Police in Berkeley said the targeted vehicles include older Hyundai and Kia models that do not have engine immobilizers to prevent them from being hot-wired.
The new software, which was announced in mid-February by the National Highway Traffic Safety Administration, extends "the length of the alarm sound from 30 seconds to one minute and requires the key to be in the ignition switch to turn the vehicle on."
One community member told The Berkeley Scanner about how auto thieves had tried to steal her Kia from her central Berkeley block in early February.
A neighbor saw several people walking up the street looking into cars, she said. The group then shattered the Kia's back window and disabled the steering column, but ultimately wasn't able to take the car.
"It wasn't even locked," she said. "They could have just opened the door."
She said the repair had been expensive — more than $800 — and time-consuming to arrange.
She also described having gone outside to clean up the shattered glass from the street so others would not have to bike or walk through it. It had been no small feat.
"It took me quite a while," she said. "The whole process is just so mean."
In the aftermath, she'd bought clubs for the family vehicles and stepped up security in other small ways.
"It did make me feel pretty paranoid for other things," she said. "Putting on more lights, double checking more locks, keeping an eye out for couple days."
"I still felt lucky that it could have been so much worse," she added. "I liked that my neighbor looked out for us."
Another reader told The Scanner that their EV charging cable and charger had been stolen while they were charging their Toyota RAV4 Prime in their driveway recently.
"No sounds, no evidence," the reader said. "The charger locks into the car when it is charging. We really don't understand how it was released and taken."
The Berkeley Police Department said property crimes detectives had not seen other similar incidents in town, although guidance is available online for those hoping to avoid being targeted.
Catalytic converter thefts from vehicles in Berkeley continue to be a major problem, however, with at least 169 reported already this year.
That seems to be keeping pace with last year, which saw the highest number of catalytic converter thefts the city has seen.
In its recent announcement, the Berkeley Police Department advised owners of Hyundais and Kias to take several steps to reduce the chance of having their vehicles taken:
Contact Kia or Hyundai for the latest theft-deterrent software
Consider using a steering wheel lock after parking
Park in a garage or find a well-travelled, well-lit location to park
Report suspicious activity as quickly as possible: Dial 911 for emergencies including vehicle thefts and other crimes in progress. For non-emergencies, dial 510-981-5900.