Traffic safety
Berkeley cyclists, officials decry recent 'dooring' attacks
"This was the first time anything like this has happened to me in nine years biking in Berkeley," said Watson Ladd. "It was pretty shocking."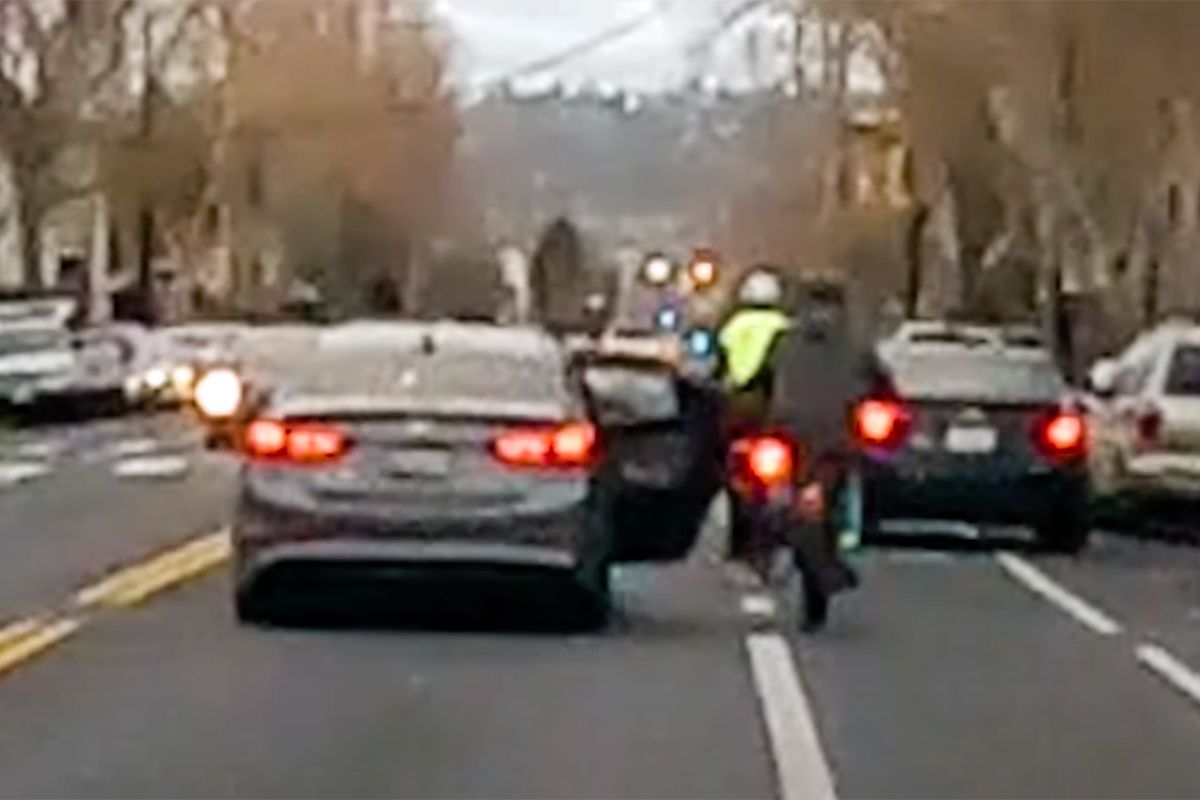 At least two Berkeley residents were targeted amid a spate of intentional attacks on cyclists by motorists in Berkeley, Emeryville and Oakland in recent days — prompting several Berkeley officials to speak out this week.
The East Bay Bike Party, a volunteer community group that organizes large monthly bike rides, including one that took place Friday in Oakland, says 20 cyclists were targeted and nine hit between Thursday and Saturday, including two people who were hospitalized with serious injuries.
This week, the Berkeley cyclists who were targeted told The Berkeley Scanner that they had escaped serious injury but were still deeply concerned about what had happened to them and others last week.
"This was the first time anything like this has happened to me in nine years biking in Berkeley," said Watson Ladd. "It was pretty shocking."
KTVU covered the story on Sunday and the East Bay Bike Party has continued to compile information about what is known to have taken place.
According to the East Bay Bike Party, the assailants used four different cars, including one that was confirmed to have been stolen.
"In several attacks," the group said in a statement, "a driver sped alongside people riding bikes and a passenger on the right side of the car opened their door to hit the bike riders at speed. In at least two incidents the driver also drove directly into a bike rider rather than using the side door."
The East Bay Bike Party released videos and photos from an incident on Adeline Street in Emeryville on Friday at 5 p.m.
In that incident, the group said a driver in a stolen car, described as a 2018 silver Hyundai Elantra sedan, with California plates (8EDX427), tried to hit two people riding bikes but missed them both.
No photographs or videos are known to have captured the two incidents in or near Berkeley, the involved cyclists told The Berkeley Scanner this week.
But both community members did tell The Scanner what happened to them.
Eric Husted, a teacher who lives in Berkeley, said he had been running errands Saturday at 4:45 p.m. when a driver hit him from behind and then circled back — apparently to try again.
Husted said he had been northbound on his bike when the motorist struck him on Acton Street just north of Parker Street in southwest Berkeley.
The driver — in a black Kia Soul — had stopped at Parker Street facing west but turned right and got behind Husted when he passed.
"I attempted to make eye contact with the driver," he told The Scanner. "After I went through the intersection, the car turned and suddenly I realized it was very close to me and it hit me."
Husted said he was lucky: He did not fall off his bike. But, when he tried to pedal, the wheel wouldn't turn because it had been damaged.
The driver went on to the next intersection but then turned around and drove back toward Husted, he said.
He jumped onto the sidewalk with his bike and took refuge behind a telephone pole.
"I was concerned I would be intentionally hit again," he said. "I was just scared in the moment, particularly when the car seemed to come back towards me. I thought the driver wanted to hit me. Maybe I would have been hit and injured much worse if I had fallen to the street and not been able to move quickly."
The driver left and Husted made a report to Berkeley police.
He said he was grateful to have walked away from the attack with minor bruising. He also needs to get his bike fixed, he said.
The rear wheel is bent and won't spin and the rear fender was smashed, he said. And that's just the damage he was able to see at a glance.
Biking around Berkeley is one of Husted's favorite things to do, he said. But given what's happened, he added, he wasn't sure how comfortable he'd be getting back on the bike in the near future.
Berkeley cyclist: "It could have gone a lot worse"
The attack on Husted was the last of the intentional collisions between drivers and cyclists in Berkeley, Oakland and Emeryville to have been reported thus far.
The first attack, which happened Thursday evening, also involved a Berkeley cyclist.
It took place about 100 feet past the Berkeley border in North Oakland.
Watson Ladd said he was just out for an evening ride, and taking his usual route, when a passenger in an SUV suddenly opened their door and "smashed" him in the shoulder.
Ladd said he had been southbound on King Street, between Alcatraz Avenue and 63rd Street, at 5:30 p.m. when he was attacked.
He said the driver, in a light blue SUV, had come up behind him rapidly and did not slow down during the dooring attack.
Ladd said he was able to stay on his bicycle despite the force.
"I got off lightly," he said. "It could have gone a lot worse."
"Violent, targeted attacks" with cars used as weapons
Ladd said he was shocked but ended up proceeding with his evening. He did not report the incident to OPD.
But then he heard about the other disturbing reports over the weekend and realized that what happened to him seemed to have been part of a pattern of violence that sent at least two people to the hospital.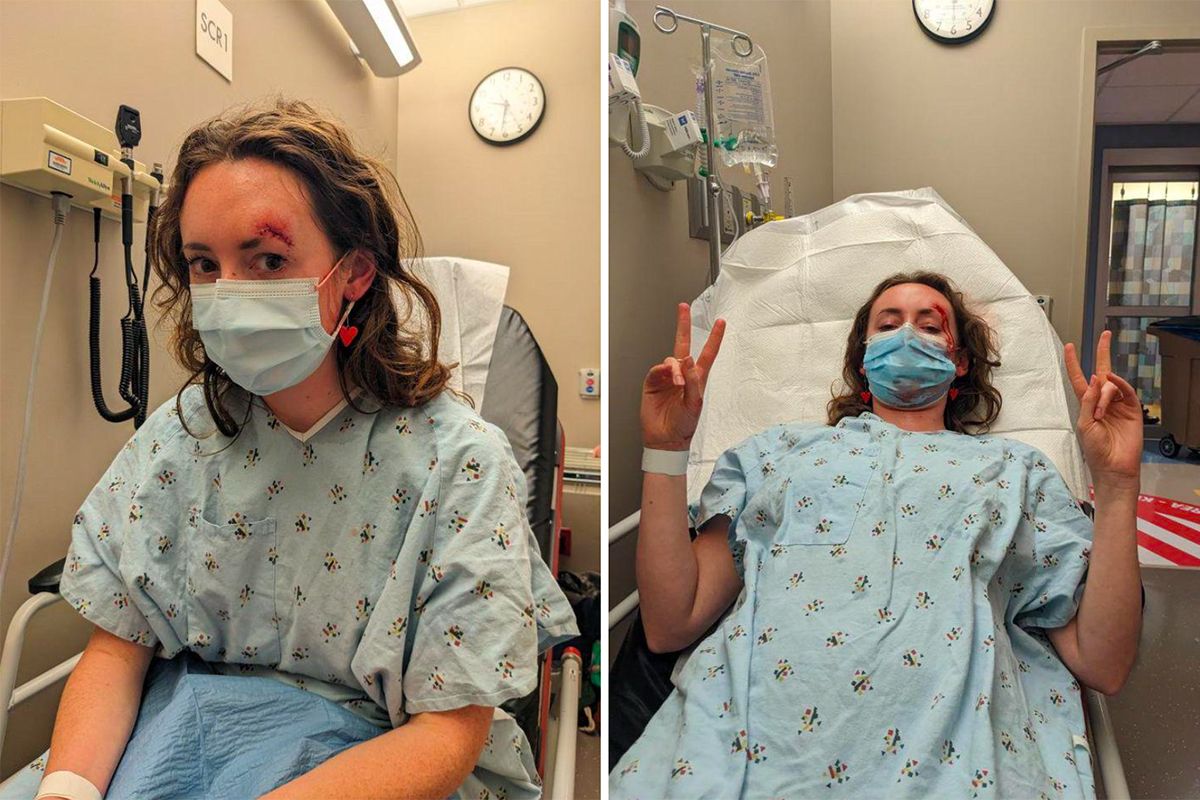 One woman, who was doored by a passenger in a silver sedan while riding her bike in North Oakland, required hospitalization for a deep gash on her forehead that required stitches, according to the East Bay Bike Party.
And a man said he broke a bone in his foot and sustained a fractured elbow when a driver in a blue hatchback intentionally hit him and then went on to "brush" multiple cyclists ahead of him.
"Make no mistake — these were violent, targeted attacks with cars used as literal weapons," the East Bay Bike Party said in its statement over the weekend. "Last night was another frightening reminder that local governments must take immediate action to make the streets safe for everyone."
The group has made its Google Docs roundup of all the incidents public and has continued to update it as new information has come in.
BPD Homicide Unit is looking into Acton Street attack
On Monday night, as word of the incidents spread, three Berkeley City Council members issued a statement condemning the attacks, which they described as "heinous."
"Getting from Point A to Point B should never be a life and death situation," said council members Mark Humbert, Terry Taplin and Rigel Robinson in a joint statement. "Any driver who weaponizes their car against people riding bicycles or on foot must be prosecuted and have their licenses revoked, at a minimum."
They also called strongly for policy decisions that would make it safer for community members who don't use personal cars to get around.
"Cities across the world have chosen to create road networks that protect people who walk, bike, and ride transit," they said. "It's past time for us to make that same choice."
The Berkeley Police Department said it is taking the reports seriously.
Its Homicide Unit is investigating the report on Acton Street, which is the sole incident known to have taken place within the Berkeley city limits.
"If a collision is intentional, it's considered a felony assault," said Officer Byron White, BPD spokesman, on Tuesday.
BPD asks anyone with information about the Acton Street attack or related Berkeley incidents to call the Homicide Unit at 510-981-5741.
🚨
A reader asked us about this incident, which resulted in this report. Have questions about crime in Berkeley? Alert The Berkeley Scanner.