Disaster preparedness
After Berkeley mudslide, 4 of 5 households can now go home
The Middlefield Road house, which saw the most damage, is still not clear to reoccupy. But those residents can at least return home for shorter stints.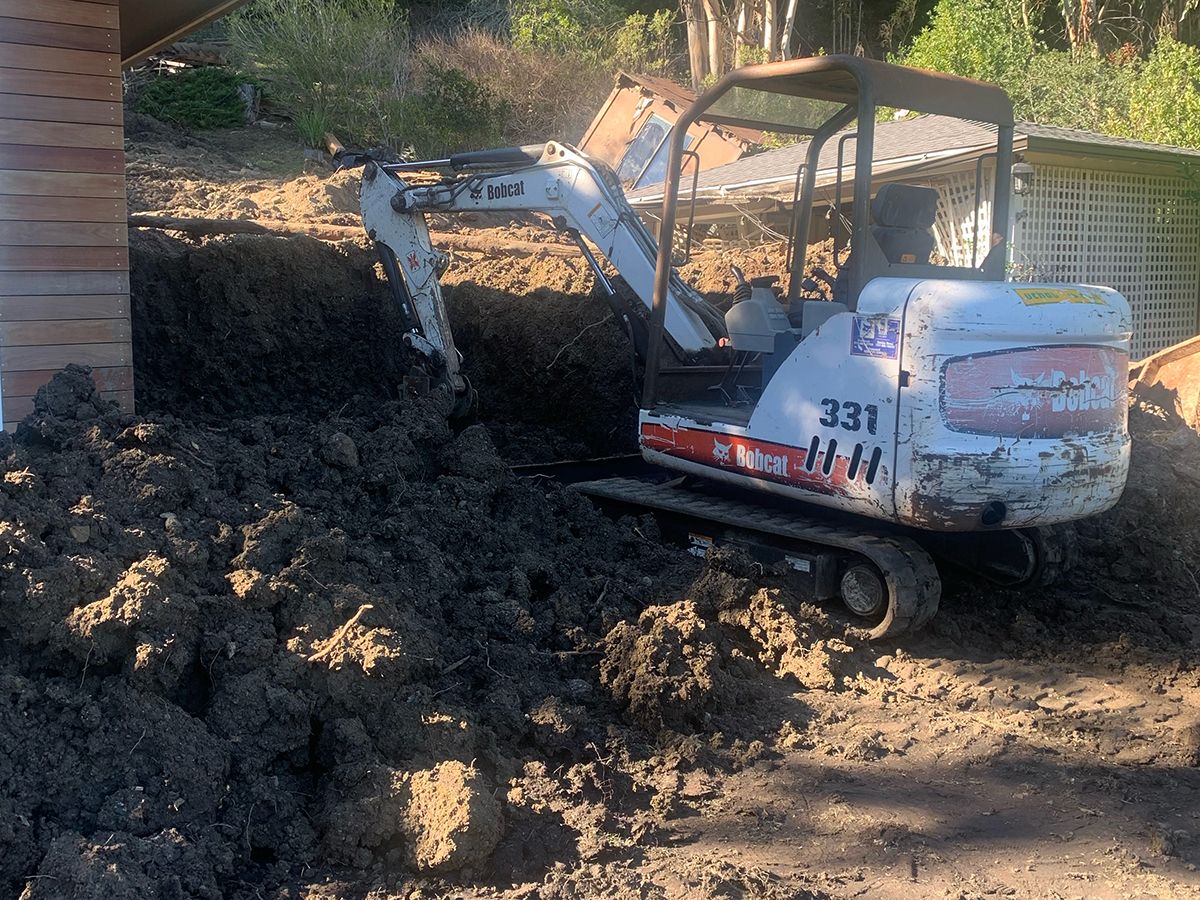 Friday brought good news for Berkeley Hills residents whose properties were threatened by a mudslide nearly three weeks ago: This afternoon, four of the five households that were displaced were told they could go home.
The fifth property, at the end of Middlefield Road, has been downgraded from a red tag to a yellow tag. Residents can now return home for short periods but still cannot move back in.
The home on Middlefield Road was the only one to see significant damage from the Jan. 16 mudslide in Berkeley, which pushed a wall of mud and dirt into the kitchen area early that morning.
The mudslide began on Zaytuna College property up the hill from Middlefield Road.
Initially, 14 people were evacuated from eight Berkeley Hills homes: the one on Middlefield and others down the hill on The Spiral and Wildcat Canyon Road, the Berkeley Fire Department said last month.
No injuries were reported but five of the eight homes — three on The Spiral, one on Wildcat Canyon and the house on Middlefield — were ultimately red-tagged, meaning they were unsafe to enter for any amount of time.
Late Friday afternoon, the city of Berkeley informed residents about its decision — "effective immediately" — to remove the red-tag designation from the homes on The Spiral and Wildcat Canyon.
"All restrictions associated with those properties have been lifted and tenants/homeowners are welcome to return and reoccupy these properties effective immediately," the city wrote in its notice Friday.
That doesn't mean those residents will necessarily be sleeping in their own beds tonight, however.
As part of the emergency response last month, all utilities at the affected properties were turned off.
This week, the city told the East Bay Municipal Utility District and PG&E that it was safe to restore service, according to Friday's notice, but residents may have to contact the utilities directly to get that work done.
Berkeley, Alameda County get green light for FEMA help
The city's announcement Friday was the second piece of good news to come this week for those who have been affected by the recent winter storms.
On Thursday, city staff advised elected officials that Alameda County had been added to a long list of California jurisdictions that are now eligible for federal aid to help with damage from the storms that began in late December.
On Jan. 14, President Joe Biden issued a major disaster declaration for the state of California, which triggered the release of federal dollars for storm recovery efforts.
But Alameda County was not originally on that list. That changed this week.
Individuals and households in Berkeley and the rest of Alameda County can now seek reimbursement from the Federal Emergency Management Agency for storm damage. (Scroll to the bottom of this story for details.)
Local governments in Alameda County can also be reimbursed for storm-related damage to public infrastructure, city staff said in Thursday's memo.
Berkeley mudslide: Truckloads of dirt coming down the hill
Councilwoman Susan Wengraf, who represents the Berkeley Hills, said she had been happy to hear this week that local residents affected by the recent winter storms are now eligible for federal assistance, particularly because insurance generally does not cover problems related to earth movement.
"They've been out of their houses for more than two weeks," she said Friday, of the households displaced by the Berkeley mudslide. "They've incurred a lot of expenses."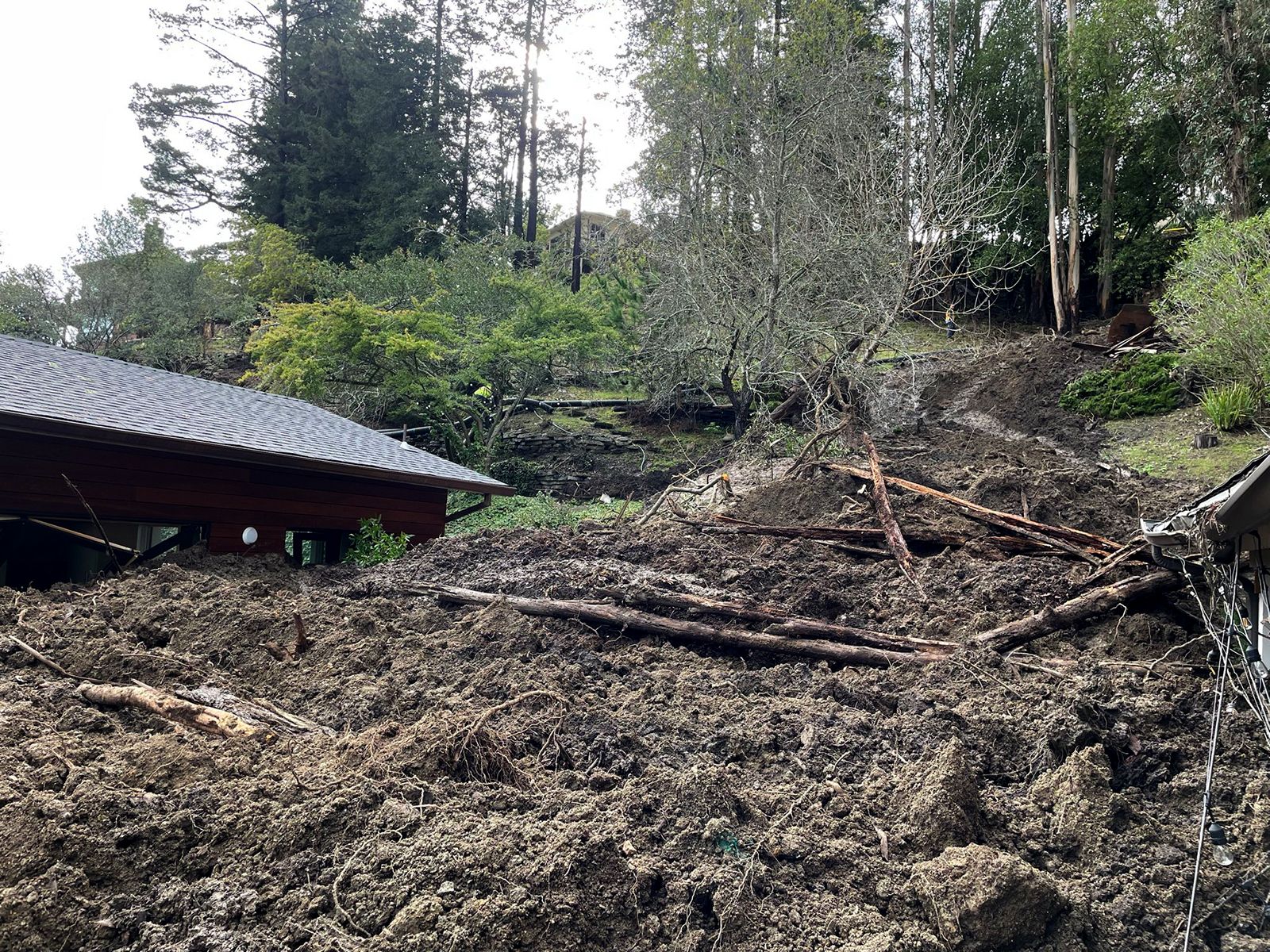 Wengraf said she will alert all of her constituents by email in the coming days about how to apply for federal help.
And she said she also had been glad to learn Friday that most of the residents displaced by the Berkeley Hills mudslide can now go home.
Wengraf said families with small children and large pets had particularly struggled in recent weeks as they scrambled to find places to go.
"It's been really difficult," she said. "Trying to find a place to stay is really a challenge. If you have a kid in school, you have to stay close."
Since mid-January, a contractor in a Bobcat has been painstakingly working to remove dirt from the mudslide area on Middlefield Road.
The Berkeley Fire Department described the process as tedious and "super slow going."
From the beginning, there were concerns that any movement could lead to additional damage.
When it's removed, the mud and dirt get driven down the hill one truckload at a time.
"Dump trucks have been taking the dirt out nonstop," one local resident told The Berkeley Scanner on Friday evening. "We are almost on a first-name basis with the drivers now."
"It's hard to imagine all that dirt coming down the hill," Wengraf said.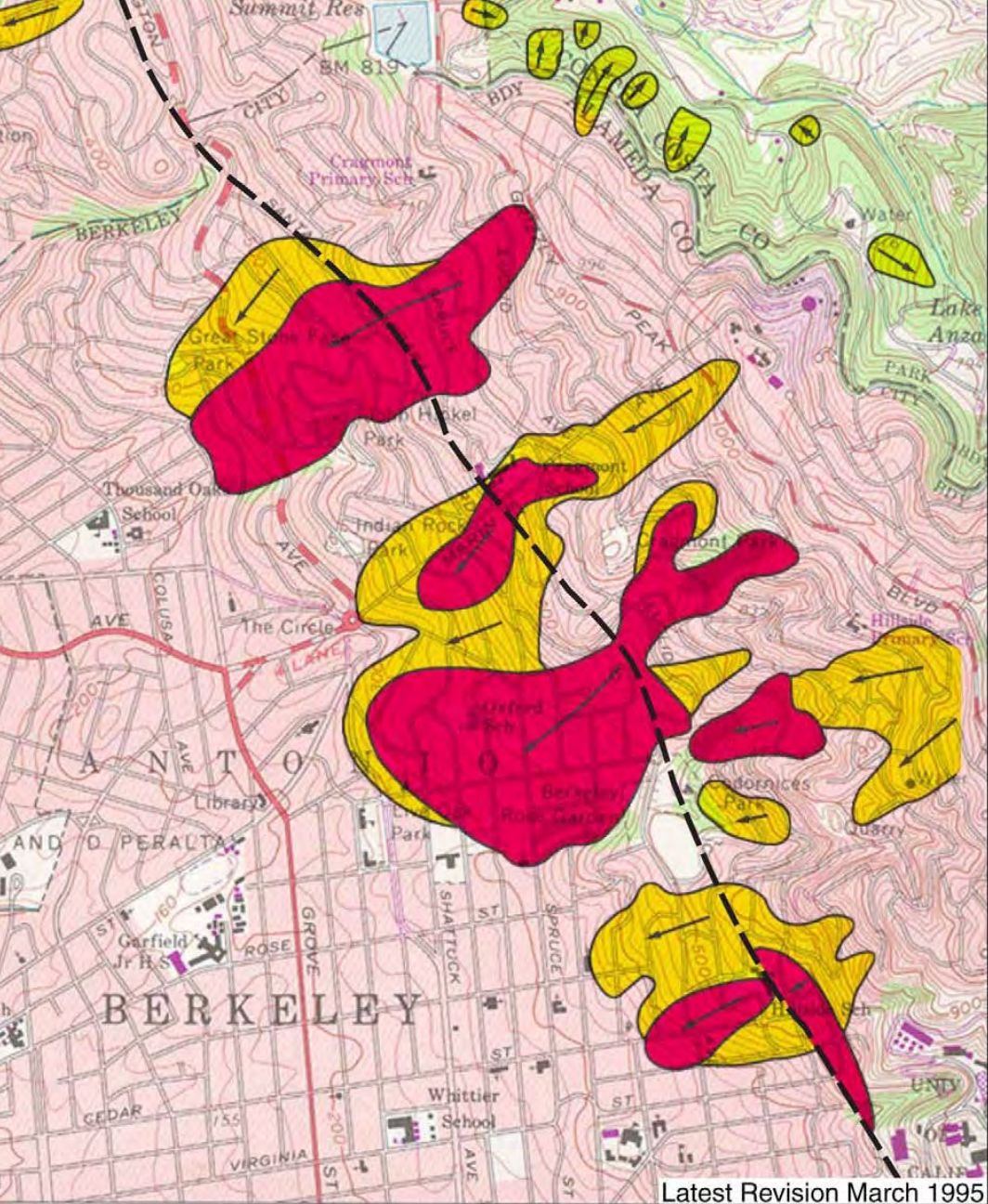 City:  "No visible movement of soils" in weeks
On Friday, the city's chief building official David Lopez told displaced residents in a memo how the city had been able to determine that the area was safe.
He wrote that the city's Building and Safety Division had been communicating with geotechnical engineers to monitor progress related to the Berkeley Hills mudslide cleanup and said staff had also gone to the site to take a closer look.
"Today, Building Division staff made a site visit to Zaytuna College property to confirm temporary measures have been installed to lessen the probability of additional landslide activity," Lopez wrote.
He said the college had installed Visqueen — a type of plastic sheeting — over the entire landslide area and was using a sump pump system to divert water into a drainage basin.
The plastic sheeting can be installed when it rains and may be removed during prolonged periods of better weather.
The college will continue to monitor the area in the coming months "until a permanent solution is installed to lower the probability of further landslides," he wrote.
Lopez told displaced residents that city staff could still see water draining from temporary pipes connected to Zaytuna's sump pump system as of this week.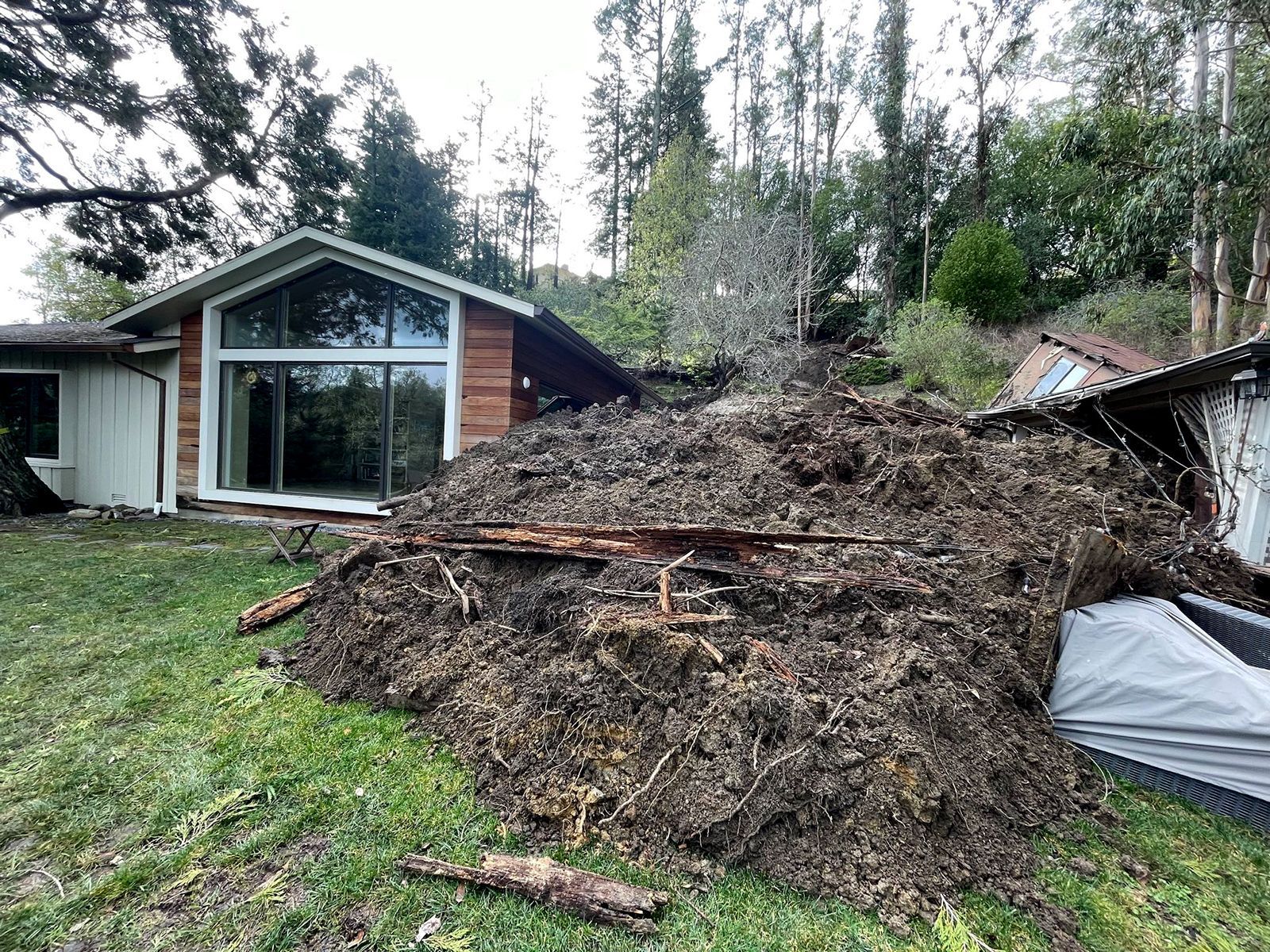 Debris from the Jan. 16 landslide was contained to a single property on Middlefield Road, Lopez wrote: "The debris field … was found to be slowly creeping forward downhill" but had stopped "approximately 8 feet from the lawn edge."
The Berkeley Fire Department then set stone markers in the ground to track the movement, he wrote.
Lopez said the flat area of the Middlefield Road debris site had been cleared but added that new landslide activity could lead to displacement again.
"It is with high probability that the same phenomena would occur if future landslide activity occurs," Lopez wrote.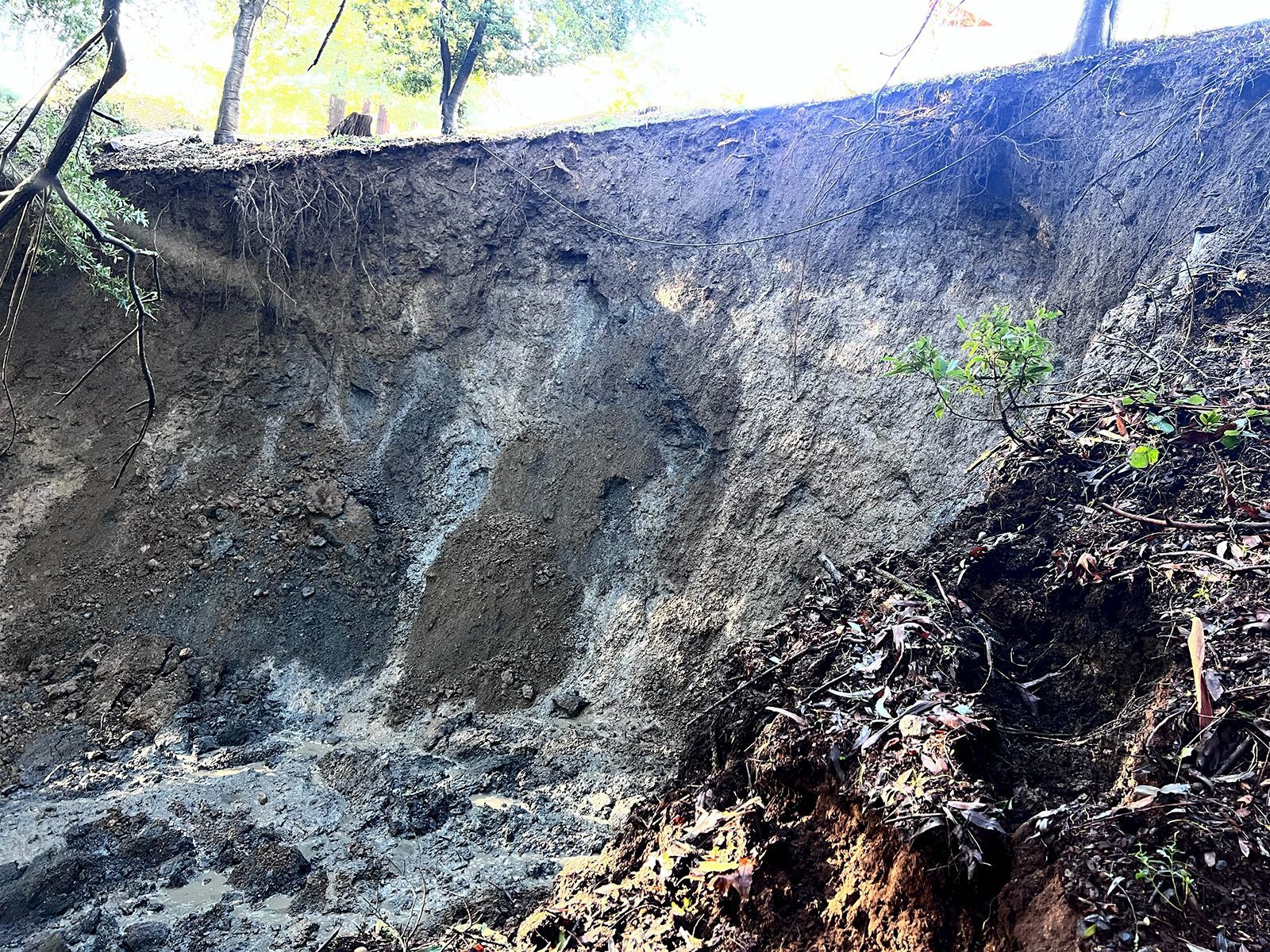 Lopez wrote that there is now a bowl-shaped area clear of dirt where the original mudslide ended. It could contain debris if there is new landslide activity and may also limit impacts farther down the hill, he wrote.
The "last couple of weeks" had seen "no visible movement of soils" at the debris site, he said. The city has continued to speak with geotechnical experts hired by nearby property owners as it monitors the mudslide situation.
Berkeley also hired its own geotechnical engineer, Lopez wrote, who had determined that the risk of future mudslide activity would be "low during dry conditions for all properties."
The city's expert also found, however, that the risk of new activity would be "higher for some properties" unless measures are taken to stabilize the head scarp, or upslope portion of the landslide, on Zaytuna property.
There will be another site assessment after this weekend's rain, Lopez wrote.
He also reminded Berkeley Hills residents that landslide risks are an ongoing concern in the area.
"There is always a potential for landslides in the hillside areas of our city. Always be cognizant of your surroundings and always have emergency preparedness kits and other items in case of landslides or other emergency events," he wrote. "If you see or sense that there is movement of land in your vicinity do not hesitate to call the fire department at any time."
🚨
Are you a Berkeley or Alameda County who saw severe storm damage?
You can
apply online
to find out if you're eligible for federal help or call 800-621-3362 (TTY: 800-462-7585) to learn more.
Find
disaster preparedness resources
on the city of Berkeley's website.