Berkeley Fire
Berkeley fire closes Broom Bush Cafe, GoFundMe launched
"We're in shock right now and don't know when we can re-open," 16-year-old Grace Jung, daughter of the owners, wrote on GoFundMe.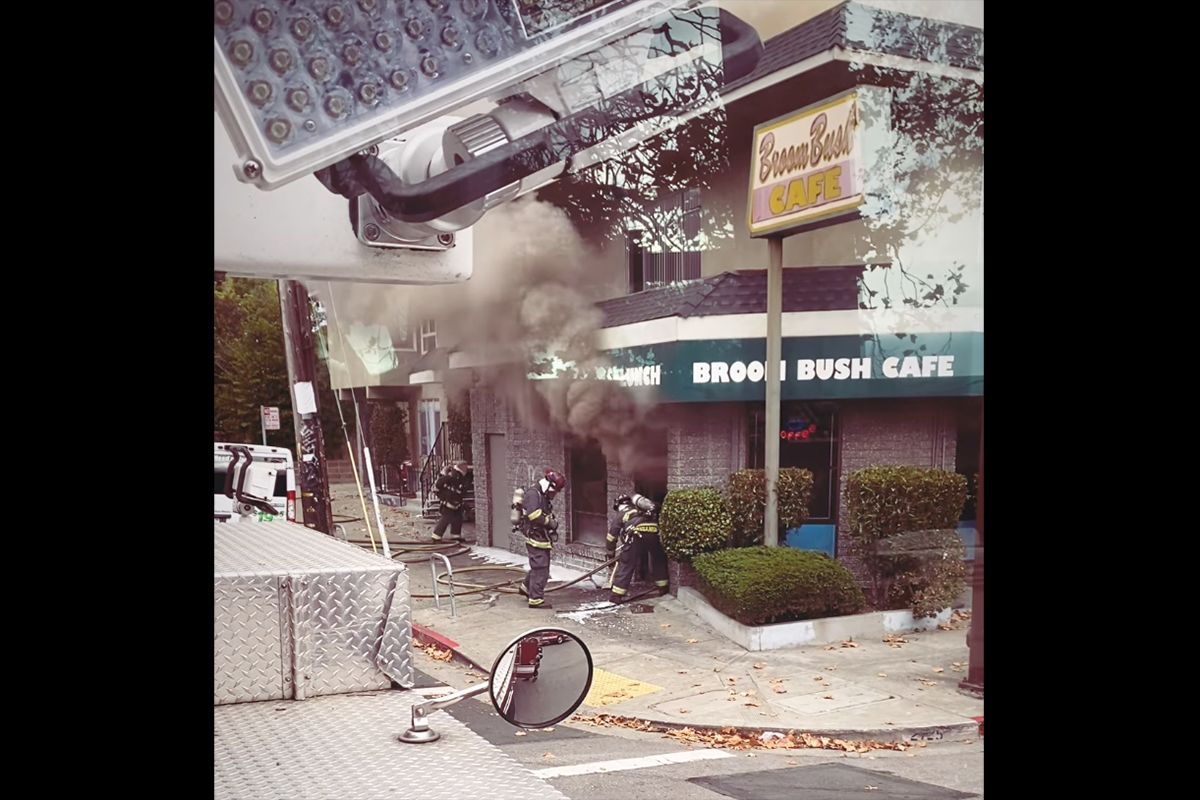 A fire over the weekend at Berkeley's Broom Bush Cafe caused an estimated $100,000 in damage and closed the business temporarily, authorities and community members said.
The fire may have begun in the kitchen, Deputy Berkeley Fire Chief Keith May said Thursday.
Preliminary damage estimates may change as the investigation proceeds, he cautioned.
The business has now launched a GoFundMe fundraiser to help with its recovery efforts.
The Berkeley Fire Department said it received a call Sunday just before 3:40 p.m. about black smoke coming from the chimney at Broom Bush, which is located at 2725 San Pablo Ave. (at Ward Street).
"Crews arrived to find a two-story building with heavy smoke showing on the street side of the business," May said.
A resident who was home in the apartment over the business had already gotten out of the building safely when firefighters arrived.
Police also evacuated nearby buildings on Ward Street during the emergency response.
The Scanner listened to emergency radio dispatches as BFD fought the fire.
Firefighters confirmed over the radio that there was "active fire in the ceiling" of Broom Bush, but also described a "dramatic change of conditions" outside at one point, with "very little smoke" coming from the chimney.
Firefighters also said they checked the roof and determined they did not have to vent it, according to the emergency dispatches.
May said the fire was declared under control about 12 minutes after crews arrived.
There were no injuries to civilians or firefighters.
During the fire response, community members said they could smell "toxic smelling smoke" near San Pablo Park and also farther east in the city.
The Berkeley Fire Fighters Association posted video of the Broom Bush response on Instagram.
GoFundMe launched to help Broom Bush Cafe
Sixteen-year-old Grace Jung wrote on GoFundMe that her parents, Sunny and James Jung, were the owners of the business.
She said the fire broke out Sunday after the restaurant had closed for the day.
"We're in shock right now and don't know when we can re-open or what will happen," she wrote. "Given this emergency we're reaching out to our customers and community to ask for your help in our time of crisis."
Grace wrote that her parents took over Broom Bush Cafe a year and a half ago.
"They wanted to run a residential neighborhood restaurant with a long tradition in the community," she wrote. "The previous owners of Broom Bush Cafe started in 1985. Since taking it over more and more people have been coming to this neighborhood institution, my parents spent their savings remodeling and have been working very hard to make it a success in a difficult climate."
As of Thursday morning, more than 40 people had donated about $2,400 to the fundraiser.
The GoFundMe campaign has a goal of $25,000.
🚨
Readers asked us about this incident, which resulted in this report. Have questions about crime and safety in Berkeley?
Alert The Berkeley Scanner
.