Arrests
Teens arrested in Berkeley after trying to rob 16-year-old boy
There have been about 260 robberies in Berkeley this year, up 11% compared to last year at this time, according to the latest police data.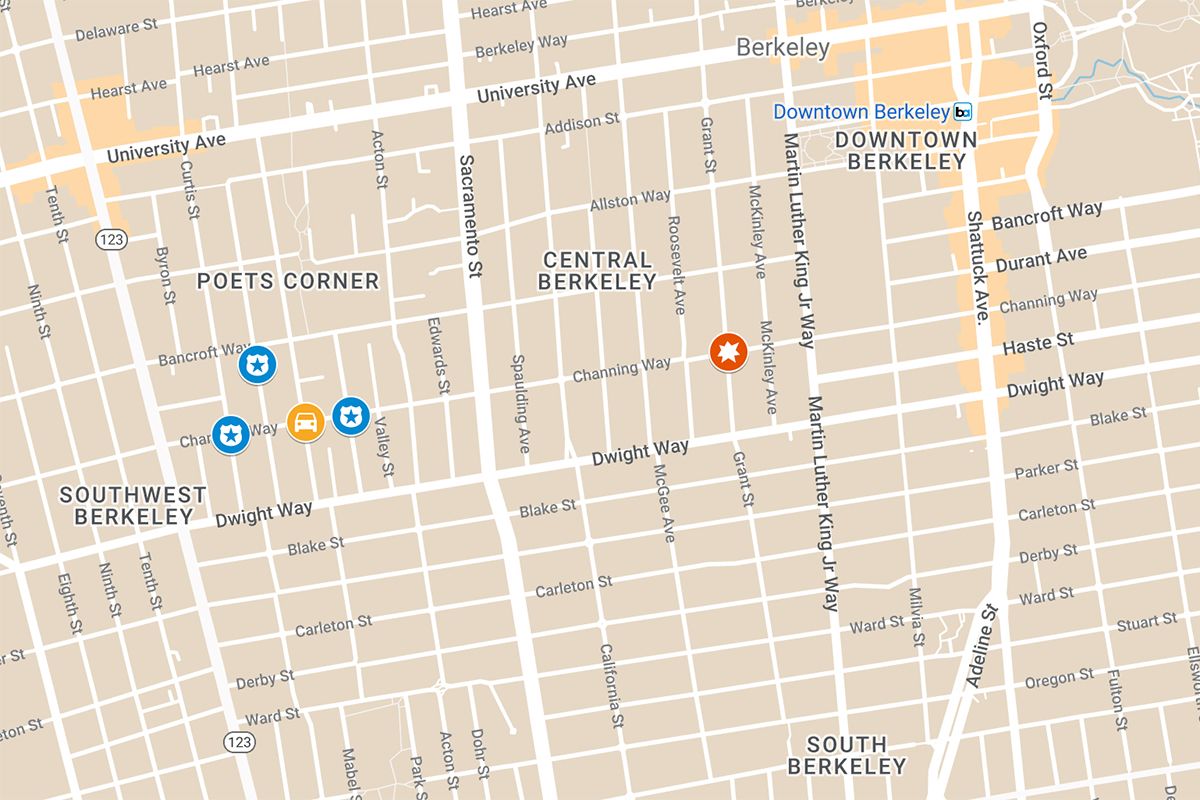 A 19-year-old remains in custody on Sunday after trying to rob a 16-year-old boy in central Berkeley on Thursday night, according to police and court records.
The incident prompted an hour-long police search in southwest Berkeley that sparked interest and concern in the neighborhood.
Police said the robbery attempt took place around 6 p.m. Thursday at Channing Way and Grant Street.
During the confrontation, one of the suspects "reached for his waistband" as if he had a weapon, police said, and the 16-year-old boy "just ran." He was able to flag down a police officer nearby.
Around the same time, Berkeley police were investigating a report of a suspicious car at Channing Way and Bonar Street about a mile away. They found it idling in the street.
People in or near the vehicle took off running when officers arrived, police said.
That led to a police chase on foot near Channing and Curtis Street, with one of the suspects jumping over a shed and hopping fences, according to scanner traffic.
One woman told The Scanner she saw a "huge police presence" on West Street around that time.
On NextDoor, a community member described officers "running down the street with guns drawn."
At that point, police believe the suspects may have been armed based on the initial report.
Read more about crime in Berkeley.
Police set up a perimeter and arrested one of the suspects at about 6:10 p.m., BPD said.
The idling car turned out to have been stolen from Orinda, according to authorities.
As officers were getting ready to leave the area nearly an hour later, a resident called police to report an intruder lurking on his property between two houses.
After he was spotted, that individual began climbing fences in the area of Channing Way and Browning Street, police said. He was initially able to escape.
A neighbor told The Scanner she got an alert Thursday night about "a man at Browning and Channing with a gun right now," with Berkeley police advising, "Don't go out of your house."
Officers set up a perimeter and searched each of the houses yard-by-yard until they found the suspect in his hiding spot and arrested him at about 8 p.m., according to BPD.
Both individuals who were arrested were identified as robbery suspects, police said.
Read more about robberies in Berkeley.
As of Sunday night, 19-year-old Antoine Scott remained in custody at Berkeley Jail pending arraignment, according to records online.
Scott was arrested on suspicion of robbery, vehicle theft, obstruction and possession of stolen property, according to booking records.
He's been arrested at least five other times since May in other Bay Area counties in connection with vehicle theft, attempted burglary, conspiracy and other alleged crimes, according to records online.
Scott is scheduled for arraignment Tuesday at Wiley Manuel Courthouse in Oakland, according to jail records. He is being held on $125,000 bail.
In the end, a 17-year-old suspect was arrested along with Scott, but his custody status was unknown as of publication time due to privacy laws that protect minors.
Berkeley had 3 other robberies that day
According to police data, Berkeley had three other robberies, including a carjacking, within 24 hours of the incident on Channing.
On Wednesday at 11:40 p.m., there was a carjacking in the 1500 block of Virginia Street, according to BPD data.
About 20 minutes later, there was a robbery in the 2100 block of Martin Luther King Jr. Way.
About four hours later, shortly before 4 a.m., there was a robbery reported in the 1600 block of 62nd Street that involved some type of elder abuse and alleged conspiracy, indicating multiple assailants.
Finally, at 6 a.m., UC Berkeley police put out an alert about a robbery via gun in front of 2468 Telegraph Ave., a pizza shop on Telegraph Avenue.
UCPD said at least two people who were "armed with an AR-15 type weapon" approached the victim and took their phone and wallet.
The culprits left in a Lexus SUV-style vehicle, the University of California Police Department said.
Berkeley robberies are up 11% this year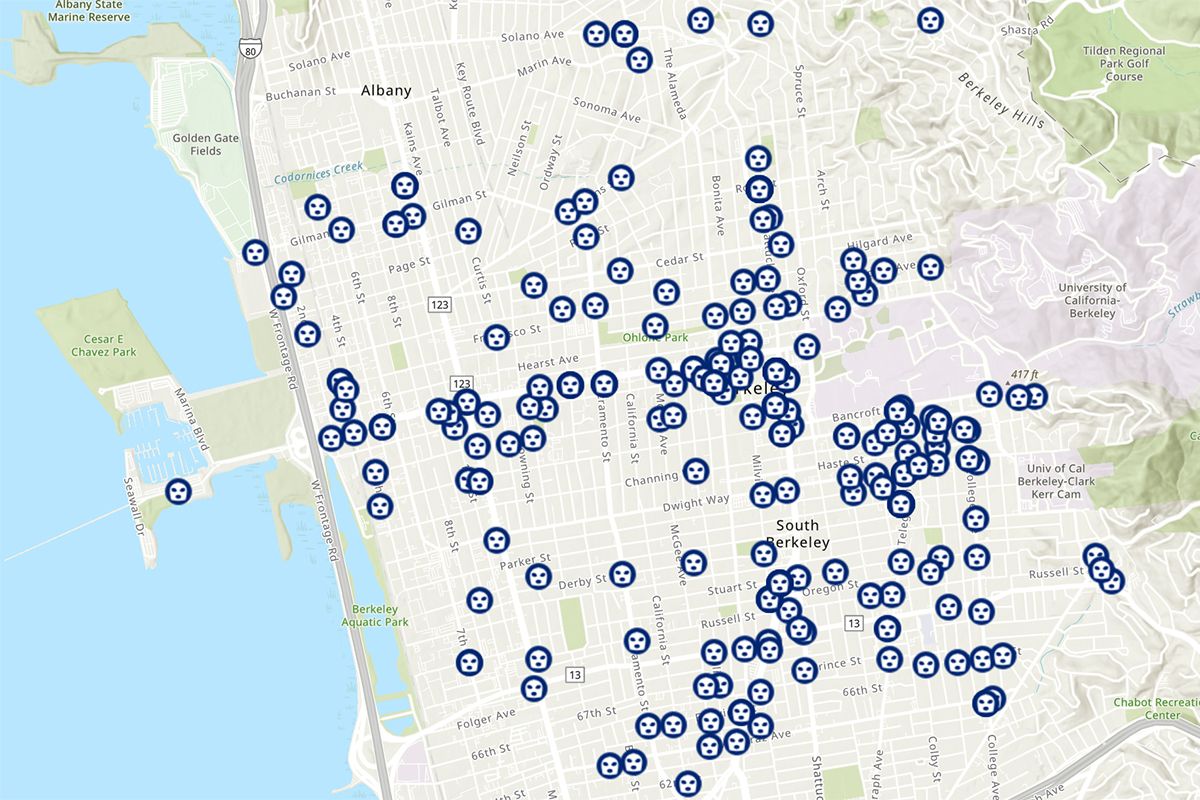 Berkeley historically has averaged about one robbery a day.
Those numbers dropped during the pandemic but have been climbing back up.
So far, there have been about 260 robberies in Berkeley this year, up 11% compared to last year at this time, according to the latest BPD data.
Unlike other nearby police agencies, the Berkeley Police Department does not distinguish armed robberies from other robberies in its data online.
But, in the first four months of the year, the most recent data available, nearly 25% of the robberies in Berkeley involved guns.
🚨
Readers asked us about this incident, which resulted in this report. Have questions about crime in Berkeley? Alert The Berkeley Scanner.