Crime
Women targeted in Berkeley carjacking, carjacking attempts
There have been several armed robberies and attempted robberies over the weekend, including a carjacking Sunday morning.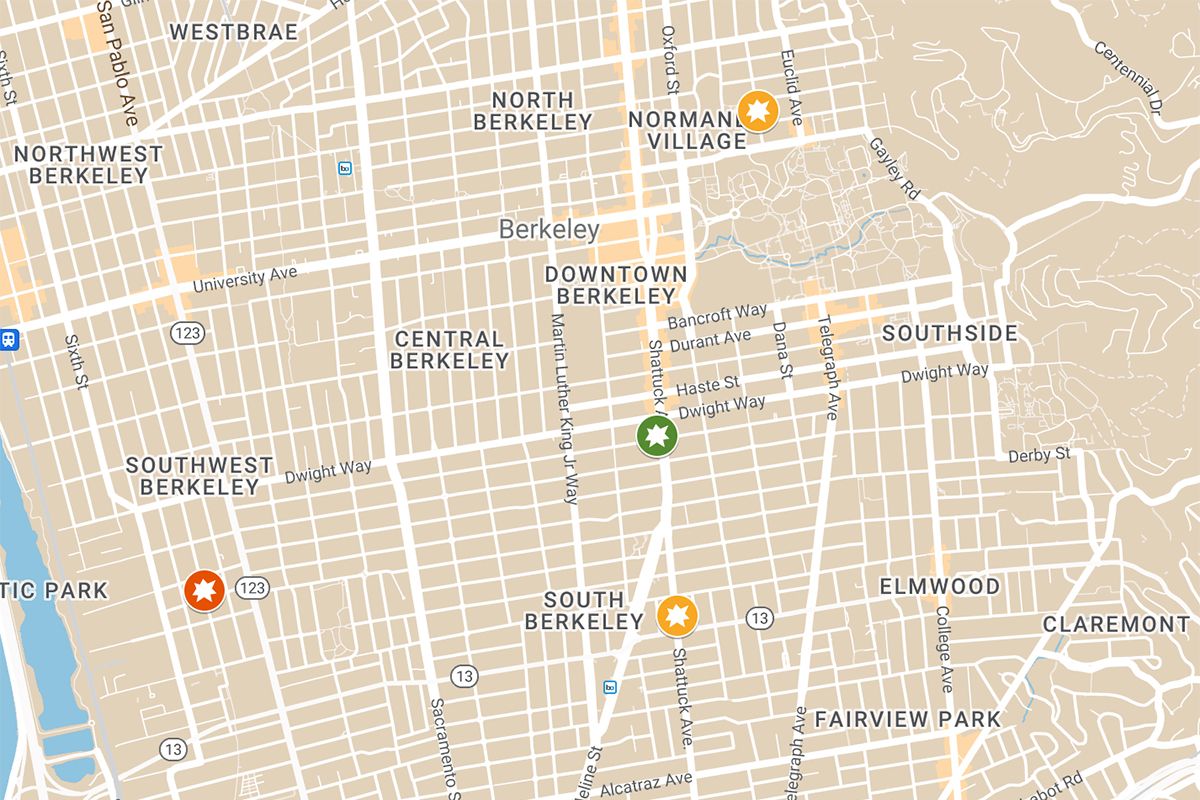 Berkeley police are investigating an armed carjacking Sunday morning along with two carjacking attempts Friday morning and an armed robbery at a local business Saturday night, authorities report.
Women were the victims in all three carjacking incidents over the weekend, police said.
The most recent took place Sunday in the 2700 block of Ninth Street at about 10:20 a.m., Berkeley police said.
A woman in her 60s was standing outside her parked car when a driver pulled up nearby. A passenger got out of that vehicle, pointed a gun at her and demanded her keys, police said.
The woman complied, and the culprit got into the woman's car and fled the scene along with the other vehicle.
Sunday morning's carjacking in West Berkeley followed two carjacking attempts Friday morning.
The first one took place at Le Conte and Scenic avenues just north of UC Berkeley at 9:30 a.m., police said.
Several people in a group took the keys of a woman in her 60s but, for some reason, they could not get her car to start and left without it, authorities said.
Read more about crime in Berkeley.
A few minutes later, a man with a gun walked up to a woman who had just parked in the 2900 block of Shattuck Avenue, near Ashby Avenue in South Berkeley, and tried to open her door.
Fortunately, the woman's door was locked and she managed to escape by driving away, police said.
BPD is looking into whether any of the recent carjacking incidents may be connected.
Armed robbery at Berkeley business
Berkeley police are also investigating the armed robbery of a Berkeley business late Saturday night in which two pedestrians were also robbed.
The incident took place Saturday just before midnight in the 2500 block of Shattuck near Blake Street.
Two people armed with handguns went into the shop and threatened to kill the cashier, police said.
They took cellphones, cash and other merchandise, and then, as they left, robbed two people who happened to be walking by, police said.
The pair fled in a white sedan.
The investigation is ongoing.
Berkeley carjacking stats are up this year
Berkeley carjacking statistics are not readily available online but there have already been at least 25 carjackings or attempts in Berkeley in 2023, according to preliminary data.
In recent years, Berkeley has consistently averaged about 14 carjackings a year in total, BPD said previously, putting this year well ahead of prior tallies.
Last year at this time, there had been eight carjacking reports.
Overall, there have been about 230 robberies in Berkeley this year, up 4% compared to last year at this time, according to BPD data.
💡
The Berkeley Scanner is 100% member-supported. That means no ads, no spam and no distractions. Help ensure timely, accurate public safety news for Berkeley by
signing up now
.