Berkeley Fire
Berkeley warehouse fire keeps BFD busy Sunday night
Firefighters had to force entry into the 12,000-square-foot warehouse.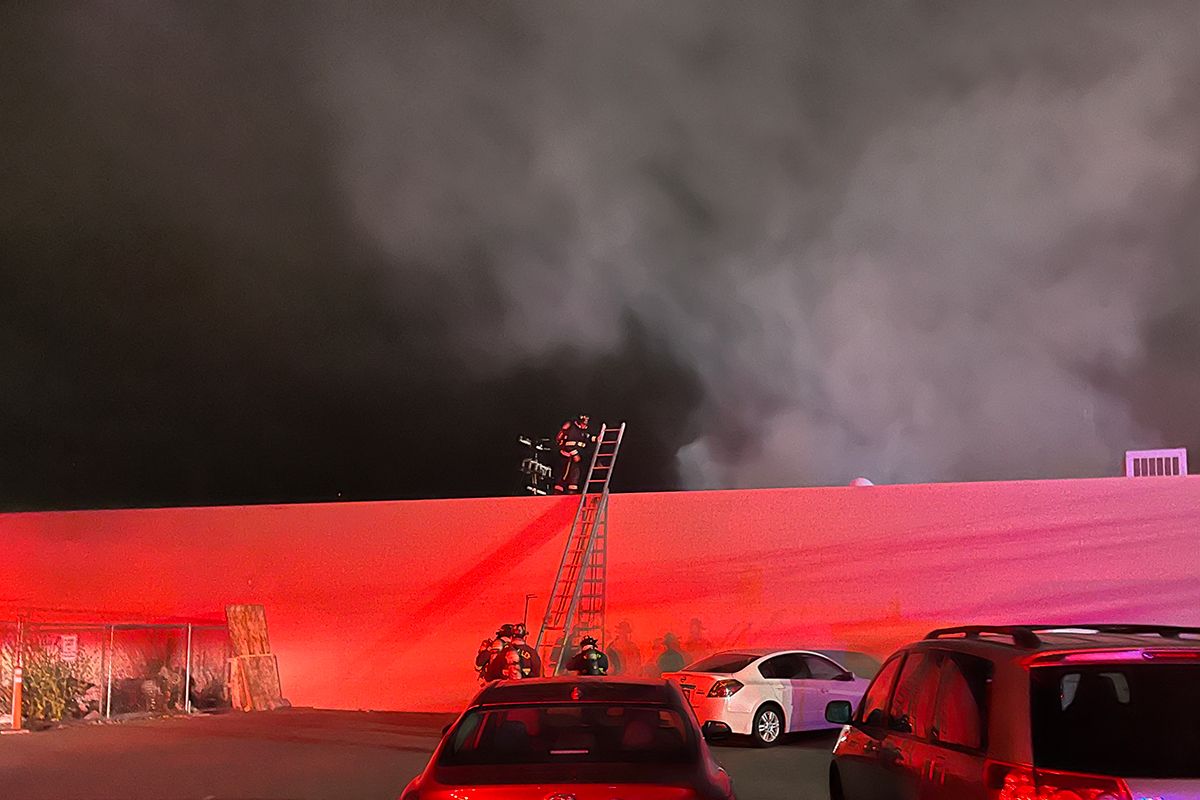 The Berkeley Fire Department responded to a warehouse fire at a Fourth Street catering business Sunday night.
Fire officials have not yet determined the fire's cause or damage estimates.
The initial call about the fire came in just before 9:45 p.m. and the first company was on scene within three minutes, said BFD Battalion Chief Bill Kehoe.
Firefighters had to force entry into the 12,000-square-foot warehouse at 2201 Fourth St. (at Allston Way).
They found fire on the first floor and second-floor mezzanine, along with some flames coming through the roof vents.
"Sounds like the Berkeley Fire department is sending everything to 4th St warehouse fire right now," community member Jimi Devine wrote on Twitter just after 9:50 p.m. Sunday.
As of about 10 p.m., Stefan Lasiewski said there was lots of smoke by the North Berkeley BART station, more than a mile away: "Must be coming from 4th Street," he wrote on Twitter.
The Berkeley Fire Department quickly extinguished the fire. There were no injuries to firefighters or civilians.
The fire was declared under control by about 10:20 p.m. Sunday.
Other Berkeley Fire news
On Saturday, BFD posted about having "knocked down a fire inside an auto repair garage on the west side. A homeless encampment started a fire that spread to vegetation and went into the nearby business."
It turns out this happened June 11, not over the weekend. Apologies for the error.
The Scanner has asked BFD for additional details and will update this story if they are provided.
Update: We received a bit more detail about the June 11 encampment fire.
"On June 11, 2023 at 5:09 am, Berkeley Fire received a call for a report of a possible encampment fire that was threatening a structure. Our crews arrived to find a large tree on fire that was threatening multiple structures. The vegetation fire did extend into a structure on the 700 block of Folger.
Both fires were extinguished. No injuries were reported. The cause of the vegetation fire is under investigation."
🚨
A reader asked us about this incident, which resulted in this report. Have questions about crime in Berkeley? Alert The Berkeley Scanner.