UC Berkeley
BPD: Student fell off 3-story frat house during Cal Day party
On Wednesday, BPD said the woman's fall was "looking like an accident." She suffered broken bones and internal injuries but was stable as of last week.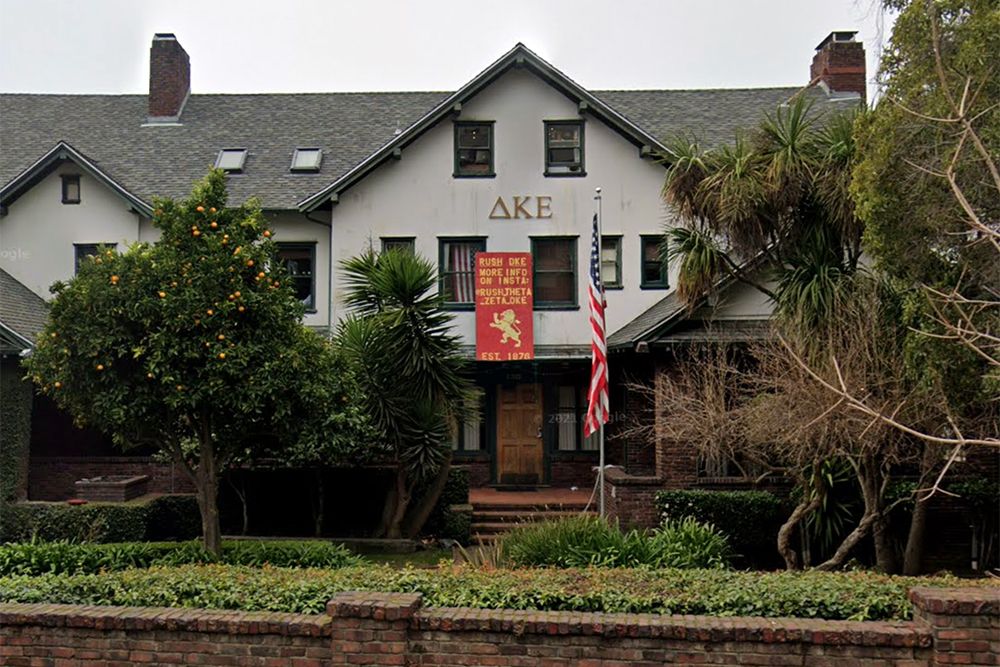 A UC Berkeley student in her 20s sustained major injuries when she fell off a roof during a frat party on Cal Day, authorities said this week.
The Berkeley Police Department said it shared information about the incident with one media outlet last week, then decided to refrain from making a formal announcement out of consideration for the student and her family.
SFGATE was the first to report what happened. Other news outlets, including The Berkeley Scanner, have since made inquiries.
According to BPD, numerous people called police shortly after noon on Saturday, April 22, to report that a young woman had fallen off the roof of a 3-story fraternity house in the 2300 block of Piedmont Avenue, which is just across Bancroft Way from UC Berkeley.
First responders found the student on the concrete and rushed her to Highland Hospital Code 3, with emergency lights and sirens, according to police and emergency dispatch traffic reviewed by The Scanner.
As of last week, the student was in stable condition and expected to survive.
The young woman had numerous fractures and internal injuries that were "consistent with descending from a high elevation," BPD said.
On Wednesday, the Berkeley Police Department said it did not have any updated information about the student's condition as of this week.
"This is still an ongoing investigation," Officer Jessica Perry, BPD spokeswoman, said in the prepared statement. "At this time, it is looking like an accident. No suspects are involved and no charges are pending."
Police said numerous students were drinking during the Cal Day fraternity party.
On the day of the fall, police reported "very heavy traffic" on Piedmont Avenue, according to radio dispatches reviewed by The Scanner.
According to those dispatches, the student fell onto the concrete across from 2745 Bancroft Way and may have been visible from the Jewish Student Center at 2736 Bancroft Way, where police searched for security footage to help determine what had happened.
UC Berkeley does not recognize Delta Kappa Epsilon
Delta Kappa Epsilon is not recognized by UC Berkeley due to documented incidents of "hazing, risk management violations, fire and life safety violations, and non-compliance with prior sanctions."
There are more than 50 Cal Greeks organizations that are recognized by UC Berkeley, while another dozen or so are unrecognized.
As a result, they are "not subject to oversight" by UC Berkeley staff, according to a Cal Greeks website last updated in spring 2022. "Students are STRONGLY RECOMMENDED to not join these groups."
Delta Kappa Epsilon (DKE) does undertake recruitment, however, and advertised rush activities in January, according to the group's Instagram page.
Of all of the unrecognized fraternities, Delta Kappa Epsilon has the longest list of documented problems, according to the Cal Greeks page.
Trey Robb III, director of member services for DKE's national organization, told SFGATE last week that the local chapter had been suspended after the accident and ordered to "stop all fraternity activities."
Under the rules of the suspension, only Cal DKE residents are allowed inside the frat house at 2302 Piedmont Ave.
"We take any allegations of misconduct seriously and are conducting a thorough investigation to ensure that our members are upholding our values," Robb told SFGATE. "We are prepared to cooperate fully with local authorities to determine the circumstances surrounding the incident."
💡
The Berkeley Scanner is 100% member-supported. That means no ads, no spam and no distractions. Help ensure timely, accurate public safety news for Berkeley by
signing up now
.