Disaster preparedness
Massive Berkeley storm left 15,000 without power Tuesday
Two people in a truck were trapped for hours beneath power lines and a tree in the Berkeley Hills, authorities said.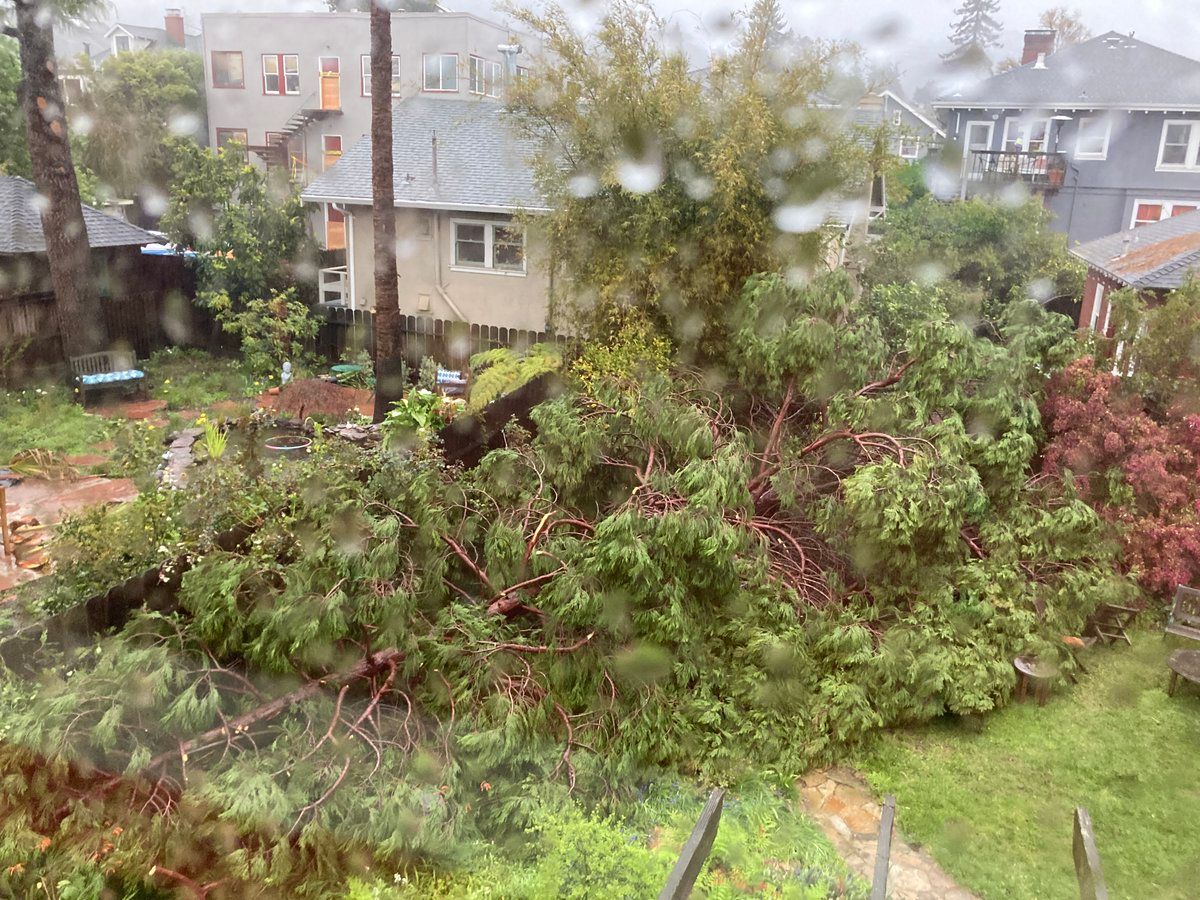 Multiple power outages affected thousands of people in Berkeley on Tuesday amid the latest punishing storm to hit the Bay Area.
Two people in a truck were trapped for hours beneath power lines and a tree in the Berkeley Hills, on Tamalpais Road and Rose Street, authorities said. PG&E eventually freed them at about 8 p.m.
As of about 6:15 p.m. Tuesday, PG&E said more than 15,000 Berkeley customers were without power and that nearly 83,000 others throughout the East Bay had lost it too.
As of 12:30 a.m. Wednesday, more than 5,000 PG&E customers in Berkeley still appeared to be without power, according to the agency's outage map.
Inexplicably, the map no longer includes city outage totals, but The Berkeley Scanner requested that information from PG&E and is awaiting that update.
Throughout the night, and thanks to many reports and dramatic photographs and videos from readers around the city, we posted live updates on The Berkeley Scanner Twitter feed.
There were so many calls for service coming in Tuesday night that, just before 6 p.m., the Berkeley Fire Department advised first responders over the radio to evaluate each incident for possible life-safety concerns and then, if possible, move on.
"If you have no arcing wires," a supervisor advised, "make it as secure as possible. Our best use would be to move on and evaluate the next call."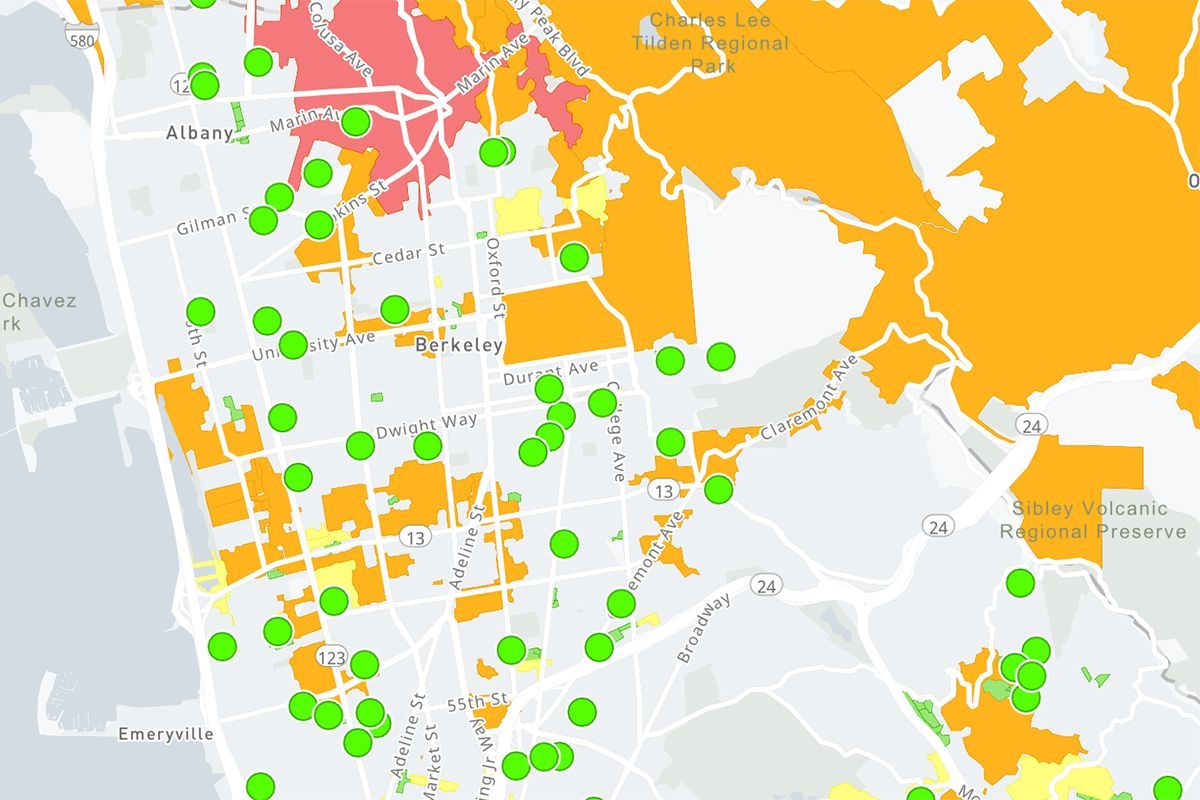 Just before 5:30 p.m., Berkeley police had reported hazardous conditions with "multiple trees and power lines down."
"Use caution," the Berkeley Police Department advised in a Nixle alert.
"There are currently a significant number of storm-related hazards occurring in Berkeley. Berkeley Police and Fire Departments have received multiple calls for trees and power lines down throughout the city. They are working diligently to respond and assist," police wrote.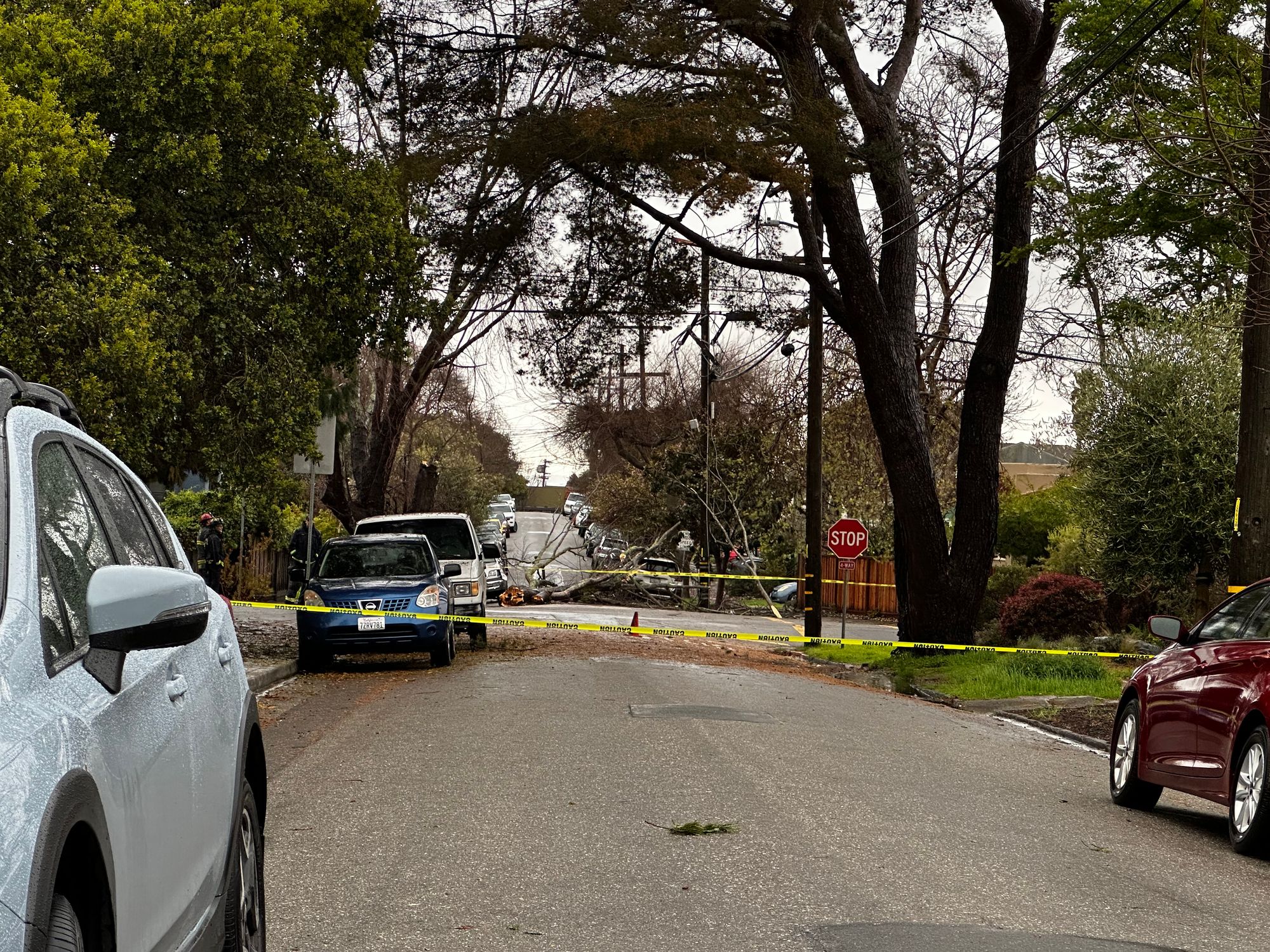 One Scanner reader said a downed tree had hit a parked, empty Prius at Sacramento Street and Hearst Avenue.
Another tree was down at Dwight Way and Martin Luther King Jr. Way, where traffic was blocked, the reader said around 5:10 p.m.
Another tree was down at Chestnut and Cedar streets, the reader said. The tree "landed partway into the middle of Chestnut but was not blocking Cedar."
Other reports came in on Twitter.
"Many trees and branches down in the Berkeley Thousand Oaks neighborhood. One large limb has taken out the powerlines on Tacoma Avenue. Berkeley fire was on scene, but said they were overwhelmed and needed to leave for other sites. Be careful out there!" wrote John Ewing.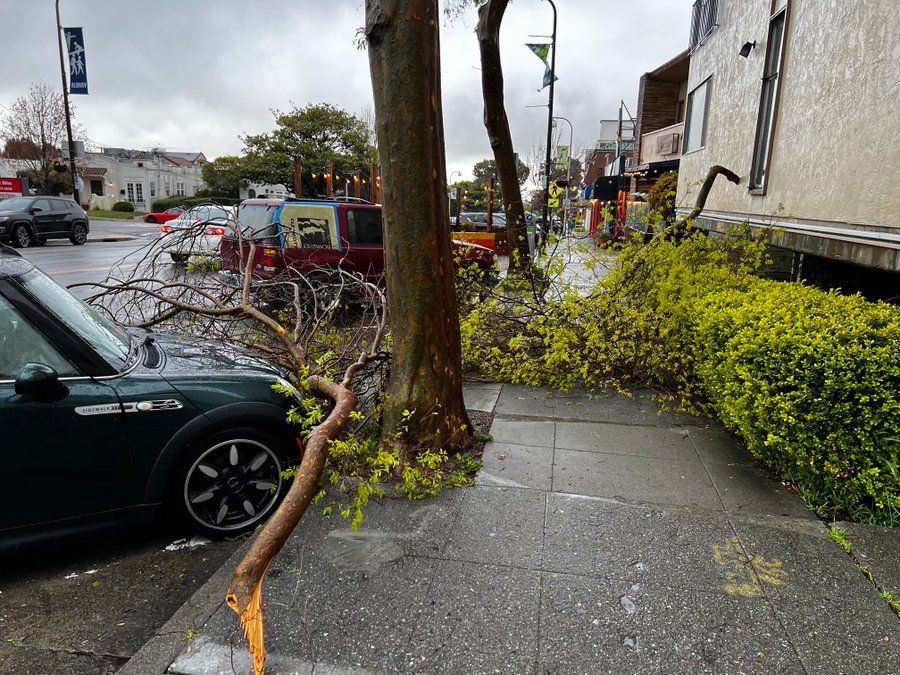 "Big part of a tree limb down at the corner of Mabel & Russell in San Pablo Park," wrote Allyson Bogie. "It took an electrical wire down with it. It doesn't appear that any people were near it when it happened."
UC Berkeley also issued a weather warning for the campus area earlier this evening: "Due to severe wind and rain multiple trees and branches have fallen. Please be careful in and around campus area. Stay tuned to UC Berkeley WarnMe, KALX 90.7 FM, and news.berkeley.edu for continued information."
A Scanner reader shared video of that "severe wind" on the UC Berkeley campus.
The Berkeley Police Department also announced the following safety information.
Assume all power lines are dangerous and report immediately.
Avoid flooded areas and do not attempt to drive through standing water.
Avoid downed trees.
If the power is out at an intersection controlled by signals, consider it a four-way stop and proceed cautiously.
This story was updated throughout the night due to the developing nature of events.
💡
The Berkeley Scanner is 100% member-supported. That means no ads, no spam and no distractions. But we need your help now to reach our next milestone of 900 paying members. Help us reach our goal.