UC Berkeley
BREAKING: Man set himself on fire on UC Berkeley campus
The man, who was estimated to be in his 20s, sustained critical injuries. A female bystander who tried to help him sustained minor injuries.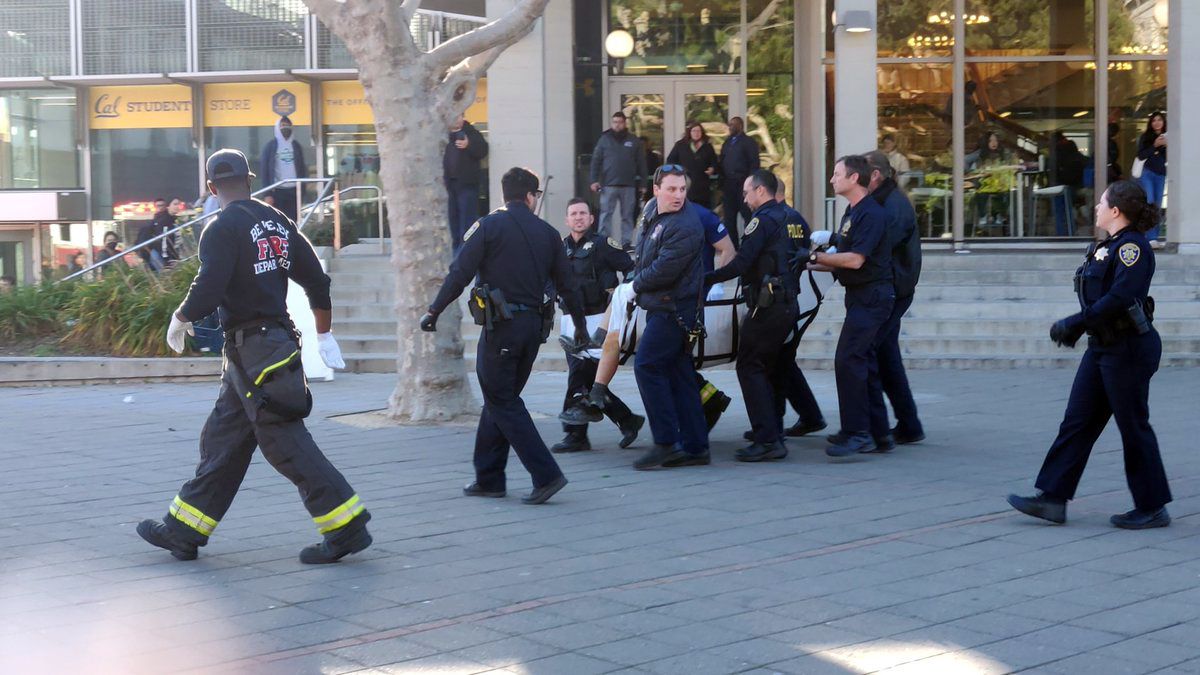 A police investigation is underway at UC Berkeley after a man set himself on fire on campus Wednesday afternoon.
The man, who was estimated to be in his 20s, sustained critical injuries and a female bystander in her 40s who tried to help him sustained minor injuries, according to the Berkeley Fire Department and police.
The incident took place on Sproul Plaza at UC Berkeley shortly before 4:30 p.m. and both patients were taken to the hospital.
A third person who tried to help also sustained minor injuries but was not transported.
The University of California Police Department is handling the investigation.
Several witnesses described the scene to The Berkeley Scanner after publication.
Rachel Diao said she helped put out the fire Wednesday afternoon.
"Apparently he was shouting 'Mormon Mafia' and, when I ran up to try to put out the fire, he was running away from us and pushing us away," she said. "I could feel the heat coming off of him and I saw his skin and clothes burn off."
Diao said she also hoped the man would get the help he needed.
There were reports of papers that were scattered around the area as well as a possible manifesto. Some of the papers listed a website with references to Utah and the Mormon church, along with a number of observations that appear to reflect intense paranoia.
Local resident Allen Barth said he was walking up Telegraph Avenue heading to get a drink of water on the UC Berkeley campus when he saw large clouds of white smoke billowing into the air.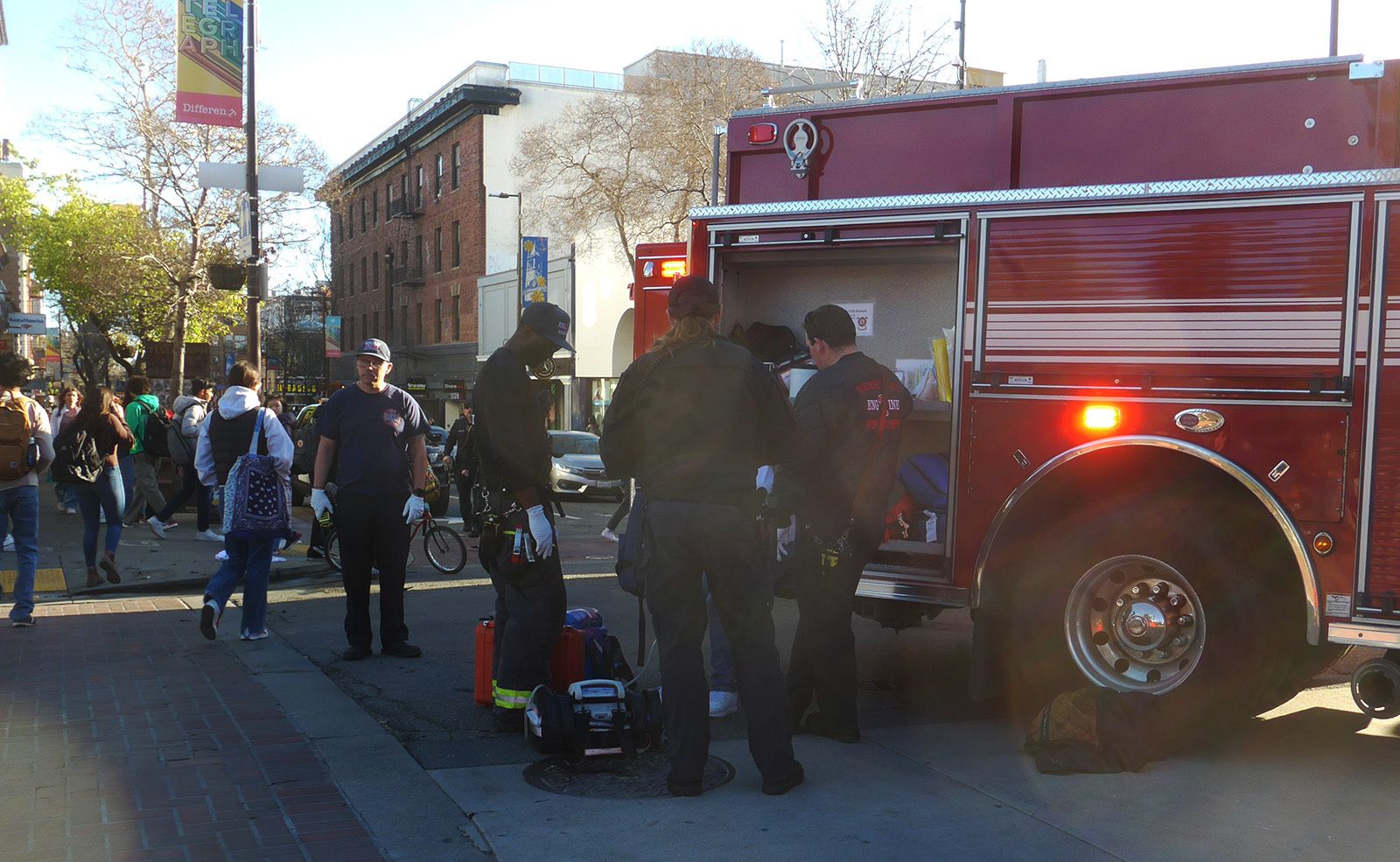 As he got onto Sproul Plaza in front of the Martin Luther King Jr. Student Union, he saw people crowded around a man who was on fire.
The man was still standing up and the good Samaritans were using their jackets to try to put out the flames. The man was still yelling and moaning, Barth said.
The man's shirt and pants had burned off, and officers initially had trouble getting ahold of him.
Police and firefighters then worked together to bring the man down onto a mat or fire blanket and get him into an ambulance.
First responders at the scene said the man had been experiencing some kind of mental health episode.
"It's enormously unfortunate that the man had a mental health episode, feeling so in despair that he set himself on fire," Barth said. "In the USA, mental health is grossly underfunded and lacks enough properly trained providers at all levels."
A woman who was in the area also said she saw smoke and heard yelling, then saw the man shouting "leave me alone" as first responders tried to extinguish the flames with a fire extinguisher.
Over the radio shortly after 6 p.m., a UCPD officer said the man would be placed on a 5150 hold for a mental health evaluation and was being taken to the Saint Francis Memorial Hospital Bothin Burn Center.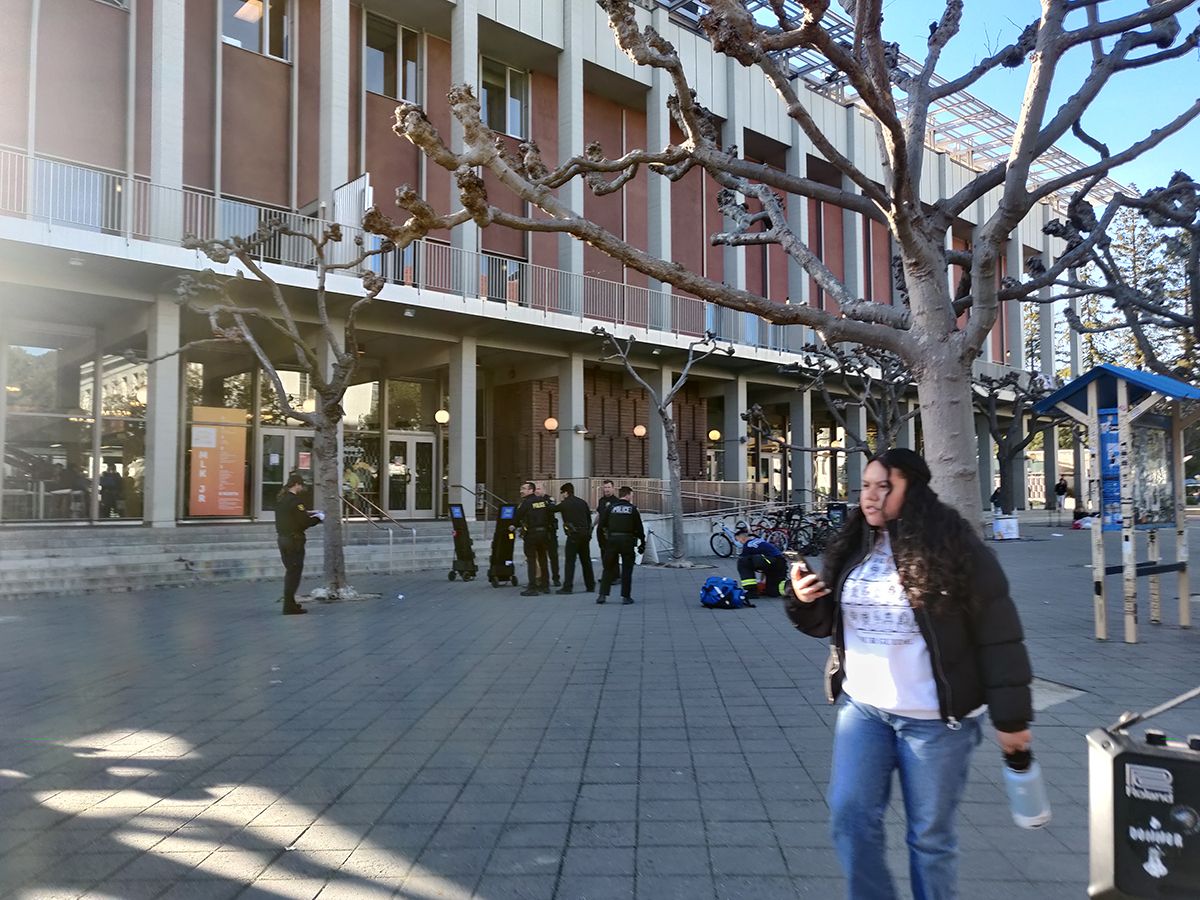 UCPD released a brief statement just before 5:30 p.m.
In the statement, UCPD said officers had gotten a call at 4:17 p.m. about a person walking near Bancroft Way and Telegraph Avenue who was on fire. Police and firefighters responded to secure the area and transport the patients, UCPD said.
"This incident is currently under investigation and the subject's identity and status is unknown at this time," UCPD said. "Anyone with any information regarding this incident is encouraged to contact UCPD at 510-642-6760."
In an updated statement shared shortly before 6:30 p.m., UCPD provided a number of mental health resources for the campus community as well.
This story was updated after publication due to the developing nature of events.
🚨
Readers asked us about this incident, which resulted in this report. Have questions about crime in Berkeley? Alert The Berkeley Scanner.