UC Berkeley
UC Berkeley has a new police chief: Yogananda Pittman
This story originally appeared on Berkeley News, UC Berkeley's official media relations website. It has been reprinted with permission.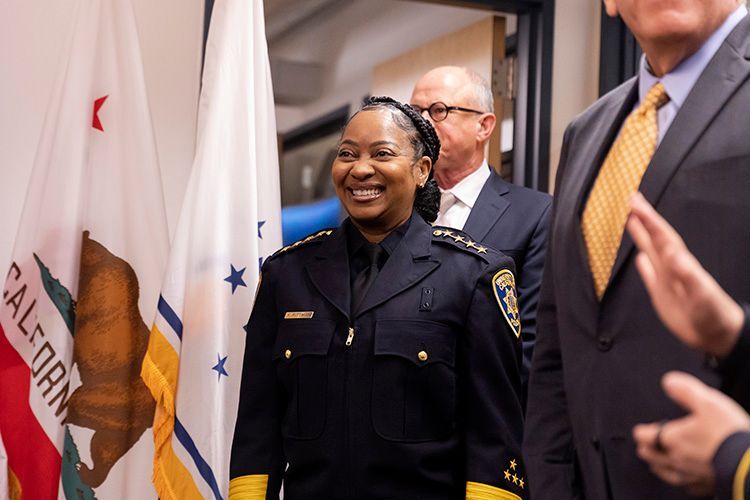 By Gretchen Kell, Berkeley News, media relations
Yogananda Pittman took the oath of office Friday to become UC Berkeley's new police chief, telling a festive, packed room in Sproul Hall — and East Coast family, friends and former co-workers on Zoom — that she is "ecstatic" to begin her new role on campus.
The former interim chief of the U.S. Capitol Police, who will work and reside nearly 3,000 miles from her last post, is set to direct a department made up of about 140 police officers, community safety officers and staff.
"The events at the U.S. Capitol on Jan. 6 — I certainly don't want to talk about that today," she told her well-wishers, "but it's part of my journey and something I will build on."
She said she also wants to build upon the UC Berkeley campus' "phenomenal history."
"I also want to say to all my family and friends joining me via Zoom," she said, "that I know I stand on the shoulders of so many of you from the eastern shore of Maryland and so many of my colleagues at the U.S. Capitol Police."
Pittman grew up in Cambridge, Maryland, a Chesapeake Bay community not far from Washington, D.C.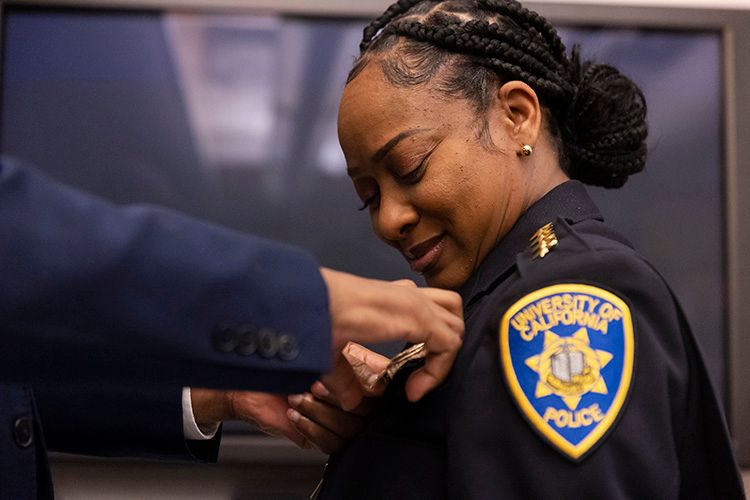 She joined the U.S. Capitol Police just hours after the Sept. 11, 2001, terror attacks in New York City and Washington, D.C.
Nearly 20 years later, on Jan. 8, 2021, Pittman became interim chief of that same agency just two days after the insurrection at the U.S. Capitol that left two officers dead, more than 100 officers injured and some $3 million in damage to the building.
Steven Sund had resigned as chief; Pittman became the first woman and the first Black person to lead the force.
Marc Fisher, UC Berkeley vice chancellor for administration, administered the oath and wished Pittman "all the best and happiness in your new role."
Pittman's husband, Leroy McKinney, dressed in a dark blue suit and tie in a room filled with officers in blue, pinned on her UCPD chief's badge.
He said he'd practiced for that moment, but had pinned such symbols of authority on her before, as it's a law enforcement tradition for family or significant others to do so.
Pittman also thanked the couple's sons — Satchel, who turns 23 on Saturday, and Seth, 17 — saying she realized it was "a tremendous sacrifice for their mom to be 3,000 miles away, and I can't thank you enough, from the bottom of my heart."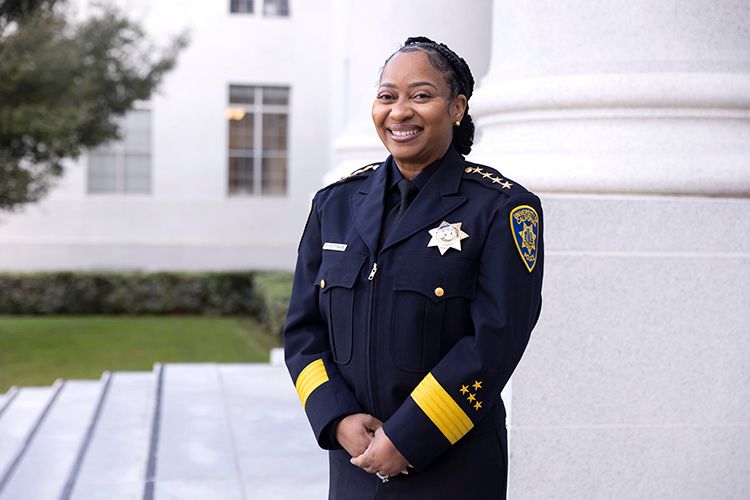 Among those on Zoom who expressed their pride in Pittman after she took the oath was U.S. Capitol Deputy Police Chief Sean Gallagher.
"You are getting a fantastic chief and an even more fantastic person," he told the Berkeley community. He then said to Pittman, "The entire department is so proud of you, and I know you will do great things out there."
Pittman will lead a multi-year campus security reform program to improve emergency management, mental health crisis response and security technology and to strengthen relations with diverse communities.
She also will tackle a debate involving law enforcement — one that exists nationwide — over the need for protection from crime in addition to a greater commitment to social services.
A former colleague of Pittman's from the Metropolitan Police Department of the District of Columbia who attended the event on Zoom told the campus community that it had made a wise choice in selecting its new chief.
"When you talk about collaboration and collaborative efforts with other agencies, you have the right one," she said. "She was remarkable in her role as interim chief (of the U.S. Capitol Police) and navigated the trenches. You have gained someone who knows how to build bridges and create relations beyond the bridges of the campus."
A larger ceremonial swearing-in for Pittman will be held later this semester that will include the chancellor and more of the campus community, as well as local city leaders and law enforcement from neighboring municipalities.
This story originally appeared on Berkeley News, UC Berkeley's media relations website. It has been reprinted with permission.