UC Berkeley
What we know about the human skeleton found at UC Berkeley
The building where the skeleton was found was "unused" and had "not been occupied for many years."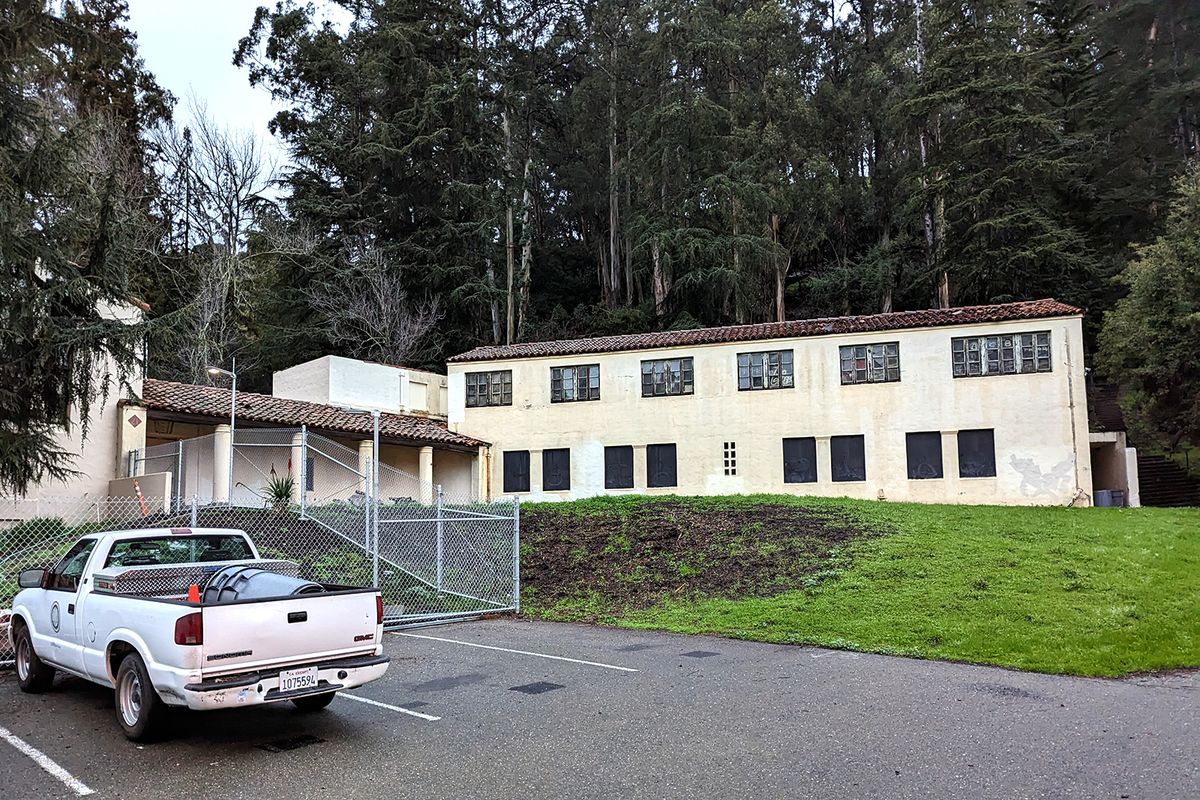 Details remain scant this week surrounding the discovery of a human skeleton in a long-vacant building on UC Berkeley's Clark Kerr Campus.
Workers found the "skeletonized" remains Jan. 10 at about 2 p.m. in Building 21 at Clark Kerr.
Police have not said when that person's identity might be known or what steps will be taken to make that determination — although DNA may well play a role.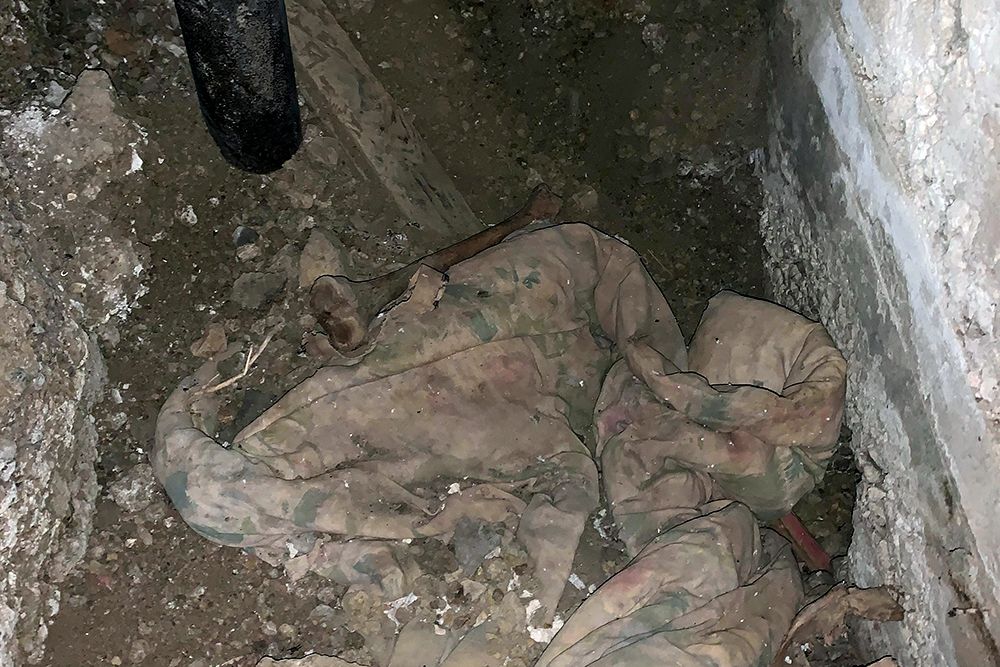 "It is not clear how many years they have been there," UCPD said in a prepared statement. "There are no outstanding cases of missing individuals from the campus community."
This week, the Alameda County coroner's office said a press hold remains in place about the case so no new information could be shared.
But, given the nature of the investigation, answers are likely to be a long time coming.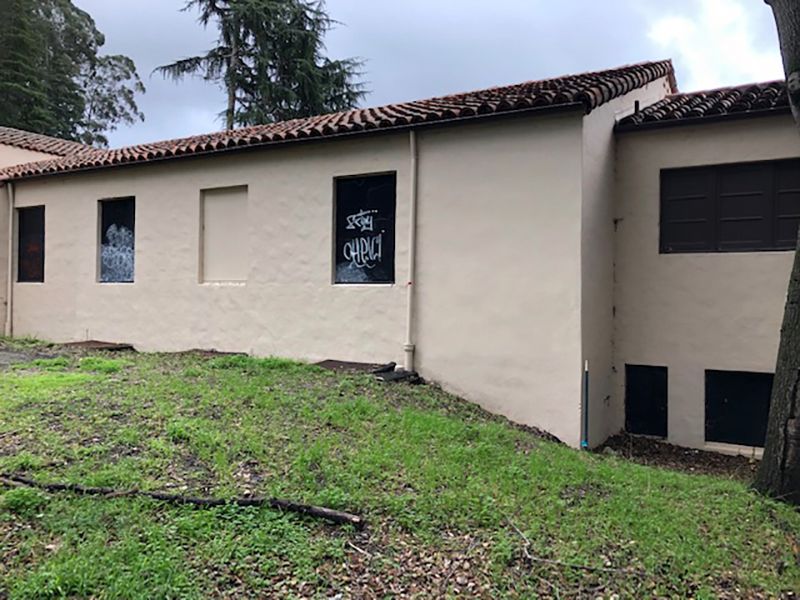 On Thursday, a Southside neighborhood resident told The Berkeley Scanner that she had noticed police during her daily dog walk on the day the remains were found.
"I walk my little dog every morning in the little alley between Redwood Gardens and Building 21," she said.
When she arrived Jan. 10, she noticed the coroner's van and what appeared to be unmarked police cars in the area.
"At first I was a bit concerned there may have been foul play in our building, but within a minute or two people started emerging from Building 21, so I continued on," she said. She thought a local homeless person had perhaps been found deceased.
She later read about the skeleton discovery in the news.
"Honestly, I think all the abandoned buildings on Clark Kerr should be renovated and turned into subsidized housing," she added.
She wasn't the only person to wonder along those lines. Community members voiced similar sentiments on Twitter.
Isn't there a housing shortage? Why are there buildings in Clark Kerr unused enough that a dead guy could turn into a skeleton and no one would notice?

— Maxer (@maxroman) January 14, 2023
Campus email may have sparked media interest
On Friday, three days after the skeleton was found by workers, UC Berkeley Housing emailed Clark Kerr residents about the discovery.
In the email, campus officials offered counseling appointments as well as information related to grief and loss for those who were distressed by the news.
It didn't take long for someone to post the email to Reddit, which seems to have coincided with when Bay Area news organizations jumped on the story.
A local father told The Berkeley Scanner he had walked by the discovery site Friday as news of the skeleton made headlines throughout the region and beyond.
He said he'd been in the area for his daughter's gymnastics class when news broke.
"My toddler son and I often walk around the campus while she's in class," he said. "There are a number of abandoned buildings around the campus… this one was seemingly being retrofitted for seismic reasons and that may be why a number of others are also empty."
A seismic retrofit project has been underway at Clark Kerr's Building 21 since the fall of 2021, according to a sign posted at the worksite.
"As part of this project, existing roofing that is damaged and degraded will be removed and replaced, new gutters will be installed, and a portion of the exterior will be painted," according to the notice.
The work was supposed to have been completed in December 2021, but construction fencing remains in place and UC Berkeley Capital Strategies signage about the work is still posted.
UC Berkeley skeleton case is an "active investigation"
In its statement to the press last week, the University of California Police Department said the building where the skeleton was found was "unused" and had "not been occupied for many years."
UCPD said the Alameda County coroner's office would handle the case, which it described as "an ongoing and active investigation."
"A cause of death has yet to be determined. We understand that there are many questions and we anticipate that the coroner's report will provide additional information," UCPD said.
An entry in UCPD's crime log lists June 14, 2021, as the date of occurrence for the crime, but it was unclear exactly what that might mean. It could indicate the last time someone was inside Building 21, but that's nothing more than a guess.
UCPD was unavailable for comment Thursday and UC Berkeley said no further information could be shared this week.
According to Scientific American, the "skeleton stage may be reached as quickly as two weeks or as slowly as two years, depending on temper­ature, humidity and other environmental conditions where the body lies."
The local resident who spotted the coroner's van on the day of the grisly discovery said she had later wondered why none of the news reports mentioned the ghost rumored to have haunted Clark Kerr.
She said she'd heard he "roamed the underground steam tunnels here."
In 2018, the Daily Californian rounded up all the UC Berkeley ghost stories it could find. The Clark Kerr entry didn't have much detail.
"If you've ever walked to the top of Clark Kerr, you've seen the abandoned building with all the windows broken. This dilapidated building is rumored to be the home of the ghost of a little boy. No one has complained about him, so we can only assume he's a nice ghost," the author wrote.
UCPD asks anyone with information about the skeletal remains to call UCPD at 510-642-6760.
Building 21's days may be numbered
The 50-acre Clark Kerr Campus, which sits about a half-mile southeast of the UC Berkeley campus, features student and faculty housing as well as conference, childcare, maintenance and recreational facilities.
It is "surrounded by residential neighborhoods to the north, south, and west and by the East Bay Regional Park District's Claremont Canyon Regional Preserve to the east," according to university materials.
Building 21 is located in the southeast corner of Clark Kerr just down the hill from the Clark Kerr Sand Courts and the popular Stonewall-Panoramic Trail.
It's about 600 feet from the Hayward Fault and also not far from Sports Lane, where a mudslide closed the road earlier this week.
When it was in use, Building 21 was called Wilkinson Lodge and was part of the California Schools for the Deaf and Blind, which moved to Fremont in 1980 (despite a lawsuit and community "upheaval" due to opposition over the relocation).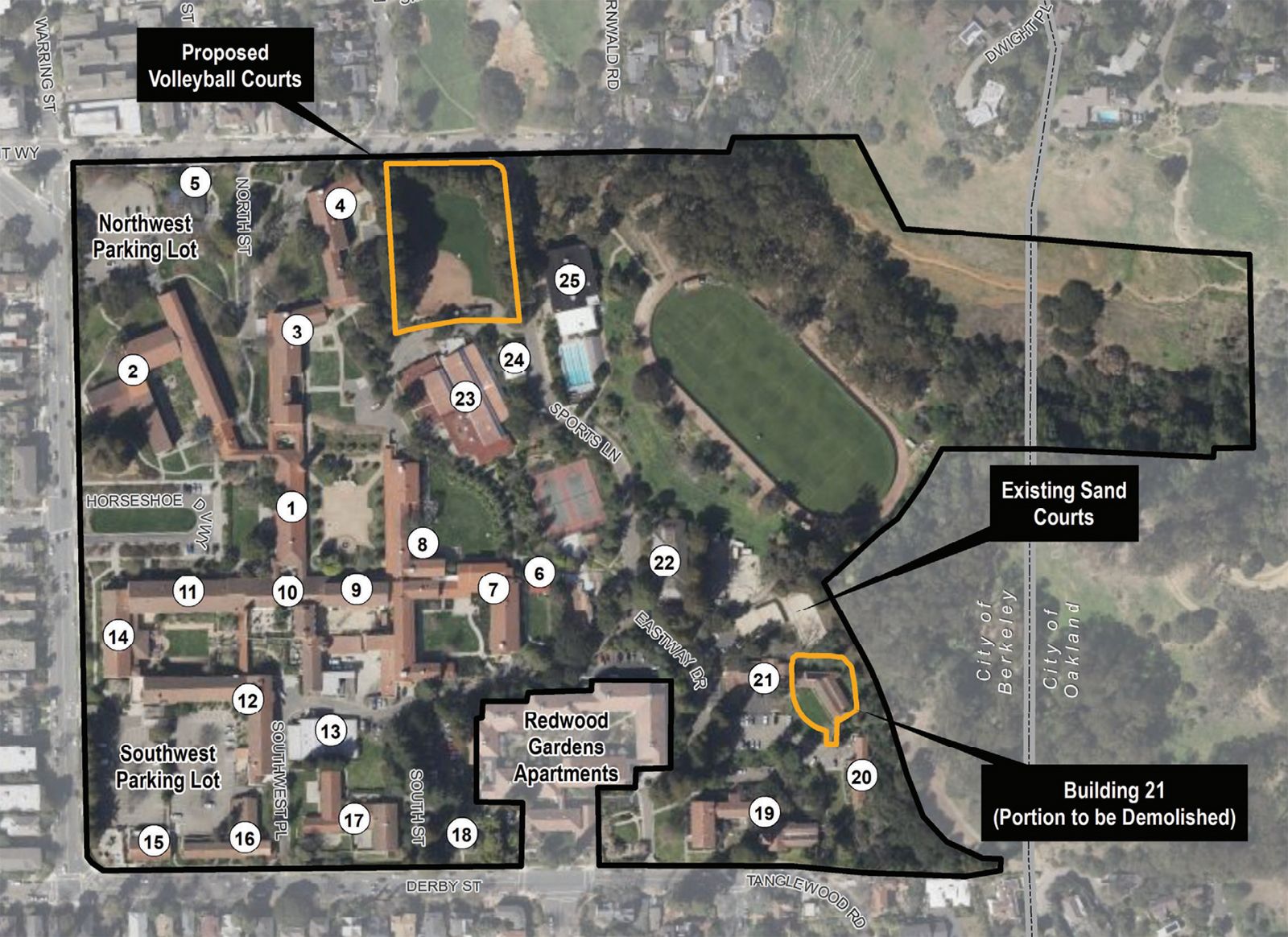 Building 21 is now part of a historic district — albeit covered with graffiti — and is slated for partial demolition to address seismic risks as part of a project to build new beach volleyball courts elsewhere at Clark Kerr. (The existing ones do not meet Title IX requirements.)
According to project materials, more than 9,000 square feet of Building 21 will be knocked down.
"After demolition, the area would be landscaped and a new driveway to Building 21 would be paved to allow for loading. The existing western portion of the building would remain and continue to be used for storage."
The beach volleyball court project has been a long time coming, however. No anticipated completion date is currently listed on the project website.
🚨
Readers asked us to look into this incident, which resulted in this report. Have questions about crime in Berkeley? Alert The Berkeley Scanner.