UC Berkeley
People's Park near UC Berkeley plagued by violent crime reports
A sexual assault, arson, threats via knife and a violent robbery have all been reported around the park over the past month.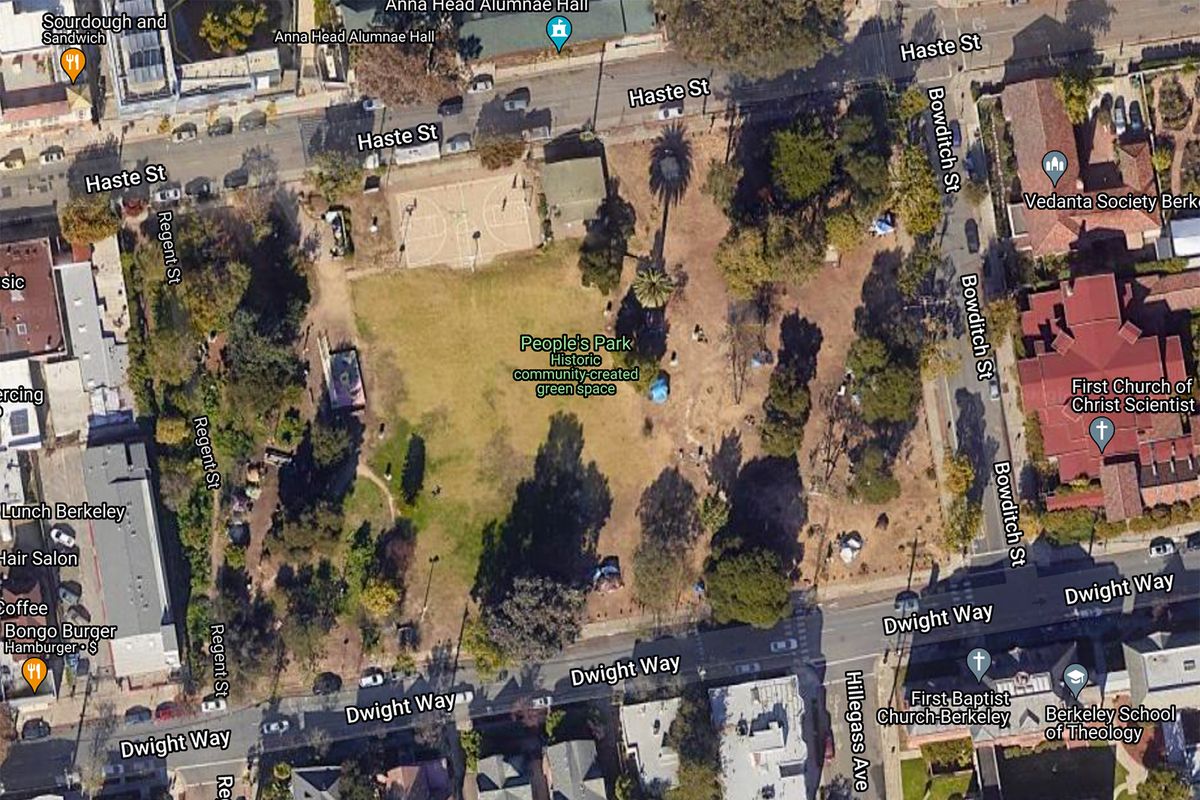 Authorities have reported a string of violent crimes in and around People's Park in Southside Berkeley in recent weeks — though details remain slim and no arrests have been reported.
In the most recent incident, a man wielding a "large fixed-blade knife" came out of the park and used it to threaten passers-by when he heard them talking about the "current declining condition of People's Park," the Berkeley Police Department said in response to a Berkeley Scanner inquiry this week.
That followed recent reports of arson, sexual assault and a robbery via a "stick and chemical agent spray attack," all of which have been the subject of brief alerts from the University of California Police Department since Sept. 23.
The most recent crime was reported Friday at 4:20 p.m. when a man and woman, ages 27 and 24, were walking next to the park on Bowditch Street, near Haste Street, having a private conversation about what they saw as increasing problems in the area, Officer Byron White, BPD spokesman, told The Berkeley Scanner.
A man inside the park overheard the conversation, police said, and began to yell and curse at the pedestrians.
He then "approached the man and woman and threatened them with a large fixed-blade knife," the Berkeley Police Department said. "The man and woman left the area and reported the incident."
Police said the man with the knife was described as white, about 46 years old, 5 feet 11 inches tall and bald with a heavy build. He wore a black shirt and blue jeans.
BPD and UCPD searched for the man after the confrontation, but officers were unable to find him.
Two days earlier, on Oct. 19, UCPD had put out a one-sentence notice about a sexual assault that had just taken place inside the People's Park construction site just before 3 p.m.
Police said they could share no additional details about that case but said it remained under investigation.
The sexual assault report followed a violent robbery report Oct. 15 just after 5:40 a.m. In that incident, a man using a stick and some kind of chemical agent spray robbed a man of his cellphone at the construction site.
"The victim stated he had been sprayed in the face with a chemical agent and hit with a stick numerous times," UCPD told The Berkeley Scanner. "The Berkeley Fire Department transported the victim to the hospital."
Officer White, the BPD spokesman, urged community members to "remain vigilant" when they walk in the neighborhood, and urged members of the campus community to take advantage of UC Berkeley's night safety services.
"Call the police if you're having a problem," White said. "We want everybody to stay safe."
Police ask anyone with information about these crimes to call BPD at 510-981-5900 or UCPD at 510-642-6760.