Angel and Jazy
Brothers killed at Oakland party were Berkeley High students
A relative identified the brothers as 15-year-old Angel and 17-year-old Jayz in a GoFundMe campaign launched to help the boys' mother.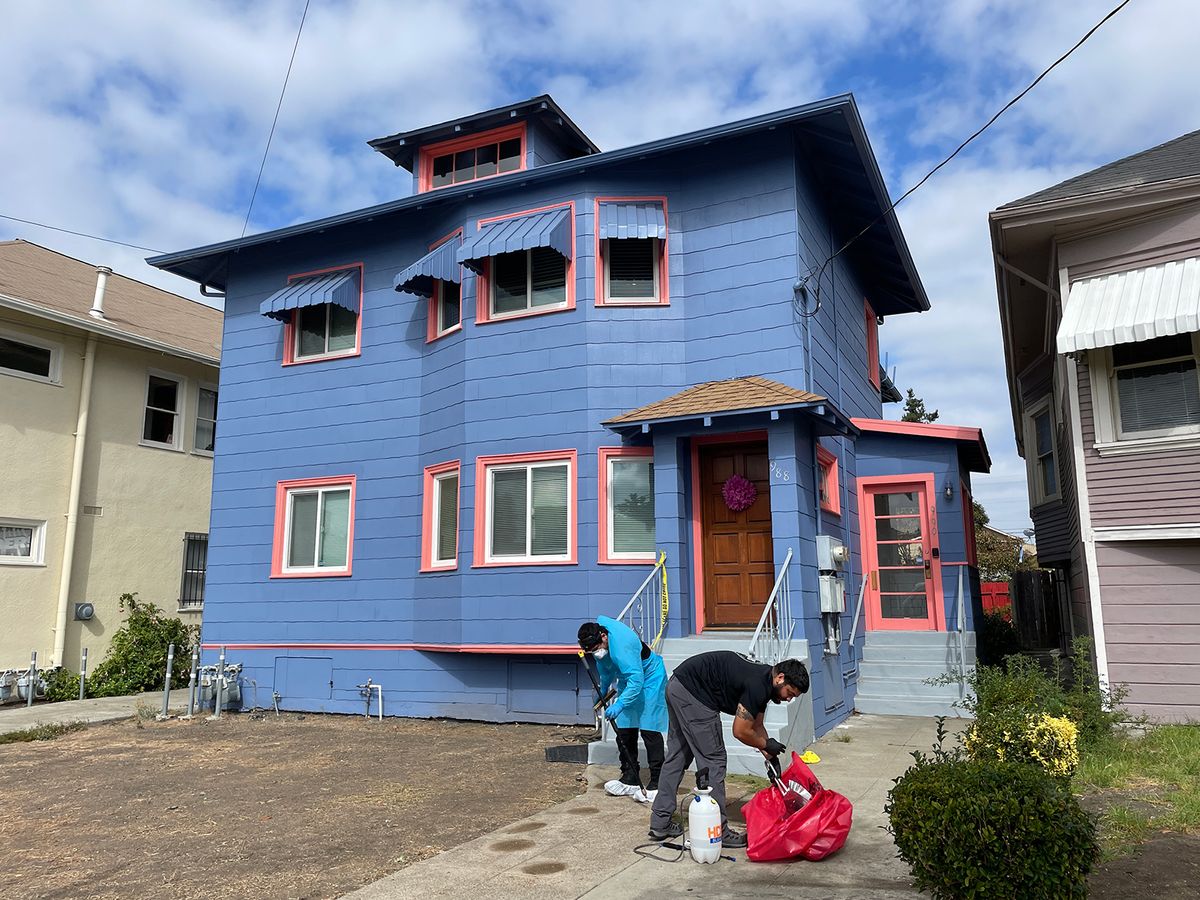 Two Berkeley High School students were killed, and two other boys were wounded, after gunfire broke out at a house party in Oakland on Saturday night, authorities report.
On Sunday, a relative identified the boys online as 15-year-old Angel and 17-year-old Jazy. They were brothers, and the family is asking for the community's help to raise money for their funeral. The fundraiser has already raised more than $10,000.
The night began like any normal Saturday evening, a community member told The Berkeley Scanner, with a group of teenagers sitting in a backyard having fun: listening to music, talking and laughing.
At some point, the group moved inside: "The next thing you know, it sounded like fireworks were being set off right next to your head," said Liz, who had been visiting someone in the neighborhood Saturday night.
She asked to be identified by her first name only due to the nature of the case. No arrests have been reported.
The Oakland Police Department said the shooting happened Saturday at 10 p.m. in the 900 block of Apgar Street. A Berkeley resident had rented the Oakland house from Airbnb for the party, according to preliminary reports.
Officers who arrived on Apgar found two people who had been shot and were critically wounded. Both were pronounced dead at the scene despite life-saving efforts by police.
Two other victims with gunshot wounds were also found: one near the rental house and one around the corner in Emeryville at 3800 San Pablo Ave.
That person had made their way around the corner and up the block before collapsing in front of a vacant commercial storefront where Emeryville police ultimately found them and got them to the hospital.
On Sunday, Oakland police said the teenagers who survived are now in stable condition. Investigators from the OPD Homicide Section have taken over the case.
"Help me, I've been shot"
On Sunday afternoon, Liz told The Berkeley Scanner that she and her boyfriend had been watching television Saturday when they heard about a dozen gunshots.
When they looked outside, they saw that the kids from the party had scattered. It looked like everybody was gone.
But then she saw someone lying in the driveway of a nearby home. She thought maybe he had fallen off the steps. But then he called out to her.
"Help me, I've been shot," he said. Liz screamed for her boyfriend to call 911 and got out a first aid kit. She ran outside barefoot.
"I didn't even think," she said.
Liz pulled out gauze to apply pressure to the teenager's wounds. He had been shot in the leg and she applied a tourniquet. He seemed to have been shot in the back as well, but it was dark so it was hard to tell for sure.
Liz told The Scanner that she had taken first aid and CPR classes as a babysitter growing up. She had kept up the training over the years.
"I never thought I would have to implement it right here in the neighborhood," she said.
Liz said the teenager never lost consciousness. His hands were warm, another good sign. She did her best to stay calm, so she could keep him calm, and to keep the boy from moving around too much.
He talked to her as they waited for paramedics. He told her he was scared.
"He said he was worried about his mom," Liz said. "He had told her he would be careful. He had said he would behave. He didn't want to disappoint her."
It wasn't long before a helicopter was circling overhead with its light shining.
"Everything just kind of went crazier after that," she said, as first responders arrived on scene.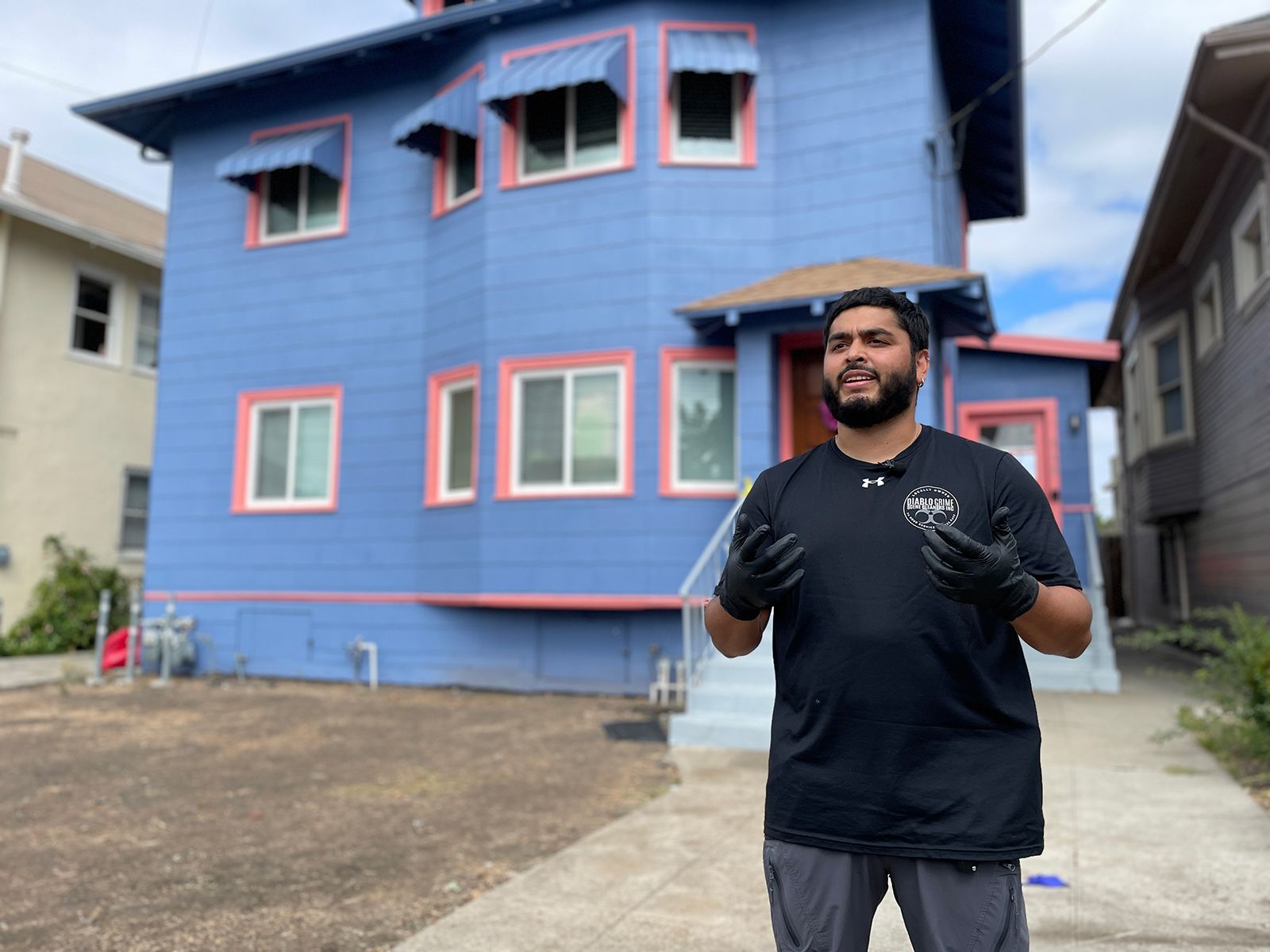 On Sunday afternoon, Diablo Crime Scene Cleaners staff worked quietly outside of a blue house with pink trim, scrubbing the driveway to remove blood from the concrete.
A broken red Solo cup had been discarded in the gutter, but otherwise the area was tidy.
Ricardo De Luna, a biohazard remediation technician, said they had found a small amount of blood in the kitchen area — where the shooting likely began — as well as some blood in the driveway.
They also found a larger amount of blood around the corner on San Pablo Avenue after following a blood trail from the scene, he said.
At 3800 San Pablo Ave., an apartment complex above the vacant commercial storefront, a security guard said he had not heard about the shooting or realized someone had collapsed outside. He hadn't been working Saturday night.
"I didn't even know that something happened," he said.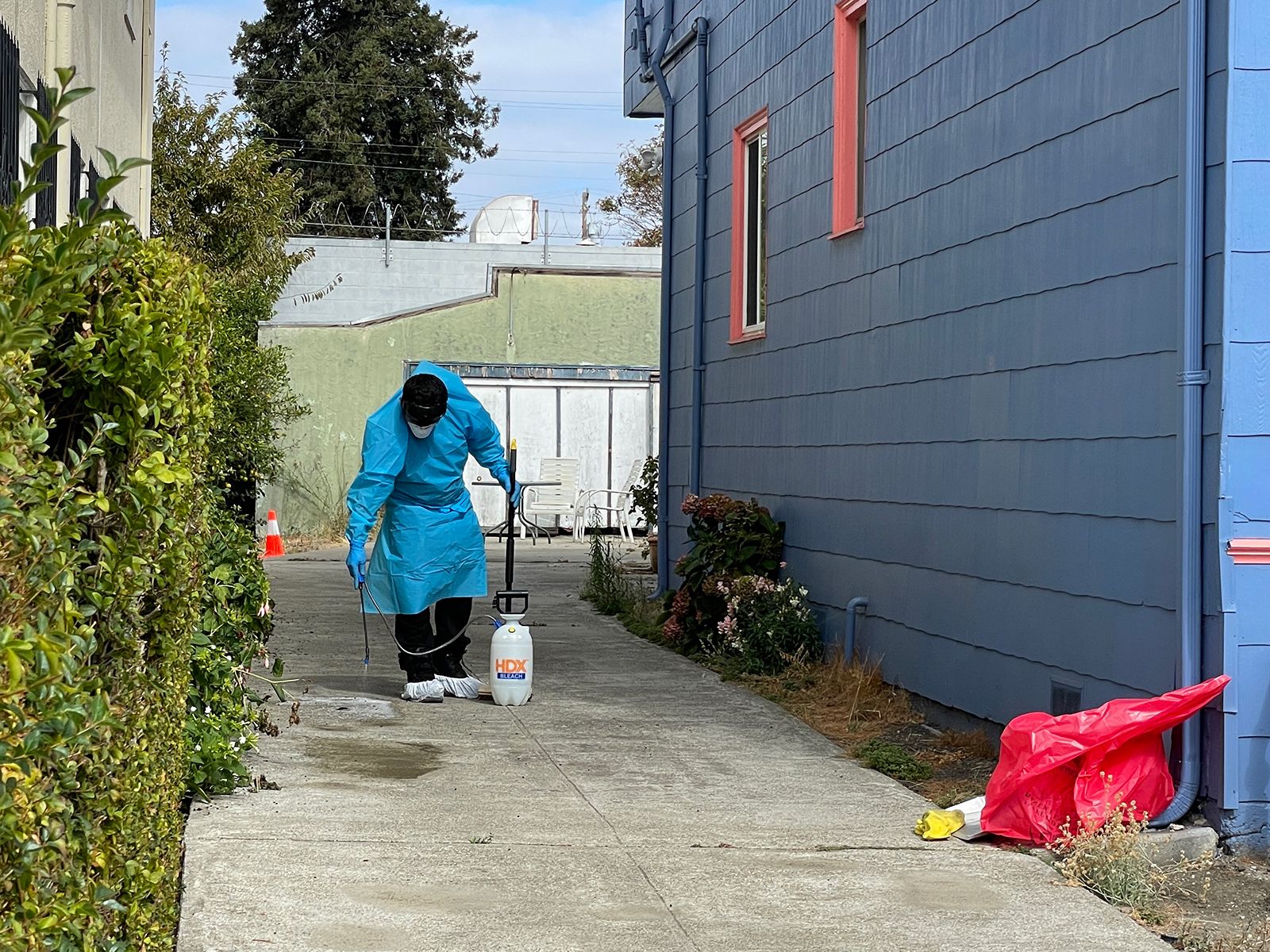 Sunday afternoon, as the crime scene cleaners worked and media began coming to the block in larger numbers, Maro Daro, a father who lives in the neighborhood, was walking down the sidewalk as his young son rode along beside him on a bike. He said it was their normal routine.
He and his family had been getting ready for bed when the violence broke out.
Daro said they hadn't heard any gunfire, but that his wife saw a group of kids running down the street. It wasn't long before police arrived.
Daro described the neighborhood as "pretty quiet, pretty safe."
"We always do the bike for my kids in this area," he said.
Berkeley Unified: "We are all feeling this pain"
On Sunday morning, the Berkeley Unified School District began working with Berkeley High School counselors and other staff "to prepare resources and supports for Berkeley High School students at school tomorrow, including comprehensive counseling services."
Berkeley Unified leadership will be on the Berkeley High campus Monday to offer support to arriving students, BUSD said in a prepared statement.
"We are deeply saddened to have learned that two Berkeley High School students and beloved members of the BUSD family lost their lives yesterday in a senseless act of gun violence. Our hearts go out to their family and everyone impacted by this tragedy," BUSD said. "Because these were two of our own, we are all feeling this pain collectively and must hold each other especially close and care for one another."
Aside from the family's GoFundMe page, little has been said publicly about the boys.
The Oakland Police Department said it could not release their names pending family notification.
The Alameda County coroner's office said no one would be in the office until Monday to field questions from the press.
The East Bay Times was the first to report that the boys who died were 15 and 17 years old. The ones who survived are 15 and 16. All of them were from Berkeley and had gathered in Oakland for a birthday party, the EBT reported.
OPD asks anyone with information about the incident to call the OPD Homicide Section at 510-238-3821 or the tip line at 510-238-7950.
Interview: Ricardo De Luna, Diablo Crime Scene Cleaners
Note: This story was updated after publication to include the GoFundMe link with the boys' names and statements from the Berkeley Unified School District.