Arrests
Man charged with attacking 2 people in downtown Berkeley
Chiazo Onwuasoeze Jr. had been placed on probation in January after a woman said he touched her chest without permission.
A 34-year-old man who struck a 78-year-old Berkeley man in the head, and punched a woman in the face after robbing her, has been charged with two felonies, according to authorities and court papers.
Chiazo Onwuasoeze Jr. (no address) is slated to appear in court Friday for a hearing related to mental competence, according to court records reviewed by The Berkeley Scanner.
Onwuasoeze had been placed on probation in Alameda County in January after a woman told police he touched her chest outside a Berkeley apartment building on Delaware Street. But, as of March, he was no longer in custody.
💡
See typos or other issues with the story? Drop a note to The Berkeley Scanner. We want to hear from you.
On June 17, police received reports about several disturbances downtown that they linked back to Onwuasoeze, the Berkeley Police Department said shortly after the McDonald's incident.
Just before 12:15 p.m. that day, BPD said, Onwuasoeze had attacked a 32-year-old Rodeo woman inside McDonald's, at 1998 Shattuck Ave. (at University Avenue): He took her glasses off her head and stole her cellphone, authorities said, then punched her twice in the face.
When the woman punched him back, BPD said, he ran off with her possessions.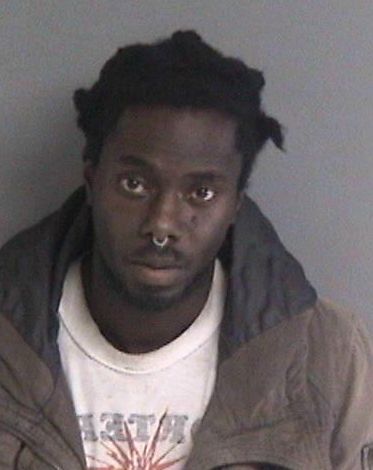 Chiazo Onwuasoeze Jr. Berkeley Police
About 10 minutes later, police said, Onwuasoeze showed up in the 1600 block of Shattuck Avenue (near Cedar Street) where he used a construction hard hat to strike the 78-year-old Berkeley man in the head, leaving him with a cut and an eye injury.
Officers on BPD's Bike Force — its proactive bicycle patrol team — arrested Onwuasoeze near Shattuck Avenue and Francisco Street, about two blocks from the hard hat attack.
BPD said Onwuasoeze had also thrown a brick at a woman who had parked her car near Shattuck and Francisco — and struck the vehicle's tail light when she drove away in fear for her safety — and damaged property inside a nearby business.
The Alameda County district attorney's office charged Onwuasoeze with robbery and elder abuse, both felonies, along with misdemeanor vandalism and numerous criminal enhancements that could result in a stricter sentence if there is a conviction.
Onwuasoeze remains in custody at Santa Rita Jail in Dublin with a bail of $107,000, according to court records online.
He entered not-guilty pleas in the case in early July.